Abstract
Background
Decreasing numbers of students are interested in starting a surgical career, posing substantial challenges to patient care in the next years. The anatomy course is one of the key subjects in medical training, especially in surgical disciplines. Innovative teaching concepts that integrate surgically relevant anatomy and manual dexterity might help boost student interest in surgery.
Methods
A preclinical workshop entitled "Surgical exposures" was developed. A team of anatomists and surgeons introduced the surgical exposures, demonstrating the procedures on Thiel-fixed body donors. Following this introduction, students practiced the exposures in an operating room-like manner. A six-point Likert scale was used to evaluate the workshop and to compare it to the first-year dissection course.
Results
The overall evaluation result for the surgical exposures was excellent, proving to be a significantly better result when compared to the first-year dissection course. The students were more satisfied with the teaching time invested by the peers and regarded the workshop as clinically highly relevant. Furthermore, they felt that questions were addressed better and that the overall atmosphere was better than in the gross anatomy course. Subject to criticism was the course size and practicing time in both cases.
Discussion
The surgical exposures workshop provides preclinical students with clinically relevant anatomy and manual dexterity. It may positively influence the decision to follow a surgical career. This course, however, requires extensive teaching resources. The given concept may help implement practical medical skills in the preclinical curriculum, strengthening the professional identity of surgeons and anatomists.
Access options
Buy single article
Instant access to the full article PDF.
USD 39.95
Price excludes VAT (USA)
Tax calculation will be finalised during checkout.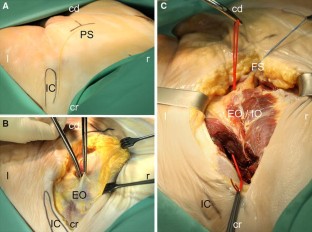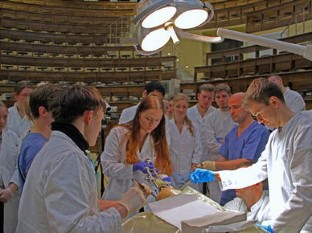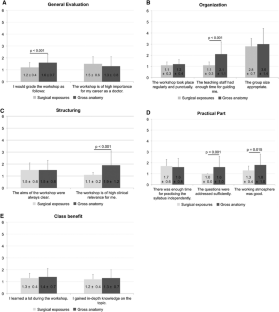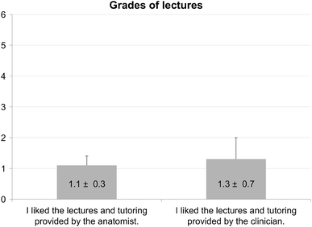 References
Bauer H (2008) Nachwuchs in der Chirurgie: Es muss noch viel passieren!ì. Dtsch Arztebl Int 4(2):18

Zylka-Menhorn V (2002) Chirurgie: Nachwuchssorgen. Dtsch Arztebl Int 99(20):1341

Debas HT, Bass BL, Brennan MF, Flynn TC, Folse JR, Freischlag JA, Friedmann P, Greenfield LJ, Jones RS, Lewis FR Jr, Malangoni MA, Pellegrini CA, Rose EA, Sachdeva AK, Sheldon GF, Turner PL, Warshaw AL, Welling RE, Zinner MJ, American Surgical Association Blue Ribbon C (2005) American Surgical Association blue ribbon committee report on surgical education: 2004. Ann Surg 241(1):1–8

Kozar RA, Lucci A, Miller CC, Azizzadeh A, Cocanour CS, Potts JR, Fischer CP, Brundage SI (2003) Brief intervention by surgeons can influence students toward a career in surgery. J Surg Res 111(1):166–169. doi:10.1016/s0022-4804(03)00104-5

Grover A, Gorman K, Dall TM, Jonas R, Lytle B, Shemin R, Wood D, Kron I (2009) Shortage of cardiothoracic surgeons is likely by 2020. Circulation 120(6):488–494. doi:10.1161/CIRCULATIONAHA.108.776278

Allen JG, Weiss ES, Patel ND, Alejo DE, Fitton TP, Williams JA, Barreiro CJ, Nwakanma LU, Yang SC, Cameron DE, Gott VL, Baumgartner WA (2009) Inspiring medical students to pursue surgical careers: outcomes from our cardiothoracic surgery research program. Ann Thorac Surg 87(6):1816–1819. doi:10.1016/j.athoracsur.2009.03.007

Cochran A, Melby S, Neumayer LA (2005) An internet-based survey of factors influencing medical student selection of a general surgery career. Am J Surg 189(6):742–746. doi:10.1016/j.amjsurg.2005.03.019

Marschall JG, Karimuddin AA (2003) Decline in popularity of general surgery as a career choice in North America: review of postgraduate residency training selection in Canada, 1996–2001. World J Surg 27(3):249–252. doi:10.1007/s00268-002-6642-8

Drake RL, McBride JM, Lachman N, Pawlina W (2009) Medical education in the anatomical sciences: the winds of change continue to blow. Anat Sci Educ 2(6):253–259. doi:10.1002/ase.117

Insull PJ, Kejriwal R, Blyth P (2006) Surgical inclination and anatomy teaching at the University of Auckland. ANZ J Surg 76(12):1056–1059. doi:10.1111/j.1445-2197.2006.03942.x

Joslin S (2008) Perceptions of anatomy education—a student's view. Anat Sci Educ 1(3):133–134. doi:10.1002/ase.24

Fitzgerald JE, White MJ, Tang SW, Maxwell-Armstrong CA, James DK (2008) Are we teaching sufficient anatomy at medical school? The opinions of newly qualified doctors. Clin Anat 21(7):718–724. doi:10.1002/ca.20662

Heisler CA (2011) Importance of adequate gross anatomy education: the impact of a structured pelvic anatomy course during gynecology fellowship. Anat Sci Educ 4(5):302–304. doi:10.1002/ase.235

Raftery AT (1998) Anatomy training for surgeons—a personal viewpoint. J R Coll Surg Edinb 43(1):70

Sugand K, Abrahams P, Khurana A (2010) The anatomy of anatomy: a review for its modernization. Anat Sci Educ 3(2):83–93. doi:10.1002/ase.139

Fasel JH, Morel P, Gailloud P (2005) A survival strategy for anatomy. Lancet 365(9461):754. doi:10.1016/S0140-6736(05)17981-1

Lippert H (2012) Medizinstudium: Sind Präparierübungen an der Leiche noch zeitgemäß?. Dtsch Arztebl Int 109 (35–36):A-1758

Ochs M, Mühlfeld C, Schmiedl A (2012) Präparierkurs: Grundlage ärztlichen Handelns. Dtsch Arztebl 109(43):A-2126

Archibald DJ, Carlson ML (2009) The impact of gross anatomy on the future head and neck surgeon. Anat Sci Educ 2(2):89–90. doi:10.1002/ase.71

Haubert LM, Jones K, Moffatt-Bruce SD (2009) Surgical clinical correlates in anatomy: design and implementation of a first-year medical school program. Anat Sci Educ 2(6):265–272. doi:10.1002/ase.108

Haubert LM, Way D, DePhilip R, Tam M, Bishop J, Jones K, Moffatt-Bruce SD (2011) Surgeons as medical school educators: an untapped resource. Anat Sci Educ 4(4):182–189. doi:10.1002/ase.229

Seyfer AE, Welling D, Fox JP (2007) The value of surgeons teaching anatomy to first-year medical students. Bull Am Coll Surg 92(10):8–14

Stringer MD, Lyall P (2012) Design, implementation, and evaluation of a postgraduate Diploma in Surgical Anatomy. Anat Sci Educ 5(1):48–54. doi:10.1002/ase.1253

Grande JP (2009) Training of physicians for the twenty-first century: role of the basic sciences. Med Teach 31(9):802–806

Bauer R, Kerschbaumer F, Poisel S (1987) Operative approaches in orthopedic surgery and traumatology. Thieme, Stuttgart, New York

Hoppenfeld S, DeBoer P, Hutton R (1994) Surgical exposures in orthopaedics: the anatomic approach, 2nd edn. J. B. Lippincott Co., Philadelphia

Khoury A, Weill Y, Mosheiff R (2012) The Stoppa approach for acetabular fracture. Oper Orthop Traumatol 24(4–5):439–448. doi:10.1007/s00064-011-0093-z

Steinke H, Pfeiffer S, Spanel-Borowski K (2002) A new plastination technique for head slices containing brain. Ann Anat 184(4):353–358. doi:10.1016/S0940-9602(02)80055-3

Steinke H, Rabi S, Saito T, Sawutti A, Miyaki T, Itoh M, Spanel-Borowski K (2008) Light-weight plastination. Ann Anat 190(5):428–431. doi:10.1016/j.aanat.2008.02.005

Hammer N, Loffler S, Feja C, Bechmann I, Steinke H (2011) Substitution of formaldehyde in cross anatomy is possible. J Natl Cancer Inst 103(7):610–611. doi:10.1093/jnci/djr035

Hammer N, Loffler S, Feja C, Sandrock M, Schmidt W, Bechmann I, Steinke H (2012) Ethanol-glycerin fixation with thymol conservation: a potential alternative to formaldehyde and phenol embalming. Anat Sci Educ 5(4):225–233. doi:10.1002/ase.1270

Thiel W (1992) The preservation of the whole corpse with natural color. Ann Anat 174(3):185–195

Thiel W (2002) Supplement to the conservation of an entire cadaver according to W. Thiel. Ann Anat 184(3):267–269

Hammer N, Loffler S, Bechmann I, Steinke H, Hadrich C, Feja C (2014) Comparison of modified thiel embalming and ethanol-glycerin fixation in an anatomy environment: potentials and limitations of two complementary techniques. Anat Sci Educ. doi:10.1002/ase.1450

McBride JM, Drake RL (2011) Student-directed fresh tissue anatomy course for physician assistants. Anat Sci Educ 4(5):264–268. doi:10.1002/ase.233

Sugden C, Aggarwal R (2010) Assessment and feedback in the skills laboratory and operating room. Surg Clin North Am 90(3):519–533. doi:10.1016/j.suc.2010.02.009

Cuesta-Briand B, Auret K, Johnson P, Playford D (2014) A world of difference': a qualitative study of medical students' views on professionalism and the 'good doctor. BMC Med Educ 14:77. doi:10.1186/1472-6920-14-77

Kotzsch S, Geissler N, Hoffmeier A, Fischer M, Dietz A, Strauss G, Korb W, Hofer M (2012) A concept to improve wet-lab training in ENT surgery. Laryngorhinootologie 91(11):699–703. doi:10.1055/s-0032-1323725

Roethlisberger FJ, Dickson WJ, Wright HA, Pforzheimer HA, Western Electric Company (1939) Management and the worker: an account of a research program conducted by the Western Electric Company, Hawthorne Works, 1st edn. Harvard University Press, Chicago

O'Connell MT, Pascoe JM (2004) Undergraduate medical education for the 21st century: leadership and teamwork. Family Med 36(Suppl):S51–S56

Haggerty KA, Beaty CA, George TJ, Arnaoutakis GJ, Baumgartner WA (2014) Increased exposure improves recruitment: early results of a program designed to attract medical students into surgical careers. Ann Thorac Surg 97(6):2111–2114. doi:10.1016/j.athoracsur.2014.02.029

Bockers A, Jerg-Bretzke L, Lamp C, Brinkmann A, Traue HC, Bockers TM (2010) The gross anatomy course: an analysis of its importance. Anat Sci Educ 3(1):3–11. doi:10.1002/ase.124

McGuire FL (1966) Psycho-social studies of medical students: a critical review. J Med Educ 41(5):424–445

Zaid H, Ward D, Sammann A, Tendick F, Topp KS, Maa J (2010) Integrating surgical skills education into the anatomy laboratory. J Surg Res 158(1):36–42. doi:10.1016/j.jss.2008.08.012

Boeckers A, Fassnacht U, Boeckers TM (2008) "Theatrum anatomicum"—a revived teaching facility in gross anatomy. Ann Anat 190(6):495–501. doi:10.1016/j.aanat.2008.08.004

Lazarus MD, Chinchilli VM, Leong SL, Kauffman GL Jr (2012) Perceptions of anatomy: critical components in the clinical setting. Anat Sci Educ 5(4):187–199. doi:10.1002/ase.1281

Costa CR, Johnson AJ, Harwin SF, Mont MA, Bonutti PM (2013) Critical review of minimally invasive approaches in knee arthroplasty. J Knee Surg 26(1):41–50. doi:10.1055/s-0032-1313751

Liu Z, Yang H (2011) Comparison of the minimally invasive and standard medial parapatellar approaches for total knee arthroplasty: systematic review and meta-analysis. J Int Med Res 39(5):1607–1617

Atesok K, Mabrey JD, Jazrawi LM, Egol KA (2012) Surgical simulation in orthopaedic skills training. J Am Acad Orthop Surg 20(7):410–422. doi:10.5435/JAAOS-20-07-410

Boyd JS, Clyne B, Reinert SE, Zink BJ (2009) Emergency medicine career choice: a profile of factors and influences from the Association of American Medical Colleges (AAMC) graduation questionnaires. Acad Emerg Med 16(6):544–549. doi:10.1111/j.1553-2712.2009.00385.x

Paulmann V, Fischer V, Dudzinska A, Pabst R (2014) Surgery as specialization for female physicians: results from course evaluations and alumni studies at MHH. Chirurg. doi:10.1007/s00104-014-2823-x

Jacob R (2014) Berufsmonitoring Medizinstudenten. 2. Welle 2014 Ergebnisse einer bundesweiten Befragung. Deutscher Ärzte-Verlag, Köln

Davis CR, Bates AS, Ellis H, Roberts AM (2014) Human anatomy: let the students tell us how to teach. Anat Sci Educ 7(4):262–272. doi:10.1002/ase.1424

Drake RL (2007) A unique, innovative, and clinically oriented approach to anatomy education. Acad Med 82(5):475–478. doi:10.1097/ACM.0b013e31803eab41

Fraher JP, Evans DJ (2009) Training tomorrow's anatomists today: a partnership approach. Anat Sci Educ 2(3):119–125. doi:10.1002/ase.81

Evans DJ, Cuffe T (2009) Near-peer teaching in anatomy: an approach for deeper learning. Anat Sci Educ 2(5):227–233. doi:10.1002/ase.110

Houwink AP, Kurup AN, Kollars JP, Kral Kollars CA, Carmichael SW, Pawlina W (2004) Help of third-year medical students decreases first-year medical students' negative psychological reactions on the first day of gross anatomy dissection. Clin Anat 17(4):328–333. doi:10.1002/ca.10218

Ek EW, Ek ET, Mackay SD (2005) Undergraduate experience of surgical teaching and its influence and its influence on career choice. ANZ J Surg 75(8):713–718. doi:10.1111/j.1445-2197.2005.03500.x

Adolfsson LEC, Etzner C, Frich LH, Haugstvedt JR, Nordqvist A, Norlin R, Olsen BS, Jørgsholm P, Scheer J (2014) AB surgical exposures in the upper extremity. SWEMAC. http://www.swemac.com/swemac-education/courses/60-surgical-exposures-in-the-upper-extremity. Accessed 18 Apr 2014

Reischl S (2014) 46. AOTrauma Kurs—Zugangswege & Osteosynthesen. AOTrauma. https://aotrauma2.aofoundation.org/eventdetails.aspx?id=2516. Accessed 18 Apr 2014

Martin JA, Regehr G, Reznick R, MacRae H, Murnaghan J, Hutchison C, Brown M (1997) Objective structured assessment of technical skill (OSATS) for surgical residents. Br J Surg 84(2):273–278

Van Hove C, Perry KA, Spight DH, Wheeler-Mcinvaille K, Diggs BS, Sheppard BC, Jobe BA, O'Rourke RW (2008) Predictors of technical skill acquisition among resident trainees in a laparoscopic skills education program. World J Surg 32(9):1917–1921. doi:10.1007/s00268-008-9643-4

Carr AS, Munsch C, Buggle S, Hamilton P (2011) Core surgical training and progression into specialty surgical training: how do we get the balance right? Ann R Coll Surg Engl (Suppl) 93:244–248

Nugent E, O'Keeffe D, Hseino H, Dimitrov BD, Tanner A, Neary P, Traynor A (2011) Objective assessment of surgical trainees in selection for higher surgical training: the role of fundamental aptitude testing. Br J Surg 98:6
Acknowledgments
The authors would like to thank Christine Auste for taking the pictures of the workshop. Matthias Henze helped with the student survey. Robert Möbius performed the statistics. Gustav F. Preller proofread the paper as a native speaker.
Conflict of interest
None.
Electronic supplementary material
Below is the link to the electronic supplementary material.
About this article
Cite this article
Hammer, N., Hepp, P., Löffler, S. et al. Teaching surgical exposures to undergraduate medical students: an integration concept for anatomical and surgical education. Arch Orthop Trauma Surg 135, 795–803 (2015). https://doi.org/10.1007/s00402-015-2217-7
Received:

Published:

Issue Date:

DOI: https://doi.org/10.1007/s00402-015-2217-7
Keywords