Abstract
Introduction
There is insufficient evidence to indicate whether operative or nonoperative treatment is better for treating displaced midshaft clavicular fractures. We undertook a systematic review and meta-analysis of randomized controlled trials (RCTs) to compare the effects of the two treatments.
Methods
We searched the PubMed, EMBASE and Cochrane Library databases, and identified RCTs to compare the Constant score, DASH score, nonunion, malunion, and adverse events between operative and nonoperative groups of patients with displaced midshaft clavicular fractures.
Results
A total of 507 patients from 6 RCTs were subjected to meta-analysis. Operative treatment has an effect on improving function, which is demonstrated by significantly higher Constant scores (P = 0.0003) and lower DASH scores (P = 0.03). The rate of nonunion and the rate of malunion were significantly lower in operative group compared with that in nonoperative group (both P < 0.0001). However, the rate of adverse events was significantly higher in operative group compared with that in nonoperative group (P = 0.003).
Conclusions
Operative treatment provided a significantly better functional outcome, a lower rate of nonunion and malunion, but was accompanied with a higher rate of adverse events. However, the results should be interpreted with caution and further large-scale, well-designed RCTs on this topic are still needed.
Access options
Buy single article
Instant access to the full article PDF.
USD 39.95
Price excludes VAT (USA)
Tax calculation will be finalised during checkout.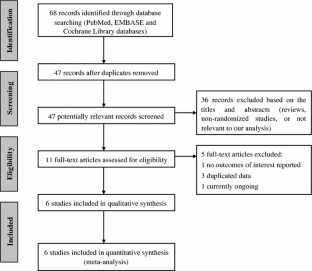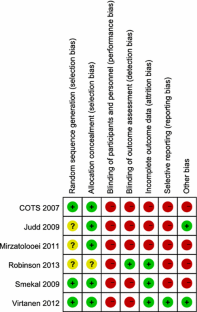 References
Pecci M, Kreher JB (2008) Clavicle fractures. Am Fam Physician 77(1):65–70

Postacchini F, Gumina S, De Santis P et al (2002) Epidemiology of clavicle fractures. J Shoulder Elbow Surg 11(5):452–456

Grassi FA, Tajana MS, D'Angelo F (2001) Management of midclavicular fractures: comparison between nonoperative treatment and open intramedullary fixation in 80 patients. J Trauma 50(6):1096–1100

Nordqvist A, Petersson CJ, Redlund-Johnell I (1998) Mid-clavicle fractures in adults: end result study after conservative treatment. J Orthop Trauma 12(8):572–576

Hill JM, McGuire MH, Crosby LA (1997) Closed treatment of displaced middle-third fractures of the clavicle gives poor results. J Bone Joint Surg Br 79(4):537–539

McKee MD, Pedersen EM, Jones C et al (2006) Deficits following nonoperative treatment of displaced midshaft clavicular fractures. J Bone Joint Surg Am 88(1):35–40. doi:10.2106/JBJS.D.02795

Nowak J, Holgersson M, Larsson S (2005) Sequelae from clavicular fractures are common: a prospective study of 222 patients. Acta Orthop 76(4):496–502. doi:10.1080/17453670510041475

Liu PC, Chien SH, Chen JC et al (2010) Minimally invasive fixation of displaced midclavicular fractures with titanium elastic nails. J Orthop Trauma 24(4):217–223. doi:10.1097/BOT.0b013e3181b8ba33

Mueller M, Burger C, Florczyk A et al (2007) Elastic stable intramedullary nailing of midclavicular fractures in adults: 32 patients followed for 1–5 years. Acta Orthop 78(3):421–423. doi:10.1080/17453670710014013

McKee RC, Whelan DB, Schemitsch EH et al (2012) Operative versus nonoperative care of displaced midshaft clavicular fractures: a meta-analysis of randomized clinical trials. J Bone Joint Surg Am 94(8):675–684. doi:10.2106/jbjs.j.01364

Yadav V, Khare GN, Singh S et al (2013) A prospective study comparing conservative with operative treatment in patients with a 'floating shoulder' including assessment of the prognostic value of the glenopolar angle. Bone Joint J 95-B(6):815–819. doi:10.1302/0301-620x.95b6.31060

Schemitsch LA, Schemitsch EH, Veillette C et al (2011) Function plateaus by one year in patients with surgically treated displaced midshaft clavicle fractures. Clin Orthop Relat Res 469(12):3351–3355. doi:10.1007/s11999-011-1915-x

Neuhaus V, Ring D (2013) Effect of different statistical methods on union or time to union in a published study about clavicular fractures. J Shoulder Elbow Surg 22(4):471–477. doi:10.1016/j.jse.2012.03.015

Pearson AM, Tosteson AN, Koval KJ et al (2010) Is surgery for displaced, midshaft clavicle fractures in adults cost-effective? Results based on a multicenter randomized, controlled trial. J Orthop Trauma 24(7):426–433. doi:10.1097/BOT.0b013e3181c3e505

Stegeman SA, de Jong M, Sier CF et al (2011) Displaced midshaft fractures of the clavicle: non-operative treatment versus plate fixation (Sleutel-TRIAL). A multicentre randomised controlled trial. BMC Musculoskelet Disord 12:196. doi:10.1186/1471-2474-12-196

Society COT (2007) Nonoperative treatment compared with plate fixation of displaced midshaft clavicular fractures. A multicenter, randomized clinical trial. J Bone Joint Surg Am 89(1):1–10. doi:10.2106/JBJS.F.00020

Judd DB, Pallis MP, Smith E et al (2009) Acute operative stabilization versus nonoperative management of clavicle fractures. Am J Orthop (Belle Mead NJ) 38(7):341–345

Smekal V, Irenberger A, Struve P et al (2009) Elastic stable intramedullary nailing versus nonoperative treatment of displaced midshaft clavicular fractures-a randomized, controlled, clinical trial. J Orthop Trauma 23(2):106–112. doi:10.1097/BOT.0b013e318190cf88

Mirzatolooei F (2011) Comparison between operative and nonoperative treatment methods in the management of comminuted fractures of the clavicle. Acta Orthop Traumatol Turc 45(1):34–40. doi:10.3944/aott.2011.2431

Virtanen KJ, Remes V, Pajarinen J et al (2012) Sling compared with plate osteosynthesis for treatment of displaced midshaft clavicular fractures: a randomized clinical trial. J Bone Joint Surg Am 94(17):1546–1553. doi:10.2106/JBJS.J.01999

Robinson CM, Goudie EB, Murray IR et al (2013) Open reduction and plate fixation versus nonoperative treatment for displaced midshaft clavicular fractures: a multicenter, randomized, controlled trial. J Bone Joint Surg Am 95(17):1576–1584. doi:10.2106/JBJS.L.00307

Zlowodzki M, Zelle BA, Cole PA et al (2005) Treatment of acute midshaft clavicle fractures: systematic review of 2144 fractures: on behalf of the Evidence-Based Orthopaedic Trauma Working Group. J Orthop Trauma 19(7):504–507

Smekal V, Oberladstaetter J, Struve P et al (2009) Shaft fractures of the clavicle: current concepts. Arch Orthop Trauma Surg 129(6):807–815. doi:10.1007/s00402-008-0775-7

Golish SR, Oliviero JA, Francke EI et al (2008) A biomechanical study of plate versus intramedullary devices for midshaft clavicle fixation. J Orthop Surg Res 3:28. doi:10.1186/1749-799X-3-28

Higgins JPT (2011) In: Green S (eds) Cochrane handbook for systematic reviews of interventions. Version 5.1.0 [updated March 2011]. The Cochrane Collaboration. http://www.cochrane-handbook.org
About this article
Cite this article
Kong, L., Zhang, Y. & Shen, Y. Operative versus nonoperative treatment for displaced midshaft clavicular fractures: a meta-analysis of randomized clinical trials. Arch Orthop Trauma Surg 134, 1493–1500 (2014). https://doi.org/10.1007/s00402-014-2077-6
Received:

Published:

Issue Date:

DOI: https://doi.org/10.1007/s00402-014-2077-6
Keywords