Abstract
Background
Pneumatic tourniquet use in total knee arthroplasty (TKA) is always a controversial issue. The aim of the present study is to assess the effectiveness and safety of its use in patients receiving primary unilateral TKA, and to explore the most safe and effective protocols.
Materials and methods
This review was based on cochrane methodology for conducting meta-analysis. Only randomized controlled trials (RCTs) were eligible for this study. The participants were adults who had undergone primary unilateral TKA. The Review Manager Database (RevMan version 5.0, The Cochrane Collaboration 2008) was used to analyze the dates of the selected studies.
Results
Thirteen RCTs involving 859 patients were included in this analysis. The use of tourniquet could significantly reduce operation time (mean difference −5.01 min, P = 0.003), intraoperative blood loss (mean difference −201.85 ml, P < 0.00001) and total blood loss volumes (mean difference −125.03 ml, P = 0.61). But postoperative (mean difference 45.99 ml, P = 0.68) were slightly increased in that situation. With respect to surgical complications, a tendency of increasing risk ratio was observed for tourniquet group.
Conclusions
Our results indicate that tourniquet application could reduce surgical time, intraoperative blood loss and total blood loss, but increases postoperative total blood loss. With respect to postoperative complications, DVT and surgical site infection rates are relatively augmented in the tourniquet group.
This is a preview of subscription content,
to check access.
Access this article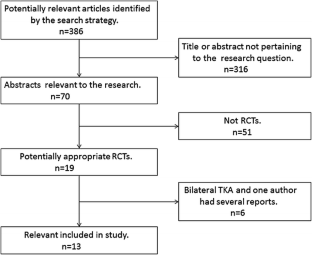 Similar content being viewed by others
References
Tetro AM, Rudan JF (2001) The effects of a pneumatic tourniquet on blood loss in total knee arthroplasty. Can J Surg 44:33

Fukuda A, Hasegawa M, Kato K (2007) Effect of tourniquet application on deep vein thrombosis after total knee arthroplasty. Arch Orthop Trauma Surg 127:671

Callaghan JJ, O'Rourke MR, Liu SS et al (2005) Blood management: issues and options. J Arthroplasty 20:51

Iorio R, Healy WL (2001) Tourniquet use during total knee arthroplasty did not reduce total blood loss. J Bone Jt Surg Am 83:1282

Jarolem KL, Scott DF, Jaffe WL et al (1995) A comparison of blood loss and transfusion requirements in total knee arthroplasty with and without arterial tourniquet. Am J Orthop 24:906

Salam A, Eyres KS (1995) Effects of tourniquet during total knee arthroplasty. J Bone Jt Surg 77B:250

Vandenbussche E, Duranthon LD, Couturier M et al (2002) The effect of tourniquet use in total knee arthroplasty. Int Orthop 26:306

Wauke K, Nagashima M, Kato N et al (2002) Comparative study between thromboembolism and total knee arthroplasty with and without tourniquet in rheumatoid arthritis patients. Arch Orthop Trauma Surg 122:442

Klenerman L (1995) Is a tourniquet really necessary for knee replacement. J Bone Jt Surg Br 2:174

Parmet JL, Horrow JC, Berman AT et al (1998) The incidence of large venous emboli during total knee arthroplasty without pneumatic tourniquet use. Anesth Analg 87(2):439

Clarke MT, Longstaff L, Edwards D et al (2001) Tourniquet-induced wound hypoxia after total knee replacement. J Bone Jt Surg Br 1:40

Fahmy NR, Patel DG (1981) Hemostatic changes and postoperative deep-vein thrombosis associated with use of a pneumatic tourniquet. J Bone Jt Surg Am 63:461

Risberg B (1985) The response of the fibrinolytic system in trauma. Acta Chir Scand Suppl 522:245

Higgins JPT, Green S (2005) Cochrane handbook for systematic reviews of interventions. Version 5.1.0. Available from: http://handbook.cochrane.org/.

Harvey EJ, Leclerc J, Brooks CE, Burke DL (1997) Effect of tourniquet use on blood loss and incidence of deep vein thrombosis in total knee arthroplasty. J Arthroplasty 12:291

Matziolis G, Drahn T, Schroder JH et al (2005) Endothelin-1 is secreted after total knee arthroplasty regardless of the use of a tourniquet. J Orthop Res 23:392

Li B, Wen Y, Wu H, Qian Q, Lin X, Zhao H (2009) The effect of tourniquet use on hidden blood loss in total knee arthroplasty. Int Orthop 33:1263

Wakankar HM, Nicholl JE, Koka R et al (1999) The tourniquet in total knee arthroplasty. A prospective, randomised study. J Bone Jt Surg 81:30

Aglietti P, Baldini A, Vena LM et al (2000) Effect of tourniquet use on activation of coagulation in total knee replacement. Clin Orthop Relat Res 371:169

Zhang F, Xiao Y, Liu Y (2010) Clinical effects of applying a tourniquet in total knee arthroplasty on blood loss. Chin Med J 123:3030

Tai TW, Chang CW, Lai KA (2012) Effects of tourniquet use on blood loss and soft-tissue damage in total knee arthroplasty: a randomized controlled trial. J Bone Jt Surg Am 94:2209

Petaja J (1987) Fibrinolysis after application of pneumatic tourniquet. Acta Chir Scand 153:647

Kiss H, Raffl M, Neumann D (2005) Epinephrine-augmented hypotensive epidural anaesthesia replaces tourniquet use in total knee replacement. Clin Orthop Relat Res 436:184

Handoll H, Elstub L, Elliott J, et al (2008) Cochrane bone, joint and muscle trauma group. about the cochrane collaboration (Cochrane Review Groups (CRGS)) 2008; Issue 4. Art. No: MUSKINJ. Available from: http://bjmtg.cochrane.org/sites/bjmtg.cochrane.org/files/uploads/Quality%20assessment%20tool.pdf

Barwell J, Anderson G, Hassan A et al (1997) The effects of early tourniquet releasing during total knee arthroplasty: a prospective randomized double-blind study. J Bone Jt Surg Br 79:265

Page MH, Shepherd BD, Harrison JM (1984) Reduction of blood loss in knee arthroplasty. Aust NZ J Surg 54:141

Burkart BC, Bourne RB, Rorabeck CH et al (1994) The efficacy of tourniquet release in blood conservation after total knee arthroplasty. Clin Orthop 299:147

Lotke PA, Faralli VJ, Orenstein EM et al (1991) Blood loss after total knee replacement. Effects of tourniquet release and continuous passive motion. J Bone Jt Surg Am 73:1037

Newman JH, Jackson JP, Waugh W (1979) Timing of tourniquet removal after knee replacement. J R Soc Med 72:492

Cid J, Lozano M (2005) Tranexamic acid reduces allogeneic red cell transfusions in patients undergoing total knee arthroplasty: results of a meta-analysis of randomized controlled trials. Transfusion 45:1302

Zufferey P, Merquiol F, Laporte S et al (2006) Do antifibrinolytics reduce allogeneic blood transfusion in orthopedic surgery? Anesthesiology 105:1034

Tan J, Chen H, Liu Q, Chen C, Huang W (2013) A meta-analysis of the effectiveness and safety of using tranexamic acid in primary unilateral total knee arthroplasty. J Surg Res 184:880

Butt U, Ahmad R, Aspros D, Bannister GC (2011) Factors affecting wound ooze in total knee replacement. Ann R Coll Surg Engl 93(1):54–56

Haas S (1997) Managing the risk of venous thromboembolism in orthopedics: concluding remarks. Orthopedics 20:26

Zaw HM, Osborne IC, Pettit PN, Cohen AT (2002) Risk factors for venous thromboembolism in orthopedic surgery. Isr Med Assoc J 4:1040

Shimoyama HY, Sawai T (2012) Perioperative risk factors for deep vein thrombosis after total hip arthroplasty or total knee arthroplasty. J Clin Anesth 24:531

Hernandez AJ, de Almeida AM (2012) The influence of tourniquet use and operative time on the incidence of deep vein thrombosis in total knee arthroplasty. Clinics 67:105

Asensio A, Antolín FJ, Sanchez-García JM et al (2010) Timing of DVT prophylaxis and risk of postoperative knee prosthesis infection. Orthopedics 33:800

Jorn LP, Lindstrand A, Toksvig-Larsen S (1999) Tourniquet release for hemostasis increases bleeding. A randomized study of 77 knee replacements. Acta Orthop Scand 70:265
About this article
Cite this article
Yi, S., Tan, J., Chen, C. et al. The use of pneumatic tourniquet in total knee arthroplasty: a meta-analysis. Arch Orthop Trauma Surg 134, 1469–1476 (2014). https://doi.org/10.1007/s00402-014-2056-y
Received:

Published:

Issue Date:

DOI: https://doi.org/10.1007/s00402-014-2056-y
Keywords