Abstract
Introduction
For clinical grip force assessment, the Jamar dynamometer is a wide accepted tool. Users have to be aware that this method does not represent all grip efforts applied. The Manugraphy system is a tool that measure total grip force as well as identify load distribution patterns of the hand while gripping cylinders wrapped with calibrated capacitive matrix sensor mats. The aim of this study was to validate an assessment setting of the Manugraphy system for clinical use. Further, the relationship and difference between the Manugraphy system and the Jamar dynamometer were investigated.
Materials and methods
At two study centers, 152 healthy volunteers performed grip force tests with a digital Jamar dynamometer using handle positions 3 and 4 and the novel® Manugraphy system using two cylinders with circumferences of 150 and 200 mm. The subjects performed grip force testing with both devices on three different days. The intra- and inter-day variability for both methods was evaluated. To compare the values of both systems, the Spearman correlation coefficient was calculated.
Results
The force values, as measured by the sensor matrix, were higher than those of the Jamar dynamometer. Analyses showed significant positive correlations between values obtained by the two measurement methods (p < 0.001). There was no significant inter-day variation for the 200-mm cylinder of the Manugraphy system. For the 150-mm cylinder, a significant variation was observed at center B, but not at A. Nevertheless, the fluctuation of the grip force values obtained with the Manugraphy system was equal or better than those obtained with the Jamar dynamometer.
Conclusions
The force values, obtained using the two systems, have a high correlation but are not directly comparable. Both systems allow valid and constant grip force measurement. As the sensor mat detects all forces applied perpendicularly to the cylinder surface, it characterizes grip force better than the Jamar dynamometer. In addition, information about load distribution of the hand is gained.
This is a preview of subscription content, log in to check access.
Access options
Buy single article
Instant access to the full article PDF.
US$ 39.95
Tax calculation will be finalised during checkout.
Subscribe to journal
Immediate online access to all issues from 2019. Subscription will auto renew annually.
US$ 199
Tax calculation will be finalised during checkout.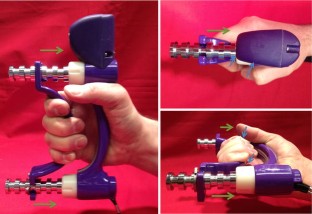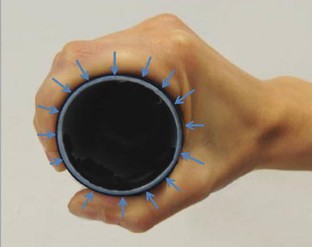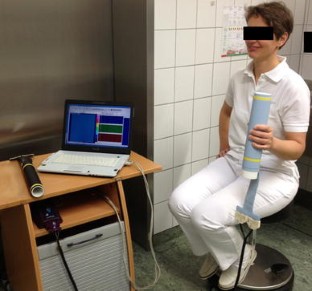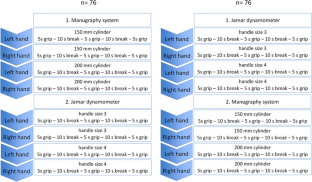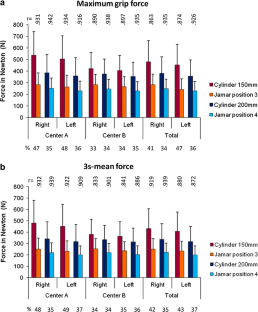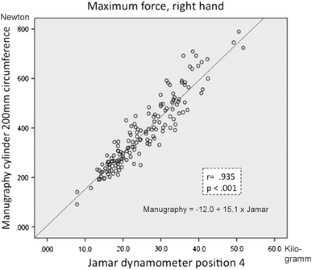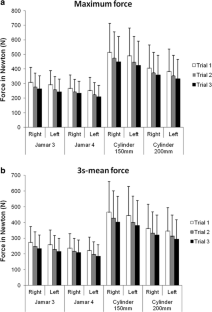 References
1.

Bear-Lehman J, Abreu BC (1989) Evaluating the hand: issues in reliability and validity. Phys Ther 69:1025–1033

2.

Roberts HC, Denison HJ, Martin HJ, Patel HP, Syddall H, Cooper C, Sayer AA (2011) A review of the measurement of grip strength in clinical and epidemiological studies: towards a standardised approach. Age Ageing 40:423–429

3.

Wimer B, Dong RG, Welcome DE, Warren C, McDowell TW (2009) Development of a new dynamometer for measuring grip strength applied on a cylindrical handle. Med Eng Phys 31:695–704

4.

McDowell TW, Wimer BM, Welcome DE, Warren C, Dong RG (2012) Effects of handle size and shape on measured grip strength. Int J Ind Ergon 42:199–205

5.

Welcome DE, Rakheja S, Dong RG, Wu JZ, Schopper AW (2004) An investigation on the relationship between grip, push, and contact forces applied to a tool handle. Int J Ind Ergon 34:507–518

6.

Amis AA (1987) Variation of finger forces in maximal isometric grasp tests on a range of cylinder diameters. J Biomed Eng 9:313–320

7.

Seo NJ, Armstrong TJ (2008) Investigation of grip force, normal force, contact area, hand size, and handle size for cylindrical handles. Hum Factor 50:734–744

8.

Aldien Y, Welcome D, Rakheja S, Dong RG, Boileau PE (2005) Contact pressure distribution at hand-handle interface: role of hand forces and handle size. Int J Ind Ergon 35:267–286

9.

Dong RG, Wu JZ, Welcome DE, McDowell TW (2008) A new approach to characterize grip force applied to a cylindrical handle. Med Eng Phys 30:20–33

10.

Pataky TC, Slota GP, Latash ML, Zatsiorsky VM (2012) Radial force distribution changes associated with tangential force production in cylindrical grasping, and the importance of anatomical registration. J Biomech 45:218–224

11.

Debeliso MA, McChesney JW, Murdock LE (2013) Grip norms and reliability of the hand grip ForceMap system. J Hand Surg Eur 38:1009–1010

12.

Kutz DF, Wolfel A, Timmann D, Kolb FP (2007) Detection of changes in grip forces on a sliding object. J Neurosci Methods 166:250–258

13.

Polliack AA, Sieh RC, Craig DD, Landsberger S, McNeil DR, Ayyappa E (2000) Scientific validation of two commercial pressure sensor systems for prosthetic socket fit. Prosthet Orthot Int 24:63–73

14.

Fess EE (1992) Grip strength. In: Casanova JS (ed) Clinical assessment recommendations, 2nd edn. American Society of Hand Therapists, Chicago, pp 41–45

15.

O'Driscoll SW, Horii E, Ness R, Cahalan TD, Richards RR, An KN (1992) The relationship between wrist position, grasp size, and grip strength. J Hand Surg Am 17:169–177

16.

Weinstock-Zlotnick G, Bear-Lehman J, Yu TY (2011) A test case: does the availability of visual feedback impact grip strength scores when using a digital dynamometer? J Hand Ther 24:266–275

17.

Mathiowetz V, Weber K, Volland G, Kashman N (1984) Reliability and validity of grip and pinch strength evaluations. J Hand Surg Am 9:222–226

18.

Seo NJ, Shim JK, Engel AK, Enders LR (2011) Grip surface affects maximum pinch force. Hum Factors 53:740–748

19.

Zatsiorsky VM, Gao F, Latash ML (2003) Prehension synergies: effects of object geometry and prescribed torques. Exp Brain Res 148:77–87

20.

Solomon HY, Turvey MT, Burton G (1989) Gravitational and muscular variables in perceiving rod extent by wielding. Ecol Psychol 1:265–300

21.

Lee JW, Rim K (1991) Measurement of finger joint angles and maximum finger forces during cylinder grip activity. J Biomed Eng 13:152–162

22.

Keir PJ, Wells RP, Ranney DA (1996) Passive properties of the forearm musculature with reference to hand and finger postures. Clin Biomech (Bristol, Avon) 11:401–409

23.

Young VL, Pin P, Kraemer BA, Gould RB, Nemergut L, Pellowski M (1989) Fluctuation in grip and pinch strength among normal subjects. J Hand Surg Am 14:125–129

24.

Nitschke JE, McMeeken JM, Burry HC, Matyas TA (1999) When is a change a genuine change? A clinically meaningful interpretation of grip strength measurements in healthy and disabled women. J Hand Ther 12:25–30
Acknowledgments
We thank Peter Seitz, who provided the technical setting, data acquisition, and analysis on behalf of novel® biomechanics laboratory. Two of the authors are employees of this laboratory. The study centers did not receive any financial support, nor was there a conflict of interest regarding the data analysis or manuscript writing. The clinical part of the study, the statistics, and manuscript preparation were performed within the scope of the duties of the involved public institutes without additional funding. The primary author did not receive any funding, grants, honoraria, any other form of recognition, nor compensation of any kind from a sponsor. Thanks to Susanne Rein, who supported us by preparing the graphs and by proofread the manuscript.
About this article
Cite this article
Mühldorfer-Fodor, M., Ziegler, S., Harms, C. et al. Grip force monitoring on the hand: Manugraphy system versus Jamar dynamometer. Arch Orthop Trauma Surg 134, 1179–1188 (2014). https://doi.org/10.1007/s00402-014-2027-3
Received:

Published:

Issue Date:
Keywords
Dynamic force measurement

Grip force

Grip strength

Jamar dynamometer

Manugraphy system

Sensor matrix

Pressure sensor mat