Abstract
Purpose
Olecranon bursitis and prepatellar bursitis are common entities, with a minimum annual incidence of 10/100,000, predominantly affecting male patients (80 %) aged 40–60 years. Approximately 1/3 of cases are septic (SB) and 2/3 of cases are non-septic (NSB), with substantial variations in treatment regimens internationally. The aim of the study was the development of a literature review-based treatment algorithm for prepatellar and olecranon bursitis.
Methods
Following a systematic review of Pubmed, the Cochrane Library, textbooks of emergency medicine and surgery, and a manual reference search, 52 relevant papers were identified.
Results
The initial differentiation between SB and NSB was based on clinical presentation, bursal aspirate, and blood sampling analysis. Physical findings suggesting SB were fever >37.8 °C, prebursal temperature difference greater 2.2 °C, and skin lesions. Relevant findings for bursal aspirate were purulent aspirate, fluid-to-serum glucose ratio <50 %, white cell count >3,000 cells/μl, polymorphonuclear cells >50 %, positive Gram staining, and positive culture. General treatment measures for SB and NSB consist of bursal aspiration, NSAIDs, and PRICE. For patients with confirmed NSB and high athletic or occupational demands, intrabursal steroid injection may be performed. In the case of SB, antibiotic therapy should be initiated. Surgical treatment, i.e., incision, drainage, or bursectomy, should be restricted to severe, refractory, or chronic/recurrent cases.
Conclusions
The available evidence did not support the central European concept of immediate bursectomy in cases of SB. A conservative treatment regimen should be pursued, following bursal aspirate-based differentiation between SB and NSB.
Access options
Buy single article
Instant access to the full article PDF.
USD 39.95
Price excludes VAT (USA)
Tax calculation will be finalised during checkout.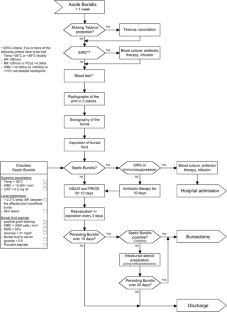 References
Abzug JM, Chen NC, Jacoby SM (2012) Septic olecranon bursitis. J Hand Surg 37(6):1252–1253

Baumbach SF, Michel M, Wyen H, Buschmann CT, Kdolsky R, Kanz K-G (2013) Current treatment concepts for olecranon and prepatellar bursitis in Austria. Z Orthop Unfall 151:149–155

Baumbach SF, Wyen H, Perez C, Kanz K-G, Uçkay I (2013) Evaluation of current treatment regimens for prepatellar and olecranon bursitis in Switzerland. Eur J Trauma Emerg Surg 39(1):65–72

Black B (1934) Development of human synovial bursae. Anat Rec 60:333

Blankstein A, Ganel A, Givon U, Mirovski Y, Chechick A (2006) Ultrasonographic findings in patients with olecranon bursitis. Ultraschall Med 27(6):568–571

Bone RC, Balk RA, Cerra FB et al (1992) Definitions for sepsis and organ failure and guidelines for the use of innovative therapies in sepsis. The ACCP/SCCM Consensus Conference Committee. American College of Chest Physicians/Society of Critical Care Medicine. Chest 101(6):1644–1655

Buskila D, Tenenbaum J (1989) Septic bursitis in human immunodeficiency virus infection. J Rheumatol 16(10):1374–1376

Butcher JD, Salzman KL, Lillegand WA (1996) Lower extremity bursitis. Am Fam Physician 53(7):2317–2324

Canoso JJ, Sheckman PR (1979) Septic subcutaneous bursitis. Report of sixteen cases. J Rheumatol 6(1):96–102

Cariello PF, Wickes BL, Sutton DA et al (2013) Phomopsis bougainvilleicola prepatellar bursitis in a renal transplant recipient. J Clin Microbiol 51(2):692–695

Cea-Pereiro JC, Garcia-Meijide J, Mera-Varela A, Gomez-Reino JJ (2001) A comparison between septic bursitis caused by Staphylococcus aureus and those caused by other organisms. Clin Rheumatol 20(1):10–14

Chen J, Alk D, Eventov I, Weintroub S (1987) Development of the olecranon bursa: an anatomic cadaveric study. Acta Orthop Scand 58:408–409

Choudhery V (1999) The role of diagnostic needle aspiration in olecranon bursitis. J Accid Emerg Med 16(4):282–283

Crenshaw AH (1992) Campbell's operative orthopaedics. Mosby, St Louis

Damert H-G, Altmann S, Schneider W (2009) Weichteildefekte nach komplizierter Bursitis olecrani. Therapieoptionen zur Defektdeckung am Ellenbogen. Der Chirurg 80(5):448 (pp 450–444)

de Montclos M, Chatte G, Perrin-Fayolle M, Flandrois JP (1995) Olecranon bursitis due to Prototheca wickerhamii, an algal opportunistic pathogen. Eur J Clin Microbiol Infect Dis 14:561–562

Degreef I, De Smet L (2006) Complications following resection of the olecranon bursa. Acta Orthop Belg 72(4):400–403

Del Buono A, Franceschi F, Palumbo A, Denaro V, Maffulli N (2012) Diagnosis and management of olecranon bursitis. Surgeon 10:297–300

Fernandes EA, Lopes MG, Mitraud SAV, Ferrari AJL, Fernandes ARC (2012) Ultrasound characteristics of gouty tophi in the olecranon bursa and evaluation of their reproducibility. Eur J Radiol 81(2):317–323

Fisher RH (1977) Conservative treatment of distended patellar and olecranon bursae. Clin Orthop Relat Res (123):98

Floemer F, Morrison WB, Bongartz G, Ledermann HP (2004) MRI characteristics of olecranon bursitis. AJR Am J Roentgenol 183(1):29–34

Flomenbaum N, Goldfrank L, Jacobson S (1995) Emergency diagnostic testing, 2nd edn. Mosby-Year Book, New York, pp 317–328

Freemont AJ, Denton J (1991) Atlas of synovial fluid cytopathology. Current histopathology, vol 18. Kluwer, Dordrecht

Freys SM (1997) Olecranon and pre-patellar bursitis. Langenbecks Arch Chir Suppl Kongressbd 114:493–496

García-Porrúa C, González-Gay MA, Ibañez D, García-País MJ (1999) The clinical spectrum of severe septic bursitis in northwestern Spain: a 10 year study. J Rheumatol 26(3):663–667

Gatter RA, Schumacher HR (1991) A practical handbook of joint fluid analysis, 2nd edn. Lea and Febiger, Philadelphia

Gómez-Rodríguez N, Méndez-García MJ, Ferreiro-Seoane JL, Ibáñez-Ruán J, Penelas-Cortés Bellas Y (1997) Infectious bursitis: study of 40 cases in the pre-patellar and olecranon regions. Enferm Infecc Microbiol Clin 15(5):237–242

Hennrikus WL, Champa JR, Mack GR (1989) Treating septic prepatellar bursitis. West J Med 151(3):331–332

Herrera FA, Meals RA (2011) Chronic olecranon bursitis. J Hand Surg 36(4):708–709 (quiz 710)

Ho G, Su EY (1981) Antibiotic therapy of septic bursitis. Its implication in the treatment of septic arthritis. Arthr Rheum 24(7):905–911

Ho G, Tice AD (1979) Comparison of nonseptic and septic bursitis. Further observations on the treatment of septic bursitis. Arch Intern Med 139(11):1269–1273

Ho G, Tice AD, Kaplan SR (1978) Septic bursitis in the prepatellar and olecranon bursae: an analysis of 25 cases. Ann Intern Med 89(1):21–27

Hoffmeyer P, Chalmers A, Price GE (1980) Septic olecranon bursitis in a general hospital population. CMAJ 122:874–876

Huang Y-C, Yeh W-L (2010) Endoscopic treatment of prepatellar bursitis. Int Orthop 35:355–358

Kaalund S, Breddam M, Kristensen G (1998) Endoscopic resection of the septic prepatellar bursa. Arthroscopy 14(7):757–758

Kanz KG, Eitel F, Waldner H, Schweiberer L (1994) Development of clinical algorithms for quality assurance in management of multiple trauma. Der Unfallchirurg 97(6):303–307

Kerr DR (1993) Prepatellar and olecranon arthroscopic bursectomy. Clin Sports Med 12(1):137–141

Kerr DR, Carpenter CW (1990) Arthroscopic resection of olecranon and prepatellar bursae. Arthroscopy 6(2):86–88

Knight JM, Thomas JC, Maurer RC (1986) Treatment of septic olecranon and prepatellar bursitis with percutaneous placement of a suction-irrigation system. A report of 12 cases. Clin Orthop Relat Res (206):90–93

Laupland KB, Davies HD, Group CHPTPS (2001) Olecranon septic bursitis managed in an ambulatory setting. The Calgary Home Parenteral Therapy Program Study Group. Clin Invest Med 24(4):171–178

Leitner E, Valentin T, Hoenigl M et al (2013) Nocardia asiatica olecranon bursitis in an immunocompetent patient: first Austrian report from a returning traveller. J Clin Microbiol 51:2461–2462

Malkin J, Shrimpton A, Wiselka M, Barer MR, Duddridge M, Perera N (2009) Olecranon bursitis secondary to Mycobacterium kansasii infection in a patient receiving infliximab for Behcet's disease. J Med Microbiol 58(Pt 3):371–373

Martinez-Taboada VM, Cabeza R, Cacho PM, Blanco R, Rodriguez-Valverde V (2009) Cloxacillin-based therapy in severe septic bursitis: retrospective study of 82 cases. Joint Bone Spine 76(6):665–669

McAfee JH, Smith DL (1988) Olecranon and prepatellar bursitis. Diagnosis and treatment. West J Med 149(5):607–610

McCarthy P (1989) Managing bursitis in the athlete: an overview. Phys Sportsmed 17(11):115–125

McFarland EG, Mamanee P, Queale WS, Cosgarea AJ (2000) Olecranon and prepatellar bursitis: treating acute, chronic, and inflamed. Phys Sportsmed 28(3):40–52

Morrey BF (1993) The ellbow and its disorders. WB Saunders, Philadelphia, pp 872–880

Mysnyk MC, Wroble RR, Foster DT, Albright JP (1986) Prepatellar bursitis in wrestlers. Am J Sports Med 14(1):46–54

Naryshki S, Frank I, Nachamkin I (1987) Prototheca zopfii isolated from a patient with olecranon bursitis. Diagn Microbiol Infect Dis 6:171–174

Nussbaumer P, Candrian C, Hollinger A (2001) Endoscopic bursa shaving in acute bursitis. Swiss Surg (Schweizer Chirurgie = Chirurgie suisse = Chirurgia svizzera) 7(3):121–125

Ogilvie-Harris DJ, Gilbart M (2000) Endoscopic bursal resection: the olecranon bursa and prepatellar bursa. Arthroscopy 16(3):249–253

Papadakis KA, Vartivarian SE, Vassilaki ME, Anaissie EJ (1996) Septic prepatellar bursitis caused by Stenotrophomonas (Xanthomonas) maltophilia. Clin Infect Dis 22(2):388–389

Pednekar M, Chandra PA, Margulis Y, Chandra AB, Schiff C (2011) Protothecal olecranon bursitis: an unusual algal infection. Am J Med Sci 342(5):424

PEG (2010) Empfehlungen zur kalkulierten parenteralen Initialtherapie bakterieller Erkrankungen bei Erwachsenen. Chemother J 19:179–255

Perez C, Huttner A, Assal M et al (2010) Infectious olecranon and patellar bursitis: short-course adjuvant antibiotic therapy is not a risk factor for recurrence in adult hospitalized patients. J Antimicrob Chemother 65(5):1008–1014

Pien FD, Ching D, Kim E (1991) Septic bursitis: experience in a community practice. Orthopedics 14(9):981–984

Quayle JB, Robinson MP (1976) An operation for chronic prepatellar bursitis. J Bone Joint Surg Br 58-B(4):504–506

Quayle JB, Robinson MP (1978) A useful procedure in the treatment of chronic olecranon bursitis. Injury 9(4):299–302

Raddatz DA, Hoffman GS, Franck WA (1987) Septic bursitis: presentation, treatment and prognosis. J Rheumatol 14(6):1160–1163

Roschmann RA, Bell CL (1987) Septic bursitis in immunocompromised patients. Am J Med 83(4):661–665

Schulze J, Czaja S, Linder PE (2000) Comparative results after endoscopic synovectomy and open bursectomy in chronic bursitis olecrani. Swiss Surg (Schweizer Chirurgie = Chirurgie suisse = Chirurgia svizzera) 6(6):323–327

Shell D, Perkins R, Cosgarea A (1995) Septic olecranon bursitis: recognition and treatment. J Am Board Fam Pract 8(3):217–220

Shmerling RH, Delbanco TL, Tosteson AN, Trentham DE (1990) Synovial fluid tests. What should be ordered? JAMA 264(8):1009–1014

Singer KM, Butters KP (1994) Olecranon bursitis. In: DeLee J, Drez D (eds) Orthopaedic sports medicine. WB Saunders & Co, Philadelphia, pp 890–895

Skedros JG, Keenan KE, Trachtenberg JD (2013) Candida glabrata olecranon bursitis treated with bursectomy and intravenous caspofungin. J Surg Orthop Adv 22(2):179–182

Smith DL, McAfee JH, Lucas LM, Kumar KL, Romney DM (1989) Septic and nonseptic olecranon bursitis. Utility of the surface temperature probe in the early differentiation of septic and nonseptic cases. Arch Intern Med 149(7):1581–1585

Smith DL, McAfee JH, Lucas LM, Kumar KL, Romney DM (1989) Treatment of nonseptic olecranon bursitis. A controlled, blinded prospective trial. Arch Intern Med 149(11):2527–2530

Söderquist B, Hedström SA (1986) Predisposing factors, bacteriology and antibiotic therapy in 35 cases of septic bursitis. Scand J Infect Dis 18(4):305–311

Steinacker T, Verdonck AJ (1998) Endoscopic therapy of pre-patellar bursitis. Sportverletz Sportschaden 12(4):162–164

Stell IM (1996) Septic and non-septic olecranon bursitis in the accident and emergency department—an approach to management. J Accid Emerg Med 13(5):351–353

Stell IM (1999) Management of acute bursitis: outcome study of a structured approach. J R Soc Med 92(10):516–521

Stell IM, Gransden WR (1998) Simple tests for septic bursitis: comparative study. BMJ 316(7148):1877

Stewart NJ, Manzanares JB, Morrey BF (1997) Surgical treatment of aseptic olecranon bursitis. J Shoulder Elbow Surg 6(1):49–54

Terada M, Fujita J, Watanabe S et al (2011) Olecranon bursa with Fusarium solani infection in an otherwise healthy patient. Mycoses 54(6):e853–e855

Thomas L (1998) Labor und diagnose; Indikation und Bewertung von Laborbefunden fuer die medizinische Diagnostik; 5th edn. Th-Books

Thompson GR, Manshady BM, Weiss JJ (1978) Septic bursitis. JAMA 240(21):2280–2281

Tintinalli JE, Kelen GD, Stapczynski JS (2003) Emergency medicine: a comprehensive study guide, 6th edn. Mcgraw-Hill Professional, New York, pp 1795–1800

Wallach JC, Delpino MV, Scian R, Deodato B, Fossati CA, Baldi PC (2010) Prepatellar bursitis due to Brucella abortus: case report and analysis of the local immune response. J Med Microbiol 59(Pt 12):1514–1518

Wasserman AR, Melville LD, Birkhahn RH (2009) Septic bursitis: a case report and primer for the emergency clinician. J Emerg Med 37(3):269–272

Weinstein PS, Canoso JJ, Wohlgethan JR (1984) Long-term follow-up of corticosteroid injection for traumatic olecranon bursitis. Ann Rheum Dis 43(1):44–46

Wilson-MacDonald J (1987) Management and outcome of infective prepatellar bursitis. Postgrad Med J 63(744):851–853

Wright TW, Sheppard JE (1985) Suction-irrigation system in refractory septic bursitis. Orthop Rev 14:45–48

Zimmermann B, Mikolich DJ, Ho G (1995) Septic bursitis. Semin Arthr Rheum 24(6):391–410
Conflict of interest
The authors declare that they have no conflict of interest.
About this article
Cite this article
Baumbach, S.F., Lobo, C.M., Badyine, I. et al. Prepatellar and olecranon bursitis: literature review and development of a treatment algorithm. Arch Orthop Trauma Surg 134, 359–370 (2014). https://doi.org/10.1007/s00402-013-1882-7
Received:

Published:

Issue Date:

DOI: https://doi.org/10.1007/s00402-013-1882-7
Keywords