Abstract
Introduction
Lack of standardization of outcome measurement has hampered an evidence-based approach to clinical practice and research.
Methods
We adopted a process of reviewing evidence on current use of measures and appropriate theoretical frameworks for health and disability to inform a consensus process that was focused on deriving the minimal set of core domains in distal radius fracture.
Results
We agreed on the following seven core recommendations: (1) pain and function were regarded as the primary domains, (2) very brief measures were needed for routine administration in clinical practice, (3) these brief measures could be augmented by additional measures that provide more detail or address additional domains for clinical research, (4) measurement of pain should include measures of both intensity and frequency as core attributes, (5) a numeric pain scale, e.g. visual analogue scale or visual numeric scale or the pain subscale of the patient-reported wrist evaluation (PRWE) questionnaires were identified as reliable, valid and feasible measures to measure these concepts, (6) for function, either the Quick Disability of the arm, shoulder and hand questionnaire or PRWE-function subscale was identified as reliable, valid and feasible measures, and (7) a measure of participation and treatment complications should be considered core outcomes for both clinical practice and research.
Conclusion
We used a sound methodological approach to form a comprehensive foundation of content for outcomes in the area of distal radius fractures. We recommend the use of symptom and function as separate domains in the ICF core set in clinical research or practice for patients with wrist fracture. Further research is needed to provide more definitive measurement properties of measures across all domains.
Access options
Buy single article
Instant access to the full article PDF.
USD 39.95
Price excludes VAT (USA)
Tax calculation will be finalised during checkout.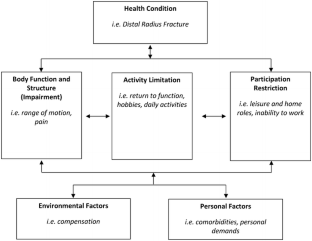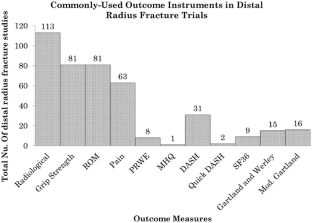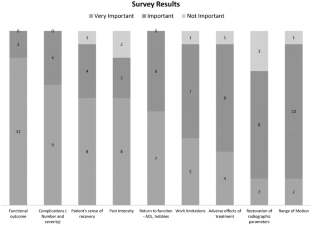 References
About Us (2012) Definition of Health. https://apps.who.int/aboutwho/en/definition.html. WHO. Accessed 12 April 2012

Abraham A, Handoll HH, Khan T (2008) Interventions for treating wrist fractures in children. Cochrane Database Syst Rev 2:CD004576

Amadio P (1996) Review of outcomes. J of Hand Surg 21:781–787

Beaton DE, Wright JG, Katz JN (2005) Development of the QuickDASH: comparison of three-item reduction approaches. J Bone Joint Surg Am 87:1038–1046

Bellamy N, Kirwan J, Boers M et al (1997) Recommendations for a core set of outcome measures for future phase II clinical trials in knee, hip and hand osteoarthritis. Consensus development at OMERACT III. J Rhematol 24:799–802

Changulani M, Okonkwo U, Keswani T, Kalairajah Y (2008) Outcome evaluation measures for wrist and hand: which one to choose? Int Orthop 32:1–6

Cieza A, Ewert T, Ustün TB et al (2004) Development of ICF core sets for patients with chronic conditions. J Rehabil Med 36(suppl 44):9–11

Coenen M, Cieza A, Freeman J et al (2011) Members of the consensus conference. The development of ICF Core Sets for multiple sclerosis: results of the international consensus conference. J Neurol 258:1477–1488

Finger ME, Escorpizio R, Glässel A et al (2011) ICF core set for vocational rehabilitation: results of an international consensus conference. Disabil Rehabil 34(5):429–438

Goldhahn J, Angst F, Simmen BR (2008) What counts: outcome assessment after distal radius fractures in aged patients. J Orthop Trauma 22:S126–S130

Green DP, O'Brien ET (1978) Open reduction of carpal dislocations: indications and operative techniques. J Hand Surg 3:250–265

Handoll HH, Madhok R, Howe TE (2006) Rehabilitation for distal radial fractures in adults. Cochrane Database Syst Rev 3:CD003324

Hoang-Kim A (2010) The first international society for fracture repair and international osteoporosis foundation "osteoporosis: from evidence to action" combined symposium and working groups. Adv Orthop 2:15–18

Hoang-Kim A, Scott J, Micera G et al (2009) Functional assessment in patients with osteoporotic wrist fractures treated with external fixation: a review of randomized trials. Arch Orthop Trauma Surg 129:105–111

Hoang-Kim A, Pegreffi F, Moroni A, Ladd A (2011) Measuring wrist and hand function: common scales and checklists. Injury 42:253–258

Hodsman AB, Leslie WD, Tsang JF, Gamble GD (2008) 10-year probability of recurrent fractures following wrist and other osteoporotic fractures in a large clinical cohort: an analysis from the manitoba bone density program. Arch Intern Med 10(168):2261–2267

ICF Core Set Projects (2010) http://www.icf-research-branch.org/icf-core-sets-projects.html. ICF Research Branch website. Accessed 12 April 2012

ICF Research Branch (2010) Development of ICF core sets for hand conditions. http://www.icf-research-branch.org/icf-core-sets-projects/other-health-conditions/development-of-icf-core-sets-for-hand-conditions.html. Accessed 12 April 2012

Institute for Work and Health (2012) The DASH outcome measure. www.dash.iwh.on.ca. Accessed 12 April 2012

Kennedy CA, Beaton DE, Solway S et al (2011) The DASH and QuickDASH outcome measures user's manual, 3rd edn. Institute for Work and Health, Toronto

Kotsis SV, Lau FH, Chung KC (2007) Responsiveness of the Michigan Hand Outcomes Questionnaire and physical measurements in outcome studies of distal radius fracture treatment. J Hand Surg 32:84–90

Lips P, Jameson K, Bianchi ML et al (2010) Validation of the IOF quality of life questionnaire for patients with wrist fracture. Osteo Int 21:61–70

Lohr KN, Aaronson NK, Alonso J et al (1996) Evaluating quality-of-life and health status instruments: development of scientific review criteria. Clin Ther 18:979–992

MacDermid JC, Tottenham V (2004) Responsiveness of the disability of the arm, shoulder, and hand (DASH) and patient-rated wrist/hand evaluation (PRWHE) in evaluating change after hand therapy. J Hand Ther 17:18–23

McKay SD, MacDermid JC, Roth JH, Richards RS (2001) Assessment of complications of distal radius fractures and development of a complication checklist. J Hand Surg Am 26(5):916–922

Michlovitz SL, LaStayo PC, Alzner S, Watson E (2001) Distal radius fractures: therapy practice patterns. J Hand Ther 14:249–257

Mokkink LB, Terwee CB, Patrick DL et al (2010) The COSMIN study reached international consensus on taxonomy, terminology, and definitions of measurement properties for health-related patient-reported outcomes. J Clin Epidemiol 63:737–745

Riddle DL, Stratford PW, Singh JA et al (2009) Variation in outcome measures in hip and knee arthroplasty clinical trials: a proposed approach to achieving consensus. J Rheum 36:2050–2056

Shauver MJ, Yin H, Banerjee M et al (2011) Current and future national costs to medicare for the treatment of distal radius fracture in the elderly. J Hand Surg 36:1282–1287

Stucki G, Grimby G (2004) Foreword: applying the ICF in medicine. J Rehabil Med 36:5–6

Tugwell P, Boers M (1993) OMERACT conference on outcome measures in rheumatoid arthritis clinical trials: conclusion. J Rheum 20:590

US Food and Drug Administration (2009) Guidance for Industry Patient-reported outcome measures: use in medical product development to support labeling claims. US department of health and human services food and drug administration. available from:www.fda.gov/downloads/Drugs/GuidanceComplianceRegulatoryInformation/Guidances/UCM193282:pdf. Accessed 12 April 2012

Vannabouathong C, Sprague S, Bhandari M (2011) Guidelines for fracture healing assessments in clinical trials. Part I: definitions and endpoint committees. Injury 42:314–316

Williamson PR, Altman D, Blazeby J et al (2012) Driving up the quality and relevance of research through the use of agreed core outcomes. J Health Serv Res Policy 17:1–2

World Health Organization (2001) International classification of functioning, disability and health (ICF). Switzerland, Geneva, pp 10–20
Acknowledgments
The consensus paper is the result of two workshops organized jointly by the international society for fracture repair (ISFR) and the international osteoporosis foundation (IOF) supported by unrestricted grants from Amgen, Lilly, Novartis, Pearltec, Servier, and Stryker. This manuscript was approved by the fracture working group under the committee of scientific advisors of the IOF.
Additional information
On behalf of the distal radius working group of ISFR and IOF.
Appendix: members of the distal radius working group of ISFR and IOF in alphabetical order
Appendix: members of the distal radius working group of ISFR and IOF in alphabetical order
F Angst (Switzerland), D Beaton (Canada), MK Chang (Switzerland), C Cooper (UK), J Goldhahn (Switzerland), A Hoang-Kim (Canada), N Hollevoet (Belgium), A Johnstone (UK), J Jupiter (US), A Ladd (US), P Lips (NL), J MacDermid (Canada), M Marks (Switzerland), B Mitlak (US), G Moeller (Switzerland), TL Müller (Switzerland), F Pegreffi (Italy), S Pennaforte (France), JE Puzas (US), D Rikli (Switzerland), D Service (Ireland), T Shisha (France), B Simmen (Switzerland), T Rozental (US), O Ulrich (Switzerland), D A Wahl (Switzerland).
About this article
Cite this article
Goldhahn, J., Beaton, D., Ladd, A. et al. Recommendation for measuring clinical outcome in distal radius fractures: a core set of domains for standardized reporting in clinical practice and research. Arch Orthop Trauma Surg 134, 197–205 (2014). https://doi.org/10.1007/s00402-013-1767-9
Received:

Published:

Issue Date:

DOI: https://doi.org/10.1007/s00402-013-1767-9
Keywords
Distal radius fracture

Consensus

Core outcome measures

Health measurement

Pain

Function