Abstract
Introduction
Both-bone diaphyseal forearm fractures in children can be stabilised without cast by a flexible intramedullary nail in both the radius and the ulna. Adequate results with single-bone fixation combined with a complementary cast are also reported. However, because those results are based on a selection of children, this trial investigates whether single-bone intramedullary fixation, compared with both-bone intramedullary fixation, results in similar pronation and supination in children with an unstable diaphyseal both-bone forearm fracture.
Materials and methods
In four Dutch hospitals, 24 consecutive children aged <16 years with a displaced unstable both-bone diaphyseal forearm fracture were randomly allocated to single-bone or both-bone intramedullary fixation. Primary outcome was limitation of pronation and supination 9 months after initial trauma. Secondary outcomes were limitation of flexion/extension of wrist/elbow, complication rate, operation time, cosmetics of the fractured arm, complaints in daily life, and assessment of radiographs.
Results
Between January 2006 and August 2010, 11 children were randomised to single-bone fixation and 13 to both-bone fixation. In the both-bone fixation group, two fractures were stabilized by only one nail. In both groups, median limitation of pronation/supination at 9-month follow-up was 5°–10°. In both groups operation time was similar but in the single-bone fixation group cast immobilisation was longer (median of 37 vs. 28 days). In four children, re-displacement of the fracture occurred in those fractures without an intramedullary nail.
Conclusions
These results caution against the use of single-bone fixation in all both-bone forearm fractures. This method may lead to increased re-displacement and reduced clinical results.
Access options
Buy single article
Instant access to the full article PDF.
USD 39.95
Price excludes VAT (USA)
Tax calculation will be finalised during checkout.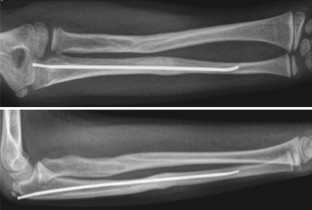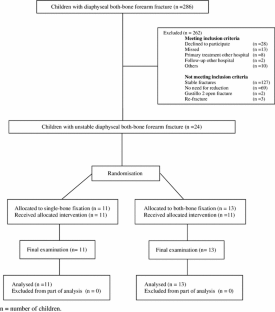 Similar content being viewed by others
References
Amit Y, Salai M, Chechik A, Blankstein A, Horoszowski H (1985) Closing intramedullary nailing for the treatment of diaphyseal forearm fractures in adolescence: a preliminary report. J Pediatr Orthop 5(2):143–146

Cullen MC, Roy DR, Giza E, Crawford AH (1998) Complications of intramedullary fixation of pediatric forearm fractures. J Pediatr Orthop 18(1):14–21

Luhmann SJ, Gordon JE, Schoenecker PL (1998) Intramedullary fixation of unstable both-bone forearm fractures in children. J Pediatr Orthop 18(4):451–456

Roy DR, Crawford AH (1990) Operative management of fractures of the shaft of the radius and ulna. Orthop Clin North Am 21(2):245–250

Shoemaker SD, Comstock CP, Mubarak SJ, Wenger DR, Chambers HG (1999) Intramedullary Kirschner wire fixation of open or unstable forearm fractures in children. J Pediatr Orthop 19(3):329–337

Verstreken L, Delronge G, Lamoureux J (1988) Shaft forearm fractures in children: intramedullary nailing with immediate motion: a preliminary report. J Pediatr Orthop 8(4):450–453

Dietz HG, Schmittenbecher PP, Slongo T, Wilkins KE (2006) AO manual of fracture management. ESIN in children

Metaizeau JP, Ligier JN (1984) Surgical treatment of fractures of the long bones in children. Interference between osteosynthesis and the physiological processes of consolidation. Therapeutic indications. J Chir 121(8–9):527–537

Prevot J, Lascombes P, Ligier JN (1993) The ECMES [Centro-Medullary Elastic Stabilising Wiring) osteosynthesis method in limb fractures in children. Principle, application on the femur. Apropos of 250 fractures followed-up since 1979. Chirurgie 119(9):473–476

Dietz JF, Bae DS, Reiff E, Zurakowski D, Waters PM (1996) Single bone intramedullary fixation of the ulna in pediatric both bone forearm fractures: analysis of short-term clinical and radiographic results. J Pediatr Orthop 30(5):420–424

Flynn JM, Waters PM (1996) Single-bone fixation of both-bone forearm fractures. J Pediatr Orthop 16(5):655–659

Houshian S, Bajaj SK (2005) Forearm fractures in children. Single bone fixation with elastic stable intramedullary nailing in 20 cases. Injury 36(12):1421–1426

Lee S, Nicol RO, Stott NS (2002) Intramedullary fixation for pediatric unstable forearm fractures. Clin Orthop Relat Res 402:245–250

Myers GJ, Gibbons PJ, Glithero PR (2004) Nancy nailing of diaphyseal forearm fractures. Single bone fixation for fractures of both bones. J Bone Joint Surg Br 86(4):581–584

Sharieff GQ, Kanegaye J, Wallace CD, McCaslin RI, Harley JR (1999) Can portable bedside fluoroscopy replace standard, postreduction radiographs in the management of pediatric fractures? Pediatr Emerg Care 15(4):249–251

Yung PS, Lam CY, Ng BK, Lam TP, Cheng JC (2004) Percutaneous transphyseal intramedullary Kirschner wire pinning: a safe and effective procedure for treatment of displaced diaphyseal forearm fracture in children. J Pediatr Orthop 24(1):7–12

Alnaib M, Taranu R, Lakkol S, Aldlyami E, Alcelik I, Tulloch C (2011) Radius-only intramedullary nailing for both-bones diaphyseal forearm fractures in children. Acta Orthop Belg 77(4):458–463

Kirkos JM, Beslikas T, Kapras EA, Papavasiliou VA (2000) Surgical treatment of unstable diaphyseal both-bone forearm fractures in children with single fixation of the radius. Injury 31(8):591–596

Meier R, Prommersberger KJ, van Griensven M, Lanz U (2004) Surgical correction of deformities of the distal radius due to fractures in pediatric patients. Arch Orthop Trauma Surg 124(1):1–9

Boyer BA, Overton B, Schrader W, Riley P, Fleissner P (2002) Position of immobilization for pediatric forearm fractures. J Pediatr Orthop 22(2):185–187

Choi KY, Chan WS, Lam TP, Cheng JC (1995) Percutaneous Kirschner-wire pinning for severely displaced distal radial fractures in children. A report of 157 cases. J Bone Joint Surg Br 77(5):797–801

Daruwalla JS (1979) A study of radioulnar movements following fractures of the forearm in children. Clin Orthop Relat Res 139:114–120

Gibbons CL, Woods DA, Pailthorpe C, Carr AJ, Worlock P (1994) The management of isolated distal radius fractures in children. J Pediatr Orthop 14(2):207–210

Jones K, Weiner DS (1999) The management of forearm fractures in children: a plea for conservatism. J Pediatr Orthop 19(6):811–815

Mani GV, Hui PW, Cheng JC (1993) Translation of the radius as a predictor of outcome in distal radial fractures of children. J Bone Joint Surg Br 75(5):808–811

Maric D, Petkovic L, Tomasevic V, Bajic L, Gajdobranski D, Marcikic A (2002) Osteosynthesis with Kirschner wires in the treatment of dislocation fractures of the forearm in children. Med Pregl 55(3–4):140–145

Noonan KJ, Price CT (1998) Forearm and distal radius fractures in children. J Am Acad Orthop Surg 6(3):146–156

Tynan MC, Fornalski S, McMahon PJ, Utkan A, Green SA, Lee TQ (2000) The effects of ulnar axial malalignment on supination and pronation. J Bone Joint Surg Am 82-A(12):1726–1731

Zimmermann R, Gabl M, Angermann P, Lutz M, Reinhart C, Kralinger F, Pechlaner S (2000) Late sequelae of fractures of the distal third of the forearm during the growth period. Handchir Mikrochir Plast Chir 32(4):242–249

Gustilo RB, Simpson L, Nixon R, Ruiz A, Indeck W (1969) Analysis of 511 open fractures. Clin Orthop Relat Res 66:148–154

Colaris J, van der Linden M, Selles R, Coene N, Allema JH, Verhaar J (2010) Pronation and supination after forearm fractures in children: reliability of visual estimation and conventional goniometry measurement. Injury 41(6):643–646

Price CT, Scott DS, Kurzner ME, Flynn JC (1990) Malunited forearm fractures in children. J Pediatr Orthop 10(6):705–712

Arnould C, Penta M, Renders A, Thonnard JL (2004) ABILHAND-Kids: a measure of manual ability in children with cerebral palsy. Neurology 63(6):1045–1052

Altay M, Aktekin CN, Ozkurt B, Birinci B, Ozturk AM, Tabak AY (2006) Intramedullary wire fixation for unstable forearm fractures in children. Injury 37(10):966–973

Jubel A, Andermahr J, Isenberg J, Issavand A, Prokop A, Rehm KE (2005) Outcomes and complications of elastic stable intramedullary nailing for forearm fractures in children. J Pediatr Orthop B 14(5):375–380

Kapoor V, Theruvil B, Warwick DJ, Uglow MG (2004) Distal radio-ulnar joint subluxation following intramedullary nailing of the radius in a child. J Bone Joint Surg Br 86(4):592–594

Kucukkaya M, Kabukcuoglu Y, Tezer M, Eren T, Kuzgun U (2002) The application of open intramedullary fixation in the treatment of pediatric radial and ulnar shaft fractures. J Orthop Trauma 16(5):340–344

Kumar G (2006) Comparison of short and long arm plaster casts for displaced fractures in the distal third of the forearm in children. J Bone Joint Surg Am 88(8):1888 (author reply 1888–1889)

Lascombes P, Haumont T, Journeau P (2006) Use and abuse of flexible intramedullary nailing in children and adolescents. J Pediatr Orthop 26(6):827–834

Qidwai SA (2001) Treatment of diaphyseal forearm fractures in children by intramedullary Kirschner wires. J Trauma 50(2):303–307

Richter D, Ostermann PA, Ekkernkamp A, Muhr G, Hahn MP (1998) Elastic intramedullary nailing: a minimally invasive concept in the treatment of unstable forearm fractures in children. J Pediatr Orthop 18(4):457–461

Calder PR, Achan P, Barry M (2003) Diaphyseal forearm fractures in children treated with intramedullary fixation: outcome of K-wire versus elastic stable intramedullary nail. Injury 34(4):278–282

Majed A, Baco AM (2007) Nancy nail versus intramedullary-wire fixation of paediatric forearm fractures. J Pediatr Orthop B 16(2):129–132

Miller BS, Taylor B, Widmann RF, Bae DS, Snyder BD, Waters PM (2005) Cast immobilization versus percutaneous pin fixation of displaced distal radius fractures in children: a prospective, randomized study. J Pediatr Orthop 25(4):490–494

Nilsson BE, Obrant K (1977) The range of motion following fracture of the shaft of the forearm in children. Acta Orthop Scand 48(6):600–602

Price CT, Knapp DR (2006) Osteotomy for malunited forearm shaft fractures in children. J Pediatr Orthop 26(2):193–196
About this article
Cite this article
Colaris, J., Reijman, M., Allema, J.H. et al. Single-bone intramedullary fixation of unstable both-bone diaphyseal forearm fractures in children leads to increased re-displacement: a multicentre randomised controlled trial. Arch Orthop Trauma Surg 133, 1079–1087 (2013). https://doi.org/10.1007/s00402-013-1763-0
Received:

Published:

Issue Date:

DOI: https://doi.org/10.1007/s00402-013-1763-0
Keywords