Abstract
Introduction
Patellar dislocation is a common knee injury with mainly lateral dislocations, leading to ruptures of the medial patellofemoral ligament in most of the cases. Even though several prognostic factors for patellofemoral instability have been identified so far, the appropriate therapy for patients with patellar dislocation remains a controversial issue. The purpose of this study was to compare the outcome after conservative or operative treatment in patients after first-time patellar dislocation.
Patients and methods
This randomized controlled clinical trial was designed multicentric including patients from six German orthopaedic and trauma departments. Twenty patients with a mean age of 24.6 years with first-time traumatic patella dislocation were included and randomized into either a conservative arm or an operative arm. Plain X-ray images of the knee joint (a.p. and lateral view and tangential view of both patellae) were performed in all cases prior to therapy to exclude osteochondral fragments requiring refixation. An MRI was recommended, but not compulsory. Patients were consulted after 6, 12, and 24 months with a questionnaire including the criteria of the Kujala score, recurrent dislocation, and satisfaction.
Results
The mean Kujala score of the conservative vs operative treatment group was 78.6 vs 80.3 after 6 months (p = 0.842), 79.9 vs 88.9 after 12 months (p = 0.165), and 81.3 vs 87.5 after 24 months (p = 0.339). Redislocation rate after 24 months was 37.5 % in the conservative group and 16.7 % in the operative group (p = 0.347). Due to the small number of patients that could be included, no significant difference between the groups could be detected. We see a tendency towards better results after operative treatment.
Conclusion
Our multicentric prospective randomized controlled trial revealed no significant difference between conservative and operative treatment for patients after first-time traumatic patellar dislocation. However, a tendency towards a better Kujala score and lower redislocation rates for patients with operative treatment was observed. The small number of patients is a limiting factor of the study, leading to results without statistical significance. A meta-analysis including other study′s level I data is desirable for the future.
Access options
Buy single article
Instant access to the full article PDF.
USD 39.95
Price excludes VAT (USA)
Tax calculation will be finalised during checkout.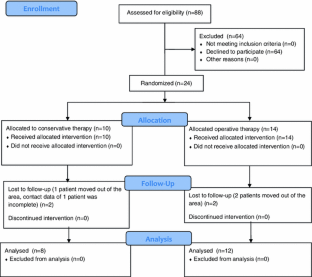 References
Arendt EA, Fithian DC, Cohen E (2002) Current concepts of lateral patella dislocation. Clin Sports Med 21(3):499–519

Balcarek P, Jung K, Ammon J, Walde TA, Frosch S, Schuttrumpf JP, Sturmer KM, Frosch KH (2010) Anatomy of lateral patellar instability: trochlear dysplasia and tibial tubercle-trochlear groove distance is more pronounced in women who dislocate the patella. Am J Sports Med 38(11):2320–2327. doi:10.1177/0363546510373887

Burks RT, Desio SM, Bachus KN, Tyson L, Springer K (1998) Biomechanical evaluation of lateral patellar dislocations. Am J Knee Surg 11(1):24–31

Oestern S, Varoga D, Lippross S, Kaschwich M, Finn J, Buddrus B, Seekamp A (2011) Patella dislocation. Unfallchirurg 114(4):345–359. doi:10.1007/s00113-011-2012-z

Stefancin JJ, Parker RD (2007) First-time traumatic patellar dislocation: a systematic review. Clin Orthop Relat Res 455:93–101. doi:10.1097/BLO.0b013e31802eb40a

Nikku R, Nietosvaara Y, Kallio PE, Aalto K, Michelsson JE (1997) Operative versus closed treatment of primary dislocation of the patella. Similar 2-year results in 125 randomized patients. Acta Orthop Scand 68(5):419–423

Nikku R, Nietosvaara Y, Aalto K, Kallio PE (2005) Operative treatment of primary patellar dislocation does not improve medium-term outcome: a 7-year follow-up report and risk analysis of 127 randomized patients. Acta Orthop 76(5):699–704. doi:10.1080/17453670510041790

Sillanpaa PJ, Mattila VM, Maenpaa H, Kiuru M, Visuri T, Pihlajamaki H (2009) Treatment with and without initial stabilizing surgery for primary traumatic patellar dislocation. A prospective randomized study. J Bone Joint Surg Am 91(2):263–273. doi:10.2106/JBJS.G.01449

Palmu S, Kallio PE, Donell ST, Helenius I, Nietosvaara Y (2008) Acute patellar dislocation in children and adolescents: a randomized clinical trial. J Bone Joint Surg Am 90(3):463–470. doi:10.2106/JBJS.G.00072

Christiansen SE, Jakobsen BW, Lund B, Lind M (2008) Isolated repair of the medial patellofemoral ligament in primary dislocation of the patella: a prospective randomized study. Arthroscopy 24(8):881–887. doi:10.1016/j.arthro.2008.03.012

Camanho GL, Viegas Ade C, Bitar AC, Demange MK, Hernandez AJ (2009) Conservative versus surgical treatment for repair of the medial patellofemoral ligament in acute dislocations of the patella. Arthroscopy 25(6):620–625. doi:10.1016/j.arthro.2008.12.005

Smith TO, Song F, Donell ST, Hing CB (2011) Operative versus non-operative management of patellar dislocation. A meta-analysis. Knee Surg Sports Traumatol Arthrosc 19(6):988–998. doi:10.1007/s00167-010-1355-2

Hartung J (2006) Flexible designs by adaptive plans of generalized Pocock- and O'Brien-Fleming-type and by self-designing clinical trials. Biom J 48(4):521–536

Kujala UM, Jaakkola LH, Koskinen SK, Taimela S, Hurme M, Nelimarkka O (1993) Scoring of patellofemoral disorders. Arthroscopy 9(2):159–163

Atkin DM, Fithian DC, Marangi KS, Stone ML, Dobson BE, Mendelsohn C (2000) Characteristics of patients with primary acute lateral patellar dislocation and their recovery within the first 6 months of injury. Am J Sports Med 28(4):472–479

Cash JD, Hughston JC (1988) Treatment of acute patellar dislocation. Am J Sports Med 16(3):244–249

Fithian DC, Paxton EW, Stone ML, Silva P, Davis DK, Elias DA, White LM (2004) Epidemiology and natural history of acute patellar dislocation. Am J Sports Med 32(5):1114–1121. doi:10.1177/0363546503260788

Nietosvaara Y, Aalto K, Kallio PE (1994) Acute patellar dislocation in children: incidence and associated osteochondral fractures. J Pediatr Orthop 14(4):513–515

Weber-Spickschen TS, Spang J, Kohn L, Imhoff AB, Schottle PB (2010) The relationship between trochlear dysplasia and medial patellofemoral ligament rupture location after patellar dislocation: an MRI evaluation. Knee. doi:10.1016/j.knee.2010.04.002

Sillanpaa PJ, Maenpaa HM, Mattila VM, Visuri T, Pihlajamaki H (2008) Arthroscopic surgery for primary traumatic patellar dislocation: a prospective, nonrandomized study comparing patients treated with and without acute arthroscopic stabilization with a median 7-year follow-up. Am J Sports Med 36(12):2301–2309. doi:10.1177/0363546508322894
Acknowledgments
We greatly acknowledge funding of Ormed-DJO™ for this study.
Conflict of interest
The authors declare that they have no conflict of interest.
Additional information
This is a multicentric study of the Committee TRAUMA of the AGA-Society for Arthroscopy and Joint Surgery and the Committee Arthroscopy of the German Society for Trauma Surgery (DGU).
About this article
Cite this article
Petri, M., Liodakis, E., Hofmeister, M. et al. Operative vs conservative treatment of traumatic patellar dislocation: results of a prospective randomized controlled clinical trial. Arch Orthop Trauma Surg 133, 209–213 (2013). https://doi.org/10.1007/s00402-012-1639-8
Received:

Published:

Issue Date:

DOI: https://doi.org/10.1007/s00402-012-1639-8
Keywords