Abstract
Objectives
Controversies exist over which type of graft is best for the reconstruction of the anterior cruciate ligament (ACL). The purpose of this systematic review was to evaluate the effectiveness of ACL reconstruction using either hamstring (HT) autografts or bone-patellar tendon-bone (BPTB) autografts.
Methods
We searched the Cochrane Library, MEDLINE and EMBASE for published randomized controlled trials (RCT) comparing HT autografts with BPTB autografts for ACL reconstruction. Data analyses were performed using Cochrane Collaboration RevMan 5.0.
Results
Nine RCTs (738 patients) met the inclusion criteria. The combined results of the meta-analysis indicated there was a significantly lower rate of negative Pivot test [relative risk (RR) 0.87, 95 % confidence intervals (CI) 0.79–0.96, P = 0.004], anterior knee pain (RR 0.66, 95 % CI 0.45–0.96, P = 0.03) and of kneeling pain (RR 0.49, 95 % CI 0.27–0.91, P = 0.02) in the HT group than in the BPTB group.
Conclusions
ACL reconstruction with HT autografts or BPTB autografts achieved similar postoperative effects in terms of restoring knee joint function. HT autografts were inferior to BPTB autografts for restoring knee joint stability, but were associated with fewer postoperative complications.
This is a preview of subscription content,
to check access.
Access this article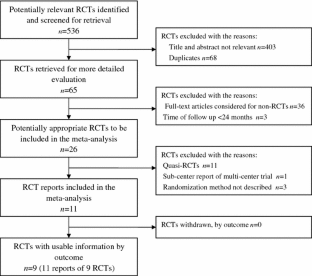 References
Fu FH, Bennett CH, Ma CB, Menetrey J, Lattermann C (2000) Current trends in anterior cruciate ligament reconstruction. Part II. Operative procedures and clinical correlations. Am J Sports Med 28:124–130

Matsumoto A, Yoshiya S, Muratsu H et al (2006) A comparison of bone-patellar tendon-bone and bone-hamstring tendon-bone autografts for anterior cruciate ligament reconstruction. Am J Sports Med 34:213–219

Gorschewsky O, Klakow A, Riechert K, Pitzl M, Becker R (2005) Clinical comparison of the tutoplast allograft and autologous patellar tendon (bone-patellar tendon-bone) for the reconstruction of the anterior cruciate ligament: 2- and 6-year results. Am J Sports Med 33:1202–1209

Barrett G, Stokes D, White M (2005) Anterior cruciate ligament reconstruction in patients older than 40 years: allograft versus autograft patellar tendon. Am J Sports Med 33:1505–1512

Prodromos C, Joyce B, Shi K (2007) A meta-analysis of stability of antografts compared to allografts after anterior cruciate ligament reconstruction. Knee Surg Sport Traumatol Arthrosc 15:851–856

Harilainen A, Sandelin J (2009) A prospective comparison of 3 hamstring ACL fixation devices-rigidfix, bioScrew, and intrafix-randomized into 4 groups with 2 years of follow-up. Am J Sports Med 37:699–706

Biau DJ, Tournoux C, Katsahian S, Schranz PJ, Nizard RS (2006) Bone-patellar tendon-bone autografts versus hamstring autografts for reconstruction of anterior cruciate ligament: meta-analysis. BMJ 332:995–1001

Kartus J, Magnusson L, Stener S, Brandsson S, Eriksson BI, Karlsson J (1999) Complications following arthroscopic anterior cruciate ligament reconstruction: a 2-5-year follow-up of 604 patients with special emphasis on anterior knee pain. Knee Surg Sports Traumatol Arthrosc 7:2–8

Shelbourne KD, Trumper RV (1997) Preventing anterior knee pain after anterior cruciate ligament reconstruction. Am J Sports Med 25:41–47

Freedman KB, D'Amato MJ, Nedeff DD, Kaz A, Bach BR Jr (2003) Arthroscopic anterior cruciate ligament reconstruction: a meta-analysis comparing patellar tendon and hamstring tendon autografts. Am J Sports Med 31:2–11

Spindler KP, Kuhn JE, Freedman KB, Matthews CE, Dittus RS, Harrell FE Jr (2004) Anterior cruciate ligament reconstruction autograft choice: bone-tendon-bone versus hamstring. Am J Sports Med 32:1986–1995

Biau DJ, Tournoux C, Katsahian S, Schranz P, Nizard R (2007) ACL reconstruction a meta-analysis of functional scores. Clin Orthop Relat Res 458:180–187

Goldblatt JP, Fitzsimmons SE, Balk E, Richmond JC (2005) Reconstruction of the anterior cruciate ligament: meta-analysis of patellar tendon versus hamstring tendon autografts. Arthroscopy 21:791–803

Biau DJ, Katsahian S, Kartus J et al (2009) Patellar tendon versus hamstring tendon autografts for reconstructing the anterior cruciate ligament: a meta-analysis based on individual patient data. Am J Sports Med 37:2470–2478

Lenza M, Belloti JC, Gomes Dos Santos JB, Matsumoto MH, Faloppa F (2009) Surgical interventions for treating acute fractures or non-union of the middle third of the clavicle. Cochrane Database Syst Rev 4:CD007428

Lefebvre C, Manheimer E, Glanville J (2008) Chapter 6: searching for studies. In: Higgins JPT, Green S (eds) Cochrane handbook for systematic reviews of interventions version 5.0.0 (updated February 2008). The Cochrane Collaboration. Available from http://www.cochrane-handbook.org

Higgins JPT, Altman DG (2008) Chapter 8: assessing risk of bias in included studies. In: Higgins JPT, Green S (eds) Cochrane handbook for systematic reviews of interventions version 5.0.0 (updated February 2008). The Cochrane Collaboration. Available from http://www.cochrane-handbook.org

Anderson AF, Snyder RB, Lipscomb AB Jr (2001) Anterior cruciate ligament reconstruction. A prospective randomized study of three surgical methods. Am J Sports Med 29:272–279

Beynnon BD, Johnson RJ, Fleming BC et al (2002) Anterior cruciate ligament replacement: comparison of bone-patellar tendon-bone grafts with two-strand hamstring grafts—a prospective, randomized study. J Bone Joint Surg Am 84:1503–1513

Ejerhed L, Kartus J, Sernert N, Kohler K, Karlsson J (2003) Patellar tendon or semitendinosus tendon autografts for anterior cruciate ligament reconstruction? A prospective randomized study with a two-year follow-up. Am J Sports Med 31:19–25

Lidén M, Ejerhed L, Sernert N, Laxdal G, Kartus J (2007) Patellar tendon or semitendinosus tendon autografts for anterior cruciate ligament reconstruction: a prospective, randomized study with a 7-Year follow-up. Am J Sports Med 35:740–748

Webster KE, Feller JA, Hameister KA (2001) Bone tunnel enlargement following anterior cruciate ligament reconstruction: a randomised comparison of hamstring and patellar tendon grafts with 2-year follow-up. Knee Surg Sports Traumatol Arthrosc 9:86–91

Feller JA, Webster KE (2003) A randomized comparison of patellar tendon and hamstring tendon anterior cruciate ligament reconstruction. Am J Sports Med 31:564–573

Laxdal G, Kartus J, Hansson L, Heidvall M, Ejerhed L, Karlsson J (2005) A prospective randomized comparison of bone-patellar tendon-bone and hamstring grafts for anterior cruciate ligament reconstruction. Arthroscopy 21:34–42

Maletis GB, Cameron SL, Tengan JJ, Burchette RJ (2007) A prospective randomized study of anterior cruciate ligament reconstruction: a comparison of patellar tendon and quadruple-strand semitendinosus/gracilis tendons fixed with bioabsorbable interference screws. Am J Sports Med 35:384–394

Taylor DC, DeBerardino TM, Nelson BJ, Duffey M, Tenuta J, Stoneman PD, Sturdivant RX, Mountcastle S (2009) Patellar tendon versus hamstring tendon autografts for anterior cruciate ligament reconstruction: a randomized controlled trial using similar femoral and tibial fixation methods. Am J Sports Med 37:1946–1957

Drogset JO, Strand T, Uppheim G, Odegård B, Bøe A, Grøntvedt T (2010) Autologous patellar tendon and quadrupled hamstring grafts in anterior cruciate ligament reconstruction: a prospective randomized multicenter review of different fixation methods. Knee Surg Sports Traumatol Arthrosc 18:1085–1093

Wipfler B, Donner S, Zechmann CM, Springer J, Siebold R, Paessler HH (2011) Anterior cruciate ligament reconstruction using patellar tendon versus hamstring tendon: a prospective comparative study with 9-year follow-up. Arthroscopy 27:653–665

Hefti F, Mueller W, Jacob RP et al (1993) Evaluation of knee ligament injuries with the IKDC form. Knee Surg Sports Traumatol Arthrosc 1:226–234

Irrgang JJ, Ho H, Harner CD, Fu FF (1998) Use of the international knee documentation committee guidelines to assess outcome following anterior cruciate ligament reconstruction. Knee Surg Sports Traumatol Arthrosc 6:107–114

Irrgang JJ, Anderson AF, Boland AL, Harner CD, Kurosaka M, Neyret P, Richmond JC, Shelborne KD (2001) Development and validation of the international knee documentation committee subjective knee form. Am J Sports Med 29:600–613

Poolman RW, Farrokhyar F, Bhandari M (2007) Hamstring tendon autograft better than bone patellar-tendon bone autograft in ACL reconstruction: a cumulative meta-analysis and clinically relevant sensitivity analysis applied to a previously published analysis. Acta Orthop 78:350–354

Maher CG, Sherrington C, Herbert RD, Moseley AM, Elkins M (2003) Reliability of the PEDro scale for rating quality of randomized controlled trials. Phys Ther 83:713–721

Jing L, Jialiang W (2001) The methods and evaluation principles of systematic review. Natl Med J China 81:53–55

Moher D, Cook D, Eastwood S et al (1999) Improving the quality of reports of randomized controlled trials: the QUORUM statement. Lancet 354(9193):1896–1900

Verhagen AP, de Vet HCW, de Bie RA et al (2001) The art of quality assessment of RCTs included in systematic reviews. J Clin Epidemiol 54:651–654

Moher D, Pham B, Jones A (1998) Does quality of reports of randomised trials affect estimates of intervention efficacy reported in meta-analyses? Lancet 352:609–613

Girgis FG, Marshall JL, Monajem A (1975) The cruciate ligaments of the knee joint. Anatomical, functional and experimental analysis. Clin Orthop Relat Res 106:216–231

Nagano M, Yoshiya S, Kuroda R, Kurosaka M, Mizuno K (1997) Remodeling and healing process of bone-patellar tendon-bone graft in a bone tunnel: a histological study in dogs. Trans Orthop Res Soc 22:78

Hamner DL, Brown CH Jr, Steiner ME, Hecker AT, Hayes WC (1999) Hamstrings tendon grafts for reconstruction of the anterior cruciate ligament: biomechanical evaluation of multiple strands and tensioning techniques. J Bone Joint Surg Am 81:549–557

Rodeo SA, Arnoczky SP, Torzilli PA, Hidaka C, Warren RF (1993) Tendon-healing in a bone tunnel. A biomechanical and histological study in the dog. J Bone Joint Surg Am 75:1795–1803

Papageorgiou CD, Ma CB, Abramowitch SD, Clineff TD, Woo SL-Y (2001) A multidisciplinary study of the healing of an intraarticular anterior cruciate ligament graft in a goat model. Am J Sports Med 29:620–626

Weiler A, Hoffman RFG, Bail HJ, Rehm O, Sudkamp NP (2002) Tendon healing in a bone tunnel: part II: histologic analysis after biodegradable interference fit fixation in a model of anterior cruciate ligament reconstruction in sheep. Arthroscopy 18:124–135

Victor J, Bellemans J, Witvrouw E et al (1997) Graft selection in anterior cruciate ligament reconstruction—prospective analysis of patellar tendon autografts compared with allografts. Int Orthop 21:93–97

Fu FH, Bennett CH, Ma CB, Menetrey J, Lattermann C (2000) Current trends in anterior cruciate ligament reconstruction. Part II. Operative procedures and clinical correlations. Am J Sports Med 28:124–130

Kartus J, Ejerhed L, Sernert N et al (2000) Comparison of traditional and subcutaneous patellar tendon harvest. A prospective study of donor site-related problems after anterior cruciate ligament reconstruction using different graft harvesting techniques. Am J Sports Med 28:328–335
Additional information
Shuzhen Li and Wei Su contributed equally to the study
About this article
Cite this article
Li, S., Chen, Y., Lin, Z. et al. A systematic review of randomized controlled clinical trials comparing hamstring autografts versus bone-patellar tendon-bone autografts for the reconstruction of the anterior cruciate ligament. Arch Orthop Trauma Surg 132, 1287–1297 (2012). https://doi.org/10.1007/s00402-012-1532-5
Received:

Published:

Issue Date:

DOI: https://doi.org/10.1007/s00402-012-1532-5
Keywords