Abstract
Aim
The study aimed to assess tendon length change following patello-femoral replacement (PFR) surgery and total knee replacement (TKR).
Method
A retrospective analysis was conducted of 40 patients undergoing PFR surgery and 40 patients undergoing TKR and an unoperated control group. Immediate preoperative radiographs were compared with those at 1 year postoperatively. Intra/inter-observer error was assessed in four observers.
Result
In the unoperated patients the mean shortening was 0.6% (range 6% shortening to 3% lengthening). The mean shortening after PFR surgery was 0.1% of shortening (range 14% shortening to 11% lengthening). The mean shortening after TKR was 7.14% (range 25% shortening to 7% lengthening).
Conclusion
Shortening of the patella tendon after PFR surgery occurs infrequently and less severely compared with TKR.
Level of evidence
Level 2 prognostic study.
Access options
Buy single article
Instant access to the full article PDF.
US$ 39.95
Tax calculation will be finalised during checkout.
Subscribe to journal
Immediate online access to all issues from 2019. Subscription will auto renew annually.
US$ 119
Tax calculation will be finalised during checkout.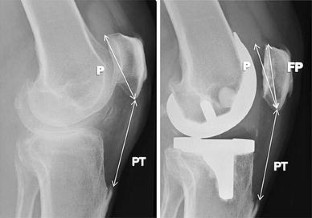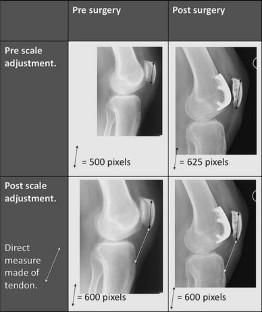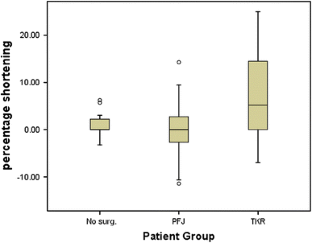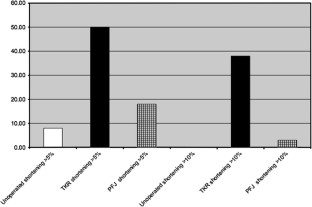 References
1.

McAlindon T, Zhang Y, Hannan M, Naimark A, Weissman B, Castelli W, Felson D (1996) Are risk factors for patello-femoral and tibiofemoral knee osteoarthritis different? J Rheumatol 23(2):332–337

2.

Weale A, Murray D, Newman J, Ackroyd C (1999) The length of the patella tendon after unicompartmental and total knee replacement. J Bone Joint Surg 81(5):790–795

3.

Meneghini RM, Ritter MA, Pierson JL, Meding JB, Berend ME, Faris PM (2006) The Effect of the Insall-Salvati ratio on outcome after total knee arthroplasty. J Arthroplasty 21(6):116–120

4.

Floren M, Davis J, Peterson MG, Laskin RS (2007) A mini-midvastus approach with patella displacement decreases the prevalence of patella baja. J Arthroplasty 22(6):51–57

5.

Scuderi GR, Windsor RE, Insall JN (1989) Observations on patellar height after proximal tibial osteotomy. J Bone Joint Surg Am 71:245–248

6.

Schwab JH, Agarwal P, Bolad P, Kennedy J, Healey J (2006) Patellar complications following distal femoral replacement after bone tumor resection. J Bone Joint Surg Am 88:2225–2230

7.

Morshed S, Ries M (2002) Patella infera after non operative treatment of patellar fracture: a case report. J Bone Joint Surg Am 84:1018–1021

8.

Blumensaat C (1938) Die Lageabweichungen und Verrenkungen der Kniescheibe. Ergebn Chir Orthop 31:149–223 (in German)

9.

Insall J, Salvati E (1971) Patella position in the normal knee joint. Radiology 101:101–104

10.

Blackburne JS, Peel TE (1977) A new method of measuring patellar height. J Bone Joint Surg [Br] 59-B:241–242

11.

Caton J, Deschamps G, Chambat P, Lerat JL, Dejour H (1982) Patella infera: a propos of 128 cases. Rev Chir Orthop Reparatrice Appar Mot 68:317–325 (in French)

12.

Grelsamer RP (2002) Patella baja after total knee arthroplasty: is it really patella baja? J Arthroplasty 17(1):66–69

13.

DeFrate LE, Nha KW, Papannagari R, Moses J, Gill T, Li G (2007) The biomechanical function of the patella tendon during in vivo weight-bearing flexion. J Biomech 40(8):1716–1722

14.

Noyes FR, Wojtys EM, Marshall MT (1991) The early diagnosis and treatment of developmental patella infera syndrome. Clin Orthop 40:241–252

15.

Gatha N, Clarke HD, Fuchs R, Scuderi GR, Insall JN (2004) Factors affecting postoperative range of motion after total knee arthroplasty. J Knee Surg 17(4):196–202

16.

Upadhyay N, Vollans S, Seedhom B, Soames R (2005) Effect of patellar tendon shortening on tracking of the patella. Am J Sports Med 33(10):1565–1567

17.

Sharma V, Tsailas PG, Maheshwari AV, Ranawat AS, Ranawat CS (2008) Does patellar eversion in total knee arthroplasty cause patella baja? Clin Orthop Relat Res 466(11):2763–2768
Acknowledgments
The study was reviewed and approved by the National Research Ethics Committee queries service.
Conflict of interest
The authors declare that they have no conflict of interest.
About this article
Cite this article
Clark, D., Mandalia, V., Hughes, A. et al. Patella tendon length after patella arthroplasty. Arch Orthop Trauma Surg 132, 179–183 (2012). https://doi.org/10.1007/s00402-011-1407-1
Received:

Published:

Issue Date:
Keywords
Knee

Arthroplasty

Patella tendon shortening