Abstract
Purpose
Osteoarthritis (OA) is a highly prevalent, chronic, degenerative condition that generates a high expense. Alternative and co-adjuvant therapies to improve the quality of life and physical function of affected patients are currently being sought.
Methods
A total of 808 patients with knee pathology were treated with PRGF (plasma rich in growth factors), 312 of them with OA of the knee (Outerbridge grades I–IV) and symptoms of >3 months duration met the inclusion criteria and were evaluated to obtain a sample of 261 patients, 109 women and 152 men, with an average age of 48.39. Three intra-articular injections of autologous PRGF were administered at 2-week intervals in outpatient surgery. The process of obtaining PRGF was carried out following the Anitua Technique. Participants were asked to fill out a questionnaire with personal data and the following assessment instruments: VAS, SF-36, WOMAC Index and Lequesne Index before the first infiltration of PRGF and 6 months after the last infiltration.
Results
Statistically significant differences (P < 0.0001) between pre-treatment and follow-up values were found for pain, stiffness and functional capacity in the WOMAC Index; pain and total score, distance and daily life activities in the Lequesne Index; the VAS pain score; and the SF-36 physical health domain. There were no adverse effects related to PRGF infiltration.
Conclusion
At 6 months following intra-articular infiltration of PRGF in patients with OA of the knee, improvements in function and quality of life were documented by OA-specific and general clinical assessment instruments. These favourable findings point to consider PRGF as a therapy for OA.
Access options
Buy single article
Instant access to the full article PDF.
US$ 39.95
Tax calculation will be finalised during checkout.
Subscribe to journal
Immediate online access to all issues from 2019. Subscription will auto renew annually.
US$ 119
Tax calculation will be finalised during checkout.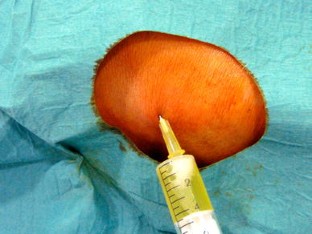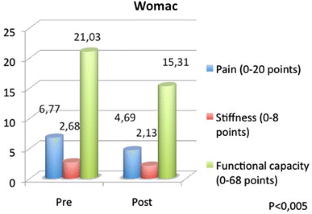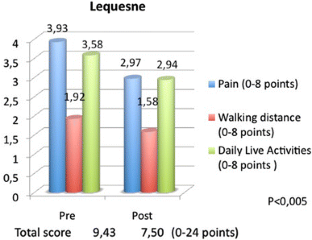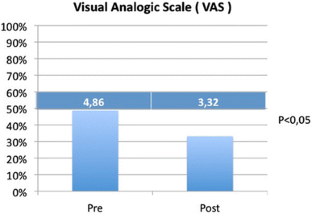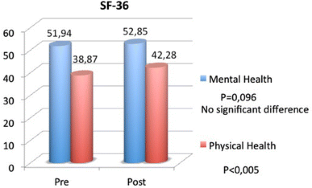 References
1.

Agung M, Ochi M, Yanada S, Adachi N, Izuta Y, Yamasaki T, Toda K (2006) Mobilization of bone marrow-derived mesenchymal stem cells into the injured tissues after intraarticular injection and their contribution to tissue regeneration. Knee Surg Sports Traumatol Arthrosc 14(12):1307–1314

2.

Akeda K, An H, Okuma M, Attawia M, Miyamoto K, Thonar EJMA, Lenz M, Sah R, Masuda K (2006) Platelet-rich plasma stimulates porcine articular chondrocyte proliferation and matrix biosynthesis. Osteoarthritis Cartilage 14(12):1272–1280

3.

Altman RD, Moskowitz R, Adjuvants I, Injections IA, Adjuvants I, Outcome T (1998) Intraarticular sodium hyaluronate (Hyalgan) in the treatment of patients with osteoarthritis of the knee: a randomized clinical trial. Hyalgan Study Group. J Rheumatol 25:2203–2212

4.

AI AnituaE (2000) Un nuevo enfoque en la regeneración ósea. Plasma rico en factores de crecimiento (PRGF). SL, Vitoria, Ed. Puesta al dia publicaciones

5.

Anitua E, Sánchez M, Nurden AT, Nurden P, Orive G, Andía I (2006) New insights into and novel applications for platelet-rich fibrin therapies. Trends Biotechnol 24:227–234

6.

Anitua E, Sanchez M, Nurden AT, Zalduendo MM, de la Fuente M, Azofra J, Andia I (2007) Platelet-released growth factors enhance the secretion of hyaluronic acid and induce hepatocyte growth factor production by synovial fibroblasts from arthritic patients. Rheumatology (Oxford). doi:10.1093/rheumatology/kem234

7.

Baysal O, Baysal T, Alkan A, Altay Z, Yologlu S (2004) Comparison of MRI graded cartilage and MRI based volume measurement in knee osteoarthritis. Swiss Med Wkly 134(19–20):283–288

8.

Chung C, Burdick JA (2007) Engineering cartilage tissue. Adv Drug Deliv Rev 60(2):243–262

9.

Cugat R, Carrillo JM, Serra I, Soler C (2006) Articular cartilage defects reconstruction by plasma rich growth factors. In: Anonymous. Basic science, clinical repair and reconstruction of articular cartilage defects: current status and prospects. Timeo, pp 801–807

10.

Cugat R (2008) PRGF: application in orthopaedic surgery and trauma. Orthopaedics Today Europe. SLACK 11 (editorial)

11.

Dawson J, Juszczak E, Thorogood M, Marks SA, Dodd C, Fitzpatrick R (2003) An investigation of risk factors for symptomatic osteoarthritis of the knee in women using a life course approach. J Epidemiol Community Health 57(10):823–830

12.

Eppley BL, Woodell JE, Higgins J (2004) Platelet quantification and growth factor analysis from platelet-rich plasma: implications for wound healing. Plast Reconstr Surg 114:1502–1508

13.

Foster TE, Puskas BL, Mandelbaum BR, Gerhardt MB, Rodeo SA (2009) Platelet-rich plasma. Am J Sports Med 37:2259–2272

14.

Frei R, Biosca FE, Handl M, Trc T (2008) Conservative treatment using plasma rich in growth factors (PRGF) for injury to the ligamentous complex of the ankle. Acta Chir Orthop Traumatol Cech 75(1):28–33

15.

Gobbi A, Bathan L (2009) Biological approaches for cartilage repair. J Knee Surg 22(1):36–44

16.

Gobbi A, Bathan L, Boldrini L (2009) Primary repair combined with bone marrow stimulation in acute anterior cruciate ligament lesions: results in a group of athletes. Am J Sports Med 37:571–578

17.

Huskisson E (1999) Hyaluronic acid in the treatment of osteoarthritis of the knee. Rheumatology 38:602–607

18.

Kon E, Buda R, Filardo G, Di Martino A, Timoncini A, Cenacchi A, Fornasari PM, Giannini S, Marcacci M (2009) Platelet-rich plasma: intra-articular knee injections produced favorable results on degenerative cartilage lesions. Knee Surg Sports Traumatol Arthrosc 18(4):472–479

19.

Kon E, Buda R, Filardo G, Timocini A, Marcacci M, Giannini S (2009) The treatment of severe chondropathies of the knee: platelet rich plasma vs hyaluronic acid. Presented at 8th world congress of the international cartilage repair society (ICRS), Miami, USA, 23–26 May 2009

20.

Lequesne M, Brandt K, Bellamy N, Moskowitz R, Cj Menkes, Pelletier JP (1994) Guidelines for testing show-acting drugs in osteoarthritis. J Rheumatol 21:65–71

21.

Lopez-Vidriero E, Goulding KA, Simon DA, Sanchez M, Johnson DH (2010) The use of platelet-rich plasma in arthroscopy and sports medicine: optimizing the healing environment. Arthroscopy 26(2):269–278

22.

Martinez-Zapata MJ, Marti-Carvajal A, Sola I, Bolibar I, Angel Exposito J, Rodriguez L, Garcia J (2009) Efficacy and safety of the use of autologous plasma rich in platelets for tissue regeneration: a systematic review. Transfusion 49:44–56

23.

Mishra A, Tummala P, King A, Lee B, Kraus M, Tse V, Jacobs CR (2009) Buffered platelet-rich plasma enhances mesenchymal stem cell proliferation and chondrogenic differentiation. Tissue Eng Part C Methods 15(3):431–435

24.

Nurden AT, Nurden P, Sanchez M, Andia I, Anitua E (2008) Platelets and wound healing. Front Biosci 13:3532–3548

25.

Ochi M, Adachi T, Kobayashi M, Deie M (2009) Current bio-therapies for chondral lesions. Presented at 8th world congress of the international cartilage repair society (ICRS), Miami, USA, May 23–26

26.

Ochi M, Uchio Y, Kawasaki K, Wakitani S, Iwasa J (2002) Transplantation of cartilage-like tissue made by tissue engineering in the treatment of cartilage defects of the knee. J Bone Joint Surg Br 84(4):571–578

27.

Ochi M, Adachi N, Nobuto H, Yanada S, Ito Y, Agung M (2004) Articular cartilage repair using tissue engineering technique-novel approach with minimally invasive procedure. Artif Organs 28(1):28–32

28.

Sampson S, Gerhardt M, Mandelbaum B (2008) Platelet rich plasma injection grafts for musculoskeletal injuries: a review. Curr Rev Musculoskelet Med 1:165–174

29.

Sánchez M, Anitua E, Azofra J, Prado R, Muruzabal F, Andia I (2010) Ligamentization of tendon grafts treated with an endogenous preparation rich in growth factors: gross morphology and histology. Arthroscopy 26(4):470–480

30.

Sanchez M, Anitua E, Azofra J, Andia I, Padilla S, Mujika I (2007) Comparison of surgically repaired Achilles tendon tears using platelet-rich fibrin matrices. Am J Sports Med. doi:10.1177/0363546506294078

31.

Sanchez M, Anitua E, Azofra J, Aguirre JJ, Andia I (2008) Intra-articular injection of an autologous preparation rich in growth factors for the treatment of knee OA: a retrospective cohort study. Clin Exp Rheumatol 26(5):910–913

32.

Serra Aguado IC (2006) Análisis biomecánico e histológico del tejido de reparación en defectos condrales de espesor completo tras la aplicación de plasma rico en plaquetas antólogo. Estudio experimental. Thesis Doctoral

33.

Soler MC (2006) Macroscópico, histológico e inmunohistoquímico del efecto del plasma rico en plaquetas autólogo en la reparación de defectos condrales en conejo. Estudio experimental. Thesis Doctoral

34.

Soler C, Serra I, Cugat R, Sopena J, Rubio M, Redondo I, Carrillo J (2006) Biomechanical study in chondral lesions treated with plasma rich in growth factors. Thesis Doctoral

35.

Urist MR (1965) Bone: formation by autoinduction. Science 150:893–899

36.

Wakitani S, Mitsuoka T, Nakamura N, Toritsuka Y, Nakamura Y, Horibe S (2004) Autologous bone marrow stromal cell transplantation for repair of full-thickness articular cartilage defects in human patellae: two case reports. Cell Transplant 13:595–600
Additional information
This research was funded by Fundación García Cugat.
About this article
Cite this article
Wang-Saegusa, A., Cugat, R., Ares, O. et al. Infiltration of plasma rich in growth factors for osteoarthritis of the knee short-term effects on function and quality of life. Arch Orthop Trauma Surg 131, 311–317 (2011). https://doi.org/10.1007/s00402-010-1167-3
Received:

Published:

Issue Date:
Keywords
Osteoarthritis

Chondropathy

Platelet-rich plasma

PRP