Abstract
Introduction
To date, no studies have been published that report on the in vivo advantages of sterilisation in argon (ARGON) versus air (AIR) of UHMWPE liners with respect to wear extend and pattern in uncemented total hip arthroplasty.
Method
Femoral penetration rates were measured in 93 AIR and 79 ARGON liners, during a mean follow-up of 8 (3–12) years.
Results
During the first 3 years after implantation, both groups showed no differences in mean wear rate (P = 0.13). Thereafter, the ARGON liner demonstrated a decrease in wear rate of 0.04 mm/year from 4 to 6 years (P = 0.006), 0.14 mm/year from 7 to 9 years (P < 0.001), and 0.33 mm/year beyond 9 years follow-up (P = 0.015) compared to the AIR liner. One AIR acetabular component required revision.
Access options
Buy single article
Instant access to the full article PDF.
US$ 39.95
Tax calculation will be finalised during checkout.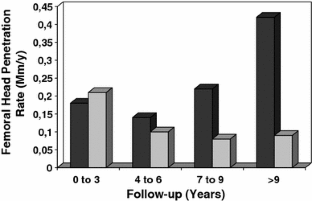 References
1.

Harris WH (1995) The problem is osteolysis. Clin Orthop 311:46–53

2.

Isaac GH, Dowson D, Wroblewsky BM (1996) An investigation into the origins of time-dependant variation in penetration rates with Charnley acetabular cups-wear, creep or degradation? Proc Inst Mech Eng (H) 210:209–216

3.

Faris PM, Ritter MA, Pierce AL, Davis KE, Faris GW (2006) Polyethylene sterilization and production affects wear in total hip arthroplasties. Clin Orthop 453:305–308

4.

Premnath V, Harris WH, Jasty M, Merril EW (1996) Gamma sterilization of UHMWPE articular implants: an analysis of the oxidation problem. Biomaterials 17:1741–1753

5.

Kurtz SM, Muratoglu OK, Evans M, Edidin AA (1999) Advances in the processing, sterilization, and crosslinking of ultra-high molecular weight polyethylene for total joint arthroplasty. Biomaterials 20:1659–1688

6.

Goosen JH, Verheyen CC, Tulp NJ (2005) Mid-term wear characteristics of an uncemented acetabular component. J Bone Joint Surg B 87:1475–1479

7.

Kurtz SM, Hozack WJ, Purtill JJ, Marcolongo M et al (2006) Significance of in vivo degradation for polyethylene in total hip arthroplasty. Clin Orthop 453:47–57

8.

Harris WH (1969) Traumatic arthritis of the hip after dislocation and acetabular fractures: treatment by mold arthroplasty. J Bone Joint Surg Am 51:737–755

9.

Sellers RG, Lyles D, Dorr LD (1988) The effect of pelvic rotation on alpha and theta angles in total hip arthroplasty. Cont Orth 17:67–70

10.

Hirakawa K, Mitsugi N, Koshino T, Saito T, Hirasawa Y, Kubo T (2001) Effect of acetabular cup position and orientation in cemented total hip arthroplasty. Clin Orthop 388:135–142

11.

Sarmiento A, Ebramzadeh E, Gogan WJ, McKellop HA (1990) Cup containment and orientation in cemented total hip arthroplasties. J Bone Joint Surg Am 72:996–1002

12.

Livermore J, Ilstrup D, Morrey B (1990) Effect of femoral head size on wear of the polyethylene acetabular component. J Bone Joint Surg Am 72:518–528

13.

DeLee JG, Charnley J (1976) Radiological demarcation of cemented sockets in total hip replacement. Clin Orthop 121:20–32

14.

Gruen TA, McNeice GM, Amstutz HC (1979) 'Modes of failure' of cemented stem-type femoral components. A radiographic analysis of loosening. Clin Orthop 141:17–27

15.

Twisk JWR (2006) Applied multilevel analysis: a practical guide. Cambridge University Press, London

16.

Kurtz SM, Hozack W, Marcolongo M, Turner J et al (2003) Degradation of mechanical properties of UHMWPE acetabular liners following long-term implantation. J Arthroplasty 18:68–78

17.

Bankston AB, Cates H, Ritter MA, Keating EM, Faris PM (1995) Polyethylene wear in total hip arthroplasty. Clin Orthop 317:7–13

18.

Schmalzried TP, Brown IC, Amstutz HC, Engh CA, Harris WH (1999) The role of acetabular screw holes and/or screws in the development of pelvic osteolysis. Proc Inst Mech Eng H 213:147–153

19.

Schmalzried TP, Shepher EF, Dorey FJ, Jackson WO, Rosa M, Fa'vae F, McKellop HA, McClung CD, Martell J, Moreland JR, Amstutz HC (2000) Wear is a function of use, not time. Clin Orthop 381:36–46

20.

Cates HE, Faris PM, Keating EM, Ritter MA (1993) Polyethylene wear in cemented metal-backed acetabular cups. J Bone Joint Surg Br 75:249–253

21.

Devane PA, Bourne RB, Rorabeck CH, MacDonald S, Robinson EJ (1995) Measurement of polyethylene wear in metal-backed acetabular cups. Clin Orthop 319:317–326

22.

Hozack WJ, Rothman RH, Eng K, Mesa J (1996) Primary cementless hip arthroplasty with a titanium plasma sprayed prosthesis. Clin Orthop 333:217–225

23.

Puolakka TJS, Laine HJ, Moilanen TPS, Koivisto AM, Pajamäki KJJ (2001) Alarming wear of the first-generation polyethylene liner of the cementless porous-coated Biomet universal cup. Acta Orthop Scand 72:1–7

24.

Schmalzried TP, Shepher EF, Dorey FJ, Jackson WO, Rosa M, Fa'vae F, McKellop HA, McClung CD, Martell J, Moreland JR, Amstutz HC (2000) Wear is a function of use, not time. Clin Orthop 381:36–46

25.

Cates HE, Faris PM, Keating EM, Ritter MA (1993) Polyethylene wear in cemented metal-backed acetabular cups. J Bone Joint Surg Br 75:249–253

26.

Devane PA, Bourne RB, Rorabeck CH, MacDonald S, Robinson EJ (1995) Measurement of polyethylene wear in metal-backed acetabular cups. Clin Orthop 319:317–326

27.

Kim YH, Kim JS, Cho SH (1999) Primary total hip arthroplasty with a cementless porous-coated anatomic total hip prosthesis. 10- to 12-year results of prospective and consecutive series. J Arthroplasty 14:538–548

28.

Puri L, Wixson RL, Stern SH, Kohli J, Hendrix RW, Stulberg SD (2002) Use of helical computed tomography for the assessment of acetabular osteolysis after total hip arthroplasty. J Bone Joint Surg A 84:609–614

29.

Grimm B, Tonino AJ, Heyligers IC (2007). Eight-year prospective randomized comparison between crosslinked and conventional polyethylene in total hip arthroplasty (abstract). In: European Federation of National Associations of Orthopaedics and Traumatology Congress

30.

Konttinen YT, Zhao D, Beklen A, Ma G et al (2005) The microenvironment around total hip replacement prostheses. Clin Orthop 430:28–38

31.

Doorn PF (2000) Wear and biological aspects of metal on metal total hip replacements, chap. 1. Thesis, p 13

32.

Jacobsson SA, Kjerf K, Wahlstrom O (1996) Twenty-year results of McKee-Farrar versus Charnley prostheses. Clin Orthop 329(Suppl):S60–S68
About this article
Cite this article
Goosen, J.H.M., Verheyen, C.C.P.M., Kollen, B.J. et al. In vivo wear reduction of argon compared to air sterilized UHMW-polyethylene liners. Arch Orthop Trauma Surg 129, 879–885 (2009). https://doi.org/10.1007/s00402-008-0771-y
Received:

Published:

Issue Date:
Keywords
Uncemented total hip arthroplasty

Polyethylene

Wear

Argon sterilised liners

Osteolysis

Outcome