Abstract
Background
Fracture healing is affected by the type and the magnitude of movements at the fracture site. Mechanical conditions will be a function of the type of fracture management, the distance between the fracture fragments, and the loading of the fracture site. The hypothesis to be tested was that the use of a larger-diameter intramedullary nail, together with compressed interlocking, would enhance the primary stiffness and reduce fracture site movements, especially those engendered by shearing forces.
Materials and methods
Six pairs of human tibiae were used to study the influence on fracture site stability of two different diameters (9 and 11 mm) of intramedullary nails, in tension/compression, torsional, four-point bending, and shear tests. The nails were used with two interlocking modes (static interlocking vs. dynamic compression).
Results
With static interlocking, the 11-mm-diameter nail provided significantly (30–59%) greater reduction of fracture site movement, as compared with the 9-mm-diameter nail. Using an 11-mm-diameter nail, the stiffness of the bone-implant construct was enhanced by between 20 and 50%. Dynamic compression allowed the interfragmentary movements at the fracture site to be further reduced by up to 79% and the system stiffness to be increased by up to 80%.
Conclusion
On biomechanical grounds, the largest possible nail diameter should be used, with minimal reaming, so as to minimize fracture site movement. Compression after meticulous reduction should be considered in axially stable fractures.
This is a preview of subscription content,
to check access.
Access this article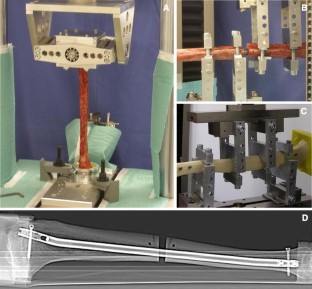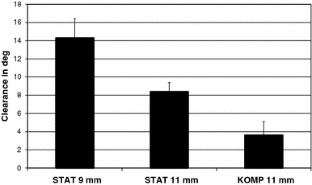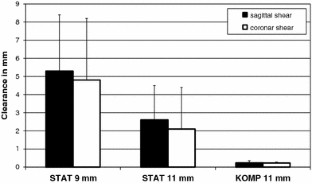 Similar content being viewed by others
References
Augat P, Burger J, Schorlemmer S, Henke T, Peraus M, Claes L (2003) Shear movement at the fracture site delays healing in a diaphyseal fracture model. J Orthop Res 21:1011–1017. doi:10.1016/S0736-0266(03)00098-6

Augat P, Penzkofer R, Nolte A, Maier M, Panzer S, Oldenburg G et al (2008) Interfragmentary movement in diaphyseal tibia fractures fixed with locked intramedullary nails. J Orthop Trauma 22:30–36

Bhandari M, Tornetta PIII, Sprague S, Najibi S, Petrisor B, Griffith L et al (2003) Predictors of reoperation following operative management of fractures of the tibial shaft. J Orthop Trauma 17:353–361. doi:10.1097/00005131-200305000-00006

Buhren V (2000) Unfallchirurg 103:708–720. Intramedullary compression nailing of long tubular bones. doi:10.1007/s001130050609

Claes LE, Heigele CA (1999) Magnitudes of local stress and strain along bony surfaces predict the course and type of fracture healing. J Biomech 32:255–266. doi:10.1016/S0021-9290(98)00153-5

Claes LE, Heigele CA, Neidlinger-Wilke C, Kaspar D, Seidl W, Margevicius KJ et al (1998) Effects of mechanical factors on the fracture healing process. Clin Orthop Relat Res S132–S147. doi:10.1097/00003086-199810001-00015

Fairbank AC, Thomas D, Cunningham B, Curtis M, Jinnah RH (1995) Stability of reamed and unreamed intramedullary tibial nails: a biomechanical study. Injury 26:483–485. doi:10.1016/0020-1383(95)00056-F

Gaebler C, Stanzl-Tschegg S, Heinze G, Holper B, Milne T, Berger G et al (1999) Fatigue strength of locking screws and prototypes used in small-diameter tibial nails: a biomechanical study. J Trauma 47:379–384. doi:10.1097/00005373-199908000-00030

Hutson JJ, Zych GA, Cole JD, Johnson KD, Ostermann P, Milne EL et al (1995) Mechanical failures of intramedullary tibial nails applied without reaming. Clin Orthop Relat Res 129–137

Kenwright J, Gardner T (1998) Mechanical influences on tibial fracture healing. Clin Orthop Relat Res S179–S190. doi:10.1097/00003086-199810001-00019

Kessler SB, Hallfeldt KK, Perren SM, Schweiberer L (1986) The effects of reaming and intramedullary nailing on fracture healing. Clin Orthop Relat Res 18–25

Krettek C (2000) Marknagelung geschlossener Femur- und Tibiafrakturen; aufgebohrt oder unaufgebohrt? Trauma Berufskrankh 2:126–128. doi:10.1007/PL00014868

Krettek C (2001) Unfallchirurg 104:639–651. Principles of intramedullary fracture stabilization. 1. doi:10.1007/s001130170095

Krettek C, Miclau T, Blauth M, Lindsey RW, Donow C, Tscherne H (1997) Recurrent rotational deformity of the femur after static locking of intramedullary nails: case reports. J Bone Joint Surg Br 79:4–8. doi:10.1302/0301-620X.79B1.6910

Krettek C, Rudolf J, Schandelmaier P, Guy P, Konemann B, Tscherne H (1996) Unreamed intramedullary nailing of femoral shaft fractures: operative technique and early clinical experience with the standard locking option. Injury 27:233–254. doi:10.1016/0020-1383(96)00008-3

Larsen LB, Madsen JE, Hoiness PR, Ovre S (2004) Should insertion of intramedullary nails for tibial fractures be with or without reaming? A prospective, randomized study with 3.8 years' follow-up. J Orthop Trauma 18:144–149. doi:10.1097/00005131-200403000-00003

Sayana MK, Davis BJ, Kapoor B, Rahmatalla A, Maffulli N (2006) Fracture strain and stability with additional locking screws in intramedullary nailing: a biomechanical study. J Trauma 60:1053–1057. doi:10.1097/01.ta.0000197600.46577.37

Schandelmaier P, Farouk O, Krettek C, Mannss J, Tscherne H (1997). Langenbecks Arch Chir 382:167–172. Biomechanics of femoral interlocking nails at the bone-implant transition

Schandelmaier P, Krettek C, Tscherne H (1996) Biomechanical study of nine different tibia locking nails. J Orthop Trauma 10:37–44. doi:10.1097/00005131-199601000-00006

Schemitsch EH, Turchin DC, Kowalski MJ, Swiontkowski MF (1998) Quantitative assessment of bone injury and repair after reamed and unreamed locked intramedullary nailing. J Trauma 45:250–255. doi:10.1097/00005373-199808000-00008

Stryker Traumatologie, Stryker GmbH & Co KG Duisburg Germany (2005) Operation Manual T2™ Tibia Nail System. [TR-T2Tib-OT-0405: 1-36]

Taylor WR, Heller MO, Bergmann G, Duda GN (2004) Tibio-femoral loading during human gait and stair climbing. J Orthop Res 22:625–632. doi:10.1016/j.orthres.2003.09.003

Tydings JD, Martino LJ, Kircher M, Alfred RH, Lozman J (1987) Viability of intramedullary canal bone reamings for continued calcification. Am J Surg 153:306–309. doi:10.1016/0002-9610(87)90613-1
Additional information
Disclosures: Funding for this work was received from AIOD (Association Internationale pour l'Ostéosynthèse Dynamique). Geert von Oldenburg is an employee of Stryker Trauma.
About this article
Cite this article
Penzkofer, R., Maier, M., Nolte, A. et al. Influence of intramedullary nail diameter and locking mode on the stability of tibial shaft fracture fixation. Arch Orthop Trauma Surg 129, 525–531 (2009). https://doi.org/10.1007/s00402-008-0700-0
Received:

Published:

Issue Date:

DOI: https://doi.org/10.1007/s00402-008-0700-0
Keywords