Abstract
The 4th edition of the World Health Organization (WHO) classification of endocrine tumors has been recently released. In this new edition, major changes are recommended in several areas of the classification of tumors of the anterior pituitary gland (adenophypophysis). The scope of the present manuscript is to summarize these recommended changes, emphasizing a few significant topics. These changes include the following: (1) a novel approach for classifying pituitary neuroendocrine tumors according to pituitary adenohypophyseal cell lineages; (2) changes to the histological grading of pituitary neuroendocrine tumors with the elimination of the term "atypical adenoma;" and (3) introduction of new entities like the pituitary blastoma and re-definition of old entities like the null-cell adenoma. This new classification is very practical and mostly based on immunohistochemistry for pituitary hormones, pituitary-specific transcription factors, and other immunohistochemical markers commonly used in pathology practice, not requiring routine ultrastructural analysis of the tumors. Evaluation of tumor proliferation potential, by mitotic count and Ki-67 labeling index, and tumor invasion is strongly recommended on individual case basis to identify clinically aggressive adenomas. In addition, the classification offers the treating clinical team information on tumor prognosis by identifying specific variants of adenomas associated with an elevated risk for recurrence. Changes in the classification of non-neuroendocrine tumors are also proposed, in particular those tumors arising in the posterior pituitary including pituicytoma, granular cell tumor of the posterior pituitary, and spindle cell oncocytoma. These changes endorse those previously published in the 2016 WHO classification of CNS tumors. Other tumors arising in the sellar region are also reviewed in detail including craniopharyngiomas, mesenchymal and stromal tumors, germ cell tumors, and hematopoietic tumors. It is hoped that the 2017 WHO classification of pituitary tumors will establish more biologically and clinically uniform groups of tumors, make it possible for practicing pathologists to better diagnose these tumors, and contribute to our understanding of clinical outcomes for patients harboring pituitary tumors.
Access options
Buy single article
Instant access to the full article PDF.
USD 39.95
Price excludes VAT (USA)
Tax calculation will be finalised during checkout.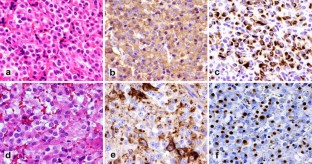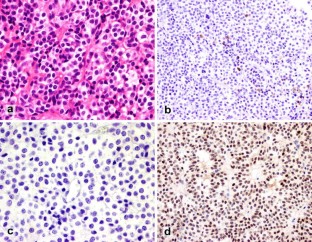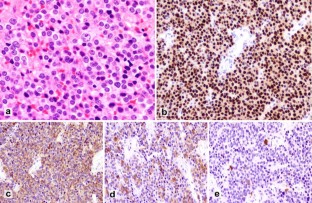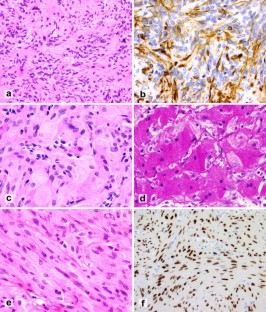 References
Asa SL, Puy LA, Lew AM, Sundmark VC, Elsholtz HP (1993) Cell type-specific expression of the pituitary transcription activator PIT-1 in the human pituitary and pituitary adenomas. J Clin Endocrinol Metab 77:1275–1280

Asa SL, Bamberger AM, Cao B, Wong M, Parker KL, Ezzat S (1996) The transcription activator steroidogenic factor-1 is preferentially expressed in the human pituitary gonadotroph. J Clin Endocrinol Metab 81:2165–2170

Balogun JA, Monsalves E, Juraschka K, Parvez K, Kucharczyk W, Mete O et al (2015) Null cell adenomas of the pituitary gland: an institutional review of their clinical imaging and behavioral characteristics. Endocr Pathol 26:63–70

Brat DJ, Wesseling P, Fuller GN, Roncaroli F (2016) Pituicytoma. In: Louis DN, Ohgaki H, Wiestler OD, Cavenne C (eds) WHO classification of tumours of the central nervous system, revised, 4th edn. IARC Press, Lyon, pp 332–333

Coons SW, Estrada SI, Gamez R, White WL (2005) Cytokeratin CK 7 and CK 20 expression in pituitary adenomas. Endocr Pathol 16:201–210

Chatzellis E, Alexandraki KI, Androulakis II, Kaltsas G (2105) Aggressive pituitary tumors. Neuroendocrinology 101:87–104

Chiloiro S, Doglietto F, Trapasso B, Iacovazzo D, Giampietro A, Di Nardo F et al (2015) Typical and atypical pituitary adenomas: a single-center analysis of outcome and prognosis. Neuroendocrinology 101:143–150

Cooper O (2015) Silent corticotroph adenomas. Pituitary 18:225–231

Covington MF, Chin SS, Osborn AG (2011) Pituicytoma, spindle cell oncocytoma, and granular cell tumor: clarification and meta-analysis of the world literature since 1893. AJNR Am J Neuroradiol 32:2067–2072

de Kock L, Sabbaghian N, Plourde F, Srivastava A, Weber E, Bouron-Dal Soglio D et al (2014) Pituitary blastoma: a pathognomonic feature of germ-line DICER1 mutations. Acta Neuropathol 128:111–122

De Caro MDB, Solari D, Pagliuca F, Villa A, Guadagno E, Cavallo LM et al (2017) Atypical pituitary adenomas: clinical characteristics and role of ki-67 and p53 in prognostic and therapeutic evaluation. A series of 50 patients. Neurosurg Rev 40:105–114

Delgrange E, Trouillas J, Maiter D, Donckier J, Tourniaire J (1997) Sex-related difference in the growth of prolactinomas: a clinical and proliferation marker study. J Clin Endocrinol Metab 82:2102–2107

Delgrange E, Sassolas G, Perrin G, Jan M, Trouillas J (2005) Clinical and histological correlations in prolactinomas, with special reference to bromocriptine resistance. Acta Neurochir (Wien) 147:751–757

Delgrange E, Vasiljevic A, Wierinckx A, François P, Jouanneau E, Raverot G et al (2015) Expression of estrogen receptor alpha is associated with prolactin pituitary tumor prognosis and supports the sex-related difference in tumor growth. Eur J Endocrinol 172:791–801

Di Ieva A, Rotondo F, Syro LV, Cusimano MD, Kovacs K (2014) Aggressive pituitary adenomas—diagnosis and emerging treatments. Nat Rev Endocrinol 10:423–435

Dupuy M, Bonneville F, Grunenwald S, Breibach F, Delisle MB, Chaynes P et al (2012) Primary sellar neuroblastoma. A new case and review of literature. Ann Endocrinol (Paris) 73:216–221

Erickson D, Scheithauer B, Atkinson J, Horvath E, Kovacs K, Lloyd RV et al (2009) Silent subtype 3 pituitary adenoma: a clinicopathologic analysis of the Mayo clinic experience. Clin Endocrinol (Oxf) 71:92–99

Friend KE, Chiou YK, Laws ER Jr, Lopes MB, Shupnik MA (1993) PIT-1 messenger ribonucleic acid is differentially expressed in human pituitary adenomas. J Clin Endocrinol Metab 77:1281–1286

Friend KE, Chiou YK, Lopes MB, Laws ER Jr, Hughes KM et al (1994) Estrogen receptor expression in human pituitary: correlation with immunohistochemistry in normal tissue, and immunohistochemistry and morphology in macroadenomas. J Clin Endocrinol Metab 78:1497–1504

Fuller GN, Brat DJ, Wesseling P, Roncaroli F (2016) Granular cell tumour of the sellar region. In: Louis DN, Ohgaki H, Wiestler OD, Cavenne C (eds) WHO classification of tumours of the central nervous system, revised, 4th edn. IARC Press, Lyon, pp 329–331

George DH, Scheithauer BW, Kovacs K, Horvath E, Young WF Jr, Lloyd RV et al (2003) Crooke's cell adenoma of the pituitary: an aggressive variant of corticotroph adenoma. Am J Surg Pathol 27:1330–1336

Horvath E, Kovacs K, Smyth HS, Cusimano M, Singer W (2005) Silent adenoma subtype 3 of the pituitary—immunohistochemical and ultrastructural classification: a review of 29 cases. Ultrastruct Pathol 29:511–524

Iacovazzo D, Caswell R, Bunce B, Jose S, Yuan B, Hernández-Ramírez LC et al (2016) Germline or somatic GPR101 duplication leads to X-linked acrogigantism: a clinico-pathological and genetic study. Acta Neuropathol Commun 4:56. doi:10.1186/s40478-016-0328-1

Jahangiri A, Wagner JR, Pekmezci M, Hiniker A, Chang EF, Kunwar S et al (2013) A comprehensive long-term retrospective analysis of silent corticotrophic adenomas vs hormone-negative adenomas. Neurosurgery 73:8–17

Kato M, Inoshita N, Sugiyama T, Tani Y, Shichiri M, Sano T et al (2012) Differential expression of genes related to drug responsiveness between sparsely and densely granulated somatotroph adenomas. Endocr J 59:221–228

Kontogeorgos G, Kovacs K, Horvath E, Scheithauer BW (1991) Multiple adenomas of the human pituitary. A retrospective autopsy study with clinical implications. J Neurosurg 74:243–247

Kontogeorgos G, Scheithauer BW, Horvath E, Kovacs K, Lloyd RV, Smyth HS et al (1992) Double adenomas of the pituitary: a clinicopathological study of 11 tumors. Neurosurgery 31:840–849

Kontogeorgos G, Thodou E (2016) The gonadotroph origin of null cell adenomas. Hormones (Athens) 15:243–247

Kreutzer J, Vance ML, Lopes MB, Laws ER Jr (2001) Surgical management of GH-secreting pituitary adenomas: an outcome study using modern remission criteria. J Clin Endocrinol Metab 86:4072–4077

Landis CA, Masters SB, Spada A, Pace AM, Bourne HR, Vallar L (1989) GTPase inhibiting mutations activate the alpha chain of Gs and stimulate adenylyl cyclase in human pituitary tumours. Nature 340:692–696

Lania A, Mantovani G, Spada A (2003) Genetics of pituitary tumors: focus on G-protein mutations. Exp Biol Med 228:1004–1017

Lee CC, Vance ML, Lopes MB, Xu Z, Chen CJ, Sheehan J (2015) Stereotactic radiosurgery for acromegaly: outcomes by adenoma subtype. Pituitary 18:326–334

Lee EB, Tihan T, Scheithauer BW, Zhang PJ, Gonatas NK (2009) Thyroid transcription factor 1 expression in sellar tumors: a histogenetic marker? J Neuropathol Exp Neurol 68:482–488

Lloyd RV, Osamura RY (1997) Transcription factors in normal and neoplastic pituitary tissues. Microsc Res Tech 39:168–181

Lloyd RV, Kovacs K, Young WF Jr, Farrell WE, Asa SL, Trouillas J et al (2004) Pituitary tumors: introduction. In: DeLellis RA, Lloyd RV, Heitz PU, Eng C (eds) World health organization classification of tumours: pathology and genetics of tumours of endocrine organs, 3rd edn. IARC Press, Lyon, pp 10–13

Lloyd RV, Osamura RY, Klöppel G, Rosai J (eds) (2017) WHO classification of tumours of endocrine organs, 4th edn. IARC Press, Lyon

Lopes MB, Salmon I, Nagy N, Decaestecker C, Pasteels JL, Laws ER Jr et al (1997) Computer-assisted microscope analysis of Feulgen-stained nuclei in gonadotroph adenomas and null-cell adenomas of the pituitary gland. Endocr Pathol 8:109–120

Lopes MB, Scheithauer BW, Schiff D (2005) Pituitary carcinoma: diagnosis and treatment. Endocrine 28:115–121

Lopes MBS, Fuller GN, Roncaroli F, Wesseling P (2016) Spindle cell oncocytoma. In: Louis DN, Ohgaki H, Wiestler OD, Cavenne C (eds) WHO classification of tumours of the central nervous system, revised, 4th edn. IARC Press, Lyon, pp 334–336

Lopes MB, Sloan E, Polder J (2017) Mixed gangliocytoma-pituitary adenoma: insights on the pathogenesis of a rare sellar tumor. Am J Surg Pathol 41:586–595

Ma ZY, Song ZJ, Chen JH, Wang YF, Li SQ, Zhou LF et al (2015) Recurrent gain-of-function USP8 mutations in Cushing's disease. Cell Res 25:306–317

Mahler C, Verhelst J, Klaes R, Trouillas J (1991) Cushing's disease and hyperprolactinemia due to a mixed ACTH—and prolactin-secreting pituitary macroadenoma. Pathol Res Pract 187:598–602

Marques P, Korbonits M (2017) Genetic aspects of pituitary adenomas. Endocrinol Metab Clin North Am 46:335–374

McDonald WC, Banerji N, McDonald KN, Ho B, Macias V, Kajdacsy-Balla A (2017) Steroidogenic factor 1, PIT-1, and adrenocorticotropic hormone: a rational starting place for the immunohistochemical characterization of pituitary adenoma. Arch Pathol Lab Med 141:104–112

Meij BP, Lopes MB, Vance ML, Thorner MO, Laws ER (2000) Double pituitary lesions in three patients with Cushing's disease. Pituitary 3:159–168

Mete O, Lopes MB, Asa SL (2013) Spindle cell oncocytomas and granular cell tumors of the pituitary are variants of pituicytoma. Am J Surg Pathol 37:1649–1694

Mete O, Gomez-Hernandez K, Kucharczyk W, Ridout R, Zadeh G, Gentili F et al (2016) Silent subtype 3 pituitary adenomas are not always silent and represent poorly differentiated monomorphous plurihormonal PIT-1 lineage adenomas. Mod Pathol 29:131–142

Miermeister CP, Petersenn S, Buchfelder M, Fahlbusch R, Lüdecke DK, Hölsken A et al (2015) Histological criteria for atypical pituitary adenomas—data from the German pituitary adenoma registry suggests modifications. Acta Neuropathol Commun 3:50. doi:10.1186/s40478-015-0229-8 (Erratum. In: Acta Neuropathol Commun. 2016;4(1):21)

Nishioka H, Inoshita N, Mete O, Asa SL, Hayashi K, Takeshita A et al (2015) The complementary role of transcription factors in the accurate diagnosis of clinically nonfunctioning pituitary adenomas. Endocr Pathol 26:349–355

Obari A, Sano T, Ohyama K, Kudo E, Qian ZR, Yoneda A et al (2008) Clinicopathological features of growth hormone-producing pituitary adenomas: difference among various types defined by cytokeratin distribution pattern including a transitional form. Endocr Pathol 19:82–91

Osamura RY, Lopes MBS, Grossman A, Kontogeorgos G, Trouillas J (2017) Introduction. In: Lloyd RV, Osamura RY, Kloppel G, Rosai J (eds) WHO classification of tumours of endocrine organs, 4th edn. IARC Press, Lyon, p 13

O'Toole SM, Dénes J, Robledo M, Stratakis CA, Korbonits M (2015) 15 years of paraganglioma: the association of pituitary adenomas and phaeochromocytomas or paragangliomas. Endocr Relat Cancer 22:T105–T122

Peng P, Chen F, Zhou D, Liu H, Li J (2015) Neurocytoma of the pituitary gland: a case report and literature review. Biomed Rep 3:301–303

Perez-Rivas LG, Theodoropoulou M, Ferraù F, Nusser C, Kawaguchi K, Stratakis CA et al (2015) The gene of the ubiquitin-specific protease 8 is frequently mutated in adenomas causing Cushing's disease. J Clin Endocrinol Metab 100:E997–E1004

Preda V, Korbonits M, Cudlip S, Karavitaki N, Grossman AB (2014) Low rate of germline AIP mutations in patients with apparently sporadic pituitary adenomas before the age of 40: a single-centre adult cohort. Eur J Endocrinol 171:659–666

Ragel BT, Couldwell WT (2004) Pituitary carcinoma: a review of the literature. Neurosurg Focus 16:E7 (PMID: 15191336)

Ramírez C, Cheng S, Vargas G, Asa SL, Ezzat S, González B et al (2012) Expression of Ki-67, PTTG1, FGFR4, and SSTR 2, 3, and 5 in nonfunctioning pituitary adenomas: a high throughput TMA, immunohistochemical study. J Clin Endocrinol Metab 97:1745–1751

Ratliff JK, Oldfield EH (2000) Multiple pituitary adenomas in Cushing's disease. J Neurosurg 93:753–761

Rasul FT, Jaunmuktane Z, Khan AA, Phadke R, Powell M (2014) Plurihormonal pituitary adenoma with concomitant adrenocorticotropic hormone (ACTH) and growth hormone (GH) secretion: a report of two cases and review of the literature. Acta Neurochir (Wien) 156:141–146

Raverot G, Castinetti F, Jouanneau E, Morange I, Figarella-Branger D, Dufour H et al (2012) Pituitary carcinomas and aggressive pituitary tumours: merits and pitfalls of temozolomide treatment. Clin Endocrinol (Oxf) 76:769–775

Reincke M, Sbiera S, Hayakawa A, Theodoropoulou M, Osswald A, Beuschlein F et al (2015) Mutations in the deubiquitinase gene USP8 cause Cushing's disease. Nat Genet 47:31–38

Rotondo F, Cusimano M, Scheithauer BW, Coire C, Horvath E, Kovacs K (2012) Atypical, invasive, recurring Crooke cell adenoma of the pituitary. Hormones (Athens) 11:94–100

Saeger W, Lüdecke DK, Buchfelder M, Fahlbusch R, Quabbe HJ, Petersenn S (2007) Pathohistological classification of pituitary tumors: 10 years of experience with the German pituitary tumor registry. Eur J Endocrinol 156:203–216

Sahakitrungruang T, Srichomthong C, Pornkunwilai S, Amornfa J, Shuangshoti S, Kulawonganunchai S et al (2014) Germline and somatic DICER1 mutations in a pituitary blastoma causing infantile-onset Cushing's disease. J Clin Endocrinol Metab 99:E1487–E1492

Sanno N, Teramoto A, Sugiyama M, Itoh Y, Osamura RY (1996) Application of catalyzed signal amplification in immunodetection of gonadotropin subunits in clinically nonfunctioning pituitary adenomas. Am J Clin Pathol 106:16–21

Sano T, Kovacs K, Asa SL, Smyth HS (1990) Immunoreactive luteinizing hormone in functioning corticotroph adenomas of the pituitary. Immunohistochemical and tissue culture studies of two cases. Virchows Arch A Pathol Anat Histopathol 417:361–367

Sano T, Yamada S, Jr Watson RE, Lindell EP, Ezzat S, Asa AL (2004) Null cell adenoma. In: DeLellis RA, Lloyd RV, Heitz PU, Eng C (eds) World health organization classification of tumours: pathology and genetics of tumours of endocrine organs, 3rd edn. IARC Press, Lyon, pp 33–34

Scheithauer BW, Kovacs K, Horvath E, Kim DS, Osamura RY, Ketterling RP et al (2008) Pituitary blastoma. Acta Neuropathol 116:657–666

Scheithauer BW, Horvath E, Abel TW, Robital Y, Park SH, Osamura RY et al (2012) Pituitary blastoma: a unique embryonal tumor. Pituitary 15:365–373

Scully KM, Rosenfeld MG (2002) Pituitary development: regulatory codes in mammalian organogenesis. Science 295:2231–2235

Tischler AS, Pacak K, Eisenhofer G (2014) The adrenal medulla and extra-adrenal paraganglia: then and now. Endocr Pathol 25:49–58

Trouillas J, Roy P, Sturm N, Dantony E, Cortet-Rudelli C, Viennet G et al (2013) A new prognostic clinicopathological classification of pituitary adenomas: a multicentric case-control study of 410 patients with 8 years post-operative follow-up. Acta Neuropathol 126:123–135

Umeoka K, Sanno N, Osamura RY, Teramoto A (2002) Expression of GATA-2 in human pituitary adenomas. Mod Pathol 15:11–17

Webb KM, Laurent JJ, Okonkwo DO, Lopes MB, Vance ML, Laws ER Jr (2003) Clinical characteristics of silent corticotrophic adenomas and creation of an internet-accessible database to facilitate their multi-institutional study. Neurosurgery 53:1076–1084

Xekouki P, Stratakis CA (2012) Succinate dehydrogenase (SDHx) mutations in pituitary tumors: could this be a new role for mitochondrial complex II and/or Krebs cycle defects? Endocr Relat Cancer 19:C33–C40

Xu Z, Ellis S, Lee CC, Starke RM, Schlesinger D, Vance ML, Lopes MB, Sheehan J (2014) Silent corticotroph adenomas after stereotactic radiosurgery: a case–control study. Int J Radiat Oncol Biol Phys 90:903–910

Yamada S, Sano T, Takahashi M, Shishiba Y, Teramoto A (1995) Immunohistochemical heterogeneity within clinically nonfunctioning pituitary adenomas. Endocr Pathol 6:217–221

Yildirim AE, Divanlioglu D, Nacar OA, Dursun E, Sahinoglu M, Unal T, Belen AD (2013) Incidence, hormonal distribution and postoperative follow up of atypical pituitary adenomas. Turk Neurosurg 23:226–231

Zada G, Woodmansee WW, Ramkissoon S, Amadio J, Nose V, Laws ER Jr (2011) Atypical pituitary adenomas: incidence, clinical characteristics, and implications. J Neurosurg 114:336–344

Zafar M, Ezzat S, Ramyar L, Pan N, Smyth HS, Asa SL (1995) Cell-specific expression of estrogen receptor in the human pituitary and its adenomas. J Clin Endocrinol Metab 80:3621–3627

Zaidi HA, Cote DJ, Dunn IF, Laws ER Jr (2016) Predictors of aggressive clinical phenotype among immunohistochemically confirmed atypical adenomas. J Clin Neurosci 34:246–251

Zieliński G, Maksymowicz M, Podgórski J, Olszewski WT (2013) Double, synchronous pituitary adenomas causing acromegaly and Cushing's disease. A case report and review of literature. Endocr Pathol 24:92–99

Zhu X, Rosenfeld MG (2004) Transcriptional control of precursor proliferation in the early phases of pituitary development. Curr Opin Genet Dev 14:567–574
About this article
Cite this article
Lopes, M.B.S. The 2017 World Health Organization classification of tumors of the pituitary gland: a summary. Acta Neuropathol 134, 521–535 (2017). https://doi.org/10.1007/s00401-017-1769-8
Received:

Revised:

Accepted:

Published:

Issue Date:

DOI: https://doi.org/10.1007/s00401-017-1769-8
Keywords