Abstract
Posterior fossa ependymomas (EPN_PF) in children comprise two morphologically identical, but biologically distinct tumor entities. Group-A (EPN_PFA) tumors have a poor prognosis and require intensive therapy. In contrast, group-B tumors (EPN_PFB) exhibit excellent prognosis and the current consensus opinion recommends future clinical trials to test the possibility of treatment de-escalation in these patients. Therefore, distinguishing these two tumor subtypes is critical. EPN_PFA and EPN_PFB can be distinguished based on DNA methylation signatures, but these assays are not routinely available. We have previously shown that a subset of poorly prognostic childhood EPN_PF exhibits global reduction in H3K27me3. Therefore, we set out to determine whether a simple immunohistochemical assay for H3K27me3 could be used to segregate EPN_PFA from EPN_PFB tumors. We assembled a cohort of 230 childhood ependymomas and H3K27me3 immunohistochemistry was assessed as positive or negative in a blinded manner. H3K27me3 staining results were compared with DNA methylation-based subgroup information available in 112 samples [EPN_PFA (n = 72) and EPN_PFB tumors (n = 40)]. H3K27me3 staining was globally reduced in EPN_PFA tumors and immunohistochemistry showed 99% sensitivity and 100% specificity in segregating EPN_PFA from EPN_PFB tumors. Moreover, H3K27me3 immunostaining was sufficient to delineate patients with worse prognosis in two independent, non-overlapping cohorts (n = 133 and n = 97). In conclusion, immunohistochemical evaluation of H3K27me3 global reduction is an economic, easily available and readily adaptable method for defining high-risk EPN_PFA from low-risk posterior fossa EPN_PFB tumors to inform prognosis and to enable the design of future clinical trials.
This is a preview of subscription content,
to check access.
Access this article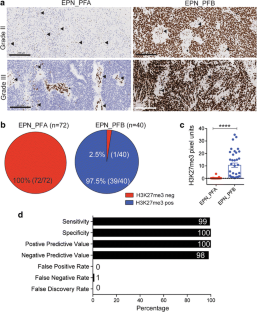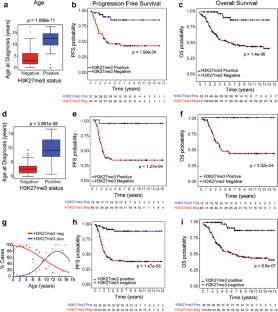 Similar content being viewed by others
References
Bayliss J, Mukherjee P, Lu C, Jain SU, Chung C, Martinez D, Sabari B, Margol AS, Panwalkar P, Parolia A et al (2016) Lowered H3K27me3 and DNA hypomethylation define poorly prognostic pediatric posterior fossa ependymomas. Sci Transl Med 8:366ra161. doi:10.1126/scitranslmed.aah6904

Bechet D, Gielen GG, Korshunov A, Pfister SM, Rousso C, Faury D, Fiset PO, Benlimane N, Lewis PW, Lu C et al (2014) Specific detection of methionine 27 mutation in histone 3 variants (H3K27M) in fixed tissue from high-grade astrocytomas. Acta Neuropathol 128:733–741. doi:10.1007/s00401-014-1337-4

Bender S, Tang Y, Lindroth AM, Hovestadt V, Jones DT, Kool M, Zapatka M, Northcott PA, Sturm D, Wang W et al (2013) Reduced H3K27me3 and DNA hypomethylation are major drivers of gene expression in K27M mutant pediatric high-grade gliomas. Cancer Cell 24:660–672. doi:10.1016/j.ccr.2013.10.006

Capper D, Weissert S, Balss J, Habel A, Meyer J, Jager D, Ackermann U, Tessmer C, Korshunov A, Zentgraf H et al (2010) Characterization of R132H mutation-specific IDH1 antibody binding in brain tumors. Brain Pathol 20:245–254. doi:10.1111/j.1750-3639.2009.00352.x

Carter M, Nicholson J, Ross F, Crolla J, Allibone R, Balaji V, Perry R, Walker D, Gilbertson R, Ellison DW (2002) Genetic abnormalities detected in ependymomas by comparative genomic hybridisation. Br J Cancer 86:929–939. doi:10.1038/sj.bjc.6600180

Cohen JF, Korevaar DA, Altman DG, Bruns DE, Gatsonis CA, Hooft L, Irwig L, Levine D, Reitsma JB, de Vet HC et al (2016) STARD 2015 guidelines for reporting diagnostic accuracy studies: explanation and elaboration. BMJ Open 6:e012799. doi:10.1136/bmjopen-2016-012799

Gessi M, Capper D, Sahm F, Huang K, von Deimling A, Tippelt S, Fleischhack G, Scherbaum D, Alfer J, Juhnke BO et al (2016) Evidence of H3 K27M mutations in posterior fossa ependymomas. Acta Neuropathol 132:635–637. doi:10.1007/s00401-016-1608-3

Godfraind C, Kaczmarska JM, Kocak M, Dalton J, Wright KD, Sanford RA, Boop FA, Gajjar A, Merchant TE, Ellison DW (2012) Distinct disease-risk groups in pediatric supratentorial and posterior fossa ependymomas. Acta Neuropathol 124:247–257. doi:10.1007/s00401-012-0981-9

Granzow M, Popp S, Weber S, Schoell B, Holtgreve-Grez H, Senf L, Hager D, Boschert J, Scheurlen W, Jauch A (2001) Isochromosome 1q as an early genetic event in a child with intracranial ependymoma characterized by molecular cytogenetics. Cancer Genet Cytogenet 130:79–83

Heagerty PJ, Zheng Y (2005) Survival model predictive accuracy and ROC curves. Biometrics 61:92–105. doi:10.1111/j.0006-341X.2005.030814.x

Judkins AR, Eberhart CG, Wesseling P, Hasselblatt M (2017) Atypical teratoid/rhabdoid tumor. In: Louis DN, Ohgaki H, Wiestler OD, Cavenee WK, Ellison DW, Figarella-Branger D, Perry A, Reifenberger G, von Deimling A (eds) WHO classification of tumours of the central nervous system revised 4th edition. World Health Organization, International Agency For Research on Cancer (IARC), Geneva, pp 209–212

Kilday JP, Mitra B, Domerg C, Ward J, Andreiuolo F, Osteso-Ibanez T, Mauguen A, Varlet P, Le Deley MC, Lowe J et al (2012) Copy number gain of 1q25 predicts poor progression-free survival for pediatric intracranial ependymomas and enables patient risk stratification: a prospective European clinical trial cohort analysis on behalf of the Children's Cancer Leukaemia Group (CCLG), Societe Francaise d'Oncologie Pediatrique (SFOP), and International Society for Pediatric Oncology (SIOP). Clin Cancer Res 18:2001–2011. doi:10.1158/1078-0432.CCR-11-2489

Korshunov A, Witt H, Hielscher T, Benner A, Remke M, Ryzhova M, Milde T, Bender S, Wittmann A, Schottler A et al (2010) Molecular staging of intracranial ependymoma in children and adults. J Clin Oncol 28:3182–3190. doi:10.1200/JCO.2009.27.3359

Lewis PW, Muller MM, Koletsky MS, Cordero F, Lin S, Banaszynski LA, Garcia BA, Muir TW, Becher OJ, Allis CD (2013) Inhibition of PRC2 activity by a gain-of-function H3 mutation found in pediatric glioblastoma. Science 340:857–861. doi:10.1126/Science.1232245

Li AM, Dunham C, Tabori U, Carret AS, McNeely PD, Johnston D, Lafay-Cousin L, Wilson B, Eisenstat DD, Jabado N et al (2015) EZH2 expression is a prognostic factor in childhood intracranial ependymoma: a Canadian Pediatric Brain Tumor Consortium study. Cancer 121:1499–1507. doi:10.1002/cncr.29198

Louis DN, Perry A, Burger P, Ellison DW, Reifenberger G, von Deimling A, Aldape K, Brat D, Collins VP, Eberhart C et al (2014) International Society of Neuropathology-Haarlem Consensus guidelines, for nervous system tumor classification and grading. Brain Pathol. doi:10.1111/bpa.12171

Louis DN, Perry A, Reifenberger G, von Deimling A, Figarella-Branger D, Cavenee WK, Ohgaki H, Wiestler OD, Kleihues P, Ellison DW (2016) The 2016 World Health Organization classification of tumors of the central nervous system: a summary. Acta Neuropathol 131:803–820. doi:10.1007/s00401-016-1545-1

Mack SC, Witt H, Piro RM, Gu L, Zuyderduyn S, Stutz AM, Wang X, Gallo M, Garzia L, Zayne K et al (2014) Epigenomic alterations define lethal CIMP-positive ependymomas of infancy. Nature 506:445–450. doi:10.1038/nature13108

McShane LM, Altman DG, Sauerbrei W, Taube SE, Gion M, Clark GM, Statistics Subcommittee of the NCIEWGoCD (2005) REporting recommendations for tumor MARKer prognostic studies (REMARK). Nat Clin Pract Oncol 2:416–422

Mendenhall EM, Koche RP, Truong T, Zhou VW, Issac B, Chi AS, Ku M, Bernstein BE (2010) GC-rich sequence elements recruit PRC2 in mammalian ES cells. PLoS Genet 6:e1001244. doi:10.1371/journal.pgen.1001244

Mendrzyk F, Korshunov A, Benner A, Toedt G, Pfister S, Radlwimmer B, Lichter P (2006) Identification of gains on 1q and epidermal growth factor receptor overexpression as independent prognostic markers in intracranial ependymoma. Clin Cancer Res 12:2070–2079. doi:10.1158/1078-0432.CCR-05-2363

Ostrom QT, Gittleman H, Fulop J, Liu M, Blanda R, Kromer C, Wolinsky Y, Kruchko C, Barnholtz-Sloan JS (2015) CBTRUS Statistical Report: Primary Brain and Central Nervous System Tumors Diagnosed in the United States in 2008-2012. Neuro Oncol 17(Suppl 4):iv1–iv62. doi:10.1093/neuonc/nov189

Pajtler KW, Mack SC, Ramaswamy V, Smith CA, Witt H, Smith A, Hansford JR, von Hoff K, Wright KD, Hwang E et al (2017) The current consensus on the clinical management of intracranial ependymoma and its distinct molecular variants. Acta Neuropathol 133:5–12. doi:10.1007/s00401-016-1643-0

Pajtler KW, Witt H, Sill M, Jones DT, Hovestadt V, Kratochwil F, Wani K, Tatevossian R, Punchihewa C, Johann P et al (2015) Molecular classification of ependymal tumors across all CNS compartments, histopathological grades, and age groups. Cancer Cell 27:728–743. doi:10.1016/j.ccell.2015.04.002

Parker M, Mohankumar KM, Punchihewa C, Weinlich R, Dalton JD, Li Y, Lee R, Tatevossian RG, Phoenix TN, Thiruvenkatam R et al (2014) C11orf95-RELA fusions drive oncogenic NF-kappaB signalling in ependymoma. Nature 506:451–455. doi:10.1038/nature13109

Pollack IF, Gerszten PC, Martinez AJ, Lo KH, Shultz B, Albright AL, Janosky J, Deutsch M (1995) Intracranial ependymomas of childhood: long-term outcome and prognostic factors. Neurosurgery 37:655–666 (discussion 666–657)

Ramaswamy V, Hielscher T, Mack SC, Lassaletta A, Lin T, Pajtler KW, Jones DT, Luu B, Cavalli FM, Aldape K et al (2016) Therapeutic Impact of cytoreductive surgery and irradiation of posterior fossa ependymoma in the molecular era: a retrospective multicohort analysis. J Clin Oncol 34:2468–2477. doi:10.1200/JCO.2015.65.7825

Reddington JP, Perricone SM, Nestor CE, Reichmann J, Youngson NA, Suzuki M, Reinhardt D, Dunican DS, Prendergast JG, Mjoseng H et al (2013) Redistribution of H3K27me3 upon DNA hypomethylation results in de-repression of Polycomb target genes. Genome Biol 14:R25. doi:10.1186/gb-2013-14-3-r25

Robertson PL, Zeltzer PM, Boyett JM, Rorke LB, Allen JC, Geyer JR, Stanley P, Li H, Albright AL, McGuire-Cullen P et al (1998) Survival and prognostic factors following radiation therapy and chemotherapy for ependymomas in children: a report of the Children's Cancer Group. J Neurosurg 88:695–703. doi:10.3171/jns.1998.88.4.0695

Sturm D, Witt H, Hovestadt V, Khuong-Quang DA, Jones DT, Konermann C, Pfaff E, Tonjes M, Sill M, Bender S et al (2012) Hotspot mutations in H3F3A and IDH1 define distinct epigenetic and biological subgroups of glioblastoma. Cancer Cell 22:425–437. doi:10.1016/j.ccr.2012.08.024

Venneti S, Garimella MT, Sullivan LM, Martinez D, Huse JT, Heguy A, Santi M, Thompson CB, Judkins AR (2013) Evaluation of histone 3 lysine 27 trimethylation (H3K27me3) and enhancer of Zest 2 (EZH2) in pediatric glial and glioneuronal tumors shows decreased H3K27me3 in H3F3A K27M mutant glioblastomas. Brain Pathol 23:558–564. doi:10.1111/bpa.12042

Venneti S, Santi M, Felicella MM, Yarilin D, Phillips JJ, Sullivan LM, Martinez D, Perry A, Lewis PW, Thompson CB et al (2014) A sensitive and specific histopathologic prognostic marker for H3F3A K27M mutant pediatric glioblastomas. Acta Neuropathol 128:743–753. doi:10.1007/s00401-014-1338-3

Vera-Bolanos E, Aldape K, Yuan Y, Wu J, Wani K, Necesito-Reyes MJ, Colman H, Dhall G, Lieberman FS, Metellus P et al (2015) Clinical course and progression-free survival of adult intracranial and spinal ependymoma patients. Neuro Oncol 17:440–447. doi:10.1093/neuonc/nou162

Witt H, Mack SC, Ryzhova M, Bender S, Sill M, Isserlin R, Benner A, Hielscher T, Milde T, Remke M et al (2011) Delineation of two clinically and molecularly distinct subgroups of posterior fossa ependymoma. Cancer Cell 20:143–157. doi:10.1016/j.ccr.2011.07.007

Xie W, Schultz MD, Lister R, Hou Z, Rajagopal N, Ray P, Whitaker JW, Tian S, Hawkins RD, Leung D et al (2013) Epigenomic analysis of multilineage differentiation of human embryonic stem cells. Cell 153:1134–1148. doi:10.1016/j.cell.2013.04.022
Acknowledgements
We thank Dr. Paul Mischel for insightful comments. This work was supported by grants from NCI K08 CA181475 (S.V.), Mathew Larson Foundation (SV), Sidney Kimmel Foundation (SV), Doris Duke Foundation (SV); Making Headway Foundation (M.S. and M.A.K.), the Sohn Conference Foundation (M.S. and M.A.K.), the Friedberg Charitable Foundation (M.S. and M.A.K.) and Canadian Children's Cancer & Blood Disorders-C17 grant (JH). Research reported in this publication was supported by the National Cancer Institute of the National Institutes of Health under Award Number P30CA046592 by the use of the following Cancer Center Shared Resource(s): Biostatistics. The content is solely the responsibility of the authors and does not necessarily represent the official views of the National Institutes of Health.
Ethics declarations
Conflict of interest
The authors declare no competing interests.
Electronic supplementary material
Below is the link to the electronic supplementary material.
About this article
Cite this article
Panwalkar, P., Clark, J., Ramaswamy, V. et al. Immunohistochemical analysis of H3K27me3 demonstrates global reduction in group-A childhood posterior fossa ependymoma and is a powerful predictor of outcome. Acta Neuropathol 134, 705–714 (2017). https://doi.org/10.1007/s00401-017-1752-4
Received:

Revised:

Accepted:

Published:

Issue Date:

DOI: https://doi.org/10.1007/s00401-017-1752-4
Keywords