Abstract
Deposition of amyloid β protein (Aβ) to form neuritic plaques in the brain is the unique pathological hallmark of Alzheimer's disease (AD). Aβ is derived from amyloid β precursor protein (APP) by β- and γ-secretase cleavages and turned over by glia in the central nervous system (CNS). Vitamin A deficiency (VAD) has been shown to affect cognitive functions. Marginal vitamin A deficiency (MVAD) is a serious and widespread public health problem among pregnant women and children in developing countries. However, the role of MVAD in the pathogenesis of AD remains elusive. Our study showed that MVAD is approximately twofold more prevalent than VAD in the elderly, and increased cognitive decline is positively correlated with lower VA levels. We found that MVAD, mostly prenatal MVAD, promotes beta-site APP cleaving enzyme 1 (BACE1)-mediated Aβ production and neuritic plaque formation, and significantly exacerbates memory deficits in AD model mice. Supplementing a therapeutic dose of VA rescued the MVAD-induced memory deficits. Taken together, our study demonstrates that MVAD facilitates AD pathogenesis and VA supplementation improves cognitive deficits. These results suggest that VA supplementation might be a potential approach for AD prevention and treatment.
Access options
Buy single article
Instant access to the full article PDF.
USD 39.95
Price excludes VAT (USA)
Tax calculation will be finalised during checkout.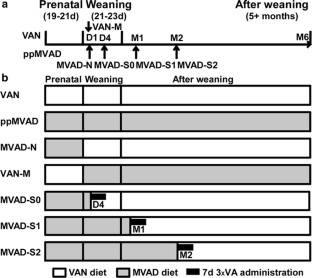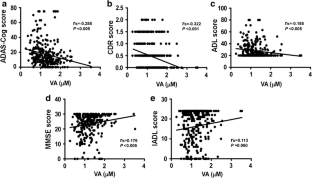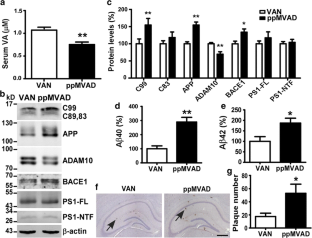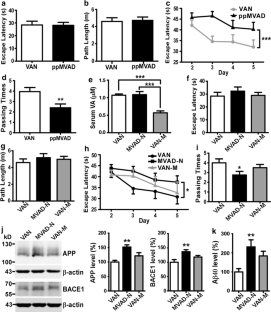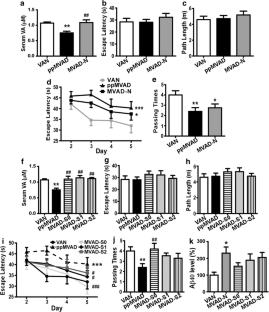 Abbreviations
AD:

Alzheimer's disease

Aβ:

Amyloid β protein

APP:

Amyloid β precursor protein

MVAD:

Marginal vitamin A deficiency
References
Adams J (2010) The neurobehavioral teratology of retinoids: a 50-year history. Birth Defects Res A Clin Mol Teratol 88:895–905

Adlerz L, Beckman M, Holback S, Tehranian R, Cortés Toro V, Iverfeldt K (2003) Accumulation of the amyloid precursor-like protein APLP2 and reduction of APLP1 in retinoic acid-differentiated human neuroblastoma cells upon curcumin-induced neurite retraction. Mol Brain Res 119:62–72

Bard F, Cannon C, Barbour R, Burke RL, Games D, Grajeda H, Guido T, Hu K, Huang J, Johnson-Wood K et al (2000) Peripherally administered antibodies against amyloid beta-peptide enter the central nervous system and reduce pathology in a mouse model of Alzheimer disease. Nat Med 6:916–919

Barker DJ, Bull AR, Osmond C, Simmonds SJ (1990) Fetal and placental size and risk of hypertension in adult life. British Med J 301:259–262

Barón MA, Solano L, Llovera D, Peña E (2003) Vitamin A status in pregnant adolescents of low socioeconomic income. Arch Latinoam Nutr 53:364–368

Beckman M, Iverfeldt K (1997) Increased gene expression of beta-amyloid precursor protein and its homologues APLP1 and APLP2 in human neuroblastoma cells in response to retinoic acid. Neurosci Lett 221:73–76

Black RE, Victora CG, Walker SP, Bhutta ZA, Christian P, de Onis M, Ezzati M, Grantham-McGregor S, Katz J, Martorell R et al (2013) Maternal and child undernutrition and overweight in low-income and middle-income countries. Lancet 382:427–451

Bonnet E, Touyarot K, Alfos S, Pallet V, Higueret P, Abrous DN (2008) Retinoic acid restores adult hippocampal neurogenesis and reverses spatial memory deficit in vitamin A deprived rats. PLoS One 3:e3487

Brouwers N, Sleegers K, Engelborghs S, Bogaerts V, Serneels S, Kamali K, Corsmit E, De Leenheir E, Martin JJ, De Deyn PP et al (2006) Genetic risk and transcriptional variability of amyloid precursor protein in Alzheimer's disease. Brain 129:2984–2991

Chen CH, Zhou W, Liu S, Deng Y, Cai F, Tone M, Tone Y, Tong Y, Song W (2012) Increased NF-kappaB signalling up-regulates BACE1 expression and its therapeutic potential in Alzheimer's disease. Int J Neuropsychopharmacol 15:77–90

Christensen MA, Zhou W, Qing H, Lehman A, Philipsen S, Song W (2003) Transcriptional regulation of BACE1, the β-amyloid precursor protein β-secretase, by Sp1. Mol Cell Biol 24:865–874

Corcoran JP, So PL, Maden M (2004) Disruption of the retinoid signalling pathway causes a deposition of amyloid beta in the adult rat brain. Eur J Neurosci 20:896–902

De Strooper B, Saftig P, Craessaerts K, Vanderstichele H, Guhde G, Annaert W, Von Figura K, Van Leuven F (1998) Deficiency of presenilin-1 inhibits the normal cleavage of amyloid precursor protein. Nature 391:387–390

Deng Y, Wang Z, Wang R, Zhang X, Zhang S, Wu Y, Staufenbiel M, Cai F, Song W (2013) Amyloid-beta protein (Abeta) Glu11 is the major beta-secretase site of beta-site amyloid-beta precursor protein-cleaving enzyme 1(BACE1), and shifting the cleavage site to Abeta Asp1 contributes to Alzheimer pathogenesis. Eur J Neurosci 37:1962–1969

Ding Y, Qiao A, Wang Z, Goodwin JS, Lee ES, Block ML, Allsbrook M, McDonald MP, Fan GH (2008) Retinoic acid attenuates beta-amyloid deposition and rescues memory deficits in an Alzheimer's disease transgenic mouse model. J Neurosci 28:11622–11634

Donnen P, Dramaix M, Brasseur D, Bitwe R, Vertongen F, Hennart P (1998) Randomized placebo-controlled clinical trial of the effect of a single high dose or daily low doses of vitamin A on the morbidity of hospitalized, malnourished children. Am J Clin Nutri 68:1254–1260

Endres K, Fahrenholz F, Lotz J, Hiemke C, Teipel S, Lieb K, Tüscher O, Fellgiebel A (2014) Increased CSF APPs-α levels in patients with Alzheimer disease treated with acitretin. Neurol 83:1930–1935

Etchamendy N, Enderlin V, Marighetto A, Pallet V, Higueret P, Jaffard R (2003) Vitamin A deficiency and relational memory deficit in adult mice: relationships with changes in brain retinoid signalling. Behav Brain Res 145:37–49

Goncalves MB, Clarke E, Hobbs C, Malmqvist T, Deacon R, Jack J, Corcoran JP (2013) Amyloid beta inhibits retinoic acid synthesis exacerbating Alzheimer disease pathology which can be attenuated by an retinoic acid receptor alpha agonist. Eur J Neurosci 37:1182–1192

Goodman AB, Pardee AB (2003) Evidence for defective retinoid transport and function in late onset Alzheimer's disease. Proc Natl Acad Sci USA 100:2901–2905

Henn A, Lund S, Hedtjärn M, Schrattenholz A, Pörzgen P, Leist M (2009) The suitability of BV2 cells as alternative model system for primary microglia cultures or for animal experiments examining brain inflammation. ALTEX 26:83–94

Holback S, Adlerz L, Iverfeldt K (2005) Increased processing of APLP2 and APP with concomitant formation of APP intracellular domains in BDNF and retinoic acid-differentiated human neuroblastoma cells. J Neurochem 95:1059–1068

Holsinger RM, McLean CA, Beyreuther K, Masters CL, Evin G (2002) Increased expression of the amyloid precursor beta-secretase in Alzheimer's disease. Ann Neurol 51:783–786

Hung AY, Koo EH, Haass C, Selkoe DJ (1992) Increased expression of beta-amyloid precursor protein during neuronal differentiation is not accompanied by secretory cleavage. Proc Natl Acad Sci USA 89:9439–9443

Husson M, Enderlin V, Delacourte A, Ghenimi N, Alfos S, Pallet V, Higueret P (2006) Retinoic acid normalizes nuclear receptor mediated hypo-expression of proteins involved in β-amyloid deposits in the cerebral cortex of vitamin A deprived rats. Neurobiol Dis 23:1–10

Jiang W, Yu Q, Gong M, Chen L, Wen E, Bi Y, Zhang Y, Shi Y, Qu P, Liu Y et al (2012) Vitamin A deficiency impairs postnatal cognitive function via inhibition of neuronal calcium excitability in hippocampus. J Neurochem 121:932–943

Kai K, Hashimoto M, Amano K, Tanaka H, Fukuhara R, Ikeda M (2015) Relationship between eating disturbance and dementia severity in patients with Alzheimer's disease. PLoS One 10:e0133666

Kapoor A, Wang BJ, Hsu WM, Chang MY, Liang SM, Liao YF (2013) Retinoic acid-elicited RARalpha/RXRalpha signaling attenuates Abeta production by directly inhibiting gamma-secretase-mediated cleavage of amyloid precursor protein. ACS Chem Neurosci 4:1093–1100

Kitaoka K, Shimizu N, Ono K, Chikahisa S, Nakagomi M, Shudo K, Ishimura K, Sei H, Yoshizaki K (2013) The retinoic acid receptor agonist Am 80 increases hippocampal ADAM10 in aged SAMP8 mice. Neuropharmacol 72:58–65

Koryakina A, Aeberhard J, Kiefer S, Hamburger M, Kuenzi P (2009) Regulation of secretases by all-trans-retinoic acid. FEBS J 276:2645–2655

Lee CY, Landreth GE (2010) The role of microglia in amyloid clearance from the AD brain. J Neural Transm (Vienna) 117:949–960

Li LM, Rao K, Kong LZ, Yao CH, Xiang HD, Zhai FY, Ma GS, Yang XG, Technical Working Group of China National Nutrition and Health Survey (2005) A description on the Chinese national nutrition and health survey in 2002. Zhonghua Liu Xing Bing Xue Za Zhi 26:478–484

Li R, Lindholm K, Yang LB, Yue X, Citron M, Yan R, Beach T, Sue L, Sabbagh M, Cai H et al (2004) Amyloid beta peptide load is correlated with increased beta-secretase activity in sporadic Alzheimer's disease patients. Proc Natl Acad Sci USA 101:3632–3637

Li Y, Zhou W, Tong Y, He G, Song W (2006) Control of APP processing and Abeta generation level by BACE1 enzymatic activity and transcription. FASEB J 20:285–292

Liu X, Cui T, Li Y, Wang Y, Wang Q, Li X, Bi Y, Wei X, Liu L, Li T et al (2014) Vitamin A supplementation in early life enhances the intestinal immune response of rats with gestational vitamin A deficiency by increasing the number of immune cells. PLoS One 9:e114934

Lopes da Silva S, Vellas B, Elemans S, Luchsinger J, Kamphuis P, Yaffe K, Sijben J, Groenendijk M, Stijnen T (2014) Plasma nutrient status of patients with Alzheimer's disease: systematic review and meta-analysis. Alzheimers Dement 10:485–502

Ly PT, Wu Y, Zou H, Wang R, Zhou W, Kinoshita A, Zhang M, Yang Y, Cai F, Woodgett J et al (2013) Inhibition of GSK3beta-mediated BACE1 expression reduces Alzheimer-associated phenotypes. J Clin Invest 123:224–235

Maden M (2007) Retinoic acid in the development, regeneration and maintenance of the nervous system. Nat Rev Neurosci 8:755–765

Mandrekar S, Jiang Q, Lee CY, Koenigsknecht-Talboo J, Holtzman DM, Landreth GE (2009) Microglia mediate the clearance of soluble Abeta through fluid phase macropinocytosis. J Neurosci 29:4252–4262

McConlogue L, Buttini M, Anderson JP, Brigham EF, Chen KS, Freedman SB, Games D, Johnson-Wood K, Lee M, Zeller M et al (2007) Partial reduction of BACE1 has dramatic effects on Alzheimer plaque and synaptic pathology in APP transgenic mice. J Biol Chem 282:26326–26334

Misner DL, Jacobs S, Shimizu Y, de Urquiza AM, Solomin L, Perlmann T, De Luca LM, Stevens CF, Evans RM (2001) Vitamin A deprivation results in reversible loss of hippocampal long-term synaptic plasticity. Proc Natl Acad Sci USA 98:11714–11719

Murray JN, Igwe OJ (2003) Regulation of β-amyloid precursor protein and inositol 1,4,5-trisphosphate receptor gene expression during differentiation of a human neuronal cell line. Prog Neuro Psychopharmacol Biol Psychiatry 27:351–363

Ohno M, Sametsky EA, Younkin LH, Oakley H, Younkin SG, Citron M, Vassar R, Disterhoft JF (2004) BACE1 deficiency rescues memory deficits and cholinergic dysfunction in a mouse model of Alzheimer's disease. Neuron 41:27–33

Qing H, He G, Ly PT, Fox CJ, Staufenbiel M, Cai F, Zhang Z, Wei S, Sun X, Chen CH et al (2008) Valproic acid inhibits Abeta production, neuritic plaque formation, and behavioral deficits in Alzheimer's disease mouse models. J Exp Med 205:2781–2789

Qing H, Zhou W, Christensen MA, Sun X, Tong Y, Song W (2004) Degradation of BACE by the ubiquitin-proteasome pathway. FASEB J 18:1571–1573

Reinhardt S, Grimm MO, Stahlmann C, Hartmann T, Shudo K, Tomita T, Endres K (2016) Rescue of hypovitaminosis A induces non-amyloidogenic amyloid precursor protein (APP) processing. Curr Alzheimer Res 13:1277–1289

Rinaldi P, Polidori MC, Metastasio A, Mariani E, Mattioli P, Cherubini A, Catani M, Cecchetti R, Senin U, Mecocci P (2003) Plasma antioxidants are similarly depleted in mild cognitive impairment and in Alzheimer's disease. Neurobiol Aging 24:915–919

Ross AC, Harrison EH (2013) Vitamin A: nutritional aspects of retinoids and carotenoids. In: Zempleni J, Suttie JW, Gregory JF III, Stover PJ (eds) Handbook of vitamins, 5th edn. CRC Press, Boca Raton, pp 1–50

Rovelet-Lecrux A, Hannequin D, Raux G, Le Meur N, Laquerrière A, Vital A, Dumanchin C, Feuillette S, Brice A, Vercelletto M et al (2006) APP locus duplication causes autosomal dominant early-onset Alzheimer disease with cerebral amyloid angiopathy. Nat Genet 38:24–26

Smith MA, Petot GJ, Perry G (1999) Diet and oxidative stress a novel synthesis of epidemiological data on Alzheimer's disease. J Alzheimers Dis 1:203–206

Sommer A, West KP (1996) Vitamin A deficiency: health, survival and vision. Oxford University Press, Oxford

Stephenson LS, Latham MC, Ottesen EA (2000) Global malnutrition. Parasitology 121:S5–22

Sun X, He G, Qing H, Zhou W, Dobie F, Cai F, Staufenbiel M, Huang LE, Song W (2006) Hypoxia facilitates Alzheimer's disease pathogenesis by up-regulating BACE1 gene expression. Proc Natl Acad Sci USA 103:18727–18732

Sun X, He G, Song W (2006) BACE2, as a novel APP theta-secretase, is not responsible for the pathogenesis of Alzheimer's disease in Down syndrome. FASEB J 20:1369–1376

Sun X, Wang Y, Qing H, Christensen MA, Liu Y, Zhou W, Tong Y, Xiao C, Huang Y, Zhang S et al (2005) Distinct transcriptional regulation and function of the human BACE2 and BACE1 genes. FASEB J 19:739–749

Symonds ME, Stephenson T, Gardner DS, Budge H (2007) Long-term effects of nutritional programming of the embryo and fetus: mechanisms and critical windows. Reprod Fertil Dev 19:53–63

Tanumihardjo SA (2011) Vitamin A: biomarkers of nutrition for development. Am J Clin Nutr 94:658S–665S

Tanzi RE, Bertram L (2005) Twenty years of the Alzheimer's disease amyloid hypothesis: a genetic perspective. Cell 120:545–555

Tippmann F, Hundt J, Schneider A, Endres K, Fahrenholz F (2009) Up-regulation of the alpha-secretase ADAM10 by retinoic acid receptors and acitretin. FASEB J 23:1643–1654

Victora CG, Adair L, Fall C, Hallal PC, Martorell R, Richter L, Sachdev HS (2008) Maternal and child undernutrition: consequences for adult health and human capital. Lancet 371:340–357

Wang R, Chen S, Liu Y, Diao S, Xue Y, You X, Park EA, Liao FF (2015) All-trans-retinoic acid reduces BACE1 expression under inflammatory conditions via modulation of nuclear factor kappaB (NFkappaB) signaling. J Biol Chem 290:22532–22542

Wei H, Huang H, Li T, Qu P, Liu Y, Chen J (2009) Marginal vitamin A deficiency affects lung maturation in rats from prenatal to adult stage. J Nutr Sci Vitaminol (Tokyo) 55:208–214

West KP (2002) Extent of vitamin A deficiency among preschool children and women of reproductive age. J Nutr 132:2857S–2866S

WHO (2009) Global prevalence of vitamin A deficiency in populations at risk 1995–2005: WHO Global Database on Vitamin A Deficiency. WHO

WHO (2011) Guideline: Vitamin A supplementation for infants and children 6-59 months of age. WHO

WHO, UNICEF, IVACG Task Force (1997) Vitamin A supplements: a guide to their use in the treatment and prevention of vitamin A deficiency and xerophthalmia, 2nd edn. WHO

Wildsmith KR, Holley M, Savage JC, Skerrett R, Landreth GE (2013) Evidence for impaired amyloid β clearance in Alzheimer's disease. Alzheimers Res Ther 5:33

Wu Y, Deng Y, Zhang S, Luo Y, Cai F, Zhang Z, Zhou W, Li T, Song W (2015) Amyloid-beta precursor protein facilitates the regulator of calcineurin 1-mediated apoptosis by downregulating proteasome subunit alpha type-5 and proteasome subunit beta type-7. Neurobiol Aging 36:169–177

Yang Y, Quitschke WW, Brewer GJ (1998) Upregulation of amyloid precursor protein gene promoter in rat primary hippocampal neurons by phorbol ester, IL-1 and retinoic acid, but not by reactive oxygen species. Brain Res Mol Brain Res 60:40–49

Zhang M, Cai F, Zhang S, Zhang S, Song W (2014) Overexpression of ubiquitin carboxyl-terminal hydrolase L1 (UCHL1) delays Alzheimer's progression in vivo. Sci Rep 4:7298

Zhang Z, Nadeau P, Song W, Donoviel D, Yuan M, Bernstein A, Yankner BA (2000) Presenilins are required for gamma-secretase cleavage of beta-APP and transmembrane cleavage of Notch-1. Nat Cell Biol 2:463–465

Zhou W, Song W (2006) Leaky scanning and reinitiation regulate BACE1 gene expression. Mol Cell Biol 26:3353–3364

Zhu Z (2011) The first 1000 days in life: changing life, changing future. Chin J Child Health Care 19:681–682
Acknowledgements
This work was supported by grants from the National Natural Science Foundation of China (NSFC) Grant 30972461, 81161120498 (TL), and 81202291 (LC), and Canadian Institutes of Health Research (CIHR) Grant TAD-117948 (WS). WS is the holder of the Tier 1 Canada Research Chair in Alzheimer's Disease. ZW is supported by the Alzheimer Society of Canada Postdoctoral Fellowship.
Ethics declarations
Conflict of interest
The authors declare no conflict of interest.
Additional information
J. Zeng and L. Chen contributed equally to this work.
Electronic supplementary material
Below is the link to the electronic supplementary material.
About this article
Cite this article
Zeng, J., Chen, L., Wang, Z. et al. Marginal vitamin A deficiency facilitates Alzheimer's pathogenesis. Acta Neuropathol 133, 967–982 (2017). https://doi.org/10.1007/s00401-017-1669-y
Received:

Revised:

Accepted:

Published:

Issue Date:

DOI: https://doi.org/10.1007/s00401-017-1669-y
Keywords