Abstract
Detection of α-synuclein lesions in peripheral tissues is a feature of human synucleinopathies of likely pathogenetic relevance and bearing important clinical implications. Experiments were carried out to elucidate the relationship between α-synuclein accumulation in the brain and in peripheral organs, and to identify potential pathways involved in long-distance protein transfer. Results of this in vivo study revealed a route-specific transmission of α-synuclein from the rat brain to the stomach. Following targeted midbrain overexpression of human α-synuclein, the exogenous protein was capable of reaching the gastric wall where it was accumulated into preganglionic vagal terminals. This brain-to-stomach connection likely involved intra- and inter-neuronal transfer of non-fibrillar α-synuclein that first reached the medulla oblongata, then gained access into cholinergic neurons of the dorsal motor nucleus of the vagus nerve and finally traveled via efferent fibers of these neurons contained within the vagus nerve. Data also showed a particular propensity of vagal motor neurons and efferents to accrue α-synuclein and deliver it to peripheral tissues; indeed, following its midbrain overexpression, human α-synuclein was detected within gastric nerve endings of visceromotor but not viscerosensory vagal projections. Thus, the dorsal motor nucleus of the vagus nerve represents a key relay center for central-to-peripheral α-synuclein transmission, and efferent vagal fibers may act as unique conduits for protein transfer. The presence of α-synuclein in peripheral tissues could reflect, at least in some synucleinopathy patients, an ongoing pathological process that originates within the brain and, from there, reaches distant organs innervated by motor vagal projections.
This is a preview of subscription content, log in to check access.
Access options
Buy single article
Instant access to the full article PDF.
US$ 39.95
Price includes VAT for USA
Subscribe to journal
Immediate online access to all issues from 2019. Subscription will auto renew annually.
US$ 199
This is the net price. Taxes to be calculated in checkout.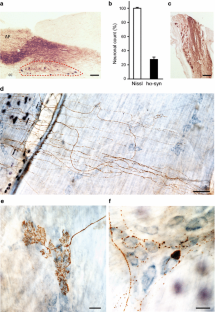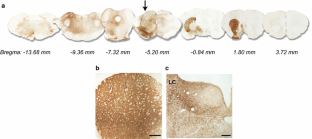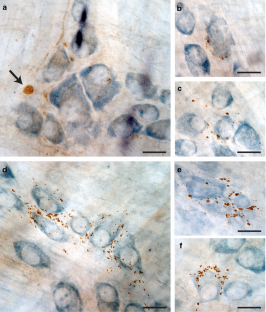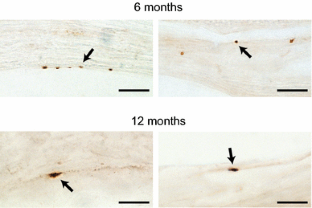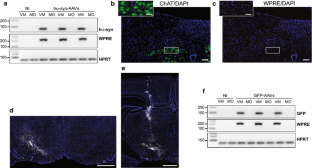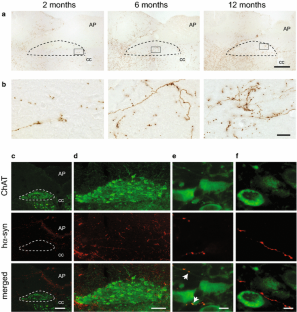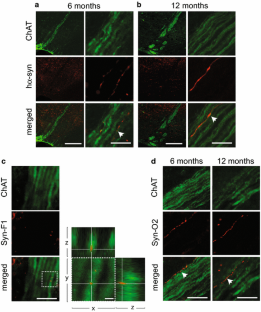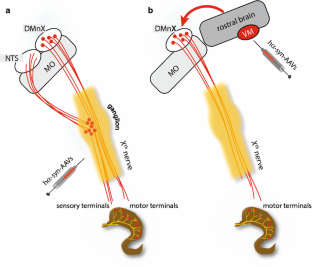 References
1.

Agostoni E, Chinnock JE, De Daly MB, Murray JG (1957) Functional and histological studies of the vagus nerve and its branches to the heart, lungs and abdominal viscera in the cat. J Physiol 135:182–205

2.

Annerino DM, Arshad S, Taylor GM, Adler CH, Beach TG, Greene JG (2012) Parkinson's disease is not associated with gastrointestinal myenteric ganglion neuron loss. Acta Neuropathol 124:665–680. doi:10.1007/s00401-012-1040-2

3.

Beach TG, Adler CH, Sue LI, Vedders L, Lue L, White Iii CL, Akiyama H, Caviness JN, Shill HA, Sabbagh MN, Walker DG (2010) Multi-organ distribution of phosphorylated α-synuclein histopathology in subjects with Lewy body disorders. Acta Neuropathol 119:689–702. doi:10.1007/s00401-010-0664-3

4.

Berthoud HR, Jedrzejewska A, Powley TL (1990) Simultaneous labeling of vagal innervation of the gut and afferent projections from the visceral forebrain with dil injected into the dorsal vagal complex in the rat. J Comp Neurol 301:65–79

5.

Braak H, de Vos RA, Bohl J, Del Tredici K (2006) Gastric α-synuclein immunoreactive inclusions in Meissner's and Auerbach's plexuses in cases staged for Parkinson's disease-related brain pathology. Neurosci Lett 396:67–72. doi:10.1016/j.neulet.2005.11.012

6.

Braak H, Rub U, Gai WP, Del Tredici K (2003) Idiopathic Parkinson's disease: possible routes by which vulnerable neuronal types may be subject to neuroinvasion by an unknown pathogen. J Neural Transm 110:517–536. doi:10.1007/s00702-002-0808-2

7.

Danzer KM, Kranich LR, Ruf WP, Cagsal-Getkin O, Winslow AR, Zhu L, Vanderburg CR, McLean PJ (2012) Exosomal cell-to-cell transmission of α-synuclein oligomers. Mol Neurodegener 7:42. doi:10.1186/1750-1326-7-42

8.

Freundt EC, Maynard N, Clancy EK, Roy S, Bousset L, Sourigues Y, Covert M, Melki R, Kirkegaard K, Brahic M (2012) Neuron-to-neuron transmission of α-synuclein fibrils through axonal transport. Ann Neurol 72:517–524. doi:10.1002/ana.23747

9.

George S, Rey NL, Reichenbach N, Steiner JA, Brundin P (2013) α-Synuclein: the long distance runner. Brain Pathol 23:350–357. doi:10.1111/bpa.12046

10.

Giasson BI, Jakes R, Goedert M, Duda JE, Leight S, Trojanowski JQ, Lee VM (2000) A panel of epitope-specific antibodies detects protein domains distributed throughout human α-synuclein in Lewy bodies of Parkinson's disease. J Neurosci Res 59:528–533

11.

Goedert M, Spillantini MG, Del Tredici K, Braak H (2013) 100 years of Lewy pathology. Nat Rev Neurol 9:13–24. doi:10.1038/nrneurol.2012.242

12.

Helwig M, Klinkenberg M, Rusconi R, Musgrove RE, Majbour NK, El-Agnaf OM, Ulusoy A, Di Monte DA (2016) Brain propagation of transduced α-synuclein involves non-fibrillar protein species and is enhanced in α-synuclein null mice. Brain 139:856–870. doi:10.1093/brain/awv376

13.

Holmqvist S, Chutna O, Bousset L, Aldrin-Kirk P, Li W, Bjorklund T, Wang ZY, Roybon L, Melki R, Li JY (2014) Direct evidence of Parkinson pathology spread from the gastrointestinal tract to the brain in rats. Acta Neuropathol 128:805–820. doi:10.1007/s00401-014-1343-6

14.

Kirik D, Rosenblad C, Burger C, Lundberg C, Johansen TE, Muzyczka N, Mandel RJ, Bjorklund A (2002) Parkinson-like neurodegeneration induced by targeted overexpression of α-synuclein in the nigrostriatal system. J Neurosci 22:2780–2791

15.

Pan-Montojo F, Schwarz M, Winkler C, Arnhold M, O'Sullivan GA, Pal A et al (2012) Environmental toxins trigger PD-like progression via increased α-synuclein release from enteric neurons in mice. Sci Rep 2:898. doi:10.1038/srep00898

16.

Phillips RJ, Walter GC, Wilder SL, Baronowsky EA, Powley TL (2008) α-Synuclein-immunopositive myenteric neurons and vagal preganglionic terminals: autonomic pathway implicated in Parkinson's disease? Neuroscience 153:733–750. doi:10.1016/j.neuroscience.2008.02.074

17.

Pouclet H, Lebouvier T, Coron E, Rouaud T, Flamant M, Toulgoat F, Roy M, Vavasseur F, Bruley des Varannes S, Neunlist M, Derkinderen P (2012) Analysis of colonic α-synuclein pathology in multiple system atrophy. Parkinsonism Relat Disord 18:893–895. doi:10.1016/j.parkreldis.2012.04.020

18.

Prechtl JC, Powley TL (1990) The fiber composition of the abdominal vagus of the rat. Anat Embryol 181:101–115

19.

Raj A, van den Bogaard P, Rifkin SA, van Oudenaarden A, Tyagi S (2008) Imaging individual mRNA molecules using multiple singly labeled probes. Nat Methods 5:877–879. doi:10.1038/nmeth.1253

20.

Sánchez-Ferro Á, Rábano A, Catalán MJ, Rodríguez-Valcárcel FC, Fernández Díez S, Herreros-Rodríguez J, Garcia-Cobos E, Alvarez-Santullano MM, Lopez-Manzanares L, Mosqueira AJ, Vela Desojo L, Lopez-Lozano JJ, Lopez-Valdes E, Sanchez-Sanchez R, Molina-Arjona JA (2015) In vivo gastric detection of α-synuclein inclusions in Parkinson's disease. Mov Disord 30:517–524. doi:10.1002/mds.25988

21.

Shannon KM, Keshavarzian A, Dodiya HB, Jakate S, Kordower JH (2012) Is α-synuclein in the colon a biomarker for premotor Parkinson's disease? Evidence from 3 cases. Mov Disord 27:716–719. doi:10.1002/mds.25020

22.

Spillantini MG, Schmidt ML, Lee VM, Trojanowski JQ, Jakes R, Goedert M (1997) α-Synuclein in Lewy bodies. Nature 388:839–840. doi:10.1038/42166

23.

Uchihara T, Giasson B (2016) Propagation of α-synuclein pathology: hypotheses, discoveries, and yet unresolved questions from experimental and human brain studies. Acta Neuropathol 131:49–73. doi:10.1007/s00401-015-1485-1

24.

Ulusoy A, Musgrove RE, Rusconi R, Klinkenberg M, Helwig M, Schneider A, Di Monte DA (2015) Neuron-to-neuron α-synuclein propagation in vivo is independent of neuronal injury. Acta Neuropathol Commun 3:13. doi:10.1186/s40478-015-0198-y

25.

Ulusoy A, Rusconi R, Perez-Revuelta BI, Musgrove RE, Helwig M, Winzen-Reichert B, Di Monte DA (2013) Caudo-rostral brain spreading of α-synuclein through vagal connections. EMBO Mol Med 5:1051–1059. doi:10.1002/emmm.201302475

26.

Vaikath NN, Majbour NK, Paleologou KE, Ardah MT, van Dam E, van de Berg WD, Forrest SL, Parkkinen L, Gai WP, Hattori N, Takanashi M, Lee SJ, Mann DM, Imai Y, Halliday GM, Li JY, El-Agnaf OM (2015) Generation and characterization of novel conformation-specific monoclonal antibodies for α-synuclein pathology. Neurobiol Dis 79:81–99. doi:10.1016/j.nbd.2015.04.009

27.

Walter GC, Phillips RJ, Baronowsky EA, Powley TL (2009) Versatile, high-resolution anterograde labeling of vagal efferent projections with dextran amines. J Neurosci Methods 178:1–9. doi:10.1016/j.jneumeth.2008.11.003

28.

Wang FB, Powley TL (2000) Topographic inventories of vagal afferents in gastrointestinal muscle. J Comp Neurol 421:302–324

29.

Wang ZY, Lian H, Cai QQ, Song HY, Zhang XL, Zhou L, Zhang YM, Zheng LF, Zhu JX (2014) No direct projection is observed from the substantia nigra to the dorsal vagus complex in the rat. J Parkinsons Dis 4:375–383. doi:10.3233/JPD-130279
Acknowledgements
We thank Sarah A. Jewell for her comments on the manuscript, Omar El-Agnaf for kindly providing conformation-specific antibodies, Raffaella Rusconi for the design of in situ probes, Cherie N. Hudson, Bettina Winzen-Reichert, Franziska Hesse, Laura Jakobi for assistance with the experiments, and Ireen Koenig for assistance with microscopy. This work was supported by the Paul Foundation, the Centres of Excellence in Neurodegeneration Research (CoEN) and NIH Grant DK027627.
Electronic supplementary material
Below is the link to the electronic supplementary material.
About this article
Cite this article
Ulusoy, A., Phillips, R.J., Helwig, M. et al. Brain-to-stomach transfer of α-synuclein via vagal preganglionic projections. Acta Neuropathol 133, 381–393 (2017). https://doi.org/10.1007/s00401-016-1661-y
Received:

Revised:

Accepted:

Published:

Issue Date:
Keywords
Adeno-associated virus

Enteric nervous system

Parkinson's disease

Rat

Synucleinopathies

Vagus nerve