Access options
Buy single article
Instant access to the full article PDF.
USD 39.95
Price includes VAT (USA)
Tax calculation will be finalised during checkout.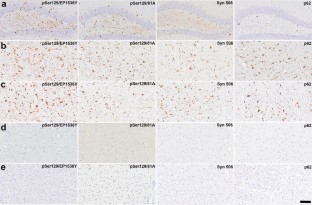 References
1.

Betemps D, Verchere J, Brot S, Morignat E, Bousset L, Gaillard D, Lakhdar L, Melki R, Baron T (2014) Alpha-synuclein spreading in M83 mice brain revealed by detection of pathological alpha-synuclein by enhanced ELISA. Acta Neuropathol Commun 2:29. doi:10.1186/2051-5960-2-29

2.

Giasson BI, Duda JE, Quinn SM, Zhang B, Trojanowski JQ, Lee VM (2002) Neuronal alpha-synucleinopathy with severe movement disorder in mice expressing A53T human alpha-synuclein. Neuron 34:521–533 (S0896627302006827 [pii])

3.

Luk KC, Kehm VM, Zhang B, O'Brien P, Trojanowski JQ, Lee VM (2012) Intracerebral inoculation of pathological alpha-synuclein initiates a rapidly progressive neurodegenerative alpha-synucleinopathy in mice. J Exp Med 209:975–986. doi:10.1084/jem.20112457

4.

Mougenot AL, Nicot S, Bencsik A, Morignat E, Verchere J, Lakhdar L, Legastelois S, Baron T (2012) Prion-like acceleration of a synucleinopathy in a transgenic mouse model. Neurobiol Aging 33:2225–2228. doi:10.1016/j.neurobiolaging.2011.06.022

5.

Prusiner SB, Woerman AL, Mordes DA, Watts JC, Rampersaud R, Berry DB, Patel S, Oehler A, Lowe JK, Kravitz SN et al (2015) Evidence for alpha-synuclein prions causing multiple system atrophy in humans with parkinsonism. Proc Natl Acad Sci USA. doi:10.1073/pnas.1514475112

6.

Rutherford NJ, Sacino AN, Brooks M, Ceballos-Diaz C, Ladd TB, Howard JK, Golde TE, Giasson BI (2015) Studies of lipopolysaccharide effects on the induction of alpha-synuclein pathology by exogenous fibrils in transgenic mice. Mol Neurodegener 10:32. doi:10.1186/s13024-015-0029-4

7.

Sacino AN, Brooks M, Thomas MA, McKinney AB, Lee S, Regenhardt RW, McGarvey NH, Ayers JI, Notterpek L, Borchelt DR et al (2014) Intramuscular injection of alpha-synuclein induces CNS alpha-synuclein pathology and a rapid-onset motor phenotype in transgenic mice. Proc Natl Acad Sci USA 111:10732–10737. doi:10.1073/pnas.1321785111

8.

Sacino AN, Brooks M, Thomas MA, McKinney AB, McGarvey NH, Rutherford NJ, Ceballos-Diaz C, Robertson J, Golde TE, Giasson BI (2014) Amyloidogenic alpha-synuclein seeds do not invariably induce rapid, widespread pathology in mice. Acta Neuropathol 127:645–665. doi:10.1007/s00401-014-1268-0

9.

Watts JC, Giles K, Oehler A, Middleton L, Dexter DT, Gentleman SM, DeArmond SJ, Prusiner SB (2013) Transmission of multiple system atrophy prions to transgenic mice. Proc Natl Acad Sci USA 110:19555–19560. doi:10.1073/pnas.1318268110
Acknowledgments
This study was supported by NINDS R01-NS089622 (BG) and R01-NS092788 (DB).
Ethics declarations
Conflict of interest
The author(s) declare that they have no other competing interests.
Electronic supplementary material
Below is the link to the electronic supplementary material.
About this article
Cite this article
Sacino, A.N., Ayers, J.I., Brooks, M.M.T. et al. Non-prion-type transmission in A53T α-synuclein transgenic mice: a normal component of spinal homogenates from naïve non-transgenic mice induces robust α-synuclein pathology. Acta Neuropathol 131, 151–154 (2016). https://doi.org/10.1007/s00401-015-1505-1
Received:

Revised:

Accepted:

Published:

Issue Date:
Keywords
Motor Phenotype

Intrahippocampal Injection

Spinal Cord Homogenate

Asymptomatic Mouse

Accelerate Disease Onset