This is a preview of subscription content, log in to check access.
Access options
Buy single article
Instant access to the full article PDF.
US$ 39.95
Price includes VAT for USA
Subscribe to journal
Immediate online access to all issues from 2019. Subscription will auto renew annually.
US$ 199
This is the net price. Taxes to be calculated in checkout.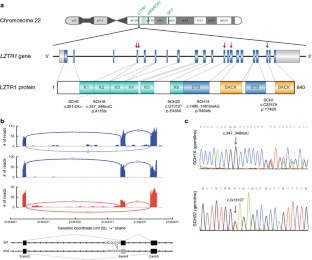 References
1.

Alexandrov LB, Nik-Zainal S, Wedge DC et al (2013) Signatures of mutational processes in human cancer. Nature 500(7463):415–421. doi:10.1038/nature12477

2.

Boyd C, Smith MJ, Kluwe L, Balogh A, Maccollin M, Plotkin SR (2008) Alterations in the SMARCB1 (INI1) tumor suppressor gene in familial schwannomatosis. Clin Genet 74(4):358–366. doi:10.1111/j.1399-0004.2008.01060.x

3.

Frattini V, Trifonov V, Chan JM et al (2013) The integrated landscape of driver genomic alterations in glioblastoma. Nat Genet 45(10):1141–1149. doi:10.1038/ng.2734

4.

Hadfield KD, Newman WG, Bowers NL et al (2008) Molecular characterisation of SMARCB1 and NF2 in familial and sporadic schwannomatosis. J Med Genet 45(6):332–339. doi:10.1136/jmg.2007.056499

5.

Jacoby LB, Jones D, Davis K et al (1997) Molecular analysis of the NF2 tumor-suppressor gene in schwannomatosis. Am J Hum Genet 61(6):1293–1302. doi:10.1086/301633

6.

Kaufman DL, Heinrich BS, Willett C et al (2003) Somatic instability of the NF2 gene in schwannomatosis. Arch Neurol 60(9):1317–1320. doi:10.1001/archneur.60.9.1317

7.

MacCollin M, Chiocca EA, Evans DG et al (2005) Diagnostic criteria for schwannomatosis. Neurology 64(11):1838–1845. doi:10.1212/01.WNL.0000163982.78900.AD

8.

MacCollin M, Willett C, Heinrich B et al (2003) Familial schwannomatosis: exclusion of the NF2 locus as the germline event. Neurology 60(12):1968–1974

9.

Piotrowski A, Xie J, Liu YF et al (2013) Germline loss-of-function mutations in LZTR1 predispose to an inherited disorder of multiple schwannomas. Nature Genet 46(2):182–187. doi:10.1038/ng.2855

10.

Rousseau G, Noguchi T, Bourdon V, Sobol H, Olschwang S (2011) SMARCB1/INI1 germline mutations contribute to 10 % of sporadic schwannomatosis. BMC Neurol 11(1):9. doi:10.1186/1471-2377-11-9

11.

Sestini R, Bacci C, Provenzano A, Genuardi M, Papi L (2008) Evidence of a four-hit mechanism involving SMARCB1 and NF2 in schwannomatosis-associated schwannomas. Hum Mutat 29(2):227–231. doi:10.1002/humu.20679

12.

Smith MJ, Wallace AJ, Bowers NL et al (2012) Frequency of SMARCB1 mutations in familial and sporadic schwannomatosis. Neurogenetics 13(2):141–145. doi:10.1007/s10048-012-0319-8

13.

Zhang K, Lin JW, Wang J et al (2014) A germline missense mutation in COQ6 is associated with susceptibility to familial schwannomatosis. Genet Med Off J Am Coll Med Genet. doi:10.1038/gim.2014.39
Acknowledgments
For technical support and expertise we thank the High Throughput Sequencing and Microarray Units of the DKFZ Genomics and Proteomics Core Facility. This work was principally supported by the PedBrain Tumor Project contributing to the International Cancer Genome Consortium, funded by German Cancer Aid (DKH, #109252) and by the German Federal Ministry of Education and Research (BMBF, #01KU1201A, MedSys #0315416C and NGFNplus #01GS0883). Additional support came from the German Cancer Research Center—Heidelberg Center for Personalized Oncology (DKFZ-HIPO).
Electronic supplementary material
Below is the link to the electronic supplementary material.
About this article
Cite this article
Hutter, S., Piro, R.M., Reuss, D.E. et al. Whole exome sequencing reveals that the majority of schwannomatosis cases remain unexplained after excluding SMARCB1 and LZTR1 germline variants. Acta Neuropathol 128, 449–452 (2014). https://doi.org/10.1007/s00401-014-1311-1
Received:

Revised:

Accepted:

Published:

Issue Date:
Keywords
COQ6

Copy Number Alteration

Whole Exome Sequencing

Somatic Mosaicism

Copy Number Profile