Abstract
Neurodegenerative diseases are characterised by neuronal loss and cerebral deposition of proteins with altered physicochemical properties. The major proteins are amyloid-β (Aβ), tau, α-synuclein, and TDP-43. Although neuropathological studies on elderly individuals have emphasised the importance of mixed pathologies, there have been few observations on the full spectrum of proteinopathies in the ageing brain. During a community-based study we performed comprehensive mapping of neurodegeneration-related proteins and vascular pathology in the brains of 233 individuals (age at death 77–87; 73 examined clinically in detail). While all brains (from individuals with and without dementia) showed some degree of neurofibrillary degeneration, Aβ deposits were observed only in 160 (68.7 %). Further pathologies included α-synucleinopathies (24.9 %), non-Alzheimer tauopathies (23.2 %; including novel forms), TDP-43 proteinopathy (13.3 %), vascular lesions (48.9 %), and others (15.1 %; inflammation, metabolic encephalopathy, and tumours). TDP-43 proteinopathy correlated with hippocampal sclerosis (p < 0.001) and Alzheimer-related pathology (CERAD score and Braak and Braak stages, p = 0.001). The presence of one specific variable (cerebral amyloid angiopathy, Aβ parenchymal deposits, TDP-43 proteinopathy, α-synucleinopathy, vascular lesions, non-Alzheimer type tauopathy) did not increase the probability of the co-occurrence of others (p = 0.24). The number of observed pathologies correlated with AD-neuropathologic change (p < 0.0001). In addition to AD-neuropathologic change, tauopathies associated well with dementia, while TDP-43 pathology and α-synucleinopathy showed strong effects but lost significance when evaluated together with AD-neuropathologic change. Non-AD neurodegenerative pathologies and their combinations have been underestimated, but are frequent in reality as demonstrated here. This should be considered in diagnostic evaluation of biomarkers, and for better clinical stratification of patients.
Access options
Buy single article
Instant access to the full article PDF.
US$ 39.95
Tax calculation will be finalised during checkout.
Subscribe to journal
Immediate online access to all issues from 2019. Subscription will auto renew annually.
US$ 119
Tax calculation will be finalised during checkout.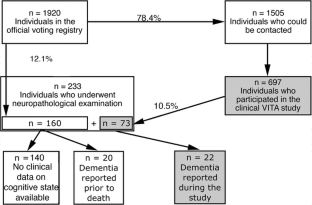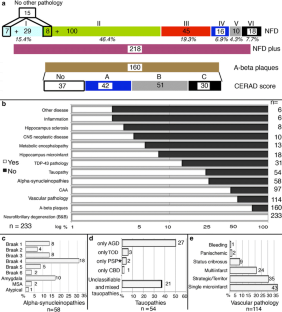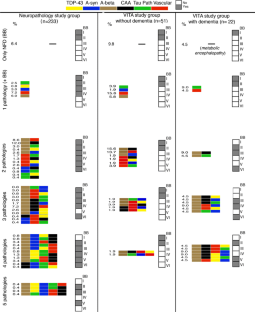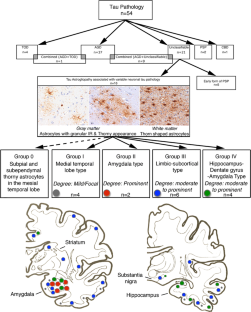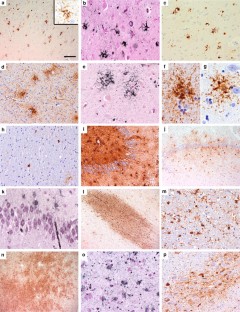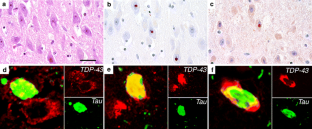 References
1.

Adori C, Kovacs GG, Low P et al (2005) The ubiquitin-proteasome system in Creutzfeldt–Jakob and Alzheimer disease: intracellular redistribution of components correlates with neuronal vulnerability. Neurobiol Dis 19:427–435

2.

Ahmed Z, Doherty KM, Silveira-Moriyama L et al (2011) Globular glial tauopathies (GGT) presenting with motor neuron disease or frontotemporal dementia: an emerging group of 4-repeat tauopathies. Acta Neuropathol 122:415–428

3.

Alafuzoff I, Arzberger T, Al-Sarraj S et al (2008) Staging of neurofibrillary pathology in Alzheimer's disease: a study of the BrainNet Europe Consortium. Brain pathology 18:484–496

4.

Alafuzoff I, Parkkinen L, Al-Sarraj S et al (2008) Assessment of alpha-synuclein pathology: a study of the BrainNet Europe Consortium. J Neuropathol Exp Neurol 67:125–143

5.

Alafuzoff I, Pikkarainen M, Al-Sarraj S et al (2006) Interlaboratory comparison of assessments of Alzheimer disease-related lesions: a study of the BrainNet Europe Consortium. J Neuropathol Exp Neurol 65:740–757

6.

Alafuzoff I, Pikkarainen M, Arzberger T et al (2008) Inter-laboratory comparison of neuropathological assessments of beta-amyloid protein: a study of the BrainNet Europe consortium. Acta Neuropathol 115:533–546

7.

Alzheimer A (1907) Über einen eigenartige Erkrankung der Hirnrinde. Allgemeine Zeitschrift für Psychiatrie und Psychisch-Gerichtliche Medizin 64:146–148

8.

Arnold SJ, Dugger BN, Beach TG (2013) TDP-43 deposition in prospectively followed, cognitively normal elderly individuals: correlation with argyrophilic grains but not other concomitant pathologies. Acta Neuropathol 126:51–57

9.

Baborie A, Griffiths TD, Jaros E et al (2012) Frontotemporal dementia in elderly individuals. Arch Neurol 69:1052–1060

10.

Barker WW, Luis CA, Kashuba A et al (2002) Relative frequencies of Alzheimer disease, Lewy body, vascular and frontotemporal dementia, and hippocampal sclerosis in the State of Florida Brain Bank. Alzheimer Dis Assoc Disord 16:203–212

11.

Barkhof F, Polvikoski TM, van Straaten EC et al (2007) The significance of medial temporal lobe atrophy: a postmortem MRI study in the very old. Neurology 69:1521–1527

12.

Beach TG, Sue L, Scott S et al (2003) Hippocampal sclerosis dementia with tauopathy. Brain Pathol 13:263–278

13.

Bigio EH, Mishra M, Hatanpaa KJ et al (2010) TDP-43 pathology in primary progressive aphasia and frontotemporal dementia with pathologic Alzheimer disease. Acta Neuropathol 120:43–54

14.

Braak H, Alafuzoff I, Arzberger T, Kretzschmar H, Del Tredici K (2006) Staging of Alzheimer disease-associated neurofibrillary pathology using paraffin sections and immunocytochemistry. Acta Neuropathol 112:389–404

15.

Braak H, Braak E (1991) Neuropathological stageing of Alzheimer-related changes. Acta Neuropathol 82:239–259

16.

Braak H, Del Tredici K, Rub U, de Vos RA, Jansen Steur EN, Braak E (2003) Staging of brain pathology related to sporadic Parkinson's disease. Neurobiol Aging 24:197–211

17.

Clinton LK, Blurton-Jones M, Myczek K, Trojanowski JQ, LaFerla FM (2010) Synergistic Interactions between αβ, tau, and alpha-synuclein: acceleration of neuropathology and cognitive decline. J Neurosci 30:7281–7289

18.

Clippinger AK, D'Alton S, Lin W et al (2013) Robust cytoplasmic accumulation of phosphorylated TDP-43 in transgenic models of tauopathy. Acta Neuropathol 126:39–50

19.

Dawe RJ, Bennett DA, Schneider JA, Arfanakis K (2011) Neuropathologic correlates of hippocampal atrophy in the elderly: a clinical, pathologic, postmortem MRI study. PLoS ONE 6:e26286

20.

DelleDonne A, Klos KJ, Fujishiro H et al (2008) Incidental Lewy body disease and preclinical Parkinson disease. Arch Neurol 65:1074–1080

21.

Duyckaerts C, Delatour B, Potier MC (2009) Classification and basic pathology of Alzheimer disease. Acta Neuropathol 118:5–36

22.

Echavarri C, Burgmans S, Caballero MC, Garcia-Bragado F, Verhey FR, Uylings HB (2012) Co-occurrence of different pathologies in dementia: implications for dementia diagnosis. J Alzheimers Dis 30:909–917

23.

Echavarri C, Caballero MC, Aramendia A, Garcia-Bragado F, Tunon T (2011) Multiprotein deposits in neurodegenerative disorders: our experience in the tissue brain bank of Navarra. Anat Rec 294:1191–1197

24.

Evidente VG, Adler CH, Sabbagh MN et al (2011) Neuropathological findings of PSP in the elderly without clinical PSP: possible incidental PSP? Parkinsonism Relat Disord 17:365–371

25.

Ferrer I, Santpere G, van Leeuwen FW (2008) Argyrophilic grain disease. Brain 131:1416–1432

26.

Fischer P, Jungwirth S, Krampla W et al (2002) Vienna Transdanube Aging "VITA": study design, recruitment strategies and level of participation. J Neural Transm Suppl:105–116

27.

Fischer P, Jungwirth S, Zehetmayer S et al (2007) Conversion from subtypes of mild cognitive impairment to Alzheimer dementia. Neurology 68:288–291

28.

Fischer P, Krampla W, Mostafaie N et al (2007) VITA study: white matter hyperintensities of vascular and degenerative origin in the elderly. J Neural Transm Suppl:181–188

29.

Forman MS, Schmidt ML, Kasturi S, Perl DP, Lee VM, Trojanowski JQ (2002) Tau and alpha-synuclein pathology in amygdala of Parkinsonism-dementia complex patients of Guam. Am J Pathol 160:1725–1731

30.

Foulds PG, Davidson Y, Mishra M et al (2009) Plasma phosphorylated-TDP-43 protein levels correlate with brain pathology in frontotemporal lobar degeneration. Acta Neuropathol 118(5):647–658

31.

Gelpi E, Cullel F, Navarro-Otano J, Llado A (2013) Globular glial-like inclusions in a patient with advanced Alzheimer's disease. Acta Neuropathol 126:155–157

32.

Geser F, Robinson JL, Malunda JA et al (2010) Pathological 43-kDa transactivation response DNA-binding protein in older adults with and without severe mental illness. Arch Neurol 67:1238–1250

33.

Giasson BI, Forman MS, Higuchi M et al (2003) Initiation and synergistic fibrillization of tau and alpha-synuclein. Science 300:636–640

34.

Goedert M, Wischik CM, Crowther RA, Walker JE, Klug A (1988) Cloning and sequencing of the cDNA encoding a core protein of the paired helical filament of Alzheimer disease: identification as the microtubule-associated protein tau. Proc Natl Acad Sci USA 85:4051–4055

35.

Halliday GM, Holton JL, Revesz T, Dickson DW (2011) Neuropathology underlying clinical variability in patients with synucleinopathies. Acta Neuropathol 122:187–204

36.

Hyman BT, Trojanowski JQ (1997) Consensus recommendations for the postmortem diagnosis of Alzheimer disease from the National Institute on Aging and the Reagan Institute Working Group on diagnostic criteria for the neuropathological assessment of Alzheimer disease. J Neuropathol Exp Neurol 56:1095–1097

37.

Imhof A, Kovari E, von Gunten A et al (2007) Morphological substrates of cognitive decline in nonagenarians and centenarians: a new paradigm? J Neurol Sci 257:72–79

38.

Iqbal K, Flory M, Khatoon S et al (2005) Subgroups of Alzheimer's disease based on cerebrospinal fluid molecular markers. Ann Neurol 58:748–757

39.

Iseki E, Marui W, Kosaka K, Ueda K (1999) Frequent coexistence of Lewy bodies and neurofibrillary tangles in the same neurons of patients with diffuse Lewy body disease. Neurosci Lett 265:9–12

40.

Jack CR Jr, Barkhof F, Bernstein MA et al (2011) Steps to standardization and validation of hippocampal volumetry as a biomarker in clinical trials and diagnostic criterion for Alzheimer's disease. Alzheimers Dement 7(474–485):e474

41.

Jellinger KA (2007) The enigma of mixed dementia. Alzheimers Dement 3:40–53

42.

Jellinger KA (2009) Criteria for the neuropathological diagnosis of dementing disorders: routes out of the swamp? Acta Neuropathol 117:101–110

43.

Josephs KA, Whitwell JL, Parisi JE et al (2008) Argyrophilic grains: a distinct disease or an additive pathology? Neurobiol Aging 29:566–573

44.

Kapas I, Katko M, Harangi M et al (2013) Cerebrotendinous xanthomatosis with the c.379C>T (p.R127W) mutation in the CYP27A1 gene associated with premature age-associated limbic tauopathy. Neuropathol Appl Neurobiol. doi:10.1111/nan.12058

45.

Kasai T, Tokuda T, Ishigami N et al (2009) Increased TDP-43 protein in cerebrospinal fluid of patients with amyotrophic lateral sclerosis. Acta Neuropathol 117:55–62

46.

Kovacs GG (2012) Clinical stratification of subtypes of Alzheimer's disease. Lancet Neurol 11:839–841

47.

Kovacs GG, Alafuzoff I, Al-Sarraj S et al (2008) Mixed brain pathologies in dementia: the BrainNet Europe consortium experience. Dement Geriatr Cogn Disord 26:343–350

48.

Kovacs GG, Botond G, Budka H (2010) Protein coding of neurodegenerative dementias: the neuropathological basis of biomarker diagnostics. Acta Neuropathol 119:389–408

49.

Kovacs GG, Budka H (2010) Current concepts of neuropathological diagnostics in practice: neurodegenerative diseases. Clin Neuropathol 29:271–288

50.

Kovacs GG, Gelpi E, Jungwirth S et al (2010) Deposition of multiple proteins in the brain: experience in a community-based cohort. Brain Pathol 20:40

51.

Kovacs GG, Majtenyi K, Spina S et al (2008) White matter tauopathy with globular glial inclusions: a distinct sporadic frontotemporal lobar degeneration. J Neuropathol Exp Neurol 67:963–975

52.

Kovacs GG, Molnar K, Laszlo L et al (2011) A peculiar constellation of tau pathology defines a subset of dementia in the elderly. Acta Neuropathol 122:205–222

53.

Kovacs GG, Rozemuller AJ, van Swieten JC et al (2013) Neuropathology of the hippocampus in FTLD-Tau with Pick bodies: A study of the BrainNet Europe Consortium. Neuropathol Appl Neurobiol 39:166–178

54.

Kovacs GG, Seguin J, Quadrio I et al (2011) Genetic Creutzfeldt–Jakob disease associated with the E200K mutation: characterization of a complex proteinopathy. Acta Neuropathol 121:39–57

55.

Kovacs GG, Wagner U, Dumont B et al (2012) An antibody with high reactivity for disease-associated alpha-synuclein reveals extensive brain pathology. Acta Neuropathol 124:37–50

56.

Lace G, Ince PG, Brayne C et al (2012) Mesial temporal astrocyte tau pathology in the MRC-CFAS ageing brain cohort. Dement Geriatr Cogn Disord 34:15–24

57.

Mackenzie IR, Neumann M, Baborie A et al (2011) A harmonized classification system for FTLD-TDP pathology. Acta Neuropathol 122:111–113

58.

Mackenzie IR, Neumann M, Bigio EH et al (2009) Nomenclature for neuropathologic subtypes of frontotemporal lobar degeneration: consensus recommendations. Acta Neuropathol 117:15–18

59.

Masters CL, Beyreuther K (2006) Pathways to the discovery of the Abeta amyloid of Alzheimer's disease. J Alzheimer's Dis JAD 9:155–161

60.

McKee AC, Stein TD, Nowinski CJ et al (2013) The spectrum of disease in chronic traumatic encephalopathy. Brain 136:43–64

61.

Milenkovic I, Kovacs GG (2013) Incidental corticobasal degeneration in a 76-year-old woman. Clin Neuropathol 32:69–72

62.

Mirra SS, Heyman A, McKeel D et al (1991) The Consortium to Establish a Registry for Alzheimer's Disease (CERAD). Part II. Standardization of the neuropathologic assessment of Alzheimer's disease. Neurology 41:479–486

63.

Mollenhauer B, Locascio JJ, Schulz-Schaeffer W, Sixel-Doring F, Trenkwalder C, Schlossmacher MG (2011) alpha-Synuclein and tau concentrations in cerebrospinal fluid of patients presenting with parkinsonism: a cohort study. Lancet Neurol 10:230–240

64.

Montine TJ, Phelps CH, Beach TG et al (2012) National Institute on Aging-Alzheimer's Association guidelines for the neuropathologic assessment of Alzheimer's disease: a practical approach. Acta Neuropathol 123:1–11

65.

Mori F, Miki Y, Tanji K et al (2011) Incipient intranuclear inclusion body disease in a 78-year-old woman. Neuropathology 31:188–193

66.

Mori F, Tanji K, Kon T et al (2012) FUS immunoreactivity of neuronal and glial intranuclear inclusions in intranuclear inclusion body disease. Neuropathol Appl Neurobiol 38:322–328

67.

Muller U, Winter P, Graeber MB (2013) A presenilin 1 mutation in the first case of Alzheimer's disease. Lancet Neurol 12:129–130

68.

Nelson PT, Abner EL, Schmitt FA et al (2010) Modeling the association between 43 different clinical and pathological variables and the severity of cognitive impairment in a large autopsy cohort of elderly persons. Brain Pathol 20:66–79

69.

Nelson PT, Alafuzoff I, Bigio EH et al (2012) Correlation of Alzheimer disease neuropathologic changes with cognitive status: a review of the literature. J Neuropathol Exp Neurol 71:362–381

70.

Nelson PT, Jicha GA, Schmitt FA et al (2007) Clinicopathologic correlations in a large Alzheimer disease center autopsy cohort: neuritic plaques and neurofibrillary tangles "do count" when staging disease severity. J Neuropathol Exp Neurol 66:1136–1146

71.

Nelson PT, Schmitt FA, Lin Y et al (2011) Hippocampal sclerosis in advanced age: clinical and pathological features. Brain 134:1506–1518

72.

Neuropathology Group MC (2001) Pathological correlates of late-onset dementia in a multicentre, community-based population in England and Wales. Neuropathology Group of the Medical Research Council Cognitive Function and Ageing Study (MRC CFAS). Lancet 357:169–175

73.

Parkkinen L, Hartikainen P, Alafuzoff I (2007) Abundant glial alpha-synuclein pathology in a case without overt clinical symptoms. Clin Neuropathol 26:276–283

74.

Robinson JL, Geser F, Corrada MM et al (2011) Neocortical and hippocampal amyloid-beta and tau measures associate with dementia in the oldest-old. Brain 134:3708–3715

75.

Sabbagh MN, Sandhu SS, Farlow MR et al (2009) Correlation of clinical features with argyrophilic grains at autopsy. Alzheimer Dis Assoc Disord 23:229–233

76.

Saito Y, Ruberu NN, Sawabe M et al (2004) Staging of argyrophilic grains: an age-associated tauopathy. J Neuropathol Exp Neurol 63:911–918

77.

Santpere G, Ferrer I (2009) Delineation of early changes in cases with progressive supranuclear palsy-like pathology. Astrocytes in striatum are primary targets of tau phosphorylation and GFAP oxidation. Brain Pathol 19:177–187

78.

Savva GM, Wharton SB, Ince PG, Forster G, Matthews FE, Brayne C (2009) Age, neuropathology, and dementia. N Engl J Med 360:2302–2309

79.

Schneider JA, Aggarwal NT, Barnes L, Boyle P, Bennett DA (2009) The neuropathology of older persons with and without dementia from community versus clinic cohorts. J Alzheimers Dis 18:691–701

80.

Schneider JA, Arvanitakis Z, Bang W, Bennett DA (2007) Mixed brain pathologies account for most dementia cases in community-dwelling older persons. Neurology 69:2197–2204

81.

Schneider JA, Arvanitakis Z, Yu L, Boyle PA, Leurgans SE, Bennett DA (2012) Cognitive impairment, decline and fluctuations in older community-dwelling subjects with Lewy bodies. Brain 135:3005–3014

82.

Schultz C, Ghebremedhin E, Del Tredici K, Rub U, Braak H (2004) High prevalence of thorn-shaped astrocytes in the aged human medial temporal lobe. Neurobiol Aging 25:397–405

83.

Shaw LM, Korecka M, Clark CM, Lee VM, Trojanowski JQ (2007) Biomarkers of neurodegeneration for diagnosis and monitoring therapeutics. Nat Rev Drug Discov 6:295–303

84.

Silveira-Moriyama L, Gonzalez AM, O'Sullivan SS et al (2009) Concomitant progressive supranuclear palsy and multiple system atrophy: more than a simple twist of fate? Neurosci Lett 467:208–211

85.

Simpson JE, Ince PG, Lace G et al (2010) Astrocyte phenotype in relation to Alzheimer-type pathology in the ageing brain. Neurobiol Aging 31:578–590

86.

Snowdon DA (2003) Healthy aging and dementia: findings from the Nun Study. Ann Intern Med 139:450–454

87.

Sonnen JA, Larson EB, Crane PK et al (2007) Pathological correlates of dementia in a longitudinal, population-based sample of aging. Ann Neurol 62:406–413

88.

Thal DR, Ghebremedhin E, Rub U, Yamaguchi H, Del Tredici K, Braak H (2002) Two types of sporadic cerebral amyloid angiopathy. J Neuropathol Exp Neurol 61:282–293

89.

Thal DR, Rub U, Orantes M, Braak H (2002) Phases of A beta-deposition in the human brain and its relevance for the development of AD. Neurology 58:1791–1800

90.

Whitwell JL, Dickson DW, Murray ME et al (2012) Neuroimaging correlates of pathologically defined subtypes of Alzheimer's disease: a case-control study. Lancet Neurol 11:868–877

91.

Williams DR, de Silva R, Paviour DC et al (2005) Characteristics of two distinct clinical phenotypes in pathologically proven progressive supranuclear palsy: Richardson's syndrome and PSP-parkinsonism. Brain 128:1247–1258

92.

Williams DR, Holton JL, Strand C et al (2007) Pathological tau burden and distribution distinguishes progressive supranuclear palsy-parkinsonism from Richardson's syndrome. Brain 130:1566–1576

93.

Wischik CM, Novak M, Thogersen HC et al (1988) Isolation of a fragment of tau derived from the core of the paired helical filament of Alzheimer disease. Proc Natl Acad Sci USA 85:4506–4510

94.

Woulfe J, Gray DA, Mackenzie IR (2010) FUS-immunoreactive intranuclear inclusions in neurodegenerative disease. Brain Pathol 20:589–597

95.

Xekardaki A, Santos M, Hof P, Kovari E, Bouras C, Giannakopoulos P (2012) Neuropathological substrates and structural changes in late-life depression: the impact of vascular burden. Acta Neuropathol 124:453–464
Acknowledgments
The Vienna Trans-Danube Ageing (VITA) study was supported and organised by the Ludwig Boltzmann Institute of Ageing Research. The neuropathology study was supported by the European Commission's 7th Framework Programme under GA No 278486, "DEVELAGE".
Conflict of interest
Authors report no conflict of interest.
Electronic supplementary material
Below is the link to the electronic supplementary material.
About this article
Cite this article
Kovacs, G.G., Milenkovic, I., Wöhrer, A. et al. Non-Alzheimer neurodegenerative pathologies and their combinations are more frequent than commonly believed in the elderly brain: a community-based autopsy series. Acta Neuropathol 126, 365–384 (2013). https://doi.org/10.1007/s00401-013-1157-y
Received:

Revised:

Accepted:

Published:

Issue Date:
Keywords
Alzheimer's disease

Amyloid-β

α-Synuclein

Tau

TDP-43

Community-based

Protein-coding