Abstract
We report here on the first documented case of profound alterations specifically affecting the microglial population within the nervous system during the fetal period. This case, derived at gestational week 12, was one amongst a series of second trimester brains currently being investigated with respect to microglial colonization of the human fetal brain. No significant pathological alterations could be identified upon gross macroscopy or following microscopic analysis of serial brain sections stained with cresyl fast violet (Nissl). By contrast, sections stained immunohistochemically to detect MHC class II (CR3/43) and CD68 (PG-M1) antigens revealed a marked pathological change in the morphology and density of microglia within the CNS. Specifically, labeled cells within the rostral telencephalon were clearly hypertrophied and emitted numerous, branched processes in all directions, appearing in an atypical 'hyper-ramified' state uncharacteristic of microglia found in normal brains at this age. However, cells located elsewhere in the CNS (for example in the thalamus and internal capsule) appeared in a less differentiated state (small, rounded cells lacking processes) when compared to those within normal age-matched control brains. The total density and distribution of these labeled cells far outnumbered that seen in normal development. As far as we are aware, such an anomaly specifically affecting microglia, has not been documented previously. Consequently, this case represents the first of its kind, and the remarkable observations outlined in this study bear considerable significance from a neuropathological standpoint for future investigations into pathological changes affecting microglia in the central nervous system during the fetal period.
Access options
Buy single article
Instant access to the full article PDF.
US$ 39.95
Tax calculation will be finalised during checkout.
Subscribe to journal
Immediate online access to all issues from 2019. Subscription will auto renew annually.
US$ 119
Tax calculation will be finalised during checkout.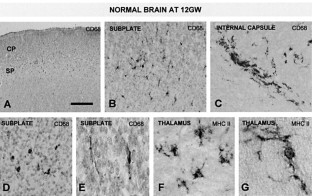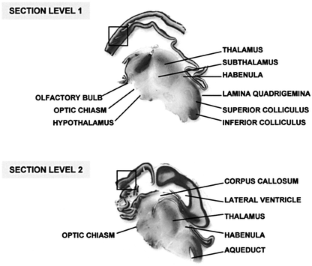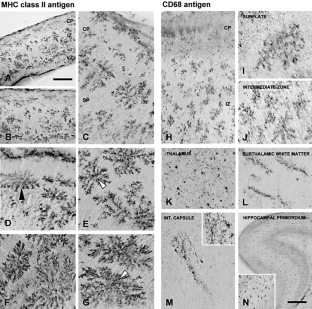 References
1.

Craviota H (1975) Human and experimental reticulum cell sarcoma (microglioma) of the nervous system. Acta Neuropathol Suppl 6:135–140

2.

Feess-Higins A, Larroche JC (1987) Development of the human fetal brain. An anatomical atlas. INSERM CNRS, Paris

3.

Goddard DR, Berry M, Kirvell SL, Butt AM (2002) Fibroblast growth factor-2 induces astroglial and microglial reactivity in vivo. J Anat 200:57–67

4.

Hochberg FH, Miller DC (1988) Primary central nervous system lymphoma. J Neurosurg 68:835–853

5.

Hulette CM (1996) Microglioma, a histiocytic neoplasm of the central nervous system. Mod Pathol 9:316–319

6.

Ishida Y (1975) Fine structure of primary reticulum cell sarcoma of the brain. Acta Neuropathol Suppl 6:147–153

7.

Levison SW, Ducceschi MH, Young GM, Wood TL (1996) Acute exposure to CNTF in vivo induces multiple components of reactive gliosis. Exp Neurol 141:256–268

8.

Polak M (1975) Microglioma and/or reticulosarcoma of the nervous system. Acta Neuropathol Suppl 6:115–118

9.

Rezaie P (2003) Microglia in the human nervous system during development. Neuroembryology 2:18–31

10.

Rezaie P, Male D (1999) Colonisation of the developing human brain and spinal cord by microglia—a review. Microsc Res Tech 45:359–382

11.

Rezaie P, Male D (2002) Differentiation, ramification and distribution of microglia within the central nervous system examined. Neuroembryology 1:29–43

12.

Rezaie P, Male D (2002) Mesoglia and microglia: a historical review of the concept of mononuclear phagocytes within the central nervous system. J Hist Neurosci 11:325–374
Acknowledgements
The authors would like to thank Dr. U. Saretzki (Department of Pathology, Klinikum Schwerin, Germany) for human fetal material. Sabine Cleven, Anke Sund, Jana Müller and Frank Neudörfer are gratefully acknowledged for expert technical support.
About this article
Cite this article
Rezaie, P., Bohl, J. & Ulfig, N. Anomalous alterations affecting microglia in the central nervous system of a fetus at 12 weeks of gestation: case report. Acta Neuropathol 107, 176–180 (2004). https://doi.org/10.1007/s00401-003-0779-x
Received:

Accepted:

Published:

Issue Date:
Keywords
Ramified fetal microglia

MHC class II antigen

CD68

Immunohistochemistry