Abstract
Dementia with neurofilament inclusions (DNI) is a new disorder characterized clinically by early-onset dementia and histologically by the presence of intraneural inclusions immunopositive for neurofilament antigens but lacking tau and α-synuclein reactivity. We studied the clustering patterns of the neurofilament inclusions (NI) in regions of the temporal lobe in three cases of DNI to determine whether they have the same spatial patterns as inclusions in the tauopathies and α-synucleinopathies. The NI exhibited a clustered distribution (mean size of clusters 400 μm, range 50–800 μm, SD 687.8) in 24/28 of the areas studied. In 22 of these areas, the clusters exhibited a regular distribution along the tissue parallel to the pia mater or alveus. In 3 cortical areas, there was evidence of a more complex pattern in which the NI clusters were aggregated into larger superclusters. In 6 cortical areas, the size of the clusters approximated to those of the cells of origin of the cortico-cortical pathways but in the remaining areas cluster size was smaller than 400 μm. Despite the unique molecular profile of the NI, their spatial patterns are similar to those shown by filamentous neuronal inclusions in the tauopathies and α-synucleinopathies.
Access options
Buy single article
Instant access to the full article PDF.
USD 39.95
Price includes VAT (USA)
Tax calculation will be finalised during checkout.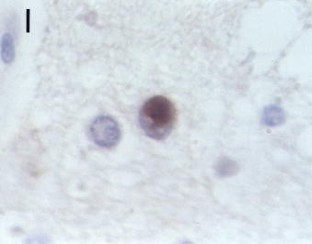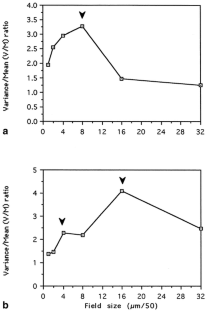 References
1.

Armstrong RA (1993) Is the clustering of neurofibrillary tangles in Alzheimer's patients related to the cells of origin of specific cortico-cortical projections? Neurosci Lett 160: 57–60

2.

Armstrong RA (1993) The usefulness of spatial pattern analysis in understanding the pathogenesis of neurodegenerative disorders, with special reference to plaque formation in Alzheimer's disease. Neurodegeneration 2:73–80

3.

Armstrong RA, Cairns NJ, Lantos PL (1997) Dementia with Lewy bodies: clustering of Lewy bodies in human patients. Neurosci Lett 224:41–44

4.

Armstrong RA, Cairns NJ, Lantos PL (1998) Clustering of Pick bodies in Pick's disease. Neurosci Lett 242: 81–84

5.

Armstrong RA, Cairns NJ, Lantos PL (1999) Clustering of cerebral cortical lesions in patients with corticobasal degeneration. Neurosci Lett 268:5–8

6.

Armstrong RA, Cairns NJ, Lantos PL (2001) What does the study of spatial patterns tell us about the pathogenesis of neurodegenerative disorders? Neuropathology 21:1–12

7.

Cairns NJ, Perry, Jaros E, Lowe J, Skullerud K, Duyckaerts C, Cruz-Sanchez F, Lantos PL (2002) A new dementia: neurofilament inclusion body dementia. J Neuropathol Exp Neurol 61:451

8.

Cairns NJ, Perry RH, Jaros E, Burn D, McKeith IG, Lowe JS, Holton J, Rossor MN, Skullerud K, Duyckaerts C, Cruz-Sanchez FF, Lantos PL (2003) Patients with a novel neurofilamentopathy: dementia with neurofilament inclusions. Neurosci Lett (in press)

9.

Davis RL, Shrimpton AE, Holahan BD, Bradshaw, Feiglin D, Collins GH, Sonderegger P, Kinler J, Becker LM, Lackawan F, Krasnewich D, Maenke H, Lawrence DA, Yerby MS, Shaw CM, Goopt B, Elliott PR, Finch JT, Carrell RW, Lowas DA (1999) Familial dementia caused by polymerization of mutant neuroserpin. Nature 401:376–379

10.

De Lacoste M, White CL III (1993) The role of cortical connectivity in Alzheimer's disease pathogenesis: a review and model system. Neurobiol Aging 14:1–16

11.

Dickson DW, Feany MB, Yen SH, Mattiace LA, Davies P (1996) Cytoskeletal pathology in non-Alzheimer degenerative dementia: new lesions in diffuse Lewy body disease, Pick's disease and Corticobasal degeneration. J Neurol Transm Suppl 47:31–46

12.

Hiorns RW, Neal JW, Pearson RCA, Powell TPS (1991) Clustering of ipsilateral cortico-cortical projection neurons to area 7 in the rhesus monkey. Proc R Soc London 246:1–9

13.

Ironside JW, Head MW, Bell JE, McCardle L, Will RG (2000) Laboratory diagnosis of variant Creutzfeldt-Jakob disease. Histopathology 37:1–9

14.

Jaros E, Perry RH, Ince PG, Lowe JS (2000) A new form of dementia: inclusion body cortico-striatal-nigral degeneration. Neuropathol Appl Neurobiol 26:189–190

15.

Lee VMY, Goedert M, Trojanowski JQ (2001) Neurodegenerative tauopathies. Annu Rev Neurosci 24:1121–1159

16.

Lowe J (2001) Establishing a pathological diagnosis in degenerative dementias. Brain Pathol 8:403–406

17.

Spillantini MG, Crowther RA, Jakes R, Cairns NJ, Lantos PL, Goedert M (1998) Filamentous α-synuclein inclusions link multiple system atrophy with Parkinson's disease and dementia with Lewy bodies. Neurosci Lett 251:205–208
Acknowledgements
We would like to thank Prof. Peter Lantos, Institute of Psychiatry, King's College, London for reviewing the neuropathology of these cases. We would also like to thank Heidi Barnes and Mavis Kibble for their excellent technical assistance.
About this article
Cite this article
Cairns, N.J., Armstrong, R.A. Clustering of neuronal inclusions in "dementia with neurofilament inclusions". Acta Neuropathol 106, 125–128 (2003). https://doi.org/10.1007/s00401-003-0710-5
Received:

Revised:

Accepted:

Published:

Issue Date:
Keywords
Dementia with neurofilament inclusions

Neurofilament inclusions

Clustering

Tauopathies

α-Synucleinopathies