Abstract
Atrial arrhythmias after heart transplantation are common and usually originate from reentrant circuits inside the donor and recipient atria. A case is presented of macroreentrant atrial tachycardia with a reentry circuit incorporating preserved electrical conduction from the donor and recipient right atria. An invasive electrophysiological study including high-density electroanatomical mapping with a multipolar catheter was performed during tachycardia. A reentry circuit with an area of slow conduction at the supero-lateral aspect of the surgical anastomosis could be demonstrated. Catheter ablation at the site of slow conduction successfully terminated and permanently suppressed the tachycardia.
Zusammenfassung
Atriale Arrhythmien sind ein häufiges klinisches Problem nach Herztransplantation und entspringen gewöhnlich aus Reentry-Kreisläufen innerhalb der Donor- und Empfängervorhöfe. Im Folgenden wird der Fall einer Makroreentry-Vorhoftachykardie aufgrund eines Reentry-Kreislaufs mit bestehender elektrischer Leitung zwischen rechtem Donor- und Empfängervorhof vorgestellt. Eine invasive elektrophysiologische Untersuchung mit elektroanatomischem High-density-3-D-Mapping unter Verwendung eines multipolaren Katheters wurde während Tachykardie durchgeführt. So konnte ein Reentry-Kreislauf mit Einbeziehung einer "slow conduction area" im superolateralen Bereich der chirurgischen Anastomose dargestellt werden. Die folgende Katheterablation in diesem Bereich konnte die Tachykardie erfolgreich terminieren und dauerhaft unterdrücken.
Access options
Buy single article
Instant access to the full article PDF.
USD 39.95
Price includes VAT (USA)
Tax calculation will be finalised during checkout.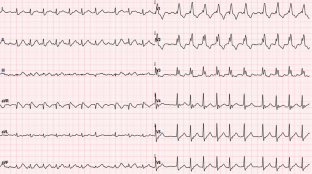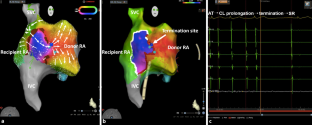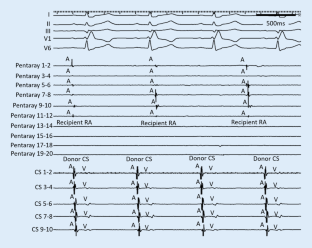 References
1.

Alvarez-Ayuso L, García-Poblete E, Torralba A, Fernández H, Millán I (2000) Heart transplantation: influence of the surgical technique on sinus function. J Electrocardiol 33:65–69

2.

Anter E, Duytschaever M, Shen C, Strisciuglio T, Leshem E, Contreras-Valdes FM, Waks JW, Zimetbaum PJ, Kumar K, Spector PS, Lee A, Gerstenfeld EP, Nakar E, Bar-Tal M, Buxton AE (2018) Activation mapping with integration of vector and velocity information improves the ability to identify the mechanism and location of complex scar-related atrial tachycardias. Circ Arrhythm Electrophysiol 11:e6536

3.

Bhagra SK, Pettit S, Parameshwar J (2019) Cardiac transplantation: indications, eligibility and current outcomes. Heart 105:252–260

4.

Shi R, Chen Z, Mantziari L, Wong T (2018) Multiple atrial tachycardias after orthotopic heart transplantation: a case report and literature review. Heart Rhythm Case Rep 4:538–541

5.

Vaseghi M, Boyle NG, Kedia R, Patel JK, Cesario DA, Wiener I, Kobashigawa JA, Shivkumar K (2008) Supraventricular tachycardia after orthotopic cardiac transplantation. J Am Coll Cardiol 51:2241–2249

6.

Vicera JJB, Lin YJ, Lee PT, Chang SL, Lo LW, Hu YF, Chung FP, Lin CY, Chang TY, Tuan TC, Chao TF, Liao JN, Wu CI, Liu CM, Lin CH, Chuang CM, Chen CC, Chin CG, Liu SH, Cheng WH, Tai LP, Huang SH, Chou CY, Lugtu I, Liu CH, Chen S (2020) Identification of critical isthmus using coherent mapping in patients with scar-related atrial tachycardia. J Cardiovasc Electrophysiol 31:1436–1447
Ethics declarations
Conflict of interest
T. Fink, V. Sciacca, L. Bergau, M. Khalaph, M. Braun, G. Imnadze, M. El Hamriti, P. Sommer, and C. Sohns declare that they have no competing interests.
For this article no studies with human participants or animals were performed by any of the authors. All studies performed were in accordance with the ethical standards indicated in each case. Additional written informed consent was obtained from all individual participants or their legal representatives for whom identifying information is included in this article.
Additional information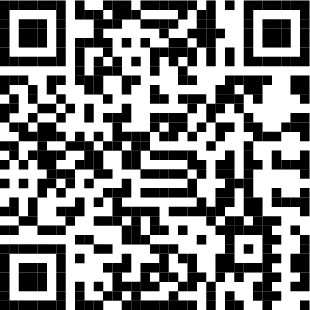 Scan QR code & read article online
About this article
Cite this article
Fink, T., Sciacca, V., Bergau, L. et al. Preserved electrical conduction between donor and recipient right atria as the cause of macroreentrant atrial tachycardia after heart transplantation. Herzschr Elektrophys (2021). https://doi.org/10.1007/s00399-021-00814-y
Received:

Accepted:

Published:
Keywords
Heart transplantation

Atrial tachycardia

Reentry mechanism

3D mapping

Catheter ablation
Schlüsselwörter
Herztransplantation

Atriale Tachykardie

Reentry-Mechanismus

3‑D-Mapping

Katheterablation