Abstract
Amiodarone is commonly used for the treatment of supraventricular and ventricular arrhythmias. As a class III antiarrhythmic drug, it prolongs phase III of the cardiac action potential leading to QT interval prolongation. Therefore, the QTc interval should be monitored during amiodarone up-titration to prevent proarrhythmia. However, QTc monitoring in bundle branch block requires some modification as outlined in this case report. The normal upper value of QT interval has been set at 450 ms for males and 460 ms for females. Patients with preexisting bundle branch block (BBB) by definition exhibit wider QRS intervals, ranging between 120 and 200 ms. This 'augmented' QT interval duration is mainly driven by the prolonged time of ventricular depolarization, rather than the time of ventricular repolarization. This inherent QT interval prolongation in BBB can be corrected with specifically designed electrocardiographic formulas. Nevertheless, accurate QT interval calculation at very low or high heart rates remains challenging.
Zusammenfassung
Amiodaron wird häufig in der Therapie supraventrikulärer und ventrikulärer Arrhythmien eingesetzt. Als Klasse-III-Antiarrhythmikum verlängert es die Phase III des Aktionspotenzials, was zu einer QT-Zeit-Verlängerung führt. Daher sollte das QTc-Intervall während der Amiodaronaufdosierung genau überwacht werden, um proarrhythmische Nebenwirkungen zu vermeiden. Ein QTc-Monitoring bei Schenkelblock bedarf jedoch einer Modifikation, wie dieser Fall darstellt. QT-Intervall-Verlängerungen über 450 ms bei Männern und über 460 ms bei Frauen bergen das Risiko für Arrhythmien. Diese Werte sind für Patienten mit schmalem QRS Komplex definiert. Patienten mit vorbestehendem Schenkelblock (BBB) ​​weisen definitionsgemäß breitere QRS-Intervalle auf; der QRS beträgt dann üblicherweise zwischen 120 und 200 ms. Diese "erweiterte" QT-Intervalldauer wird hauptsächlich durch die verlängerte ventrikuläre Depolarisation und nicht durch eine verlängerte ventrikuläre Repolarisation verursacht. Daher ist bei der QT-Zeit Beurteilung die Berücksichtigung der QRS-Breite unerlässlich.
Access options
Buy single article
Instant access to the full article PDF.
USD 39.95
Price includes VAT (USA)
Tax calculation will be finalised during checkout.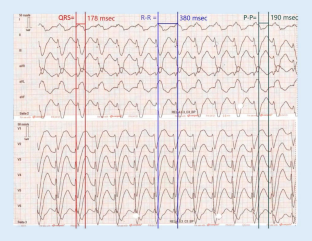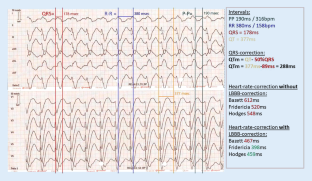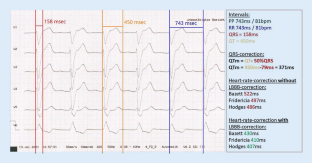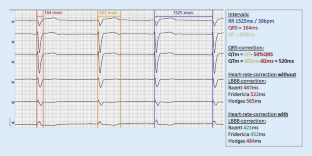 References
1.

Bogossian H, Frommeyer G, Ninios I, Hasan F, Nguyen QS, Karosiene Z, Mijic D, Kloppe A, Suleiman H, Bandorski D (2014) New formula for evaluation of the QT interval in patients with left bundle branch block. Heart Rhythm 11:2273–2277

2.

Rautaharju PM, Surawicz B, Gettes LS, Bailey JJ, Childers R, Deal BJ, Gorgels A, Hancock EW, Josephson M, Kligfield P, Kors JA, Macfarlane P, Mason JW, Mirvis DM, Okin P, Pahlm O, van Herpen G, Wagner GS, Wellens H (2009) AHA/ACCF/HRS recommendations for the standardization and interpretation of the electrocardiogram: part IV: the ST segment, T and U waves, and the QT interval: a scientific statement from the American Heart Association Electrocardiography and Arrhythmias Committee, Council on Clinical Cardiology; the American College of Cardiology Foundation; and the Heart Rhythm Society: endorsed by the International Society for Computerized Electrocardiology. Circulation 119:e241–e250

3.

Priori SG, Blomström-Lundqvist C, Mazzanti A, Blom N, Borggrefe M, Camm J, Elliott PM, Fitzsimons D, Hatala R, Hindricks G, Kirchhof P, Kjeldsen K, Kuck KH, Hernandez-Madrid A, Nikolaou N, Norekvål TM, Spaulding C, Van Veldhuisen DJ (2015) 2015 ESC guidelines for the management of patients with ventricular arrhythmias and the prevention of sudden cardiac death: the task force for the management of patients with ventricular arrhythmias and the prevention of sudden cardiac death of the European Society of Cardiology (ESC). Endorsed by: Association for European Paediatric and Congenital Cardiology (AEPC). Europace 17:1601–1687

4.

Bogossian H, Bimpong-Buta N‑Y, Lemke B (2020) Spotlight: Wie bestimmt man das QTc-Intervall richtig? Aktuel Kardiol 9:528–533
Ethics declarations
Conflict of interest
K. Iliodromitis, D. Erkapic, B. Dirk, and H. Bogossian declare that they have no competing interests.
For this article no studies with human participants or animals were performed by any of the authors. All studies performed were in accordance with the ethical standards indicated in each case. Additional written informed consent was obtained from all individual participants or their legal representatives for whom identifying information is included in this article.
Additional information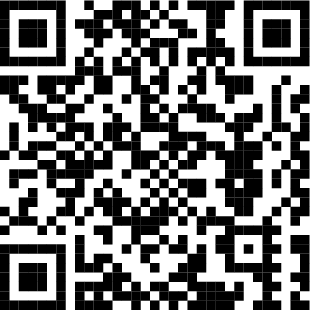 Scan QR code & read article online
About this article
Cite this article
Iliodromitis, K., Erkapic, D., Bandorski, D. et al. Amiodarone in patients with left bundle branch block: how to assess the QT interval?. Herzschr Elektrophys (2021). https://doi.org/10.1007/s00399-021-00812-0
Received:

Accepted:

Published:
Keywords
QRS

Bogossian formula

Heart rate

Antiarrhythmic drugs

Tachycardia
Schlüsselwörter
QRS

Bogossian Formel

Herzfrequenz

Antiarrhythmische Medikamente

Tachykardie