Abstract
Background
Sensing malfunction and misinterpretation of intracardiac electrograms (IEGMs) in patients with implantable cardioverter defibrillators (ICDs) may lead to inadequate device activity such as inappropriate shock delivery or unnecessary mode-switching. Remote monitoring has the potential for early detection of sensing malfunction or misclassification and may thus prevent adverse device activity. Therefore, the authors analyzed the amount, nature, and distribution of misclassification in current ICD and cardiac resynchronization therapy defibrillator technology using the device transmissions of the IN-TIME study population.
Methods
All transmitted tachyarrhythmic episodes in the 664 IN-TIME patients, comprising 2214 device-classified atrial fibrillation (DC-AF) episodes lasting ≥ 30 s and 1330 device-classified ventricular tachycardia or fibrillation (DC-VT/VF) episodes, were manually analyzed by two experienced cardiologists.
Results
After evaluation of all DC-VT/VF episodes, a total of 300 VT/VF events (23.1%) were false-positive, with supraventricular tachycardia being the most frequent cause (51.7%), followed by atrial fibrillation (21.3%) and T‑wave oversensing (21.0%). A total of 15 patients with false-positive DC-VT/VF received inappropriate shocks. According to the inclusion criteria, 616 IEGMs with DC-AF were assessed. A total of 19.7% were false-positive AF episodes and R‑wave oversensing was the most common reason (55.9%).
Conclusions
Remote monitoring offers the opportunity of early detection of signal misclassification and thus early prevention of adverse device reaction, such as inappropriate shock delivery or mode-switching with intermittent loss of atrioventricular synchrony, by correcting the underlying causes.
Zusammenfassung
Hintergrund
Fehldetektionen und -interpretationen intrakardialer Elektrogramme (IEGM) bei Patienten mit implantierbarem Kardioverter-Defibrillator (ICD) können zu unangemessenen Geräteaktivitäten wie inadäquater Schockabgabe oder unnötigem Wechsel in den Mode-Switch führen. Fernüberwachung bietet das Potenzial, solche Fehldetektionen oder -klassifikationen frühzeitig zu erkennen, und könnte so eine unerwünschte Geräteaktivität verhindern helfen. Wir haben daher Häufigkeit, Art und Verteilung von Fehldetektionen bei aktueller ICD-Technik bzw. Geräten der kardialen Resynchronisationstherapie mit Defibrillator (CRT-D) anhand der Geräteübertragungen der IN-TIME-Studienpopulation analysiert.
Methodik
Alle übertragenen tachyarrhythmischen Episoden bei den 664 IN-TIME-Patienten, darunter 2214 geräteklassifizierte Vorhofflimmerepisoden (DC-AF) mit einer Dauer von ≥ 30 s und 1330 geräteklassifizierte ventrikuläre Tachykardie- oder Kammerflimmerepisoden (DC-VT/VF), wurden von zwei erfahrenen Kardiologen manuell analysiert.
Ergebnisse
Nach Auswertung aller DC-VT/VF-Episoden waren insgesamt 300 VT/VF-Ereignisse (23,1 %) falsch-positiv, wobei eine supraventrikuläre Tachykardie die häufigste Ursache war (51,7 %), gefolgt von Vorhofflimmern (21,3 %) und T‑Wellen-Oversensing (21,0 %). Insgesamt 15 Patienten mit falsch-positiver DC-VT/VF erhielten unangemessene Schockabgaben. Gemäß den Einschlusskriterien wurden 616 IEGM mit DC-AF beurteilt. Insgesamt 19,7 % waren falsch-positive Vorhofflimmerepisoden, wobei R‑Wellen-Oversensing den häufigsten Grund darstellte (55,9 %).
Schlussfolgerung
Fernüberwachung bietet die Chance der frühzeitigen Erkennung von Fehldetektionen und Verhinderung unerwünschter Gerätereaktionen (z. B. unangemessene Schockabgaben oder Wechsel in den Mode-Switch mit intermittierendem Verlust der atrioventrikulären Synchronie) durch Behebung der zugrunde liegenden Ursachen.
Access options
Buy single article
Instant access to the full article PDF.
USD 39.95
Price includes VAT (USA)
Tax calculation will be finalised during checkout.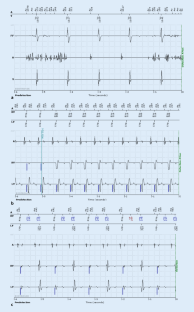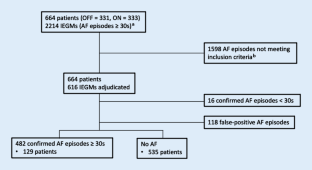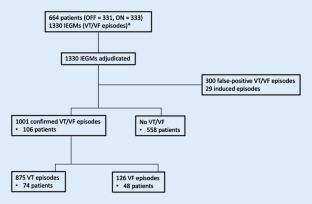 References
1.

Boriani G, Da Costa A, Quesada A et al (2017) Effects of remote monitoring on clinical outcomes and use of healthcare resources in heart failure patients with biventricular defibrillators: results of the MORE-CARE multicentre randomized controlled trial. Eur J Heart Fail 19:416–425

2.

Burri H, Senouf D (2009) Remote monitoring and follow-up of pacemakers and implantable cardioverter defibrillators. Europace 11:701–709

3.

Cheng A, Landman SR, Stadler RW (2012) Reasons for loss of cardiac resynchronization therapy pacing: insights from 32 844 patients. Circ Arrhythm Electrophysiol 5:884–888

4.

Daubert JP, Zareba W, Cannom DS et al (2008) Inappropriate implantable cardioverter-defibrillator shocks in MADIT II: frequency, mechanisms, predictors, and survival impact. J Am Coll Cardiol 51:1357–1365

5.

Gasparini M, Proclemer A, Klersy C et al (2013) Effect of long-detection interval vs standard-detection interval for implantable cardioverter-defibrillators on antitachycardia pacing and shock delivery: the ADVANCE III randomized clinical trial. JAMA 309:1903–1911

6.

Hawkins NM, Virani SA, Sperrin M et al (2016) Predicting heart failure decompensation using cardiac implantable electronic devices: a review of practices and challenges. Eur J Heart Fail 18:977–986

7.

Hayes DL, Boehmer JP, Day JD et al (2011) Cardiac resynchronization therapy and the relationship of percent biventricular pacing to symptoms and survival. Heart Rhythm 8:1469–1475

8.

Healey JS, Connolly SJ, Gold MR et al (2012) Subclinical atrial fibrillation and the risk of stroke. N Engl J Med 366:120–129

9.

Hindricks G, Taborsky M, Glikson M et al (2014) Implant-based multiparameter telemonitoring of patients with heart failure (IN-TIME): a randomised controlled trial. Lancet 384:583–590

10.

Jung W, Rillig A, Birkemeyer R et al (2008) Advances in remote monitoring of implantable pacemakers, cardioverter defibrillators and cardiac resynchronization therapy systems. J Interv Card Electrophysiol 23:73–85

11.

Kaufman ES, Israel CW, Nair GM et al (2012) Positive predictive value of device-detected atrial high-rate episodes at different rates and durations: an analysis from ASSERT. Heart Rhythm 9:1241–1246

12.

Leclercq C, Kass DA (2002) Retiming the failing heart: principles and current clinical status of cardiac resynchronization. J Am Coll Cardiol 39:194–201

13.

Lemke B (2000) Klinischer Stellenwert gegenwärtiger Herzschrittmachertherapie. In: Neuzner J, Pitschner HF (eds) Vorhofflimmern Vorhofflattern. Steinkopff, Heidelberg, pp 129–149 https://doi.org/10.1007/978-3-662-13383-5_10

14.

Lunati M, Centres CC, Proclemer A et al (2016) Reduction of inappropriate anti-tachycardia pacing therapies and shocks by a novel suite of detection algorithms in heart failure patients with cardiac resynchronization therapy defibrillators: a historical comparison of a prospective database. Europace 18:1391–1398

15.

Morgan JM, Kitt S, Gill J et al (2017) Remote management of heart failure using implantable electronic devices. Eur Heart J 38:2352–2360

16.

Moss AJ, Schuger C, Beck CA et al (2012) Reduction in inappropriate therapy and mortality through ICD programming. N Engl J Med 367:2275–2283

17.

Nishimura RA, Hayes DL, Holmes DR et al (1995) Mechanism of hemodynamic improvement by dual-chamber pacing for severe left ventricular dysfunction: an acute Doppler and catheterization hemodynamic study. J Am Coll Cardiol 25:281–288

18.

Pollak WM, Simmons JD, Interian A Jr et al (2001) Clinical utility of intraatrial pacemaker stored electrograms to diagnose atrial fibrillation and flutter. Pacing Clin Electrophysiol 24:424–429

19.

Poole JE, Johnson GW, Hellkamp AS et al (2008) Prognostic importance of defibrillator shocks in patients with heart failure. N Engl J Med 359:1009–1017

20.

Ricci RP, Pignalberi C, Landolina M et al (2014) Ventricular rate monitoring as a tool to predict and prevent atrial fibrillation-related inappropriate shocks in heart failure patients treated with cardiac resynchronisation therapy defibrillators. Heart 100:848–854

21.

Ruiz-Granell R, Dovellini EV, Dompnier A et al (2019) Algorithm-based reduction of inappropriate defibrillator shock: results of the inappropriate shock reduction wIth PARAD+ rhythm discrimination—implantable cardioverter defibrillator study. Heart Rhythm 16:1429–1435

22.

Saxon LA, Hayes DL, Gilliam FR et al (2010) Long-term outcome after ICD and CRT implantation and influence of remote device follow-up: the ALTITUDE survival study. Circulation 122:2359–2367

23.

Slotwiner D, Varma N, Akar JG et al (2015) HRS expert consensus statement on remote interrogation and monitoring for cardiovascular implantable electronic devices. Heart Rhythm 12:e69–e100

24.

Sweeney MO, Wathen MS, Volosin K et al (2005) Appropriate and inappropriate ventricular therapies, quality of life, and mortality among primary and secondary prevention implantable cardioverter defibrillator patients: results from the Pacing Fast VT REduces Shock ThErapies (PainFREE Rx II) trial. Circulation 111:2898–2905

25.

Swerdlow CD, Asirvatham SJ, Ellenbogen KA et al (2015) Troubleshooting implantable cardioverter-defibrillator sensing problems II. Circ Arrhythm Electrophysiol 8:212–220

26.

Swerdlow CD, Asirvatham SJ, Ellenbogen KA et al (2014) Troubleshooting implanted cardioverter defibrillator sensing problems I. Circ Arrhythm Electrophysiol 7:1237–1261

27.

Van Rees JB, Borleffs CJW, De Bie MK et al (2011) Inappropriate implantable cardioverter-defibrillator shocks: incidence, predictors, and impact on mortality. J Am Coll Cardiol 57:556–562

28.

Varma N, Wilkoff B (2011) Device features for managing patients with heart failure. Heart Fail Clin 7:215–225

29.

Wilkoff BL, DAVID Trial Investigators (2003) The Dual Chamber and VVI Implantable Defibrillator (DAVID) trial: rationale, design, results, clinical implications and lessons for future trials. Card Electrophysiol Rev 7:468–472

30.

Wilkoff BL, Ousdigian KT, Sterns LD et al (2006) A comparison of empiric to physician-tailored programming of implantable cardioverter-defibrillators: results from the prospective randomized multicenter EMPIRIC trial. J Am Coll Cardiol 48:330–339
Acknowledgements
The authors would like to thank Dejan Danilovic for editing of the manuscript.
Ethics declarations
Conflict of interest
T. Lewalter received moderate speaker honoraria and advisory board fees from Biotronik. J. Proff and T. Timmel are employees of Biotronik. T.F. Götz, C. Jilek, and K. Tiemann declare that they have no competing interests.
For this article no studies with human participants or animals were performed by any of the authors. All studies performed were in accordance with the ethical standards indicated in each case.
Additional information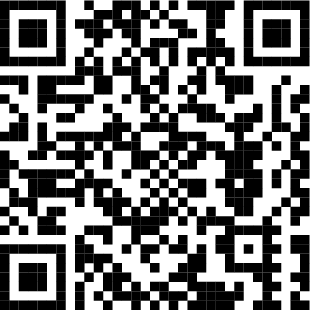 Scan QR code & read article online
About this article
Cite this article
Götz, T.F., Proff, J., Timmel, T. et al. Potential of remote monitoring to prevent sensing and detection failures in implantable cardioverter defibrillators. Herzschr Elektrophys (2021). https://doi.org/10.1007/s00399-021-00802-2
Received:

Accepted:

Published:
Keywords
Home monitoring

Inadequate shock delivery

Intracardiac electrograms

Adverse device activity

IN-TIME
Schlüsselwörter
Fernüberwachung

Inadäquate Schockabgabe

Intrakardiale Elektrogramme

Unerwünschte Geräteaktivität

IN-TIME