Zusammenfassung
Die normale fetale Herzfrequenz beträgt zwischen 110 und 180 Schlägen/min. Intrauterine Arrhythmien sind nicht selten. Die fetale Echokardiographie erlaubt in den meisten Fällen eine exakte Diagnose. Die häufigste Ursache von fetalen Arrhythmien sind Vorhofextrasystolen, welche in der Regel hämodynamisch gut toleriert werden, keine Therapie benötigen und eine sehr gute Prognose aufweisen. Intrauterine Bradykardien (Herzfrequenz < 110 Schläge/min) basieren auf einer Sinusknotendysfunktion, einem kompletten AV-Block oder einem blockierten atrialen Bigeminus. Der isolierte, antikörpervermittelte AV-Block III° ist in der Regel irreversibel, der Nutzen einer medikamentösen intrauterinen Therapie bei AV-Block III° zur Verbesserung der Prognose nicht gut belegt. Die meisten Kinder benötigen nach der Geburt die Implantation eines antibradykarden Herzschrittmachersystems. Intrauterine Tachykardien (Herzfrequenz > 180 Schläge/min) sind meist durch supraventrikuläre Tachykardien und Vorhofflattern verursacht. Diese können zuverlässig diagnostiziert und effektiv medikamentös behandelt werden; eine kardiale Dekompensation mit Ausbildung eins Hydrops fetalis ist sehr selten.
Abstract
The normal fetal heart rate ranges between 110 und 180 beats per minute (bpm). Intrauterine arrhythmias are not an uncommon finding. Fetal echocardiography (ECG) allows for correct diagnosis of the arrhythmia, which is prerequisite for decision making and treatment. Most fetal rhythm disturbances are the result of premature atrial contractions and are of little clinical significance. Intrauterine bradycardias (heart rate < 110 bpm) result from sinus node dysfunction, complete AV block and nonconducted atrial bigeminy. Isolated complete heart block related to maternal anti-SSA/Ro or SSB/La auto-antibodies is irreversible in almost all fetuses. Anti-inflammatory therapy and chronotropic medication may improve outcome. Newborn babies often require pacemaker implantation to augment cardiac output. Intrauterine tachycardias (heart rate > 180 bpm) are most commonly related to supraventricular tachycardia and atrial flutter. Specific antiarrhythmic medication is available to stop the arrhythmia and to prevent hemodynamic deterioration.
Access options
Buy single article
Instant access to the full article PDF.
US$ 39.95
Tax calculation will be finalised during checkout.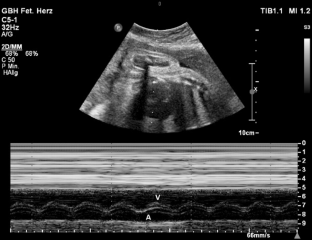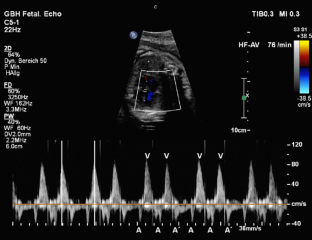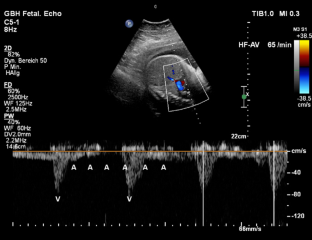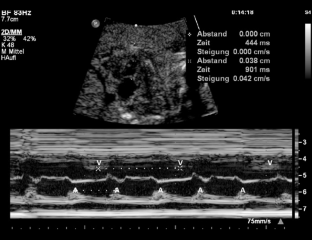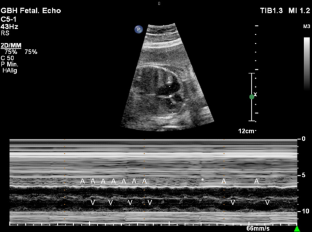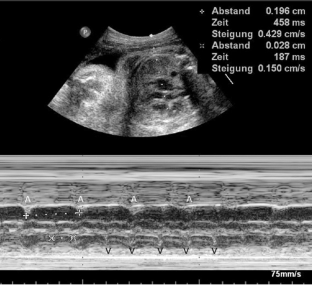 Literatur
1.

Bartalena L, Bogazzi F, Braverman LE et al (2001) Effects of amiodarone administration during pregnancy on neonatal thyroid function and subsequent neurodevelopment. J Endocrinol Invest 24:116–130

2.

Baruteau AE, Pass RH, Thambo JB et al (2016) Congenital and childhood atrioventricular blocks: pathophysiology and contemporary management. Eur J Pediatr 175:1235–1248

3.

Bordachar P, Zachary W, Ploux S et al (2013) Pathophysiology, clinical course, and management of congenital complete atrioventricular block. Heart Rhythm 10:760–766

4.

Chockalingam P, Jaeggi ET, Rammeloo LA et al (2011) Persistent fetal sinus bradycardia associated with maternal anti-SSA/Ro and anti-SSB/La antibodies. J Rheumatol 38:2682–2685

5.

Cuneo BF, Mitchell MB, Marwan AI et al (2017) Ex utero intrapartum treatment to ventricular pacing: a novel delivery strategy for complete atrioventricular block with severe bradycardia. Fetal Diagn Ther 42:311–314

6.

Cuneo BF, Ovadia M, Strasburger JF et al (2003) Prenatal diagnosis and in utero treatment of torsades de pointes associated with congenital long QT syndrome. Am J Cardiol 91:1395–1398

7.

Donofrio MT, Moon-Grady AJ, Hornberger LK et al (2014) Diagnosis and treatment of fetal cardiac disease: a scientific statement from the American Heart Association. Circulation 129:2183–2242

8.

Gilljam T, Jaeggi E, Gow RM (2008) Neonatal supraventricular tachycardia: outcomes over a 27-year period at a single institution. Acta Paediatr 97:1035–1039

9.

Hornberger LK, Sahn DJ (2007) Rhythm abnormalities of the fetus. Heart 93:1294–1300

10.

Jaeggi E, Ohman A (2016) Fetal and neonatal arrhythmias. Clin Perinatol 43:99–112

11.

Jaeggi ET, Carvalho JS, De Groot E et al (2011) Comparison of transplacental treatment of fetal supraventricular tachyarrhythmias with digoxin, flecainide, and sotalol: results of a nonrandomized multicenter study. Circulation 124:1747–1754

12.

Jaeggi ET, Fouron JC, Silverman ED et al (2004) Transplacental fetal treatment improves the outcome of prenatally diagnosed complete atrioventricular block without structural heart disease. Circulation 110:1542–1548

13.

Jaeggi ET, Hamilton RM, Silverman ED et al (2002) Outcome of children with fetal, neonatal or childhood diagnosis of isolated congenital atrioventricular block. A single institution's experience of 30 years. J Am Coll Cardiol 39:130–137

14.

Krapp M, Kohl T, Simpson JM et al (2003) Review of diagnosis, treatment, and outcome of fetal atrial flutter compared with supraventricular tachycardia. Heart 89:913–917

15.

Martinez-Sanchez N, Perez-Pinto S, Robles-Marhuenda A et al (2017) Obstetric and perinatal outcome in anti-Ro/SSA-positive pregnant women: a prospective cohort study. Immunol Res 65:487–494

16.

Mitchell JL, Cuneo BF, Etheridge SP et al (2012) Fetal heart rate predictors of long QT syndrome. Circulation 126:2688–2695

17.

Shah A, Moon-Grady A, Bhogal N et al (2012) Effectiveness of sotalol as first-line therapy for fetal supraventricular tachyarrhythmias. Am J Cardiol 109:1614–1618

18.

Simpson JM, Sharland GK (1998) Fetal tachycardias: management and outcome of 127 consecutive cases. Heart 79:576–581

19.

Sridharan S, Sullivan I, Tomek V et al (2016) Flecainide versus digoxin for fetal supraventricular tachycardia: comparison of two drug treatment protocols. Heart Rhythm 13:1913–1919

20.

Wacker-Gussmann A, Strasburger JF, Cuneo BF et al (2014) Diagnosis and treatment of fetal arrhythmia. Am J Perinatol 31:617–628

21.

Wiggins DL, Strasburger JF, Gotteiner NL et al (2013) Magnetophysiologic and echocardiographic comparison of blocked atrial bigeminy and 2:1 atrioventricular block in the fetus. Heart Rhythm 10:1192–1198
Ethics declarations
Interessenkonflikt
V. D. Gravenhorst, H.E. Schneider, M. J. Müller, U. Krause, B. Felke und T. Paul geben an, dass kein Interessenkonflikt besteht.
Für diesen Beitrag wurden von den Autoren keine Studien an Menschen oder Tieren durchgeführt. Für die aufgeführten Studien gelten die jeweils dort angegebenen ethischen Richtlinien.
About this article
Cite this article
Gravenhorst, V.D., Schneider, H.E., Müller, M.J. et al. Fetales EKG und Arrhythmien. Herzschr Elektrophys (2021). https://doi.org/10.1007/s00399-021-00758-3
Received:

Accepted:

Published:
Schlüsselwörter
Fetus

Fetale Echokardiographie

Fetale Bradykardien

Fetale Tachykardien

Transplazentare Therapie
Keywords
Fetus

Fetal echocardiography

Fetal bradycardia

Fetal tachycardia

Transplacental therapy