Zusammenfassung
Extrasystolen können – insbesondere bei Vorliegen einer organischen Herzerkrankung – Zeichen für ein erhöhtes kardiales Risiko sein oder sich direkt negativ im Sinne des Auftretens oder der Zunahme einer Herzinsuffizienz auswirken. Meist sind sie aber harmlos und können durch die postextrasystolische Pause bzw. den verstärkten postextrasystolischen Schlag folgende Symptome verursachen: Gefühl des Aussetzens des Herzschlags oder starke Palpitationen, die das "Gefühl hervorrufen, dass etwas nicht stimme". Es wird erläutert, dass Extrasystolen auch eine unbewusste Reaktion des autonomen Nervensystems verursachen. Sensationen im Rahmen von Extrasystolen können bei manchen Patienten Unwohlsein oder sogar eine Angstreaktion auslösen, die dann die Symptome wiederum verstärken. Im Rahmen der Panikreaktion können Atemnot oder Brustenge auftreten, die einer Dyspnoe bei Herzinsuffizienz oder einem akuten Koronarsyndrom ähneln können. Anhand des Angstzirkels wird dargelegt, wie Patienten durch Erklärung der Symptome beruhigt werden können. Ist es zu Panikattacken gekommen, sollte durch gezielte Maßnahmen verhaltenstherapeutisch und ggf. tiefenpsychologisch behandelt werden.
Abstract
Premature complexes can be indicative of an increased cardiac risk or can contribute to the initiation or deterioration of heart failure in particular in the presence of organic heart disease. Most premature complexes are benign. The postextrasystolic pause or the augmented postextrasystolic premature beat may cause the following symptoms: feeling of a skipped beat or the sensation of a pounding heart beat causing the feeling "that something is seriously wrong". It is mentioned that premature beats cause an unconscious reaction of the autonomic nervous system. Symptoms related to premature complexes may cause uneasiness or franc anxiety which may itself intensify the symptoms. This may cause a panic reaction which may be associated with shortness of breath or angina of the chest mimicking dyspnea of heart failure of an acute coronary syndrome. Along the "vicious cycle of anxiety" it is demonstrated how patients may be comforted. In addition, the panic disorder itself should be treated by cognitive behavioral or psychodynamic therapy.
Access options
Buy single article
Instant access to the full article PDF.
US$ 39.95
Tax calculation will be finalised during checkout.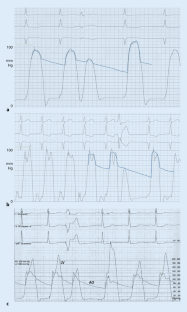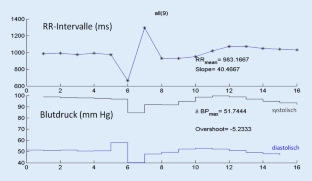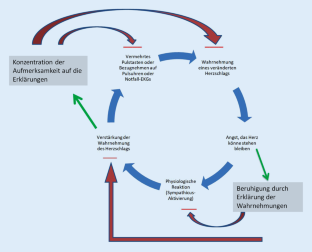 Literatur
1.

Olgin JE, Tomaselli GFZD (2014) Ventricular arrhythmias. In: Zipes & Jalife Cardiac Electrophysiology, 6. Aufl, Elsevier Saunders, Philadelphia, S 753–771

2.

Marcus GM (2020) Evaluation and management of premature ventricular complexes. Circulation 141:1404–1418

3.

Herrmann-Lingen C (2019) CME-Fortbildung Psychokardiologie-aktuelle Leitlinien und klinische Realität. Psychother Psychosom Med 69:237–252

4.

Zipes OJEDP (2019) Supraventricular arrhythmias. In: Braunwald's heart disease, 11. Aufl. Elsevier, Philadelphia, S 706–729

5.

Sajadieh A, Dms C, Cme JJ (2016) Excessive atrial ectopy and short atrial runs increase the risk of stroke beyond incident atrial fibrillation. J Am Coll Cardiol 66:232–241

6.

Mas GMM, Dewland TA (2015) Premature atrial contractions: a Wolf in sheep's clothing? J Am Coll Cardiol 66:242–244

7.

Kennedy HL, Whitlock JA, Sprague MK, Kennedy LJ, Buckingham TA, Goldberg RJ (1985) Long-term follow-up of asymptomatic healthy subjects with frequent and complex ventricular ectopy. N Engl J Med 312:193–197

8.

Kuijer PJP, Werf D, Meijler FL (1990) Post-extrasystolic potentiation without a compensatory pause in normal and diseased hearts. Br Heart J 63:284–286

9.

Bauer A, Malik M, Schmidt G, Barthel P, Bonnemeier H, Cygankiewicz I et al (2008) Heart rate turbulence: standards of measurement, physiological interpretation, and clinical use: International Society for Holter and Noninvasive Electrophysiology Consensus. J Am Coll Cardiol 52:1353–1365

10.

Al E, Iliopoulos F, Forschack N, Nierhaus T, Grund M (2020) Heart—brain interactions shape somatosensory perception and evoked potentials. PNAS 117:10575–10584

11.

Angenendt J, Frommberger U, Berger M, Domschke K (2019) Angststörungen. In Berger Psychische Erkrankungen (6. Aufl.). Elsevier, München, S 445–481

12.

Siepmann M, Kirch W (2010) Psychosomatische Aspekte kardialer Arrhythmien. Med Klin 105:479–484

13.

Margraf J, Schneider S (2010) Panik: Angstanfälle und ihre Behandlung. Springer, Heidelberg

14.

Bardé BJ (2015) Klinische Psychokardiologie. Brandes & Apsel, Frankfurt a. M.

15.

Olesen J, Gustavsson A, Svensson M, Wittchen HU, Jönsson B (2012) The economic cost of brain disorders in Europe. Eur J Neurol 19:155–162

16.

Domschke K, Kapfhammer H‑P, Deckert J (2017) Angststörungen. In Möller H‑J, Laux G, Kapfhammer H‑P (Hrsg) Psychiatrie, Psychosomatik und Psychotherapie, 5. Aufl. Springer, S 1857–1932

17.

Herrmann-Lingen C, Albus C, Tiltscher G (2019) Psychokardiologie. Springer, Berlin Heidelberg

18.

Busch FN, Milrod BL (2009) Psychodynamic treatment of panic disorder. In Levy RA, Ablon JS (Hrsg) Handbook of evidence-based psychodynamic psychotherapy. Humana, S 29–44

19.

Buller R, Maier W, Bemkert O (1988) Das Paniksyndrom: Symptome, Verlauf, Prädiktoren. In: Hippius H, Ackenheil M, Engel RR (Hrsg) Angst – Leitsymptom psychiatrischer Erkrankungen. Springer, Berlin, S 60–67

20.

Bandelow B, Wiltink J, Alpers GW, Benecke C, Deckert J, Eckhardt-Henn A et al (2014) S3-Leitlinie Behandlung von Angststörungen

21.

Stubbs B, Vancampfort D, Rosenbaum S, Firth J, Cosco T, Veronese N et al (2017) An examination of the anxiolytic effects of exercise for people with anxiety and stress-related disorders: A meta-analysis. Elsevier. Psychiatry Res 249:102–108
Ethics declarations
Interessenkonflikt
M. Meesmann gibt an, dass kein Interessenkonflikt besteht.
Für diesen Beitrag wurden von den Autoren keine Studien an Menschen oder Tieren durchgeführt. Für die aufgeführten Studien gelten die jeweils dort angegebenen ethischen Richtlinien.
About this article
Cite this article
Meesmann, M. Extrasystolen, Angst und Lebensqualität. Herzschr Elektrophys (2021). https://doi.org/10.1007/s00399-021-00748-5
Received:

Accepted:

Published:
Schlüsselwörter
Herzrhythmusstörungen

Psychokardiologie

Panikattacken

Angsterkrankung

Psychotherapie
Keywords
Cardiac arrhythmias

Psychosocial factors in cardiology

Panic attacks

Anxiety disorder

Psychotherapy