Zusammenfassung
Die Fortschritte der kardialen Bildgebung und bei den 3‑D-Mappingverfahren haben in der letzten Dekade zu einem signifikanten Erkenntnisgewinn hinsichtlich der Korrelation ventrikulärer Extrasystolen (VES) mit anatomischen Strukturen geführt. Bei allem technischen Fortschritt bleibt die Interpretation des 12-Kanal-EKGs Grundlage für die klinische Praxis. So lässt sich mit fundiertem Grundwissen über die kardiale Anatomie und Erregungsausbreitung – unter Berücksichtigung der Limitationen der Methode – die Herkunft ventrikulärer Ektopien mit hinreichender Genauigkeit bestimmen. Zur groben Eingrenzung reichen bereits wenige Anhaltspunkte. Anhand des Lagetyps kann zwischen einem diaphragmalen Ursprung mit superiorer Achse und einem weiter superior gelegenen Ursprung mit einem nach inferior gerichteten Summationsvektor unterschieden werden. In den Brustwandableitungen kann mit hoher Wahrscheinlichkeit von einem linksventrikulären Ursprung einer Ektopie ausgegangen werden, wenn diese eine Rechtsschenkelblock-Morphologie oder positive Konkordanz zeigt. Eine Linksschenkelblock-Morphologie kann neben dem rechten Ventrikel als Ursprungsort auch das interventrikuläre Septum miteinschließen. Je später die R/S-Transition der Brustwandableitungen erfolgt, desto weiter anterior ist der Ursprung der VES. Die sich kreuzenden Ausflusstrakte der Ventrikel erschweren eine Lokalisation von VES aus diesem Bereich. Hier gibt v. a. die Form und Höhe der R‑Zacke in V1–V3 einen Aufschluss über den möglichen Ursprungsort. Unschärfen in der EKG-Lokalisation bestehen insbesondere bei semimobilen Strukturen wie den Papillarmuskeln und dem Moderatorband, mit variablem Verlauf innerhalb der Ventrikel. Auf Basis der so gewonnenen Informationen kann in der Folge eine fundierte Einschätzung über die Prognose und den zu erwartenden Erfolg einer medikamentösen oder invasiven Therapie getroffen werden.
Abstract
The advances in imaging and 3D mapping systems in the last decade allowed a better correlation of ventricular premature contractions (PVCs) with anatomical structures. With regard to PVCs, interpretation of the 12-lead ECG is still crucial for the management of patients and the planning of therapies. Although there is an armamentarium of indices and algorithms to exactly pinpoint the origin of a PVC in advance, a thorough understanding of cardiac anatomy and impulse propagation, together with an awareness of the surface ECGs limitations, provides a sufficiently close approximation. PVCs from the diaphragmatic part of the ventricular cavae exhibit a superiorly directed axis, whereas PVCs from superior parts of the heart show an inferior axis. A right bundle branch block morphology or positive concordance of the precordial leads yields a high probability of left ventricular origin of a PVC. A left bundle branch block morphology is indicative of a right ventricular or septal origin of a PVC. Using the transition zone, one can estimate the origin of a PVC with regard to anterior or posterior regions of the heart: A late precordial transition is indicative of a right ventricular origin, an early precordial transition suggests a left ventricular focus. An absent transition in the sense of negative concordance is indicative for an apical origin. The intertwined course of the ventricular outflow tracts makes PVC localization more difficult. Here, shape and height of the R‑wave in V1–V3 help to narrow the origin down. PVCs from structures like the papillary muscles, the moderator band or infundibular bands are challenging to interpret and evidence of the limitations of the surface ECG. Based on the information gained by the aforementioned approach, a prediction of prognosis and possible treatment success is possible.
Access options
Buy single article
Instant access to the full article PDF.
US$ 39.95
Tax calculation will be finalised during checkout.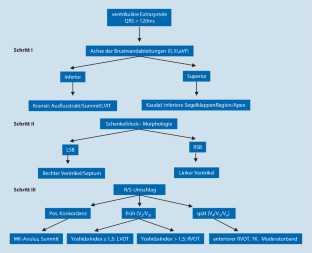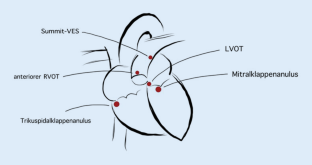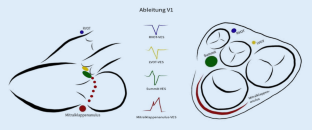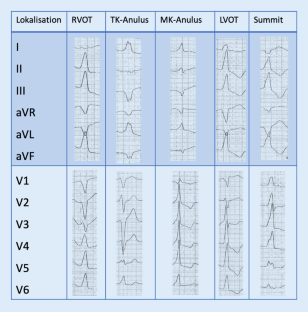 Ethics declarations
Interessenkonflikt
B. Fries, V. Johnson, W. Rutsatz, J. Schmitt und H. Bogossian geben an, dass kein Interessenkonflikt besteht.
Für diesen Beitrag wurden von den Autoren keine Studien an Menschen oder Tieren durchgeführt. Für die aufgeführten Studien gelten die jeweils dort angegebenen ethischen Richtlinien.
Additional information
Die Autoren Bastian Fries und Victoria Johnson haben zu gleichen Teilen zum Manuskript beigetragen.
About this article
Cite this article
Fries, B., Johnson, V., Rutsatz, W. et al. Lokalisation ventrikulärer Extrasystolen im 12-Kanal-EKG. Herzschr Elektrophys (2021). https://doi.org/10.1007/s00399-021-00746-7
Received:

Accepted:

Published:
Schlüsselwörter
Herzrhythmusstörungen

Lokalisation

Ablation

3‑D-Mapping

Oberflächen-EKG
Keywords
Cardiac arrhythmias

Lokalisation

Ablation therapy

3D mapping

Surface electrocardiography