Abstract
Premature atrial complexes (PACs) are a common finding in patients with structural heart disease, as well as in healthy subjects. In addition to the clinical spectrum ranging from asymptomatic patients to irritating palpitations, PACs are suggested to be associated with an increased risk of atrial fibrillation and stroke. Medical treatment leads to a significant reduction in PACs with clear symptom relief in a large proportion of patients, but is limited in cases of PACs that are refractory to antiarrhythmic drug (AAD) treatment. Furthermore, proarrhythmic effects of AAD or the patient's refusal of AAD treatment due to side effects need to be considered. Ablation of PACs is a good alternative to medical therapy with a comparable safety profile and at least comparable efficacy. In recent years, ultra-high-density (UHD) mapping with multiple improvements for successful ablation has been evolving. Before the introduction of UHD mapping, ablation strategies included activation mapping with single-tip catheters or conventional mapping aiming for the earliest activation of the PAC locally, with the earliest activation suspected to be the origin of the PAC and targeted by radiofrequency (RF) ablation. Using UHD mapping, a three-dimensional local activation map of the atrium can be acquired, identifying the point of earliest activation within the high-resolution map. PAC ablation has therefore developed into a true alternative for the treatment of symptomatic PACs.
Zusammenfassung
Supraventrikuläre Extrasystolen (SVES) sind eine häufige, jedoch meist asymptomatische Rhythmusstörung. Sie treten nicht nur bei Patienten mit Herzerkrankung, sondern auch bei gesunden Menschen auf. Patienten sind bezüglich des Auftretens von SVES oft komplett asymptomatisch, bemerken aber in nicht wenigen Fällen irritierende Palpitationen. SVES sind auch mit dem Auftreten von Vorhofflimmern und einem erhöhten Schlaganfallrisiko assoziiert. Eine medikamentöse Behandlung kann bei einem Großteil der Patienten SVES wesentlich reduzieren und die Symptomlast deutlich bessern. In einigen Fällen lassen sich die SVES jedoch nicht mit Antiarrhythmika behandeln. Auch proarrhythmische Effekte der Antiarrhythmika oder eine Ablehnung der Einnahme durch den Patienten wegen Nebenwirkungen sind zu berücksichtigen. Die Ablation der SVES ist eine gute Alternative zur medikamentösen Therapie mit ähnlichem Sicherheitsprofil und mindestens vergleichbarer Wirksamkeit, insbesondere seit der Entwicklung des Ultra-high-density(UHD)-Mappings mit seinen diversen Verbesserungen. Vor Einführung des UHD-Mappings beinhalteten Ablationsstrategien das Aktivierungs-Mapping mit Single-tip-Katheter oder ein konventionelles Mapping, um die Stelle der frühesten Erregung der SVES Punkt für Punkt zu identifizieren. Der vermutete Ort der frühesten Aktivierung wurde als Ursprung der SVES gedeutet und mit Radiofrequenzenergie abladiert. Mithilfe des UHD-Mappings kann eine 3‑dimensionale lokale Aktivierungskarte des Vorhofs generiert und der Punkt der frühesten Aktivierung in der hochaufgelösten Karte lokalisiert werden. Die Ablation von SVES ist also mittlerweile eine exzellente Alternative zur medikamentösen Therapie symptomatischer SVES.
Access options
Buy single article
Instant access to the full article PDF.
US$ 39.95
Tax calculation will be finalised during checkout.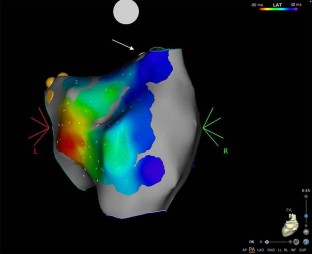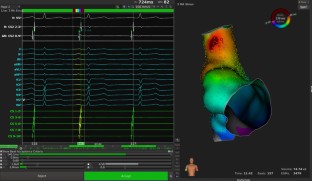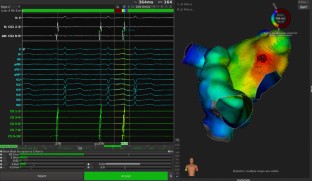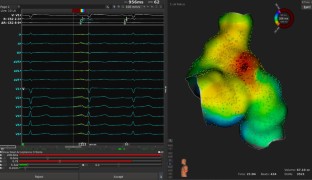 References
1.

Alhede C, Johannessen A, Dixen U et al (2018) Higher burden of supraventricular ectopic complexes early after catheter ablation for atrial fibrillation is associated with increased risk of recurrent atrial fibrillation. Europace 20:50–57

2.

Alhede C, Lauridsen TK, Johannessen A et al (2017) Antiarrhythmic medication is superior to catheter ablation in suppressing supraventricular ectopic complexes in patients with atrial fibrillation. Int J Cardiol 244:186–191

3.

Bagliani G, Della Rocca DG, De Ponti R et al (2018) Ectopic beats: insights from timing and morphology. Card Electrophysiol Clin 10:257–275

4.

Benjamin EJ, Levy D, Vaziri SM et al (1994) Independent risk factors for atrial fibrillation in a population-based cohort. The Framingham heart study. JAMA 271:840–844

5.

Bonanno C, Paccanaro M, La Vecchia L et al (2010) Efficacy and safety of catheter ablation versus antiarrhythmic drugs for atrial fibrillation: a meta-analysis of randomized trials. J Cardiovasc Med (Hagerstown) 11:408–418

6.

Conen D, Adam M, Roche F et al (2012) Premature atrial contractions in the general population: frequency and risk factors. Circulation 126:2302–2308

7.

Gopinathannair R, Etheridge SP, Marchlinski FE et al (2015) Arrhythmia-induced cardiomyopathies: mechanisms, recognition, and management. J Am Coll Cardiol 66:1714–1728

8.

Hasdemir C, Simsek E, Yuksel A (2013) Premature atrial contraction-induced cardiomyopathy. Europace 15:1790

9.

Huang BT, Huang FY, Peng Y et al (2017) Relation of premature atrial complexes with stroke and death: systematic review and meta-analysis. Clin Cardiol 40:962–969

10.

Huang X, Chen Y, Xiao J et al (2018) Electrophysiological characteristics and catheter ablation of symptomatic focal premature atrial contractions originating from pulmonary veins and non-pulmonary veins. Clin Cardiol 41:74–80

11.

Kerola T, Dewland TA, Vittinghoff E et al (2019) Predictors of atrial ectopy and their relationship to atrial fibrillation risk. Europace 21:864–870

12.

Kistler PM, Roberts-Thomson KC, Haqqani HM et al (2006) P‑wave morphology in focal atrial tachycardia: development of an algorithm to predict the anatomic site of origin. J Am Coll Cardiol 48:1010–1017

13.

Mantziari L, Butcher C, Kontogeorgis A et al (2015) Utility of a novel rapid high-resolution mapping system in the catheter ablation of arrhythmias: an initial human experience of mapping the atria and the left ventricle. JACC Clin Electrophysiol 1:411–420

14.

Maury P, Champ-Rigot L, Rollin A et al (2019) Comparison between novel and standard high-density 3D electro-anatomical mapping systems for ablation of atrial tachycardia. Heart Vessels 34:801–808

15.

Mazzella AJ, Kouri A, O'quinn MP et al (2019) Improvement in left ventricular ejection fraction after radiofrequency catheter ablation of premature atrial contractions in a 23-year-old man. HeartRhythm Case Rep 5:524–527

16.

Mond HG, Haqqani HM (2019) The electrocardiographic footprints of atrial ectopy. Heart Lung Circ 28:1463–1471

17.

Nair GM, Nery PB, Diwakaramenon S et al (2009) A systematic review of randomized trials comparing radiofrequency ablation with antiarrhythmic medications in patients with atrial fibrillation. J Cardiovasc Electrophysiol 20:138–144

18.

Rossi A (1987) Twenty-four-hour electrocardiographic study in the active very elderly. Cardiology 74:159–166

19.

Schmitt C, Ndrepepa G, Weber S et al (2002) Biatrial multisite mapping of atrial premature complexes triggering onset of atrial fibrillation. Am J Cardiol 89:1381–1387

20.

Siebermair J, Neumann B, Risch F et al (2019) High-density mapping guided pulmonary vein isolation for treatment of atrial fibrillation—two-year clinical outcome of a single center experience. Sci Rep 9:8830

21.

Southall DP, Richards J, Mitchell P et al (1980) Study of cardiac rhythm in healthy newborn infants. Br Heart J 43:14–20

22.

Wang NC (2011) Dual atrioventricular nodal nonreentrant tachycardia: a systematic review. Pacing Clin Electrophysiol 34:1671–1681

23.

Wang X, Li Z, Mao J et al (2017) Electrophysiological features and catheter ablation of symptomatic frequent premature atrial contractions. Europace 19:1535–1541
Ethics declarations
Conflict of interest
R. Wakili reports grants from Deutsches Zentrum für Herz-Kreislaufforschung and grants from Boston Scientific outside the submitted work. R. Wakili reports personal fees from Bayer, Boehringer, Daichi Sankyo, Pfizer, Bristol-Myers-Squibb, Boston Scientific, Biotronik outside the submitted work. L. Riesinger and J. Siebermair declare that they have no competing interests.
For this article no studies with human participants or animals were performed by any of the authors. All studies performed were in accordance with the ethical standards indicated in each case.
About this article
Cite this article
Riesinger, L., Siebermair, J. & Wakili, R. Mapping strategies and ablation of premature atrial complexes. Herzschr Elektrophys (2021). https://doi.org/10.1007/s00399-021-00744-9
Received:

Accepted:

Published:
Keywords
Ultra-high-density mapping

Premature atrial contractions

Ablation

Premature beats

Atrial fibrillation
Schlüsselwörter
Ultrahochauflösendes Mapping

Supraventrikuläre Extrasystolen

Ablation

Extrasystolen

Vorhofflimmern