Zusammenfassung
Ventrikuläre Extrasystolen (VES) stellen einen häufigen und oftmals zufälligen Befund in der Kardiologie dar. Ohne Vorhandensein einer strukturellen Herzerkrankung ist in der Regel von einer benignen Rhythmusstörung auszugehen. Jedoch sollte bei einer EKG-Morphologie, die nicht auf eine idiopathische VES hindeutet, immer eine weiterführende Diagnostik durchgeführt werden. Oftmals wird in diesem Rahmen erstmals eine strukturelle Herzerkrankung diagnostiziert, die mit dem plötzlichen Herztod assoziiert sein kann. Auch polymorphe VES oder eine hohe VES-Last machen eine weitergehende Diagnostik notwendig. Bei diesen Patienten sollte immer eine Risikostratifizierung erfolgen. Die Behandlung von idiopathischen VES sowie von VES bei struktureller Herzerkrankung umfasst neben der medikamentösen Therapie auch die Option der invasiven Katheterablation.
Abstract
Premature ventricular contractions (PVC) are very common arrhythmias in cardiology. In structural normal hearts they usually represent a benign entity. If the ECG morphology is not consistent with idiopathic PVC, further diagnostic workup should be performed. They can occur due to structural heart disease and may be associated with sudden cardiac death. Polymorphic PVC or a high PVC burden should also always lead to further diagnostics and an individual risk-stratification. Therapeutic options include drug therapy and invasive catheter ablation.
Access options
Buy single article
Instant access to the full article PDF.
US$ 39.95
Tax calculation will be finalised during checkout.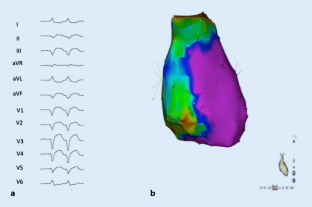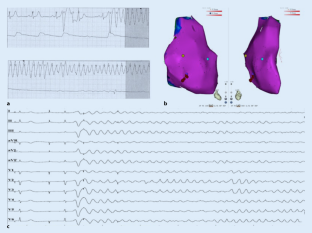 Literatur
1.

Gorenek B, Fisher JD, Kudaiberdieva G, Baranchuk A, Burri H, Campbell KB et al (2020) Premature ventricular complexes: diagnostic and therapeutic considerations in clinical practice : a state-of-the-art review by the American college of cardiology electrophysiology council. J Interv Card Electrophysiol 57:5–26

2.

Hiss RG, Lamb LE (1962) Electrocardiographic findings in 122,043 individuals. Circulation 25:947–961. https://doi.org/10.1161/01.cir.25.6.947

3.

Ng GA (2006) Treating patients with ventricular ectopic beats. Heart 92(11):1707–1712. https://doi.org/10.1136/hrt.2005.067843

4.

Kennedy HL, Whitlock JA, Sprague MK, Kennedy LJ, Buckingham TA, Goldberg RJ (1985) Long-term follow-up of asymptomatic healthy subjects with frequent and complex ventricular ectopy. N Engl J Med 312(4):193–197. https://doi.org/10.1056/NEJM198501243120401

5.

Steven D, Pott C, Bittner A et al (2013) Idiopathic ventricular outflow tract arrhythmias from the great cardiac vein: challenges and risks of catheter ablation. Int J Cardiol 169:366–370

6.

Lerman BB, Stein KM, Markowitz SM (1997) Mechanisms of idiopathic left ventricular tachycardia. J Cardiovasc Electrophysiol l8:571–583

7.

Antzelevitch C, Bernstein MJ, Feldman HN, Moe GK (1983) Parasystole, reentry, and tachycardia: a canine preparation of cardiac arrhythmias occurring across inexcitable segments of tissue. Circulation 68:1101–1115. https://doi.org/10.1161/01.cir.68.5.1101

8.

Enriquez A, Frankel DS, Baranchuk A (2017) Pathophysiology of ventricular tachyarrhythmias. From automaticity to reentry. Herzschrittmacherther Elektrophysiol 28:149–156

9.

Moss AJ, Davis HT, DeCamilla J, Bayer LW (1979) Ventricular ectopic beats and their relation to sudden and nonsudden cardiac death after myocardial infarction. Circulation 60(5):998–1003. https://doi.org/10.1161/01.cir.60.5.998

10.

Bigger J, Dresdale R, Heissenbuttel R, Weld FM, Wit AL (1977) Ventricular arrhythmias in ischemic heart disease: mechanism, prevalence, significance and management. Prog Cardiovasc Dis 19:255–300

11.

Latchamsetty R, Bogun F (2015) Premature ventricular complexes and premature ventricular complex induced cardiomyopathy. Curr Probl Cardiol 40:379–422

12.

Prineas RJ, Jacobs DR Jr, Crow RS, Blackburn H (1980) Coffee, tea and ventricular premature beat. J Chronic Dis 33:67–72

13.

Jain R, Dalal D, Daly A, Tichnell C, James C, Evenson A, Jain R, Abraham T, Tan BY, Tandri H et al (2009) Electrocardiographic features of arrhythmogenic right ventricular dysplasia. Circulation 120:477–487. https://doi.org/10.1161/CIRCULATIONAHA.108.838821

14.

Tzou WS, Zado ES, Lin D, Callans DJ, Dixit S, Cooper JM et al (2011) Sinus rhythm ECG criteria associated with basal-lateral ventricular tachycardia substrate in patients with nonischemic cardiomyopathy. J Cardiovasc Electrophysiol 22:1351–1358

15.

Kron J, Ellenbogen KA (2015) Cardiac sarcoidosis: contemporary review. J Cardiovasc Electrophysiol 26:104–109. https://doi.org/10.1111/jce.12552

16.

Lerman BB (2015) Mechanism, diagnosis, and treatment of outflow tract tachycardia. Nat Rev Cardiol 12:597–608. https://doi.org/10.1038/nrcardio.2015.121

17.

Luebbert J, Auberson D, Marchlinski F (2016) Premature ventricular complexes in apparently normal hearts. Card Electrophysiol Clin 8:503–514. https://doi.org/10.1016/j.ccep.2016.04.001

18.

Mathew S, Saguner AM, Schenker N, Kaiser L, Zhang P, Yashuiro Y, Lemes C, Fink T, Maurer T, Santoro F, Wohlmuth P, Reißmann B, Heeger CH, Tilz R, Wissner E, Rillig A, Metzner A, Kuck KH, Ouyang F (2019) Catheter ablation of ventricular tachycardia in patients with arrhythmogenic right ventricular cardiomyopathy/dysplasia: a sequential approach. J Am Heart Assoc 8(5):e10365. https://doi.org/10.1161/JAHA.118.010365

19.

Noda T, Shimizu W, Taguchi A et al (2005) Malignant entity of idiopathic ventricular fibrillation and polymorphic ventricular tachycardia initiated by premature extrasystoles originating from the right ventricular outflow tract. J Am Coll Cardiol 46:1288–1294

20.

Haissaguerre M, Shah DC, Jais P et al (2002) Role of Purkinje conducting system in triggering of idiopathic ventricular fibrillation. Lancet 359:677–678

21.

Haissaguerre M, Shoda M, Jais P et al (2002) Mapping and ablation of idiopathic ventricular fibrillation. Circulation 106:962–967

22.

Krieger K, Steinfurt J, Lenz C, Keweloh B (2017) Catheter ablation of Brugada syndrome: importance of repeated administration of ajmaline to unmask the entire epicardial substrate. JACC Clin Electrophysiol 3(11):1330–1332. https://doi.org/10.1016/j.jacep.2017.02.014

23.

Viskin S, Rosso R, Rogowski O, Belhassen B (2005) The "short-coupled" variant of right ventricular outflow ventricular tachycardia: a not-so-benign form of benign ventricular tachycardia? J Cardiovasc Electrophysiol 16(8):912–916. https://doi.org/10.1111/j.1540-8167.2005.50040.x.PMID:

24.

Sadek MM, Benhayon D, Sureddi R, Chik W, Santangeli P, Supple GE, Hutchinson MD, Bala R, Carballeira L, Zado ES, Patel VV, Callans DJ, Marchlinski FE, Garcia FC (2015) Idiopathic ventricular arrhythmias originating from the moderator band: electrocardiographic characteristics and treatment by catheter ablation. Heart Rhythm 12(1):67–75. https://doi.org/10.1016/j.hrthm.2014.08.029

25.

Yamada T, Doppalapudi H, McElderry HT, Okada T, Murakami Y, Inden Y, Yoshida Y, Kaneko S, Yoshida N, Murohara T et al (2010) Idiopathic ventricular arrhythmias originating from the papillary muscles in the left ventricle: prevalence, electrocardiographic and electrophysiological characteristics, and results of the radiofrequency catheter ablation. J Cardiovasc Electrophysiol 21:62–69. https://doi.org/10.1111/j.1540-8167.2009.01594.x

26.

Yamada T, McElderry HT, Okada T, Murakami Y, Doppalapudi H, Yoshida N, Allred JD, Murohara T, Kay GN (2009) Idiopathic focal ventricular arrhythmias originating from the anterior papillary muscle in the left ventricle. J Cardiovasc Electrophysiol 20:866–872. https://doi.org/10.1111/j.1540-8167.2009.01448.x

27.

Kumagai K, Yamauchi Y, Takahashi A, Yokoyama Y, Sekiguchi Y, Watanabe J, Iesaka Y, Shirato K, Aonuma K (2005) Idiopathic left ventricular tachycardia originating from the mitral annulus. J Cardiovasc Electrophysiol 16:1029–1036. https://doi.org/10.1111/j.1540-8167.2005.40749.x

28.

Tada H, Ito S, Naito S, Kurosaki K, Kubota S, Sugiyasu A, Tsuchiya T, Miyaji K, Yamada M, Kutsumi Y et al (2005) Idiopathic ventricular arrhythmia arising from the mitral annulus: a distinct subgroup of idiopathic ventricular arrhythmias. J Am Coll Cardiol 45:877–886. https://doi.org/10.1016/j.jacc.2004.12.025

29.

Garbi M, Garweg C (2020) Arrhythmia in mitral valve prolapse: all roads lead to rome. J Am Coll Cardiol 76(6):650–652. https://doi.org/10.1016/j.jacc.2020.06.048

30.

Bogossian H, Frommeyer G, Ninios I, Hasan F, Nguyen QS, Karosiene Z, Mijic D, Bandorski D, Seyfarth M, Friemann J, Lemke B, Eckardt L, Zarse M (2016) Spot diagnosis of inferior axis and concordant R‑pattern predicts left ventricular inflow tract tachycardia: ablation from the great cardiac vein of an underdiagnosed entity. Int J Cardiol 214:175–179. https://doi.org/10.1016/j.ijcard.2016.03.183

31.

Baman TS, Lange DC, Ilg KJ, Gupta SK, Liu TY, Alguire C, Armstrong W, Good E, Chugh A, Jongnarangsin K et al (2010) Relationship between burden of premature ventricular complexes and left ventricular function. Heart Rhythm 7:865–869. https://doi.org/10.1016/j.hrthm.2010.03.036

32.

Kim J, Kwon M, Chang J, Harris D, Gerson MC, Hwang SS et al (2016) Meta-analysis of prognostic implications of exercise-induced ventricular premature complexes in the general population. Am J Cardiol 118:725–732
Ethics declarations
Interessenkonflikt
S. Mathew, J. Schmitt und H. Bogossian geben an, dass kein Interessenkonflikt besteht.
Für diesen Beitrag wurden von den Autoren keine Studien an Menschen oder Tieren durchgeführt. Für die aufgeführten Studien gelten die jeweils dort angegebenen ethischen Richtlinien.
About this article
Cite this article
Mathew, S., Schmitt, J. & Bogossian, H. Prognose von ventrikulären Extrasystolen. Herzschr Elektrophys 32, 14–20 (2021). https://doi.org/10.1007/s00399-021-00741-y
Received:

Accepted:

Published:

Issue Date:
Schlüsselwörter
Herzrhythmusstörungen

Arrhythmogene rechtsventrikuläre Kardiomyopathie

Plötzlicher Herztod

Katheterablation

Prognose
Keywords
Cardiac arrhythmias

Arrhythmogenic right venricular cardiomyopathy

Sudden cardiac death

Catheter ablation

Prognosis