Abstract
Atrial fibrillation (AF) is the most common arrhythmia and is highly associated with increased morbidity and mortality. Since many AF episodes remain subclinical, screening for AF is considered a desirable approach for timely diagnosis, prevention of sequelae and effective treatment. Recently, devices for AF detection—stand-alone or integrated in mobile health technology—have become available and show promising preliminary results in the detection and monitoring of arrhythmia. This review describes the technical aspects of a single-lead ECG stick and summarizes the current literature, experience in large-scale screening for AF in pharmacies and potential fields of application.
Zusammenfassung
Vorhofflimmern ist die häufigste Herzrhythmusstörung und in hohem Maße mit erhöhter Morbidität und Mortalität verbunden. Da viele Vorhofflimmerepisoden subklinisch verlaufen, ist die aktive Suche nach Vorhofflimmern eine wichtige Grundlage für die rechtzeitige Diagnose, Prävention von Folgeerkrankungen und wirksame Behandlung. Seit Kurzem sind Geräte zur Erkennung von Vorhofflimmern – als eigenständige Lösung oder integriert in mobile (Gesundheits‑)Geräte – verfügbar und zeigen erste vielversprechende Ergebnisse bei der Erkennung und Überwachung von Herzrhythmusstörungen. Diese Übersicht beschreibt die technischen Aspekte eines 1‑Kanal-EKG-Sticks und fasst die aktuelle Literatur, Erfahrungen in einem groß angelegten Screening auf Vorhofflimmern in Apotheken und mögliche Anwendungsgebiete zusammen.
This is a preview of subscription content, log in to check access.
Access options
Buy single article
Instant access to the full article PDF.
US$ 39.95
Price includes VAT for USA
Subscribe to journal
Immediate online access to all issues from 2019. Subscription will auto renew annually.
US$ 99
This is the net price. Taxes to be calculated in checkout.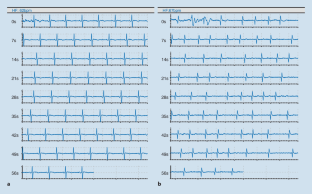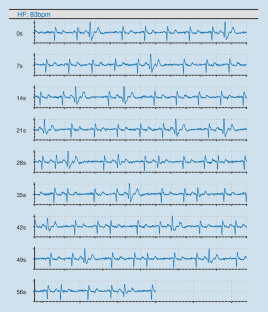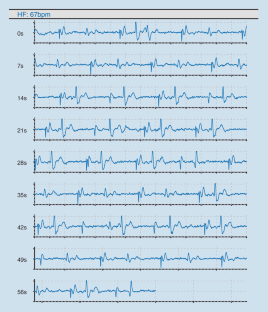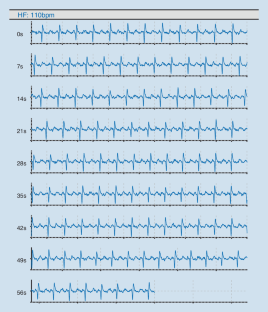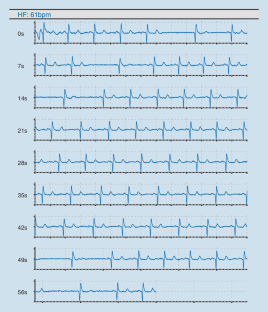 References
1.

Kirchhof P, Benussi S, Kotecha D, Ahlsson A, Atar D, Casadei B et al (2016) 2016 ESC guidelines for the management of atrial fibrillation developed in collaboration with EACTS. Eur Heart J 37(38):2893–2962

2.

Freedman B, Potpara TS, Lip GY (2016) Stroke prevention in atrial fibrillation. Lancet 388(10046):806–817

3.

Svennberg E, Engdahl J, Al-Khalili F, Friberg L, Frykman V, Rosenqvist M (2015) Mass screening for untreated atrial fibrillation: the STROKESTOP study. Circulation 131(25):2176–2184

4.

Kaasenbrood F, Hollander M, Rutten FH, Gerhards LJ, Hoes AW, Tieleman RG (2016) Yield of screening for atrial fibrillation in primary care with a hand-held, single-lead electrocardiogram device during influenza vaccination. Europace 18(10):1514–1520

5.

Chan PH, Wong CK, Poh YC, Pun L, Leung WW, Wong YF et al (2016) Diagnostic performance of a smartphone-based Photoplethysmographic application for atrial fibrillation screening in a primary care setting. J Am Heart Assoc 5(7):e3428

6.

Chan PH, Wong CK, Pun L, Wong YF, Wong MM, Chu DW et al (2017) Diagnostic performance of an automatic blood pressure measurement device, Microlife WatchBP Home A, for atrial fibrillation screening in a real-world primary care setting. BMJ Open 7(6):e13685

7.

Lowres N, Neubeck L, Redfern J, Freedman SB (2013) Screening to identify unknown atrial fibrillation. A systematic review. Thromb Haemost 110(2):213–222

8.

Perez MV, Mahaffey KW, Hedlin H, Rumsfeld JS, Garcia A, Ferris T et al (2019) Large-scale assessment of a smartwatch to identify atrial fibrillation. N Engl J Med 381(20):1909–1917

9.

Tieleman RG, Plantinga Y, Rinkes D, Bartels GL, Posma JL, Cator R et al (2014) Validation and clinical use of a novel diagnostic device for screening of atrial fibrillation. Europace 16(9):1291–1295

10.

Mairesse GH, Moran P, Van Gelder IC, Elsner C, Rosenqvist M, Mant J et al (2017) Screening for atrial fibrillation: a European Heart Rhythm Association (EHRA) consensus document endorsed by the Heart Rhythm Society (HRS), Asia Pacific Heart Rhythm Society (APHRS), and Sociedad Latinoamericana de Estimulacion Cardiaca y Electrofisiologia (SOLAECE). Europace 19(10):1589–1623

11.

Freedman B, Camm J, Calkins H, Healey JS, Rosenqvist M, Wang J et al (2017) Screening for atrial fibrillation: a report of the AF-SCREEN International Collaboration. Circulation 135(19):1851–1867

12.

Desteghe L, Raymaekers Z, Lutin M, Vijgen J, Dilling-Boer D, Koopman P et al (2017) Performance of handheld electrocardiogram devices to detect atrial fibrillation in a cardiology and geriatric ward setting. Europace 19(1):29–39

13.

Zink MD, Bruser C, Winnersbach P, Napp A, Leonhardt S, Marx N et al (2015) Heartbeat cycle length detection by a ballistocardiographic sensor in atrial fibrillation and sinus rhythm. Biomed Res Int 2015:840356

14.

Brueser C, Diesel J, Zink MD, Winter S, Schauerte P, Leonhardt S (2013) Automatic detection of atrial fibrillation in cardiac vibration signals. IEEE J Biomed Health Inform 17(1):162–171

15.

Vaes B, Stalpaert S, Tavernier K, Thaels B, Lapeire D, Mullens W et al (2014) The diagnostic accuracy of the MyDiagnostick to detect atrial fibrillation in primary care. BMC Fam Pract 15:113

16.

Jacobs MS, Kaasenbrood F, Postma MJ, van Hulst M, Tieleman RG (2016) Cost-effectiveness of screening for atrial fibrillation in primary care with a handheld, single-lead electrocardiogram device in the Netherlands. EP Europace 20(1):12–18. https://doi.org/10.1093/europace/euw285

17.

Battipaglia I, Gilbert K, Hogarth AJ, Tayebjee MH (2016) Screening for atrial fibrillation in the community using a novel ECG recorder. J Atr Fibrillation 9(2):1433

18.

Pluymaekers NAHA, Dudink EAMP, Luermans JGLM, Meeder JG, Lenderink T, Widdershoven J et al (2019) Early or delayed cardioversion in recent-onset atrial fibrillation. N Engl J Med 380(16):1499–1508

19.

Blenkinsopp A, Anderson C, Armstrong M (2003) Systematic review of the effectiveness of community pharmacy-based interventions to reduce risk behaviours and risk factors for coronary heart disease. J Public Health Med 25(2):144–153

20.

Lindsey L, Husband A, Nazar H, Todd A (2015) Promoting the early detection of cancer: a systematic review of community pharmacy-based education and screening interventions. Cancer Epidemiol 39(5):673–681

21.

Zink MKM, Keszei A, Rummey C, Freedman B, Neumann G, Tolksdorf A, Frank F, Wienströer J, Kuth N, Schulz JNM (2020) Screen-detected atrial fibrillation predicts mortality in elderly subjects. Europace. https://doi.org/10.1093/europace/euaa190

22.

Kashif M, Jonas SM, Deserno TM (2017) Deterioration of R‑Wave Detection in Pathology and Noise: A Comprehensive Analysis Using Simultaneous Truth and Performance Level Estimation. IEEE Trans Biomed Eng 64(9):2163–2175
Ethics declarations
Conflict of interest
M.D. Zink, A. Napp and M. Gramlich declare that they have no competing interests.
For this article no studies with human participants or animals were performed by any of the authors. All studies performed were in accordance with the ethical standards indicated in each case.
About this article
Cite this article
Zink, M.D., Napp, A. & Gramlich, M. Experience in screening for atrial fibrillation and monitoring arrhythmia using a single-lead ECG stick. Herzschr Elektrophys 31, 246–253 (2020). https://doi.org/10.1007/s00399-020-00711-w
Received:

Accepted:

Published:

Issue Date:
Keywords
Atrial electrical activity

Arrhythmia

Atrial flutter

Single-lead electrocardiography

Pharmacy
Schlüsselwörter
Elektrische Aktivität des Vorhofs

Herzrhythmusstörung

Vorhofflattern

1‑Kanal-Elektrokardiogramm

Apotheke