This is a preview of subscription content, log in to check access.
Access options
Buy single article
Instant access to the full article PDF.
US$ 39.95
Price includes VAT for USA
Subscribe to journal
Immediate online access to all issues from 2019. Subscription will auto renew annually.
US$ 99
This is the net price. Taxes to be calculated in checkout.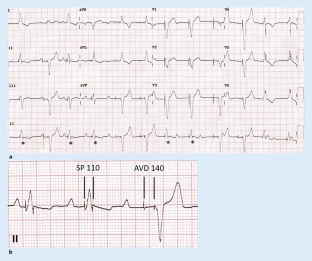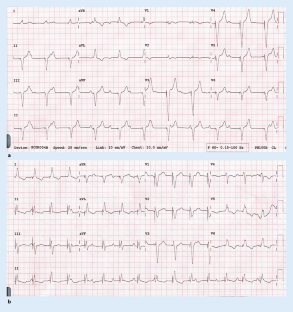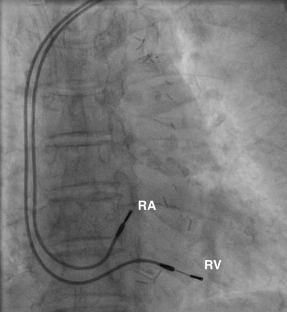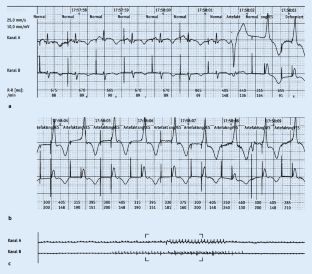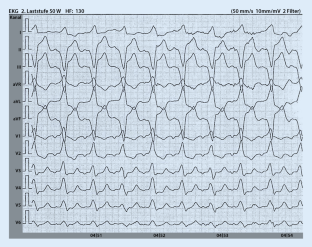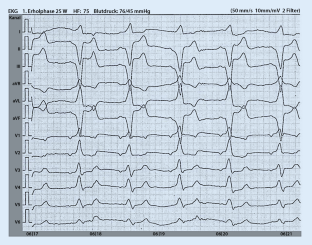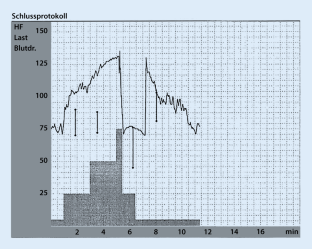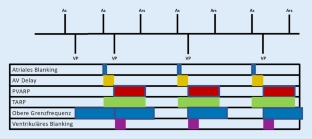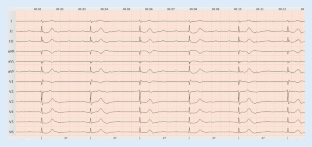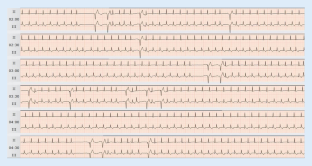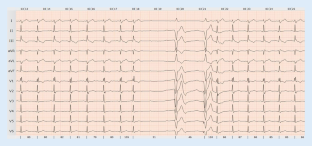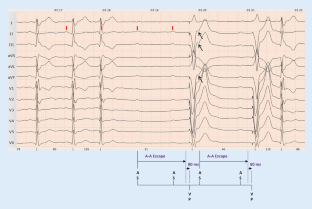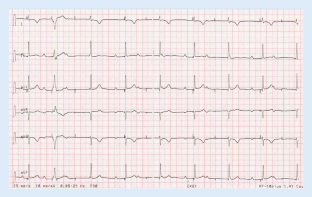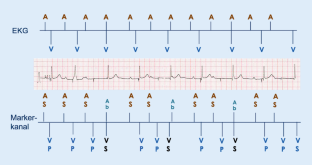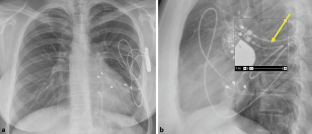 Literatur
Verwendete Literatur
1.

Barold SS, Levine PA (2001) Pacemaker repetitive nonreentrant ventriculoatrial synchronous rhythm. A review. J Interv Card Electrophysiol 5:45–58

2.

Beaufort-Krol GC, Bink-Boelkens M, Nagelkerke D, Van Gelder BM (2001) Cross-stimulation during lead impedance monitoring. Pacing Clin Electrophysiol 24:1696–1698

3.

Johri AM, Baranchuk A, Simpson CS et al (2008) Is this pacemaker working properly? Prolongation of the atrial escape interval following activation of the ventricular safety pacing algorithm in a dual-chamber implantable cardioverter defibrillator with atrial-based, lower rate timing. Can J Cardiol 24:e43–e44

4.

Kaufman ES, Israel CW, Nair GM, Armaganijan L, Divakaramenon S, Mairesse GH, Brandes A, Crystal E, Costantini O, Sandhu RK, Parkash R, Connolly SJ, Hohnloser SH, Healey JS (2012) Positive predictive value of device-detected atrial high-rate episodes at different rates and durations: an analysis from ASSERT. Heart Rhythm 9:1241–1246

5.

Lee S, Wellens HJ, Josephson ME (2009) Paroxysmal atrioventricular block. Heart Rhythm 6:1229–1234

6.

Shenasa M, Josephson ME, Al Wit (2017) Paroxysmal atrioventricular block: Electrophysiological mechanism of phase 4 conduction block in the His-Purkinje system: A comparison with phase 3 block. Pacing Clin Electrophysiol 40:1234–1241

7.

Vijayaraman P, Mk C, Dandamudi G et al (2018) His Bundle Pacing. J Am Coll Cardiol 72:927–947
Weiterführende Literatur
8.

Love CJ (2011) Pacemaker troubleshooting and follow-up. In: Ellenbogen KA (Hrsg) Clinical cardiac pacing, Defibrillation, and Resynchronization therapy, 4. Aufl. Elsevier, Philadelphia

9.

Watanabe H, Miyamura H, Hayashi J et al (1997) DDD pacemaker implantation in the patient underwent Maze procedure. Kyobu Geka 50:235–238
Ethics declarations
Interessenkonflikt
E.E. Gul, A. Baranchuk, B. Brüggemann, T.S. Faber, N. Gosau, S. Haseeb, C.W. Israel, M. Melhem, D. Mijic, J. Steinfurt, R.R. Tilz, J. Vogler und S. Willems geben an, dass kein Interessenkonflikt besteht.
Dieser Beitrag beinhaltet keine von den Autoren durchgeführten Studien an Menschen oder Tieren.
About this article
Cite this article
Gul, E.E., Baranchuk, A., Brüggemann, B. et al. Schrittmacher- und ICD-Elektrokardiogramme. Herzschr Elektrophys 30, 11–23 (2019). https://doi.org/10.1007/s00399-019-0610-6
Received:

Accepted:

Published:

Issue Date: