Zusammenfassung
Telemonitoring als schon heute realisierte Umsetzung der digitalen Transformation im Gesundheitswesen unterstützt die Versorgung von Menschen mit chronischen Erkrankungen, wie Herzinsuffizienz, und bietet eine Möglichkeit, die Kontinuität der Versorgung nachhaltig und flächendeckend sicherzustellen. Nichtsdestotrotz haben sich Telemonitoring-Lösungen bisher nur unzureichend auf dem Gesundheitsmarkt etabliert. Um die zukünftige Entwicklung des Gesundheitsmarktes zu untersuchen und daraus Schlussfolgerungen für die Anbieter von Telemonitoring-Lösungen abzuleiten, wurde gemeinsam mit Experten aus Politik, Wissenschaft und Praxis eine Szenarioanalyse "Gesundheitssystem 2025 – Ein Platz für Telemonitoring?" durchgeführt. Für diese Analyse wurden 2 Workshops sowie Expertenbefragungen durchgeführt. Unterstützt wurde sie durch eine Software zur Szenarioanalyse. Aufbauend auf der Analyse des aktuellen Stands sowie den Diffusionstreibern und -hemmnissen von Telemonitoring wurden die Faktoren identifiziert, die den größten Einfluss auf die zukünftige, für Telemonitoring-Anbieter relevante Entwicklung des Gesundheitsmarktes haben. Auf Basis dieser Einflussfaktoren wurden 3 unterschiedliche Szenarien ermittelt: (1) "verwalten statt gestalten", (2) "sicher in die Zukunft" sowie (3) "vernetzter und digitaler Aufbruch". In der sich anschließenden Konsequenzanalyse wurden Entwicklungstätigkeiten definiert, welche die notwendigen Infrastrukturleistungen, Software-Instrumente, Organisationstrukturen und Dienstleistungen umsetzen und mögliche Aktivitäten diskutieren, die aus heutiger Sicht den Weg eines Anbieters von Telemonitoring-Lösungen in die Zukunft bereiten könnten.
Abstract
Telemonitoring is an already realized implementation of digital transformation in the healthcare system. It has the potential to support and secure a sustainable and comprehensive provision of healthcare for a rising number of chronically ill patients, e. g. patients with chronic heart failure. Remote regions in particular can profit from the benefits of telemonitoring; however, so far telemonitoring services have not become truly established in the German healthcare market. Together with experts from politics, science and practice, a scenario analysis "Health Care System 2025 – A Place for Telemonitoring?" was carried out with the aim to examine the future development of the healthcare market and to draw conclusions for providers of telemonitoring services or devices. The scenario analysis contained two workshops and an expert survey and was supported by a scenario software. The current drivers and barriers of the diffusion of telemonitoring were identified and the most relevant factors that influence the future development of the healthcare market were discussed. Based on those influencing factors, three different scenarios were determined: (1) administrating rather than shaping, (2) safely into the future and (3) interconnected and digital world. In the subsequent consequence analysis activities were defined, which describe the necessary infrastructure, software instruments, organizational structures and provision of services and discuss possible activities, which prepare telemonitoring solutions for the future.
Access options
Buy single article
Instant access to the full article PDF.
US$ 39.95
Tax calculation will be finalised during checkout.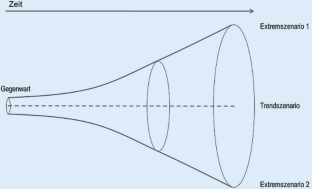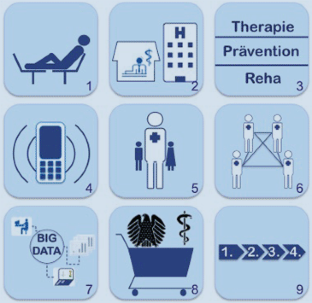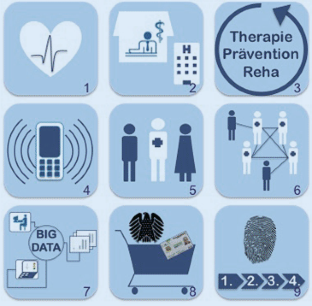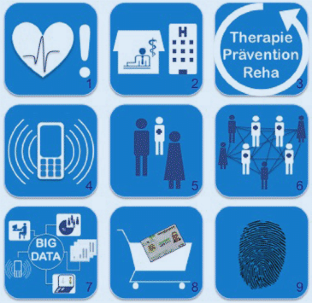 Literatur
1.

Angermann CE, Störk S, Gelbrich G et al (2012) Mode of action and effects of standardized collaborative disease management on mortality and morbidity in patients with systolic heart failure: the Interdisciplinary Network for Heart failure (INH) study. Circ Heart Fail 5:25–35

2.

Augustin U, Henschke C (2012) Does telemonitoring lead to health and economic benefits in patients with chronic heart failure? – a systematic review. Gesundheitswesen 74:e114–121

3.

Beolchi L, Facchinetti S (2003) European telemedicine glossary of concepts, standards, technologies and users. European Commission ISD-G, Brussels

4.

Böhm K, Tesch-Römer C, Ziese T (2009) Gesundheit und Krankheit im Alter. Robert Koch-Institut, Berlin

5.

Boriani G, Da Costa A, Quesada A et al (2016) Effects of remote monitoring on clinical outcomes and use of healthcare resources in heart failure patients with biventricular defibrillators: results of the MORE-CARE multicentre randomized controlled trial. Eur J Heart Fail. doi:10.1002/ejhf.626

6.

Clark RA, Inglis SC, Mcalister FA et al (2007) Telemonitoring or structured telephone support programmes for patients with chronic heart failure: systematic review and meta-analysis. BMJ. doi:10.1136/bmj.39156.536968.55

7.

Di Lenarda A, Casolo G, Gulizia MM et al (2016) ANMCO/SIC/SIT Consensus document: The future of telemedicine in heart failure. G Ital Cardiol (Rome) 17:491–507

8.

Ekeland AG, Bowes A, Flottorp S (2010) Effectiveness of telemedicine: a systematic review of reviews. Int J Med Inform 79:736–771

9.

Hindricks G, Taborsky M, Glikson M et al (2014) Implant-based multiparameter telemonitoring of patients with heart failure (IN-TIME): a randomised controlled trial. Lancet 384:583–590

10.

Hindricks G, Varma N, Kacet S et al (2017) Daily remote monitoring of implantable cardioverter-defibrillators: insights from the pooled patient-level data from three randomized controlled trials (IN-TIME, ECOST, TRUST). Eur Heart J 38:1749–1755

11.

Inglis SC, Clark RA, Mcalister FA et al (2011) Which components of heart failure programmes are effective? A systematic review and meta-analysis of the outcomes of structured telephone support or telemonitoring as the primary component of chronic heart failure management in 8323 patients: Abridged Cochrane Review. Eur J Heart Fail 13:1028–1040

12.

Kitsiou S, Paré G, Jaana M (2015) Effects of home telemonitoring interventions on patients with chronic heart failure: an overview of systematic reviews. J Med Internet Res 17:e63

13.

Koehler F, Winkler S, Schieber M et al (2011) Impact of remote telemedical management in mortality and hospitalization in ambulatory patients with chronic heart failure. Circulation 123:1873–1880

14.

Kopetsch T (2010) Dem deutschen Gesundheitswesen gehen die Ärzte aus! Studie zur Altersstruktur- und Arztzahlenentwicklung. Bundesärztekammer und Kassenärztliche Bundesvereinigung, Berlin

15.

Moore C, Wisnivesky J, Williams S et al (2003) Medical errors related to discontinuity of care from an inpatient to an outpatient setting. J Gen Intern Med 18:646–651

16.

O.V. (2011) mHealth: New horizons for health through mobile technologies_ second global survey on eHealth. In:WHO

17.

Reibnitz UV (1992) Szenario-Technik. Gabler, Wiesbaden

18.

Reiter B, Turek J, Weidenfeld W (2011) Telemedizin-Zukunftsgut im Gesundheitswesen: Gesundheitspolitik und Gesundheitsökonomie zwischen Markt und Staat. Ludwig-Maximilians-Universität, München

19.

Rybak K (2016) Telemonitoring in der Devicetherapie: gelebte Wirklichkeit? Aktuel Kardiol 5:101–111

20.

Sardu C, Santamaria M, Rizzo MR et al (2016) Telemonitoring in heart failure patients treated by cardic resynchronisation therapy with defibrillator (CRT-D): the TELECART Study. Int J Clin Pract 70:569–576

21.

Schoen C, Osborn R, Squires D et al (2011) New 2011 survey of patients with complex care needs in eleven countries finds that care is often poorly coordinated. Health Aff 30:2437–2448

22.

Sohn S, Helms TM, Pelleter JT et al (2012) Costs and benefits of personalized healthcare for patients with chronic heart failure in the care and education program "Telemedicine for the heart". Telemed E Health 18:198–204

23.

Sousa C, Leite S, Lagido R et al (2014) Telemonitoring in heart failure: A state-of-the-art review. Rev Port Cardiol 33:229–239

24.

Zippel-Schultz B, Bogenstahl C, Schultz C (2005) Akzeptanz der Integrierten Versorgung. In: Schultz C, Gemuenden HG, Salomo S (Hrsg) Akzeptanz der Telemedizin. Minerva, Darmstadt, S 215–244
Danksagung
Wir bedanken uns bei den Experten, die uns in den Workshops und Experteninterviews bei der Erstellung der Szenarioanalyse unterstützt haben sowie bei ITONICS GmbH für die kostenlose Bereitstellung der Software Foresight-Manager für die Szenarioanalyse, www.itonics.de
Ethics declarations
Interessenkonflikt
B. Zippel-Schultz, C. Schultz und T.M. Helms geben an, dass kein Interessenkonflikt besteht. Die Szenarioanalyse wurde durch die Telekom AG gefördert. Diese hat jedoch auf die inhaltliche Ausgestaltung und Auswertung keinen Einfluss ausgeübt.
Dieser Beitrag beinhaltet keine von den Autoren durchgeführten Studien an Menschen oder Tieren.
About this article
Cite this article
Zippel-Schultz, B., Schultz, C. & Helms, T.M. Aktueller Stand und Zukunft des Telemonitoring. Herzschr Elektrophys 28, 245–256 (2017). https://doi.org/10.1007/s00399-017-0520-4
Received:

Accepted:

Published:

Issue Date:
Schlüsselwörter
Gesundheitswesen

Szenarioanalyse

Telemedizin

Erfolgsfaktoren

Digitale Transformation
Keywords
Healthcare system

Scenario analysis

Telemedicine

Success factors

Digital transformation