Abstract
With the growing recognition of the clinical need and wider indications for cardiovascular implantable electronic devices (CIED), the number of implant procedures has increased considerably. Consequently, the rate of complications related to these devices has also increased. Transvenous lead extraction (TLE) is the gold standard in the treatment of CIED-related infective complications and is often required in the management of lead malfunction. An increasing number of centers currently perform TLE procedures. The ELECTRa (European Lead Extraction ConTRolled) Registry is the first large prospective multicenter registry of consecutive patients undergoing TLE in Europe, conducted by the European Heart Rhythm Association (EHRA) and managed by the European Society of Cardiology (ESC) EURObservational Research Department. The primary objective of the registry is to evaluate the acute and long-term safety of TLE; the secondary objective is to describe the characteristics of the patients, the leads, the indications for TLE, and the tools and techniques currently used for TLE. About 100 centers will be enrolled on a voluntary basis from European countries; they are anonymous and stratified on the basis of their volume of activity into high-volume centers (> 30 patients/year) and low-volume centers: (≤ 30 patients/year). Each participating center will have to enroll and follow up for 1 year consecutively assessed patients undergoing TLE from November 2012 to January 2014. The target is to achieve a sample size of at least 3,500 patients for statistical analysis. Data will be collected using a Web-based system and will be audited at randomly selected centers. The official start was on 6 November. Eighty-nine centers have joined so far, 65 centers are currently active, those who have already obtained the approval of their own ethics committee, and 1,099 patients were enrolled at the end of June 2013. The independence of the registry, the consecutiveness of the patient enrolment, and the monitoring of the study are characteristics of this registry that will contribute to the scientific validity of the objectives to be achieved.
Zusammenfassung
Dank der zunehmenden Wahrnehmung eines klinischen Bedürfnisses und breiterer Indikationen, ist die Anzahl an CIED-Implantationen stark angestiegen – und somit auch die Anzahl an Komplikationen, die von diesen Geräten ausgehen. Die Transvenöse Elektrodenextraktion (Transvenous Lead Extraction (TLE)) ist die bewährte Methode für die Behandlung von CIED-bezogenen infektiösen Komplikationen und wird oft im Management von Elektrodenfehlfunktionen gebraucht. Immer mehr Herzzentren bieten nun TLE an.
Das ELECTRa (European Lead Extraction ConTRolled)-Register ist das erste großflächige, multizentrische Register für TLE-Patienten in Europa. Es wird von der European Heart Rhythm Association (EHRA) realisiert und von der ESC EURObservational Research Department verwaltet.
Primärziel des Registers ist es, die kurz- und langfristige Sicherheit von TLE zu erfassen; sekundär dazu sollen die Patienteneigenschaften, die Elektroden, die Indikationen für TLE, und die Instrumente und Techniken, die aktuell für das Verfahren verwendet werden, beschrieben und festgehalten werden.
Rund 100 Herzzentren in europäischen Ländern werden freiwillig teilnehmen; diese werden anonym eingetragen und stratifiziert nach Aktivitätsvolumen in Hochvolumen- (> 30 Patienten/Jahr) und Niedrigvolumenzentren (≤ 30 Patienten/Jahr).
Jedes teilnehmende Zentrum muss alle konsekutiv bewertete TLE-Patienten, die zwischen November 2012 und Januar 2014 einer TLE unterzogen wurden bzw. werden, eintragen und 1 Jahr lang nach der OP beobachten. Ziel dabei ist es, einen ausreichend großen Probenumfang für die statistische Analyse zu erreichen (mindestens 3.500 Patienten). Sämtliche Daten werden mit einem webbasierten System gesammelt und in zufällig ausgewählten Zentren überprüft.
Offizieller Startschuss war am 6. November 2012. Seitdem haben sich 89 Zentren gemeldet, davon sind 65 – diejenigen, die bereits die Zustimmung des eigenen Ethikkomitees haben – jetzt aktiv. Das Ergebnis: bis Ende Juni 2013 waren bereits 1.099 Patienten eingetragen.
Die Unabhängigkeit des Registers, die konsekutive Patienteneintragung und die Überwachung der Studie werden gemeinsam zur wissenschaftlichen Validität der erreichten Zielen beitragen.
Access options
Buy single article
Instant access to the full article PDF.
USD 39.95
Price excludes VAT (USA)
Tax calculation will be finalised during checkout.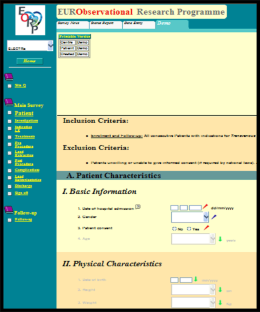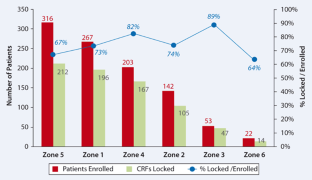 References
Greenspon AJ, Patel JDL, Ho RT et al (2012) Trends in permanent pacemaker implantation in the United States from 1993–2009: increasing complexity of patients and procedures. J Am Coll Cardiol 60:1540–1545

Van Veldhuisen DJ, Maass AH, Priori SG, Stolt P, van Gelder IC, Dickstein K et al (2009) Implementation of device therapy (cardiac resynchronization therapy and implantable cardioverter defibrillator) for patients with heart failure in Europe: changes from 2004 to 2008. Eur J Heart Fail 11:1143–1151

Epstein AE, DiMarco JP, Ellenbogen KA, Estes NA 3rd, Freedman RA, Gettes LS, Gillinov AM et al (2008) ACC/AHA/HRS 2008 Guidelines for Device-Based Therapy of Cardiac Rhythm Abnormalities: a report of the American College of Cardiology/American Heart Association Task Force on Practice Guidelines (Writing Committee to Revise the ACC/AHA/NASPE 2002 Guideline update for Implantation of Cardiac Pacemakers and Antiarrhythmia Devices) developed in collaboration with the American Association for Thoracic Surgery; Society of Thoracic Surgeons. J Am Coll Cardiol 51(21):e1–62

Wilkoff BL, Love CJ, Byrd CL, Bongiorni MG, Carrillo RG, Crossley GH3rdetal (2009) Transvenous lead extraction: Heart Rhythm Society expert consensus on facilities, training, indications, and patient management. Heart Rhythm 6:1085–1104

Deharo JC, Bongiorni MG, Rozkovec A, Bracke F, Defaye P, Fernandez-Lozano I et al (2012) Pathways for training and accreditation for transvenous lead extraction: a European Heart Rhythm Association position paper. Europace 14:124–134

Bongiorni MG, Blomstrom-Lundqvist C, Kennergren C, Dagres N, Pison L, Hastrup Svendsen J, Auricchio A (2012) Current practice in transvenous lead extraction: a European Heart Rhythm Association EP Network Survey. Europace 14:783–786

Van Erven L, Morgan JM (2010) Scientific Initiatives Committee (SIC). Attitude towards redundant leads and the practice of lead extractions: a European survey. Europace 12:275–276

Henrikson CA, Zhang K, Brinker JA (2010) A survey of the practice of lead extraction in the United States. Pacing Clin Electrophysiol 33:721–726
Conflict of interest.
The authors declare that they have no conflict of interest.
About this article
Cite this article
Bongiorni, M., Romano, S., Kennergren, C. et al. ELECTRa (European Lead Extraction ConTRolled) Registry—Shedding light on transvenous lead extraction real-world practice in Europe. Herzschr Elektrophys 24, 171–175 (2013). https://doi.org/10.1007/s00399-013-0279-1
Received:

Accepted:

Published:

Issue Date:

DOI: https://doi.org/10.1007/s00399-013-0279-1
Keywords
Transvenous lead extraction

European registry

Pacing and lead complications
Schlüsselwörter
Transvenöse Elektrodenextraktion

europäisches Register

Schrittmacher- und Elektrodenkomplikationen