Zusammenfassung
Die Fallot-Tetralogie (TOF) ist der häufigste angeborene, zyanotische Herzfehler. Heutzutage ist die Korrekturoperation im Säuglingsalter die Therapie der Wahl. Diese kann auch beim symptomatischen Neugeborenen mit durchweg guten Ergebnissen durchgeführt werden. Die eindeutigen Vorteile der Frühkorrektur haben sich sowohl durch die positiven Auswirkungen auf die postnatale Phase der Lungenentwicklung als auch durch den günstigen Langzeitverlauf der rechtsventrikulären Funktion dieser Patienten gezeigt. Im vorgestellten Kurzbeitrag und im beigefügten Videomaterial wird die chirurgische Versorgung einer TOF schrittweise anschaulich dargestellt.
Abstract
Tetralogy of Fallot (TOF) is the most common congenital cyanotic heart defect. Nowadays, the primary corrective surgery during infancy is the treatment of choice. This can also be done in symptomatic neonates with relatively good results. The clear advantages of early correction have been demonstrated both by the positive effects on the postnatal phase of lung development and by the very favorable long-term course of the right ventricular function of these patients. This article and the accompanying video clip of the operation (available online) illustrate the surgical repair of a TOF.
Access options
Buy single article
Instant access to the full article PDF.
US$ 39.95
Tax calculation will be finalised during checkout.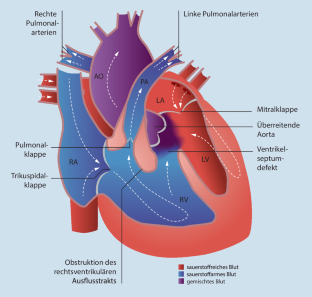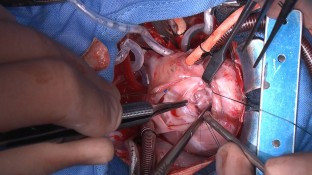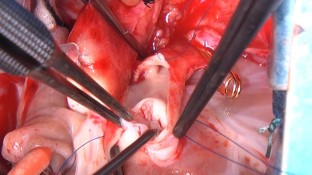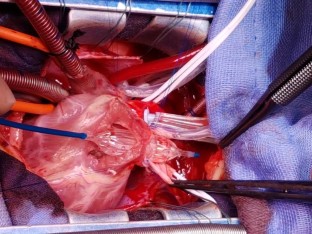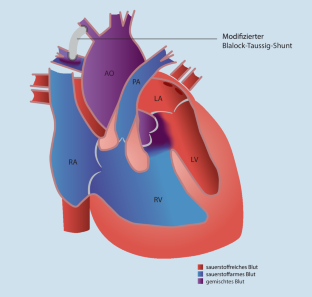 Literatur
1.

Weil J, Bertram H, Sachweh JS (2011) S2k-Leitlinie Fallotsche Tetralogie der Deutschen Gesellschaft für Pädiatrische Kardiologie (DGPK). http://www.awmf.org/leitlinien/detail/ll/023-015.html. Zugegriffen: 26. Nov. 2020

2.

Blalock A, Taussig HB (1945) The surgical treatment of malformations of the heart in which there is pulmonary stenosis or atresia. JAMA 128:189–202

3.

Niehaus H, Ono M (2014) Moderne Therapiestrategien bei Fallot-Tetralogie. Z Herz- Thorax- Gefäßchir 28:31–44

4.

Ziemer G, Haverich A (2012) Herzchirurgie, 3. Aufl. Springer, Berlin Heidelberg New York Tokio, S 379–394

5.

Bacha EA, Scheule AM, Zurakowski D et al (2001) Long-term results after early primary repair of tetralogy of Fallot. J Thorac Cardiovasc Surg 122:154–161

6.

Funkat AK, Beckmann A, Lewandowski J et al (2012) Cardiac surgery in Germany during 2011: a report on behalf of the German Society for Thoracic and Cardiovascular Surgery. Thorac Cardiovasc Surg 60:371–382

7.

Nollert G, Fischlein T, Bouterwek S et al (1997) Long-term survival in patients with repair of tetralogy of Fallot: 36-year follow-up of 490 survivors of the first year after surgical repair. J Am Coll Cardiol 30:1374–1383

8.

Hickey EJ, Veldtman G, Bradley TJ et al (2009) Late risk of outcomes for adults with repaired tetralogy of fallot from an inception cohort spanning four decades. Eur J Cardiothorac Surg 35:156–164

9.

Kirklin JW, Dushane JW, Patrick RT et al (1955) Intracardiac surgery with the aid of a mechanical pump-oxygenator system (gibbon type): report of eight cases. Proc Staff Meet Mayo Clin 30:201–206

10.

Gerelli S, Steenberghe MV, Murtuza B et al (2013) Neonatal right ventricle to pulmonary connection as a palliative procedure for pulmonary atresia with ventricular septal defect or severe tetralogy of Fallot. Eur J Cardiothorac Surg. https://doi.org/10.1093/ejcts/ezt401
Danksagung
Wir danken Jörg Rodrian für die exzellente Videoaufnahme und -bearbeitung.
Ethics declarations
Interessenkonflikt
C. Jaschinski, P. Grieshaber, M. Uzdenov und T. Loukanov geben an, dass kein Interessenkonflikt besteht.
Für diesen Beitrag wurden von den Autoren keine Studien an Menschen oder Tieren durchgeführt. Für die aufgeführten Studien gelten die jeweils dort angegebenen ethischen Richtlinien. Für Bildmaterial oder anderweitige Angaben innerhalb des Manuskripts, über die Patienten zu identifizieren sind, liegt von ihnen und/oder ihren gesetzlichen Vertretern eine schriftliche Einwilligung vor.
Additional information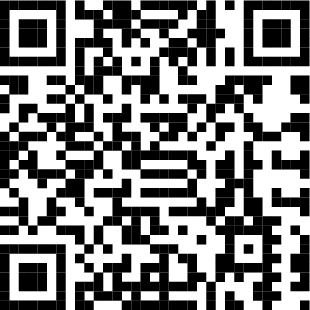 QR-Code scannen & Beitrag online lesen
Supplementary Information
Video online: Chirurgische Korrektur der Fallot-Tetralogie. (Mit freundl. Genehmigung von © Dr. C. Jaschinski, PD Dr. P. Grieshaber, M. Uzdenov, Prof. Dr. T. Loukanov und J. Rodrian, Universitätsklinikum Heidelberg 2020. Alle Rechte vorbehalten)
About this article
Cite this article
Jaschinski, C., Grieshaber, P., Uzdenov, M. et al. Fallot-Tetralogie. Z Herz- Thorax- Gefäßchir (2021). https://doi.org/10.1007/s00398-021-00447-w
Schlüsselwörter
Herzchirurgische Prozeduren

Patch

Video

Anatomie

Nahttechniken
Keywords
Heart surgical procedures

Patch

Video

Anatomy

Suture techniques