Zusammenfassung
Die Konservierung von Lungen für die Transplantation ist durch die kalte Ischämie und die primäre Graft-Dysfunktion limitiert. Die normotherme Ex-vivo-Lungenperfusion ermöglicht experimentell eine 24-h-Konservierung und außerdem die kontinuierliche Überwachung der Organfunktion durch Bestimmung des Atemwegsspitzendruckes sowie des pulmonalvaskulären Widerstands. Die Beimischung von Erythrozytenkonzentraten und Albumin zur Ex-vivo-Perfusionslösung erscheint sinnvoll, um den onkotischen Druck zu erhöhen. In einer Pilotstudie zum ersten klinischen Einsatz des Organ Care System (OCS) Lung erhielten 12 Empfänger, zum größten Teil Hochrisikopatienten, mit guten Ergebnissen Spenderlungen, die mithilfe der transportierbaren Ex-vivo-Perfusion konserviert worden waren. Bei der Mehrzahl der Transplantate handelte es sich um Lungen mit erweiterten Spenderkriterien. In der nachfolgenden großen, randomisierten, multizentrischen, internationalen INSPIRE-Studie mit 320 Patienten waren die Konservierung von Standardlungen im OCS einer kalten Lagerung statistisch nicht unterlegen ("noninferior") und die Häufigkeit einer schweren primären Graft-Dysfunktion signifikant niedriger. In der entsprechenden EXPAND-Studie bei 93 Spenderlungen mit erweiterten Kriterien wurden die Endpunkte zur Verwendungsrate und zum Patientenüberleben erreicht, es zeigte sich aber eine erhöhte Häufigkeit einer primären Graft-Dysfunktion. Es wird geschlussfolgert, dass die normotherme Ex-vivo-Lungenperfusion sicher ist, dass sie verlängerte Konservierungszeiten erlaubt, die primäre Graft-Dysfunktion reduziert und die Rekrutierung zusätzlicher Lungen mit erweiterten Spenderkriterien ermöglicht.
Abstract
Preservation of the lungs for transplantation is limited by cold ischemia and primary graft dysfunction. Normothermic ex vivo lung perfusion experimentally enables a 24 h preservation and also the continuous monitoring of organ function by determination of the peak airway pressure and pulmonary vascular resistance. The addition of red blood cell concentrates and albumin to the ex vivo perfusion solution appears to be meaningful in order to increase the oncotic pressure. In a pilot study on the first clinical use of the Organ Care System (OCS) Lung, 12 mainly high risk, recipients received lungs mostly from extended criteria donors, preserved using transportable ex vivo lung perfusion with good results. In the ensuing large randomized, multicenter, international INSPIRE study with 320 patients, the preservation of standard donor lungs with the OCS was statistically not inferior to cold storage and resulted in a significantly lower frequency of severe primary graft dysfunction. In the corresponding EXPAND trial using 93 donor lungs with extended criteria, the endpoints for organ utilization rate and patient survival were achieved; however, an increased frequency of primary graft dysfunction was shown. It is concluded that normothermic ex vivo lung perfusion is safe, enables prolonged preservation times, reduces primary graft dysfunction and enables additional procurement of lungs with extended donor criteria.
Access options
Buy single article
Instant access to the full article PDF.
US$ 39.95
Tax calculation will be finalised during checkout.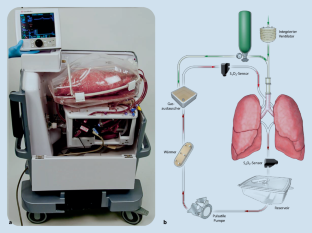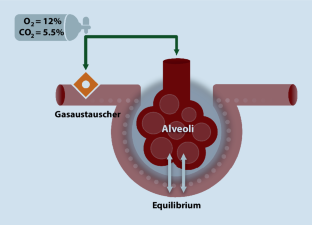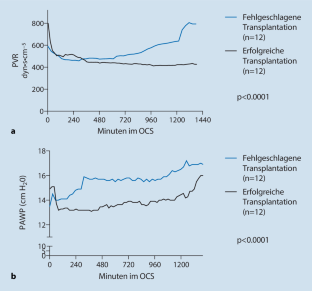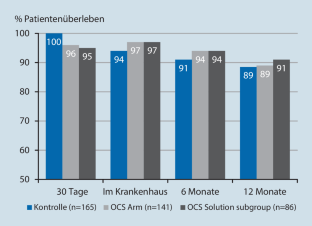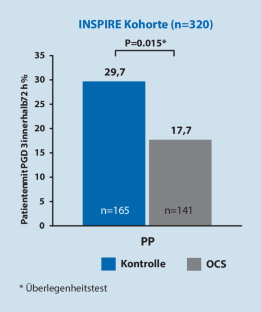 Literatur
1.

www.dso.de. Zugegriffen: 08.02.2021

2.

Ingemansson R, Eyjolfsson A, Mared L, Pierre L, Algotsson L, Ekmehag B, Gustafsson R, Johnsson P, Koul B, Lindstedt S, Lührs C, Sjöberg T, Steen S (2009) Clinical transplantation of initially rejected donor lungs after reconditioning ex vivo. Ann Thorac Surg 87(1):255–260

3.

Andreasson A, Karamanou DM, Perry JD, Perry A, Oezalp F, Butt T et al (2014) The effect of ex vivo lung perfusion on microbial load in human donor lungs. j Heart Lung transplant 33:910–916

4.

Diamond JM, Lee JC, Kawut SM, Shah RJ, Localio AR, Bellamy SL, Lederer DJ, Cantu E, Kohl BA, Lama VN, Bhorade SM, Crespo M, Demissie E, Sonett J, Wille K, Orens J, Shah AS, Weinacker A, Arcasoy S, Shah PD, Wilkes DS, Ware LB, Palmer SM, Christie JD, Lung Transplant Outcomes Group (2013) Clinical risk factors for primary graft dysfunction after lung transplantation. Am J Respir Crit Care Med 187(5):527–534

5.

Whitson BA, Prekker ME, Herrington CS et al (2007) Primary graft dysfunction and long-term pulmonary function after lung transplantation. J Heart Lung Transplant 26:1004–1011

6.

Shah RJ, Diamond JM (2018) Primary graft dysfunction (PGD) following lung transplantation. Semin Respir Crit Care Med 39(2):148–154. https://doi.org/10.1055/s-0037-1615797

7.

https://ishlt.org/research-data/registries/ttx-registry. Zugegriffen: 08.02.2021

8.

Sommer W, Salman J, Avsar M, Hoeffler K, Jansson K, Siemeni TM, Knoefel AK, Ahrens L, Poyanmehr R, Tudorache I, Braubach P, Jonigk D, Haverich A, Warnecke G (2019) Prediction of transplant outcome after 24-hour ex vivo lung perfusion using the Organ Care System in a porcine lung transplantation model. Am J Transplant 19:345–355

9.

Warnecke G, Moradiellos J, Tudorache I, Kühn C, Avsar M, Wiegmann B, Sommer W, Ius F, Kunze C, Gottlieb J, Varela A, Haverich A (2012) Normothermic perfusion of donor lungs for preservation and assessment with the Organ Care System Lung before bilateral transplantation: a pilot study of 12 patients. Lancet 380:1851–1858

10.

Warnecke G, Van Raemdonck D, Smith MA, Massard G, Kukreja J, Rea F, Loor G, De Robertis F, Nagendran J, Dhital KK, Moradiellos Díez FJ, Knosalla C, Bermudez CA, Tsui S, McCurry K, Wang IW, Deuse T, Lesèche G, Thomas P, Tudorache I, Kühn C, Avsar M, Wiegmann B, Sommer W, Neyrinck A, Schiavon M, Calebrese F, Santelmo N, Olland A, Falcoz PE, Simon AR, Varela A, Madsen JC, Hertz M, Haverich A, Ardehali A (2018) Normothermic ex-vivo preservation with the portable Organ Care System Lung device for bilateral lung transplantation (INSPIRE): a randomised, open-label, non-inferiority, phase 3 study. Lancet Respir Med 6:357–367

11.

Loor G, Warnecke G, Villavicencio MA, Smith MA, Kukreja J, Ardehali A, Hartwig M, Daneshmand MA, Hertz MI, Huddleston S, Haverich A, Madsen JC, Van Raemdonck D (2019) Portable normothermic ex-vivo lung perfusion, ventilation, and functional assessment with the Organ Care System on donor lung use for transplantation from extended-criteria donors (EXPAND): a single-arm, pivotal trial. Lancet Respir Med 7(11):975–984

12.

Figueiredo C, Carvalho Oliveira M, Chen-Wacker C, Jansson K, Höffler K, Yuzefovych Y, Pogozhykh O, Jin Z, Kühnel M, Jonigk D, Wiegmann B, Sommer W, Haverich A, Warnecke G, Blasczyk R (2019) Immunoengineering of the vascular endothelium to silence MHC expression during normothermic ex vivo lung perfusion. Hum Gene Ther 30:485–496
Ethics declarations
Interessenkonflikt
G. Warnecke weist auf folgende Beziehungen hin: Forschungsförderung und Kongressreisenaufwandsentschädigung von Transmedics, Inc., Andover, MA.
Für diesen Beitrag wurden vom Autor keine Studien an Menschen oder Tieren durchgeführt. Für die aufgeführten Studien gelten die jeweils dort angegebenen ethischen Richtlinien.
Additional information
Der Inhalt dieser Arbeit wurde 2020 mit dem Franz-Köhler-Preis der Deutschen Gesellschaft für Thorax‑, Herz- und Gefäßchirurgie (DGTHG) ausgezeichnet.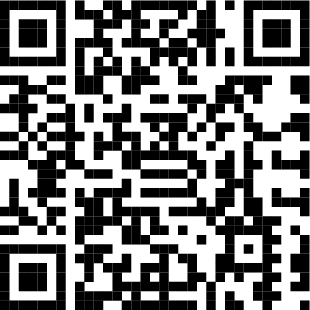 QR-Code scannen & Beitrag online lesen
About this article
Cite this article
Warnecke, G. Normotherme maschinelle Ex-vivo-Perfusion von Spenderlungen. Z Herz- Thorax- Gefäßchir (2021). https://doi.org/10.1007/s00398-021-00442-1
Received:

Accepted:

Published:
Schlüsselwörter
Organkonservierung

Extrakorporale Zirkulation

Pulmonary vascular resistance

Primäre Graft-Dysfunktion

Ischämie‑/Reperfusionsschaden
Keywords
Organ preservation

Extracorporeal circulation

Pulmonary vascular resistance

Primary graft dysfunction

Ischemia/reperfusion injury