Zusammenfassung
Hintergrund
Herzchirurgische Eingriffe mit der Herz-Lungen-Maschine (HLM) induzieren durch die Aktivierung multipler Entzündungskaskaden eine systemische Entzündungsreaktion. Diese kann in der postoperativen Phase das systemische inflammatorische Response-Syndrom (SIRS) auslösen. Die Aktivierung verschiedener Entzündungsmediatoren (Interleukin-6 [IL-6], Tumor-Nekrose-Faktor-α [TNF-α] etc.) kann postoperativ zu Komplikationen, Organdysfunktionen, Morbidität und Mortalität führen.
Ziel der Arbeit
Der Effekt der Adsorption von Zytokinen durch CytoSorb® an der HLM bei kardiochirurgischen Eingriffen soll evaluiert werden.
Material und Methode
In 3 Vergleichsgruppen von je 100 Patienten, die sich einer elektiven Myokardrevaskularisation unterziehen, werden insgesamt 300 Patienten verglichen: Myokardrevaskularisation mit Einsatz von HLM und CytoSorb® (Cytosorb-Gruppe), mit Einsatz der HLM ("On-pump"-Gruppe) und ohne HLM ("Off-pump"-Gruppe). Primärer Studienendpunkt ist die Entzündungsreaktion, gemessen im Serum mithilfe von IL-6, IL-8, TNF-α, C3/C4-Komplement, Leukozytenzahl und C‑reaktivem Protein. Sekundäre Endpunkte sind Dauer des Krankenhaus-/Intensivstationaufenthalts, Beatmungszeit, Dauer der Katecholamintherapie, Nierenfunktionsstörungen sowie "major adverse cardiac and cerebrovascular events" (MACCE: Mortalität, Myokardinfarkt und zerebrovaskuläre Ereignisse).
Ergebnisse
Eine Interimsanalyse nach 60 % des geplanten Patientenkollektivs zeigt die ausgeglichene Verteilung der Patienten in die Gruppen. In der Cytosorb-Gruppe sind die IL-6-Spiegel reduziert, während die TNF-α-Spiegel vergleichbar sind. Tendenziell scheinen in dieser Gruppe Infektionen seltener aufzutreten.
Schlussfolgerung
Der Filter CytoSorb® ist gegenüber dem Standardverfahren sicher und ohne technische Schwierigkeiten anwendbar. CytoSorb® reduziert die Zytokinlast und scheint die Entzündungsreaktion abzumildern. Erste positive Tendenzen in klinischen Endpunkten müssen in weiteren Studien bestätigt werden.
Abstract
Background
Cardiac surgical interventions using a cardiopulmonary bypass (CPB) machine induce a systemic inflammatory reaction due to activation of multiple inflammatory cascades. In the postoperative phase this can result in systemic inflammatory response syndrome (SIRS). The activation of various mediators of inflammation, such as interleukin 6 (IL-6) and tumor necrosis factor alpha (TNF-alpha) can lead to postoperative complications, organ dysfunction, morbidity and mortality.
Aim
The effect of adsorption of cytokines using CytoSorb® with a CPB machine during cardiac surgery is evaluated.
Material and methods
This study is being conducted as a prospective, observational pilot study to determine the clinical impact of the use of an adsorption filter (CytoSorb®) on the serum levels of IL-6, IL-8 and TNF-alpha using a CPB machine. This pilot study includes 300 patients planned for elective surgical myocardial revascularization, partitioned into 3 groups each with 100 patients with on-pump myocardial revascularization with CytoSorb®, on-pump myocardial revascularization without CytoSorb® and off-pump myocardial revascularization. Primary outcome measures are the inflammatory response serum parameters IL-6, IL-8, TNF-alpha, complement C3/C4, leucocyte counts and C‑reactive protein. Secondary outcome measures are length of intensive care unit (ICU) and total hospital stay, duration of ventilation, duration of catecholamine therapy, kidney injury as well as major adverse cardiac and cerebrovascular events (MACCE, mortality, myocardial infarction and cerebrovascular events).
Results
An interim analysis after concluding 60 % of the planned patients revealed a well-balanced group allocation of patients. In the group with CytoSorb® the IL-6 values are decreased, whereas TNF-alpha values are comparable between the three groups. There seems to be a tendency for less infections in this group.
Conclusion
The use of the CytoSorb® filter during CPB is safe compared with the standard procedure and applicable without technical difficulties. CytoSorb® reduces the cytokine load and seems to attenuate the inflammatory response. Initial positive tendencies in improved clinical endpoints need to subsequently be confirmed in continuing studies.
Access options
Buy single article
Instant access to the full article PDF.
US$ 39.95
Tax calculation will be finalised during checkout.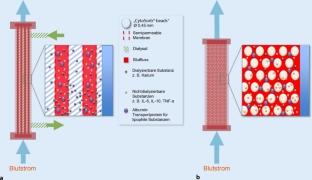 Literatur
1.

Wan S, LeClerc JL, Vincent JL (1997) Inflammatory response to cardiopulmonary bypass: mechanisms involved and possible therapeutic strategies. Chest 112(3):676–692

2.

Landis RC et al (2014) Attenuating the Systemic Inflammatory Response to Adult Cardiopulmonary Bypass: A Critical Review of the Evidence Base. J Extra Corpor Technol 46(3):197–211

3.

Wacha H et al (2010) Perioperative Antibiotika-Prophylaxe. Chemother J 19:70–84

4.

Whitlock RP et al (2015) Methylprednisolone in patients undergoing cardiopulmonary bypass (SIRS): a randomised, double-blind, placebo-controlled trial. Lancet 386(10000):1243–1253

5.

Wittwer T et al (2013) Less invasive coronary artery revascularization with a minimized extracorporeal circulation system: preliminary results of a comparative study with off-pump-procedures. J Cardiothorac Surg 8(1):75

6.

Deppe AC et al (2015) Current evidence of coronary artery bypass grafting off-pump versus on-pump: a systematic review with meta-analysis of over 16 900 patients investigated in randomized controlled trials dagger. Eur J Cardiothorac Surg 49(4):1031–1041

7.

Rettig TC et al (2015) The systemic inflammatory response syndrome predicts short-term outcome after transapical transcatheter aortic valve implantation. J Cardiothorac Vasc Anesth 29(2):283–287

8.

Peng ZY et al (2014) Modulation of chemokine gradients by apheresis redirects leukocyte trafficking to different compartments during sepsis, studies in a rat model. Crit Care 18(4):R141

9.

Linden K et al (2015) Evaluation of the Cytosorb Hemoadsorptive Column in a PIG Model of Severe Smoke and Burn Injury. Shock 44(5):487–495

10.

Borgermann J et al (2007) Inflammatory response in on- versus off-pump myocardial revascularization: is ECC really the culprit? Thorac Cardiovasc Surg 55(8):473–480

11.

Mehta RL et al (2007) Acute Kidney Injury Network: report of an initiative to improve outcomes in acute kidney injury. Crit Care 11(2):R31

12.

Mangram AJ et al (1999) Guideline for Prevention of Surgical Site Infection, 1999. Centers for Disease Control and Prevention (CDC) Hospital Infection Control Practices Advisory Committee. Am J Infect Control 27(2):97–132 (quiz 133–4; discussion 96)

13.

Cruz DN et al (2009) Early use of polymyxin B hemoperfusion in abdominal septic shock: the EUPHAS randomized controlled trial. JAMA 301(23):2445–2452

14.

Volk N (2010) Klinische Studien von Medizinprodukten Übersicht und Ausblick der aktuellen Gesetzgebung und Normen. Kardiotechnik 1:12–19

15.

Puri KS et al (2009) Declaration of Helsinki, 2008: implications for stakeholders in research. J Postgrad Med 55(2):131–134

16.

Harris PA et al (2009) Research electronic data capture (REDCap) – a metadata-driven methodology and workflow process for providing translational research informatics support. J Biomed Inform 42(2):377–381

17.

Beckmann A et al (2015) Cardiac Surgery in Germany during 2014: A report on behalf of the German Society for Thoracic and Cardiovascular Surgery. Thorac Cardiovasc Surg 63(4):258–269

18.

Honore PM et al (2013) Newly designed CRRT membranes for sepsis and SIRS – a pragmatic approach for bedside intensivists summarizing the more recent advances: a systematic structured review. Asaio J 59(2):99–106

19.

Peng ZY, Carter MJ, Kellum JA (2008) Effects of hemoadsorption on cytokine removal and short-term survival in septic rats. Crit Care Med 36(5):1573–1577

20.

Schädler D et al (2013) A multicenter randomized controlled study of an extracorporeal cytokine hemoadsorption device in septic patient. Crit Care Med 17(Suppl 2):P62

21.

Schädler D (2013) A multicenter randomized controlled study of an extracorporeal cytokine hemoadsorption device in septic patients. Crit Care 17(Suppl 2):P62

22.

Kellum JA et al (2008) Feasibility study of cytokine removal by hemoadsorption in brain-dead humans. Crit Care Med 36(1):268–272

23.

Musleh GS et al (2009) Association of IL6 and IL10 with renal dysfunction and the use of haemofiltration during cardiopulmonary bypass. Eur J Cardiothorac Surg 35(3):511–514

24.

Flikkema RM, Toledo-Pereyra LH (2012) Sample size determination in medical and surgical research. J Invest Surg 25(1):3–7
Ethics declarations
Interessenkonflikt
A.-C. Deppe, C. Weber, Y.-H. Choi und T. Wahlers geben an, dass kein Interessenkonflikt besteht.
Alle teilnehmenden Patienten wurden vor Einschluss in die Studie ausführlich aufgeklärt und willigten schriftlich ein. Die Studie wurde von der Ethikkommission der Uniklinik zu Köln genehmigt (13-230) und bei clinical.gov (NCT02213939) registriert. Die Studie wird unter Einhaltung aller geltenden Gesetze GCP konform [14] und den Prinzipien der Deklaration von Helsinki [15] entsprechend durchgeführt.
About this article
Cite this article
Deppe, AC., Weber, C., Choi, YH. et al. Einsatz eines Zytokinfilters in die Herz-Lungen-Maschine. Z Herz- Thorax- Gefäßchir 30, 254–259 (2016). https://doi.org/10.1007/s00398-016-0075-4
Received:

Revised:

Accepted:

Published:

Issue Date:
Schlüsselwörter
Systemisches inflammatorisches Response-Syndrom

Kardiopulmonarer Bypass

Adsorption

Infektion

Wundheilung
Keywords
Systemic inflammatory response syndrome

Cardioplumonary bypass

Adsorption

Infection

Wound healing