Abstract
Complex rheological trends of several commercially available and lab-made prototype toothpastes are reported. The flow curves are generated using the rotational rheometers with a series of rheological procedures, comprising of stress ramps, creep-recovery, stepped-shear rates, and dynamic oscillatory strain sweeps performed on toothpastes. Intricacies due to the history and the effects of pre-conditioning of the samples are discussed. However, the main goal of this work was to identify the correlations between the rheological measurements and the consumer-perceived properties of toothpastes. Shape retention and stringiness are the main sensory properties of interest that were identified and evaluated by the panelists. A custom-built experimental setup is used to quantify shape retention of a toothpaste ribbon on a brush and on a flat surface in a test which resonates with the popular slump test. It is demonstrated that the degree of shape retention correlates with the yield stress and the instantaneous viscosity. A comparison of yield stresses obtained using different methods in relation to degree of shape retention is presented. An experimental setup designed to measure stringiness of toothpastes is delineated. The stringiness measured with this device correlates well with human perception and also with the slope of the flow curve, i.e., the higher the degree of shear thinning, the less stringy the pastes tend to be. For lab-made prototype toothpastes, basic structure-property relations are established in terms of correlations between the three formulation variables: thickening silica, Xanthan gum, and carboxymethyl cellulose (CMC).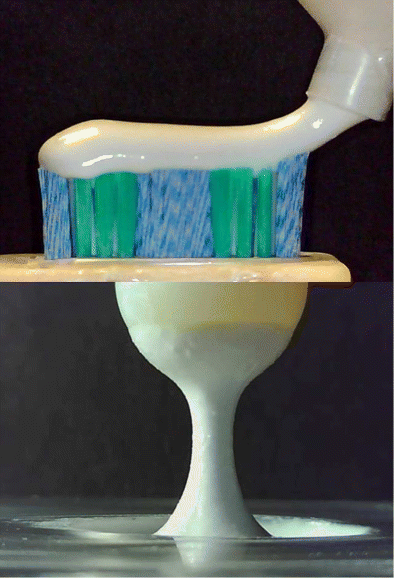 This is a preview of subscription content,
to check access.
Access this article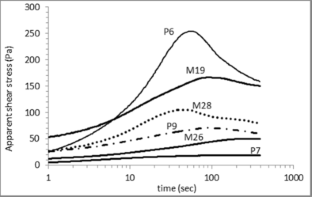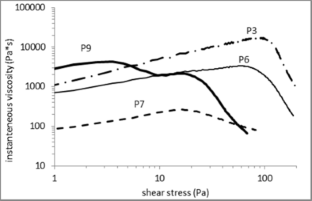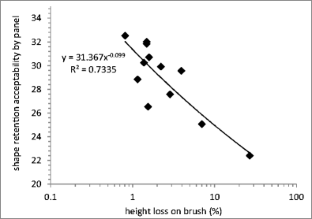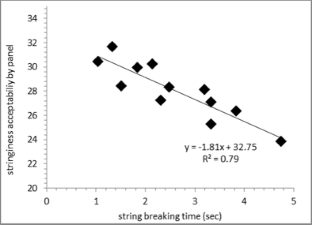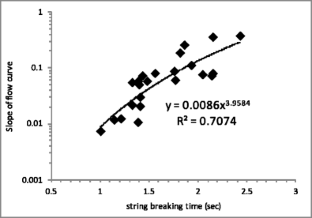 References
Barnes HA (1997) Thixotropy—a review. J Non-Newtonian Fluid Mech 70:1–33

Brummer R, Godersky S (1999) Rheological studies to objectify sensations occurring when cosmetic emulsions are applied to the skin. Colloids Surf A Physicochem Eng Asp 152:89–94

Cambridge Polymer Group (2003) CaBER tests on yield stress fluids, Application note #12, see www.campoly.com/index.php/download_file/view/386/108/

Casson N (1959) Rheology of disperse systems in flow equation for pigment oil suspensions of the printing ink type. In: Mill CC (ed) Rheology of Disperse Systems. Pergamon Press, London, pp 84–102

Giesekus H, Langer G (1977) Die Bestimmung der wahren Fliesskurven nicht-newtonischer Flüssigkeiten und plastischer Stoffe mit der Methode der repräsentativen Viskosität. Rheol Acta 16:1–22

Koumakis N, Petekidis G (2011) Two step yielding in attractive colloids: transition from gels to attractive glasses. Soft Matter 7(6):2456–2470

Martine L, Buggisch H, Willenbacher N (2013) Apparent elongational yield stress of soft matter. J Rheol 57(2):627–646

Niedzwiedz K, Arnolds O, Willenbacher N, Brummer R (2009) How to characterize yield stress fluids with capillary breakup extensional rheometry (CaBER)? Appl Rheol 19(4):41969

Niedzwiedz K, Buggisch H, Willenbacher N (2010) Extensional rheology of concentrated emulsions as probed by capillary breakup elongational rheometry (CaBER). Rheol Acta 49:1103–1116

Ovarlez G, Mahaut F, Bertrand F, Chateau X (2011) Flows and heterogeneities with a vane tool: magnetic resonance imaging measurements. J. Rheol 55(2):197–223

Pader M (1992) Dental products in cosmetics and toiletries industry. Springer science+ business media, New York, pp 210–257

Pashias N, Boger DV, Summers J, Glenister DJ (1996) A fifty cent rheometer for yield stress measurements. J Rheol 40:1179–1189

Randive VB, Gadkari VK (2000) Non-stringy toothpaste US6162418

Roussel N, Coussot P (2005) Fifty-cent rheometer for yield stress measurements: from slump to spreading flow. J Rheol 49:705–718

Schowalter WR, Christensen G (1998) Towards a rationalization of the slump test for fresh concrete: comparison of calculations and experiments. J Rheol 42:865–870

Walls HJ, Caines SB, Sanchez AM, Khan SA (2003) Yield stress and wall slip phenomena in colloidal silica gels. J Rheol 47:847–868
Acknowledgements
We are grateful to MaryAnn Filadelfi-Keszi and Jyoti Menon for conducting panel studies and Giannina Luisi for the preparation of prototype pastes.
Additional information
Publisher's Note
Springer Nature remains neutral with regard to jurisdictional claims in published maps and institutional affiliations.
About this article
Cite this article
Ahuja, A., Potanin, A. Rheological and sensory properties of toothpastes. Rheol Acta 57, 459–471 (2018). https://doi.org/10.1007/s00397-018-1090-z
Received:

Revised:

Accepted:

Published:

Issue Date:

DOI: https://doi.org/10.1007/s00397-018-1090-z
Keywords