Macroporous microspheres and microspheroidal particles from polyhydromethylsiloxane
Abstract
Polysiloxane macroporous microspheres and macroporous spheroidal particles were generated from a linear siloxane polymer using a simple emulsion procedure. Osmotic pressure produced by nano-dispersed ionic salt solution in polysiloxane droplets formed in aqueous emulsion is proposed as a mechanism of macropore formation. The competition between cross-linking of the polymer and osmotic swelling of the microspheres governs the shape and porosity of the particles which were characterized by SEM, 29Si MAS NMR, mercury intrusion porosimetry, and X-ray computed tomography.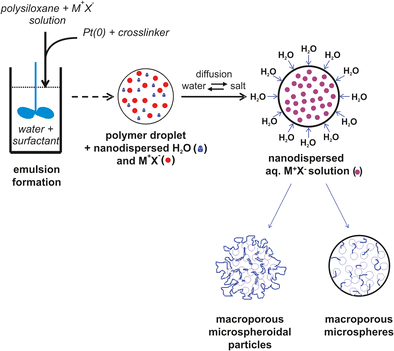 Keywords
Macroporous microspheres 
Polysiloxane microspheres 
Spheroidal particles 
Polyhydromethylsiloxane 
Macroporous particles 
Notes
Acknowledgments
The financial support from the National Science Centre (NCN), grant 2013/11/B/ST5/01615, is highly appreciated. Micro-CT scans were performed in the NanoFun laboratory co-financed by the European Regional Development Fund within the Innovation Economy Operational Program POIG.02.02.00-00-025/09 (help of K. Janiszewska is greatly appreciated).
Compliance with ethical standards
Conflict of interest
The authors declare that they have no conflict of interest.
Copyright information
© Springer-Verlag Berlin Heidelberg 2017