Abstract
In this paper, first, the pure dense membrane by polystyrene was made through the solution casting method at various concentrations and then the silica nanoparticles were added in different weight percentages to the pure membrane. The best permeability result for CO2 and N2 in pure polymer membrane was achieved in concentration of 10 wt% of high-impact polystyrene (HPS). Also, the impact of increasing the pressure of the tested gases was examined on permeability and selectivity of nanocomposite membrane. The results indicated, with the pressure increasing, the permeability coefficient of tested gases is reduced. The best selectivity of CO2 to N2 was obtained in nanocomposite membrane containing 4 wt% silica nanoparticles in HPS.
Access options
Buy single article
Instant access to the full article PDF.
USD 39.95
Price excludes VAT (USA)
Tax calculation will be finalised during checkout.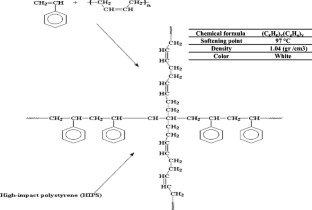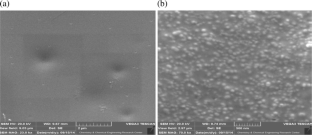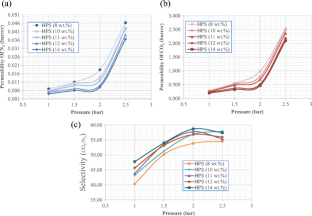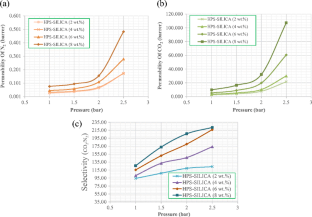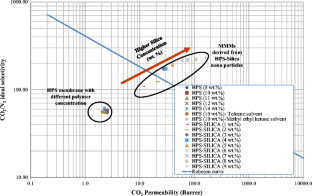 References
Beyer A, Schomäcker R, Reichert K-H (2003) Synthesis and characterization of palladium containing membranes based upon polyacrylic acid. Colloid Polym Sci 281(9):862–868

Yoshida E (2015) Morphological changes in polymer giant vesicles by intercalation of a segment copolymer as a sterol model in plasma membrane. Colloid Polym Sci 293(6):1835–1840

Mizoguchi K, Terada K, Naito Y, Kamiya Y, Tsuchida S, Yano S (1997) Miscibility and gas permeability of poly(ethylene-co-5,4 mol% 3,5,5-trimethylhexyl methacrylate)-polydimethyl-siloxane blends. Colloid Polym Sci 275(Issue 1):86–90

Li L, Yao J, Xiao P, Shang J, Feng Y, Webley PA, Wang H (2013) One-step fabrication of ZIF-8/polymer composite spheres by a phase inversion method for gas adsorption. Colloid Polym Sci 291(Issue 11):2711–2717

Pirouzfar V, Mosalmani M, Mortezaei M (2015) The experimental study, modeling and optimization of developing heat resistance for the modified resole-pitch composites. Iran Polym J 24(10):829–836

Pirouzfar V, Hosseini SS, Omidkhah MR, Moghaddam AZ (2014) Investigating the effect of dianhydride type and pyrolysis condition on the gas separation performance of membranes derived from blended polyimides through statistical analysis. J Ind Eng Chem Res 40(3):1061–1070

Park SM, Won J, Lee M-J, Kang YS, Kim S-H, Kim Y, Kim S-J (2004) Gas separation membranes containing Re6Se8(MeCN)6 2+ cluster-supported cobalt-porphyrin complexes. Macromol Res 12(Issue 6):598–603

Kang SW (2010) Role of p-benzoquinone for dispersion of silver nanoparticles in silver-polymer nanocomposite membranes. Macromol Res 18(Issue 7):705–708

Ahmad J, Hagg MB (2013) Polyvinyl acetate/titanium dioxide nano composite membranes for gas separation. J Membr Sci 445:200–210

Masoudi E, Karimi G, Khademi M (2013) Mixed matrix membranes based on poly etherurethane and polyester-urethane containing sikica nano particles for separation of CO2/CH4 gases. Sep Purif Technol 116:1–12

Abels C, Carstensen F, Wessling M (2013) Membrane processes in biorefinery applications: review article. J Membr Sci 444:285–317

Kosinov N, Gascon J, Kapteijn F, Hensen EJM (2016) Recent developments in zeolite membranes for gas separation, review article. J Membr Sci 499:65–79

Lin H, Yavari M (2015) Upper bound of polymeric membranes for mixed-gas CO2/CH4 separations. J Membr Sci 475:101–109

Ismail AF, David LIB (2001) A review on the latest development of carbon membranes for gas separation, review article. J Membr Sci 193(1):1–18

Jindaratsamee P, Shimoyama Y, Morizaki H, Ito A (2011) Effects of temperature and anion species on CO2 permeability and CO2/N2 separation coefficient through ionic liquid membranes. J Chem Thermodyn 43:311–314

Li P, Wang Z, Li W, Liu Y, Wang J, Wang S (2015) High-performance multilayer composite membranes with mussel-inspired polydopamine as a versatile molecular bridge for CO2 separation. ACS Appl Mater Interfaces 7(28):15481–15493

Ying D, Johnson JR, Karvan Ŏ, Sholl DS, Koros WJ (2012) Ultem®/ZIF-8 mixed matrix hollow fiber membranes for CO2/N2 separations. J Membr Sci 401(402):76–82

Yu HC, Zhao X (2012) Hybrid brominated sulfonated poly(2,6-diphenyl-1,4-phenylene oxide) and SiO2 nanocomposite membranes for CO2/N2 separation. Prog Nat Sci Mater Int 22(6):661–667

Morteza Sadeghi, Mohammad Mehdi Talakesh, Bahnam Cohaleni,Preparation characterization and gas permeation properties of poly urethane-silica/polyvinyloleohol mixed motrix membrances, J Membr Sci 432 (2013) 115–125.

Zhang Y, Sunarso J, Liu S, Wang R (2013) Current status and development of membranes for CO2/CH4 separation: a review. Int J Greenhouse Gas Control 12:84–107

Aroon MA, Ismail AF, Matsuura T, Montazer-Rahmati MM (2010) Performance studies of mixed matrix membranes for gas separation: a review. Sep Purif Technol 75:229–242

Genné I, Kuypers S, Leysen R (1996) Effect of the addition of ZrO2 to polysulfone based UF membranes. J Membr Sci 113(2):343–350

Aust U, Benfer S, Dietze M, Rost A, Tomandl G (2006) Development of microporous ceramic membranes in the system TiO2/ZrO2. J Membr Sci 281(1–2):463–471

Alam J, Dass LA, Ghasemi M, Alhoshan M (2013) Synthesis and optimization of PES-Fe3O4 mixed matrix nanocomposite membrane. Polym Compos 34(11):1870–1877

Bockute K, Prosyčevas I, Lazauskas A, Laukaitis G (2015) Preparation and characterisation of mixed matrix Al2O3- and TiO2-based ceramic membranes prepared using polymeric synthesis route. Ceram Int 41(7):8981–8987

Nematollahi MH, Dehaghani AHS, Abedini R (2015) CO2/CH4 separation with poly (4-methyl-1-pentyne) (TPX) based mixed matrix membrane filled with Al2O3 nanoparticles. Korean J Chem Eng 33(2):657–665

Kim J, Qiang F, Xie K, Scofield JMP, Kentish SE, Qiao GG (2016) CO2 separation using surface-functionalized SiO2 nanoparticles incorporated ultra-thin film composite mixed matrix membranes for post-combustion carbon capture. J Membr Sci 515:54–62

Sun H, Cheng M, Yuan B, Wang T, Xu Y, Xue Q, Li P, Kong Y (2014) Cardo polyimides/TiO2 mixed matrix membranes: synthesis, characterization, and gas separation property improvement. Sep Purif Technol 122(10):367–375

Moghadam F, Omidkhah MR, Pedram MZ, Dorosit F (2011) The effect of TIO2 nano composite on gas transport properties of Matrimid 5218-based mixed matrix membranes. Sep Purif Technol 77:128–136

Farno E, Chadimi A, Dasiri N, Hammdi TM (2011) Separation of heavy gases from light gases using synthesize nanocomposite membrane. Sep Purif Technol 81:400–410

Ghader Khanbabaei ,Ebrahim Vasheghani-Farahani ٫Ali Rahmatpour, Pure and mixed gas CH4 and C4 H10 permeation in PDMS-fumed silica nano composite membranes Chem Eng J 191٫ (2012) 369–377.

Aazam Shaariati٫ Mohmmadreza Omidkhah٫ MonaZamani Pedram, New permeation models for nano composite polymeric membranes filled with nanopouros particles, Chem Eng Res Des 90٫ (2012) 563–575.

M. Sadeghi (2008) Study of selective permeability of N2 CO2 CH4 through poly benzimidazole and polyurethane membranes and effect of nano silica particles on them. PhD Thesis, TMU
Ethics declarations
Funding
There is no funding to report for this submission.
Conflict of interest
The authors declare that they have no conflict of interest.
About this article
Cite this article
Salimi, M., Pirouzfar, V. & Kianfar, E. Enhanced gas transport properties in silica nanoparticle filler-polystyrene nanocomposite membranes. Colloid Polym Sci 295, 215–226 (2017). https://doi.org/10.1007/s00396-016-3998-0
Received:

Revised:

Accepted:

Published:

Issue Date:

DOI: https://doi.org/10.1007/s00396-016-3998-0
Keywords
Nanocomposite membranes

Gas separation performance

HPS

Silica nanoparticles

Permeability

Selectivity