Abstract
This study investigates the effect of antimony trioxide (Sb2O3) nanoparticles on shear and extensional flow properties of concentrated polyacrylonitrile (PAN) solutions. Through shear rheology, a wide variety of rheological observations, such as Payne effect, applicability of Cox–Merz rule, and range of linear viscoelastic behavior (critical strain) were assessed. The presence of Sb2O3 nanoparticles was found to promote the non-linear viscoelasticity of the solutions and give rise to enhanced heterogeneous domains of PAN in the solution. In elongational flow, thinning dynamics of the nanocomposites was tracked to reproduce the dynamics of deformation in the spinline of the dry-jet wet spinning process. Increasing amounts of Sb2O3 nanoparticles in the solution were shown to improve the lifetime of the filament. All solutions were ruptured through elastocapillary behavior, while strengthened strain-hardening behavior was observed after the addition of Sb2O3 nanoparticles to the polymer solution.
Access options
Buy single article
Instant access to the full article PDF.
US$ 39.95
Tax calculation will be finalised during checkout.
Subscribe to journal
Immediate online access to all issues from 2019. Subscription will auto renew annually.
US$ 119
Tax calculation will be finalised during checkout.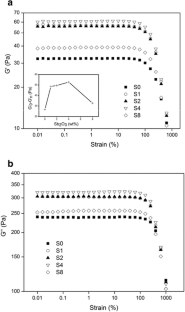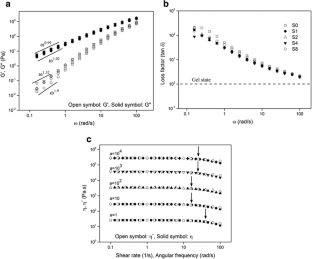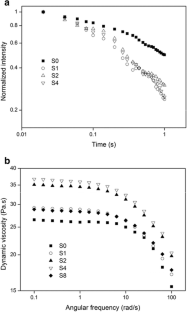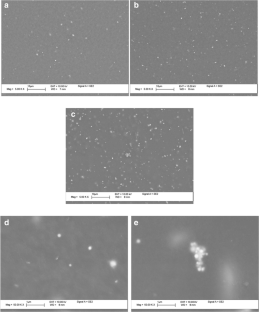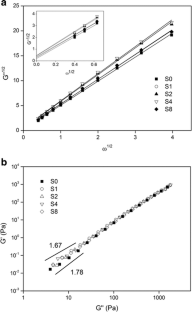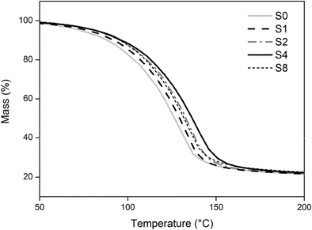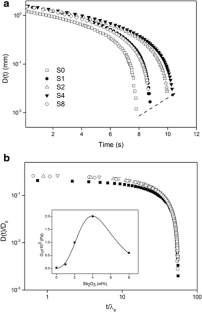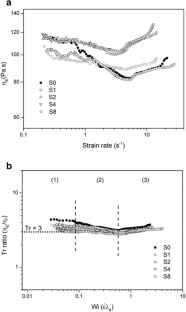 References
1.

Lu H, Wilkie CA (2010) Synergistic effect of carbon nanotubes and decabromodiphenyl oxide/Sb2O3 in improving the flame retardancy of polystyrene. Polym Degrad Stab 95(4):564–571. doi:10.1016/j.polymdegradstab.2009.12.011

2.

M. Lewin SMA, E.M. Pearce (1978) Flame—retardant polymeric materials, vol 2. Plenum Press, New York

3.

W.D. Schindler PJH (2004) Chemical finishing of textiles. Woodhead Publishing Limited, England

4.

Li N, Xia Y, Mao Z, Wang L, Guan Y, Zheng A (2012) Influence of antimony oxide on flammability of polypropylene/intumescent flame retardant system. Polym Degrad Stab 97(9):1737–1744. doi:10.1016/j.polymdegradstab.2012.06.011

5.

Si M, Feng J, Hao J, Xu L, Du J (2014) Synergistic flame retardant effects and mechanisms of nano-Sb2O3 in combination with aluminum phosphinate in poly(ethylene terephthalate). Polym Degrad Stab 100:70–78. doi:10.1016/j.polymdegradstab.2013.12.023

6.

Rahaman MSA, Ismail AF, Mustafa A (2007) A review of heat treatment on polyacrylonitrile fiber. Polym Degrad Stab 92(8):1421–1432. doi:10.1016/j.polymdegradstab.2007.03.023

7.

Nataraj SK, Yang KS, Aminabhavi TM (2012) Polyacrylonitrile-based nanofibers—a state-of-the-art review. Prog Polym Sci 37(3):487–513. doi:10.1016/j.progpolymsci.2011.07.001

8.

Hall ME, Zhang J, Richard Horrocks A (1994) The flammability of polyacrylonitrile and its copolymers III. Effect of flame retardants. Fire Mater 18(4):231–241. doi:10.1002/fam.810180406

9.

Tan L, Pan J, Wan A (2012) Shear and extensional rheology of polyacrylonitrile solution: effect of ultrahigh molecular weight polyacrylonitrile. Colloid Polym Sci 290(4):289–295. doi:10.1007/s00396-011-2546-1

10.

Tan L, Liu S, Pan D (2009) Viscoelastic behavior of polyacrylonitrile/dimethyl sulfoxide concentrated solution during thermal-induced gelation. J Phys Chem B 113(3):603–609. doi:10.1021/jp809701b

11.

Xu L, Qiu F (2015) Unusual viscosity behavior of polyacrylonitrile in NaSCN aqueous solutions. Polymer 64:130–138. doi:10.1016/j.polymer.2015.03.043

12.

Zhang D, Karki AB, Rutman D, Young DP, Wang A, Cocke D, Ho TH, Guo Z (2009) Electrospun polyacrylonitrile nanocomposite fibers reinforced with Fe3O4 nanoparticles: Fabrication and property analysis. Polymer 50(17):4189–4198. doi:10.1016/j.polymer.2009.06.062

13.

Newcomb BA, Chae HG, Gulgunje PV, Gupta K, Liu Y, Tsentalovich DE, Pasquali M, Kumar S (2014) Stress transfer in polyacrylonitrile/carbon nanotube composite fibers. Polymer 55(11):2734–2743. doi:10.1016/j.polymer.2014.04.008

14.

Mataram A, Ismail AF, Mahmod DSA, Matsuura T (2010) Characterization and mechanical properties of polyacrylonitrile/silica composite fibers prepared via dry-jet wet spinning process. Mater Lett 64(17):1875–1878. doi:10.1016/j.matlet.2010.05.031

15.

Liu X, Zhu C, Dong H, Wang B, Liu R, Zhao N, Li S, Xu J (2015) Effect of microgel content on the shear and extensional rheology of polyacrylonitrile solution. Colloid Polym Sci 293(2):587–596. doi:10.1007/s00396-014-3419-1

16.

Akhlaghi O, Akbulut O, Menceloglu YZ (2015) Shear and extensional rheological characterization of poly(acrylonitrile)/halloysite nanocomposite solutions. Eur Polym J 73:17–25. doi:10.1016/j.eurpolymj.2015.09.022

17.

Chen B, Evans JRG, Greenwell HC, Boulet P, Coveney PV, Bowden AA, Whiting A (2008) A critical appraisal of polymer-clay nanocomposites. Chem Soc Rev 37(3):568–594. doi:10.1039/B702653F

18.

Du W, Chen H, Xu H, Pan D, Pan N (2009) Viscoelastic behavior of polyacrylonitrile/dimethyl sulfoxide concentrated solution with water. J Polym Sci B Polym Phys 47(15):1437–1442. doi:10.1002/polb.21743

19.

Haward SJ, Sharma V, Butts CP, McKinley GH, Rahatekar SS (2012) Shear and extensional rheology of cellulose/ionic liquid solutions. Biomacromolecules 13(5):1688–1699. doi:10.1021/bm300407q

20.

A.R. Horrocks SCA (2000) Handbook of Technical Textiles. Woodhead Publishing Limited, England

21.

Cassagnau P (2003) Payne effect and shear elasticity of silica-filled polymers in concentrated solutions and in molten state. Polymer 44(8):2455–2462. doi:10.1016/S0032-3861(03)00094-6

22.

Jeon HS, Rameshwaram JK, Kim G, Weinkauf DH (2003) Characterization of polyisoprene–clay nanocomposites prepared by solution blending. Polymer 44(19):5749–5758. doi:10.1016/S0032-3861(03)00466-X

23.

Shen L, Lin Y, Du Q, Zhong W, Yang Y (2005) Preparation and rheology of polyamide-6/attapulgite nanocomposites and studies on their percolated structure. Polymer 46(15):5758–5766. doi:10.1016/j.polymer.2005.05.040

24.

Cassagnau P (2008) Melt rheology of organoclay and fumed silica nanocomposites. Polymer 49(9):2183–2196. doi:10.1016/j.polymer.2007.12.035

25.

Yin H, Chen H, Chen D (2010) Viscoelastic behavior of poly(acrylonitrile)/attapulgite nanocomposite solution. Colloids Surf A Physicochem Eng Asp 367(1–3):52–59. doi:10.1016/j.colsurfa.2010.06.017

26.

Krishnamoorti R, Vaia RA, Giannelis EP (1996) Structure and dynamics of polymer-layered silicate nanocomposites. Chem Mater 8(8):1728–1734. doi:10.1021/cm960127g

27.

Lee KM, Han CD (2003) Effect of hydrogen bonding on the rheology of polycarbonate/organoclay nanocomposites. Polymer 44(16):4573–4588. doi:10.1016/S0032-3861(03)00444-0

28.

Miyoshi E, Nishinari K (1999) Non-Newtonian flow behaviour of gellan gum aqueous solutions. Colloid Polym Sci 277(8):727–734. doi:10.1007/s003960050446

29.

Cosgrove T, Roberts C, Choi Y, Schmidt RG, Gordon GV, Goodwin AJ, Kretschmer A (2002) Relaxation studies of high molecular weight poly(dimethylsiloxane)s blended with polysilicate nanoparticles. Langmuir 18(26):10075–10079. doi:10.1021/la025883h

30.

Lecouvet B, Sclavons M, Bourbigot S, Devaux J, Bailly C (2011) Water-assisted extrusion as a novel processing route to prepare polypropylene/halloysite nanotube nanocomposites: structure and properties. Polymer 52(19):4284–4295. doi:10.1016/j.polymer.2011.07.021

31.

Lecouvet B, Gutierrez JG, Sclavons M, Bailly C (2011) Structure–property relationships in polyamide 12/halloysite nanotube nanocomposites. Polym Degrad Stab 96(2):226–235. doi:10.1016/j.polymdegradstab.2010.11.006

32.

Eom Y, Kim BC (2014) Solubility parameter-based analysis of polyacrylonitrile solutions in N, N-dimethyl formamide and dimethyl sulfoxide. Polymer 55(10):2570–2577. doi:10.1016/j.polymer.2014.03.047

33.

Lyoo WS, Kim JH, Choi JH, Kim BC, Blackwell J (2001) Role of degree of saponification in the shear-induced molecular orientation of syndiotacticity-rich ultrahigh molecular weight poly(vinyl alcohol). Macromolecules 34(12):3982–3987. doi:10.1021/ma001338g

34.

Lyoo WS, Yeum JH, Kwon OW, Shin DS, Han SS, Kim BC, Jeon HY, Noh SK (2006) Rheological properties of high molecular weight (HMW) syndiotactic poly(vinyl alcohol) (PVA)/HMW atactic PVA blend solutions. J Appl Polym Sci 102(4):3934–3939. doi:10.1002/app.24223

35.

Tan L, Liu S, Pan D, Pan N (2009) Gelation of polyacrylonitrile in a mixed solvent: scaling and fractal analysis. Soft Matter 5(21):4297–4304. doi:10.1039/B911635D

36.

Tan L, Pan D, Pan N (2009) Rheological study on thermal-induced gelation behavior of polyacrylonitrile solution. J Polym Res 16(4):341–350. doi:10.1007/s10965-008-9234-y

37.

McKinley GH (2005) Visco-elasto-capillary thinning and break-up of complex fluids. In. Rheology Reviews, p 1–48

38.

McKinley GH, Tripathi A (2000) How to extract the Newtonian viscosity from capillary breakup measurements in a filament rheometer. J Rheol 44(3):653–670. doi:10.1122/1.551105

39.

Kheirandish S, Gubaydullin I, Willenbacher N (2009) Shear and elongational flow behavior of acrylic thickener solutions. Part II: effect of gel content. Rheol Acta 48(4):397–407. doi:10.1007/s00397-008-0324-x

40.

Anna SL, McKinley GH (2001) Elasto-capillary thinning and breakup of model elastic liquids. J Rheol 45(1):115–138. doi:10.1122/1.1332389

41.

Sridhar T, Acharya M, Nguyen DA, Bhattacharjee PK (2014) On the extensional rheology of polymer melts and concentrated solutions. Macromolecules 47(1):379–386. doi:10.1021/ma401213r

42.

Le Meins J-F, Moldenaers P, Mewis J (2003) Suspensions of monodisperse spheres in polymer melts: particle size effects in extensional flow. Rheol Acta 42(1–2):184–190. doi:10.1007/s00397-002-0270-y

43.

Takahashi T, J-i T, Koyama K (1999) Uniaxial elongational viscosity of various molten polymer composites. Polym Compos 20(3):357–366. doi:10.1002/pc.10362

44.

Handge UA, Pötschke P (2007) Deformation and orientation during shear and elongation of a polycarbonate/carbon nanotubes composite in the melt. Rheol Acta 46(6):889–898. doi:10.1007/s00397-007-0179-6

45.

Uematsu H, Aoki Y, Sugimoto M, Koyama K (2011) Rheology of SiO 2 /(acrylic polymer/epoxy) suspensions. III. Uniaxial elongational viscosity. Rheol Acta 50(5–6):433–439. doi:10.1007/s00397-010-0509-y
Ethics declarations
Conflict of interest
The authors declare no conflict of interest.
Source of funding
The authors declare no sources of funding.
About this article
Cite this article
Akhlaghi, O., Menceloglu, Y.Z. & Akbulut, O. Rheological behavior of poly(acrylonitrile) concentrated solutions: effect of Sb2O3 nanoparticles on shear and extensional flow. Colloid Polym Sci 294, 1463–1473 (2016). https://doi.org/10.1007/s00396-016-3907-6
Received:

Revised:

Accepted:

Published:

Issue Date:
Keywords
Capillary breakup extensional rheometry

Polyacrylonitrile

Nanocomposite

Rheology