Abstract
Au/amorphous TiO2 nanocomposite particles with high visible-light photocatalytic activity were conveniently prepared in inverse miniemulsions. The materials were synthesized through a combination of a sol–gel process and in situ reduction of HAuCl4 by hydrazine to Au nanoparticles in the nanocomposite particles. The photocatalytic activity of the as-synthesized Au/amorphous TiO2 nanocomposite particles is much higher than that of the Au/anatase TiO2 and Au/rutile TiO2 nanocomposite particles prepared by calcination. Therefore, no further heat treatments are required to achieve visible-light photocatalytic active catalysts. The loading of Au in the nanocomposite particles could be conveniently tuned by varying the HAuCl4 loading in the dispersed phase of the inverse miniemulsions. Only a small amount of Au was required to achieve a high photocatalytic activity. The size, particle morphology, TiO2 phase, optical property, elemental content and distribution, and pore properties of the Au/TiO2 nanocomposite particles were systematically characterized by dynamic light scattering, transmission/scanning electron microscopy, X-ray diffraction, Raman spectroscopy, UV–vis spectroscopy, energy-dispersive X-ray spectroscopy, X-ray photoelectron spectroscopy, thermogravimetric analysis, and N2 sorption measurements.
Access options
Buy single article
Instant access to the full article PDF.
USD 39.95
Price excludes VAT (USA)
Tax calculation will be finalised during checkout.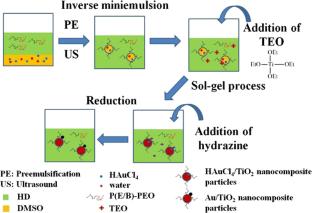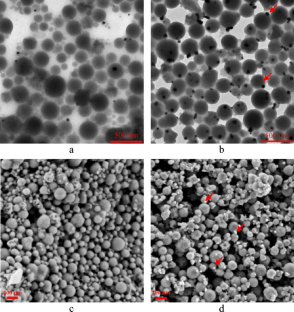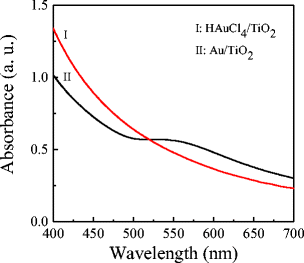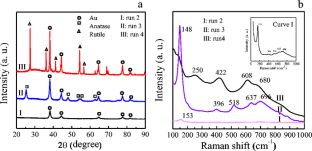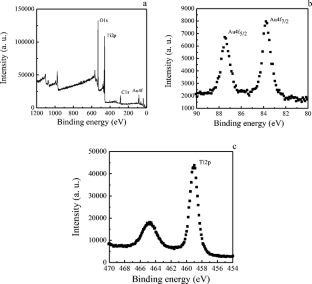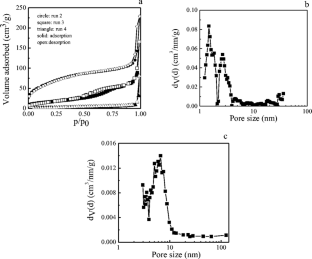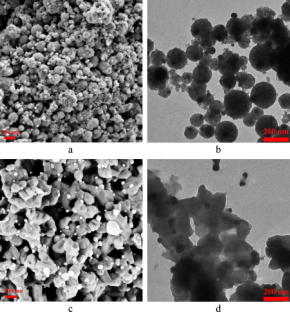 References
Chen XB, Mao SS (2007) Titanium dioxide nanomaterials: synthesis, properties, modifications, and applications. Chem Rev 107:2891–2959

Li W, Wu ZX, Wang JX, Elzatahry AA, Zhao DY (2014) A perspective on mesoporous TiO2 materials. Chem Mater 26:287–298

Liu ZW, Hou WB, Pavaskar P, Aykol M, Cronin SB (2011) Plasmon resonant enhancement of photocatalytic water splitting under visible illumination. Nano Lett 11:1111–1116

Chen XB, Liu L, Yu PY, Mao SS (2011) Increasing solar absorption for photocatalysis with black hydrogenated titanium dioxide nanocrystals. Science 331:746–750

Asahi R, Morikawa T, Ohwaki T, Aoki K, Taga Y (2001) Visible-light photocatalysis in nitrogen-doped titanium oxides. Science 293:269–271

Primo A, Corma A, García H (2011) Titania supported gold nanoparticles as photocatalyst. Phys Chem Chem Phys 13:886–910

Linic S, Christopher P, Ingram DB (2011) Plasmonic-metal nanostructures for efficient conversion of solar to chemical energy. Nat Mater 10:911–921

Tanaka A, Sakaguchi S, Hashimoto K, Kominami H (2013) Preparation of Au/TiO2 with metal cocatalysts exhibiting strong surface plasmon resonance effective for photoinduced hydrogen formation under irradiation of visible light. ACS Catal 3:79–85

Valden M, Lai X, Goodman DW (1998) Onset of catalytic activity of gold clusters on titania with the appearance of nonmetallic properties. Science 281:1647–1650

Wang XD, Mitchell DRG, Prince K, Atanacio AJ, Caruso RA (2008) Gold nanoparticle incorporation into porous titania networks using an agarose gel templating technique for photocatalytic applications. Chem Mater 20:3917–3926

Khan MM, Ansari SA, Amal MI, Lee J, Cho MH (2013) Highly visible light active Ag@TiO2 nanocomposites synthesized using an electrochemically active biofilm: a novel biogenic approach. Nanoscale 5:4427–4435

Wang P, Huang BB, Dai Y, Whangbo MH (2012) Plasmonic photocatalysts: harvesting visible light with noble metal nanoparticles. Phys Chem Chem Phys 14:9813–9825

Hou WB, Cronin SB (2013) A review of surface plasmon resonance-enhanced photocatalysis. Adv Funct Mater 23:1612–1619

Zielińska-Jureka A, Kowalska E, Sobczak JW, Lisowski W, Ohtani B, Zaleska A (2011) Preparation and characterization of monometallic (Au) and bimetallic (Ag/Au) modified-titania photocatalysts activated by visible light. Appl Catal B 101:504–514

Tanaka A, Ogino A, Iwaki M, Hashimoto K, Ohnuma A, Amano F, Ohtani B, Kominami H (2012) Gold-titanium(IV) oxide plasmonic photocatalysts prepared by a colloid-photodeposition method: correlation between physical properties and photocatalytic activities. Langmuir 28:13105–13111

Kowalska E, Mahaney OOP, Abe R, Ohtani B (2010) Visible-light-induced photocatalysis through surface plasmon excitation of gold on titania surfaces. Phys Chem Chem Phys 12:2344–2355

Zhang Q, Lima DQ, Lee I, Zaera F, Chi MF, Yin YD (2011) A highly active titanium dioxide based visible-light photocatalyst with nonmetal doping and plasmonic metal decoration. Angew Chem Int Ed 50:7088–7092

Landfester K (2009) Miniemulsion polymerization and the structure of polymer and hybrid nanoparticles. Angew Chem Int Ed 48:4488–4507

Cao ZH, Ziener U (2013) Synthesis of nanostructured materials in inverse miniemulsions and their applications. Nanoscale 5:10093–10107

Hamberger A, Ziener U, Landfester K (2013) Encapsulation of in situ nanoprecipitated inorganic materials in confined geometries into a polymer shell using inverse miniemulsion. Macromol Chem Phys 214:691–699

Cao ZH, Dong LZ, Li L, Shang Y, Qi DM, Lv Q, Shan GR, Ziener U, Landfester K (2012) Preparation of mesoporous submicrometer silica capsules via an interfacial sol–gel process in inverse miniemulsion. Langmuir 28:7023–7032

Cao ZH, Yang L, Ye QL, Cui QM, Qi DM, Ziener U (2013) Transition-metal salt-containing silica nanocapsules elaborated via salt-induced interfacial deposition in inverse miniemulsions as precursor to functional hollow silica particles. Langmuir 29:6509–6518

Schiller R, Weiss CK, Geserick J, Huesing N, Landfester K (2009) Synthesis of mesoporous silica particles and capsules by miniemulsion technique. Chem Mater 21:5088–5098

Rossmanith R, Weiss CK, Geserick J, Huesing N, Hoermann U, Kaiser U, Landfester K (2008) Porous anatase nanoparticles with high specific surface area prepared by miniemulsion technique. Chem Mater 20:5768–5780

Schiller R, Weiss CK, Landfester K (2010) Phase stability and photocatalytic activity of Zr-doped anatase synthesized in miniemulsion. Nanotechnology 21:405603

Nabih N, Schiller R, Lieberwirth I, Kockrick E, Frind R, Kaskel S, Weiss CK, Landfester K (2011) Mesoporous CeO2 nanoparticles synthesized by an inverse miniemulsion technique and their catalytic properties in methane oxidation. Nanotechnology 22:135606

Cao ZH, Wang Z, Herrmann C, Ziener U, Landfester K (2010) Narrowly size-distributed cobalt salt containing poly(2-hydroxyethyl methacrylate) particles by inverse miniemulsion. Langmuir 26:7054–7061

Cao ZH, Wang Z, Herrmann C, Landfester K, Ziener U (2010) Synthesis of narrowly size-distributed metal salt/poly(HEMA) hybrid particles in inverse miniemulsion: versatility and mechanism. Langmuir 26:18008–18015

Cao ZH, Walter C, Landfester K, Wu ZY, Ziener U (2011) Synthesis of silver/poly(2-hydroxyethyl methacrylate) particles via a combination of inverse miniemulsion and silver ion reduction in a "nanoreactor". Langmuir 27:9849–9859

Fuchs AV, Walter C, Landfester K, Ziener U (2012) Biomimetic silver-containing colloids of poly(2-methacryloyloxyethyl phosphorylcholine) and their film-formation properties. Langmuir 28:4974–4983

Heutz NA, Dolcet P, Birkner A, Casarin M, Merz K, Gialanella S, Gross S (2013) Inorganic chemistry in a nanoreactor: Au/TiO2 nanocomposites by photolysis of a single-source precursor in miniemulsion. Nanoscale 5:10534–10541

Schlaad H, Kukula H, Rudloff J, Below I (2001) Synthesis of α, ω-heterobifunctional poly(ethylene glycol)s by metal-free anionic ring-opening polymerization. Macromolecules 34:4302–4304

Liz-Marzán LM, Giersig M, Mulvaney P (1996) Synthesis of nanosized gold-silica core-shell particles. Langmuir 12:4329–4335

Joo JB, Zhang Q, Lee I, Dahl M, Zaera F, Yin YD (2012) Mesoporous anatase titania hollow nanostructures though silica-protected calcination. Adv Funct Mater 22:166–174

Cao ZH, Yang L, Yan YJ, Shang Y, Ye QL, Qi DM, Ziener U, Shan GR, Landfester K (2013) Fabrication of nanogel core-silica shell and hollow silica nanoparticles via an interfacial sol–gel process triggered by transition-metal salt in inverse systems. J Colloid Interface Sci 406:139–147

Seh ZW, Liu SH, Low M, Zhang SY, Liu ZL, Mlayah A, Han MY (2012) Janus Au-TiO2 photocatalysts with strong localization of plasmonic near-fields for efficient visible-light hydrogen generation. Adv Mater 24:2310–2314

Zanatta AR, Chambouleyron I (1996) Absorption edge, band tails, and disorder of amorphous semiconductors. Phys Rev B 53:3833–3836
Acknowledgments
The financial supports from the National Natural Scientific Foundation of China (NNSFC) project (51003023) and open Foundation of Zhejiang Provincial Top Key Academic Discipline of Applied Chemistry and Eco-Dyeing & Finishing Engineering (YR2012007), Zhejiang Province's Xinmiao Talent Plan (2013R421041), and National Undergraduate Training Programs for Innovation and Entrepreneurship of China (201310346013) are gratefully acknowledged.
Electronic supplementary material
Below is the link to the electronic supplementary material.
About this article
Cite this article
Cao, Z., Yang, L., Chen, H. et al. Preparation of Au/TiO2 nanocomposite particles with high visible-light photocatalytic activity in inverse miniemulsions. Colloid Polym Sci 293, 277–288 (2015). https://doi.org/10.1007/s00396-014-3412-8
Received:

Revised:

Accepted:

Published:

Issue Date:

DOI: https://doi.org/10.1007/s00396-014-3412-8
Keywords