Abstract
For designing the responsive polymer brushes, and tuning the local and chemical surface responses to the external stimuli, the epitaxial single crystals were patterned by combination of bared surfaces of poly(ethylene glycol) (PEG) substrate, polymer homo-brushes constructed from poly(ethylene glycol)-b-polystyrene (PEG-b-PS) as well as poly(ethylene glycol)-b-poly(methyl methacrylate) (PEG-b-PMMA), and PEG-b-PS/PEG-b-PMMA mixed-brush channels. To achieve this target, various single crystals and epitaxial structures grown from dilute solutions through self-seeding approach were utilized as seeds to fabricate the next channels. The characteristics and morphologies of different channels were detectable by atomic force microscopy (AFM). The influence of chemical (solvent quality and interaction of substrate with different brushes) and physical (presence of brushes from another type in their vicinity) environments on crystallization was studied. Due to the effect of chemical environment, the PS brushes hampered the growth of PEG crystals at M n PS = 10,000 g/mol. However, the PMMA brushes allowed PEG crystals to grow completely at M n PMMA =13,100 g/mol, and indicated their hindrance at higher molecular weights (here, M n PMMA = 17,100 g/mol). It was feasible to neutralize the mentioned hindrance through fabricating the channels with brushes having the highest hindrance (M n PS = 14,800 g/mol and M n PMMA = 17,100 g/mol), and altering the physical environment from homo- to mixed-brush morphology. The characteristics (thickness, tethering density, and domain size) of developed channels from a certain material, in all arrangements and in various channels were in good agreement with those of corresponding non-epitaxial single crystals grown under the same conditions.
Access options
Buy single article
Instant access to the full article PDF.
USD 39.95
Price excludes VAT (USA)
Tax calculation will be finalised during checkout.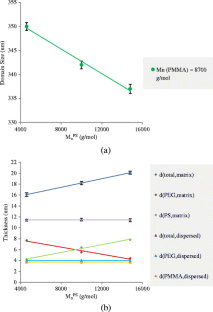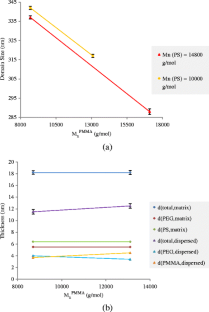 References
Zhao B, Brittain W (2000) J Prog Polym Sci 25:677

Harris BP, Kutty JK, Fritz EW, Webb CK, Burg KJL, Metters AT (2006) Langmuir 22:4467

Piehler J, Brecht A, Geckeler KE, Gauglitz G (1996) Biosens Bioelectron 11:579

Minko S, Patil S, Datsyuk V, Simon F, Eichhorn K-J, Motornov M, Usov D, Tokarev I, Stamm M (2002) Langmuir 18:289

Idol WK, Anderson JL (1986) J Membr Sci 28:269

Kim JU, Matsen MW (2007) Eur Phys J E 23:135

Witten TA, Pincus PA (1986) Macromolecules 19:2509

Rouhi AM (1999) Chem Eng News 77:51

Niklason LE, Gao J, Abbott WM, Hirschi KK, Houser S, Marini R, Langer R (1999) Science 284:489

Kataoka DE, Trolan SM (1999) Nature (London) 402:794

Rouhi AM (1997) Chem Eng News 75:41

Hesselink FT (1977) J Colloid Interface Sci 60:448

Minko S, Usov D, Motornov M, Ionov L, Stamm M (2003) Polym Mater Sci Eng 89:156

Zhao B (2003) Polymer 44:4079

Koutsos V, van der Vegte EM, Hadziioannou G (1999) Macromolecules 32:1233

Ionov L, Zdyrko B, Sidorenko A, Minko S, Klep V, Luzinov I, Stamm M (2004) Macromol Rapid Commun 25:260

Johnson PA, Gaspar MA, Levicky R (2004) J Am Chem Soc 126:9910

Nakashima H, Furukawa K, Ajito K, Kashimura Y, Torimitsu K (2005) Langmuir 21:511

Penn LS, Huang H, Sindkhedkar MD, Rankin SE, Chittenden K, Quirk RP, Mathers RT, Lee Y (2002) Macromolecules 35:7054

Prucker O, Rühe J (1998) Macromolecules 31:592

Jordan R, Ulman A, Kang JF, Rafailovich MH, Sokolov J (1999) J Am Chem Soc 121:1016

Vidal A, Guyot A, Kennedy JP (1980) Polym Bull 2:315

de Bore B, Simon HK, Werts MPL, van der Vegte EW, Hadziioannou G (2000) Macromolecules 33:49

Weimer MW, Chen H, Giannelis EP, Sogah DY (1999) J Am Chem Soc 121:1615

Ejaz M, Yamamoto S, Ohno K, Tsujii Y, Fukuda T (1998) Macromolecules 31:5934

Matyjaszewski K, Miller PJ, Shukla N, Immaraporn B, Gelman A, Luokala BB, Siclovan TM, Lickelbick G, Vallant T, Hoffmann H, Pakula T (1999) Macromolecules 32:8716

Weck M, Jackiw JJ, Rossi RR, Weiss PS, Grubbs RH (1999) J Am Chem Soc 121:4088

Hertler WR, Sogah DY, Boettcher FP (1990) Macromolecules 23:1264

Chen WY, Zheng JX, Cheng SZD, Li CY, Huang P, Zhu L, Xiong H, Ge Q, Guo Y, Quirk RP, Lotz B, Deng L, Wu C, Thomas EL (2004) Phys Rev Lett 93:028301

Chen, Y. Dissertation, University of Akron, 2005

Zheng JX, Xiong H, Chen WY, Lee K, Van Horn RM, Quirk RP, Lotz B, Thomas EL, Shi A-C, Cheng SZD (2006) Macromolecules 39:641

Van Horn, R. M. Dissertation, University of Akron, 2009

Minko S, Usov D, Goreshnik E, Stamm M (2001) Macromol Rapid Commun 22:206

Minko S, Müller M, Usov D, Scholl A, Froeck C, Stamm M (2002) Phys Rev Lett 88:035502

Zhao B, Brittain W (2000) J Macromol 33:8813

Minko S, Müller M, Motornov M, Nitschke M, Grundke K, Stamm M (2003) J Am Chem Soc 125:3896

Lemieux M, Minko S, Usov D, Stamm M, Tsukruk VV (2003) Langmuir 19:6126

Wang J, Kara S, Long TE, Ward TC (2000) J Polym Sci Part A Polym Chem 38:3742

Abbaspoor, S., Abbasi, F., Agbolaghi, S. RSC Adv 2014 (in press)

Chen WY, Li CY, Zheng JX, Huang P, Zhu L, Ge Q, Quirk RP, Lotz B, Deng L, Wu C, Thomas EL, Cheng SZD (2004) Macromolecules 37:5292

Lotz B, Kovacs AJ (1966) Kolloid Z. Z Polym 209(2):97

Agbolaghi, S., Abbasi, F., Jalili, K. J Polym Res 2014 (in press)

Brandup J, Immergut EH (1975) Polymer handbook. Wiley, New York

Richardson PH, Richard RW, Blundell DJ, MacDonald WA, Mills P (1995) Polymer 36:3059

Taunton HJ, Toprakcioglu C, Fetters LJ, Klein J (1988) Nature (London) 332:712

Granick S, Herz J (1985) Macromolecules 18:460

Kent MS, Lee LT, Farnoux B, Rondelez F (1992) Macromolecules 25:6240

Bhushan B, Israelachvili JN, Landman U (1995) Nature (London) 374:607

Milner ST (1991) Science 251:905

Wunderlich B (1973) Macromolecular Physics Vol. 1: Crystal Structure, Morphology, defects. Academic, New York
Acknowledgments
The authors are indebted to the Iran National Science Foundation.
Electronic supplementary material
Below is the link to the electronic supplementary material.
About this article
Cite this article
Agbolaghi, S., Abbasi, F. & Abbaspoor, S. Epitaxial single crystal surface patterning and study of physical and chemical environmental effects on crystal growth. Colloid Polym Sci 292, 1375–1383 (2014). https://doi.org/10.1007/s00396-014-3197-9
Received:

Revised:

Accepted:

Published:

Issue Date:

DOI: https://doi.org/10.1007/s00396-014-3197-9
Keywords
Epitaxial single crystals

Crystal growth

Physical environment

Chemical environment

PEG-b-PS
PEG-b-PMMA