Abstract
Continuing with our previous work, in which CdSe nanoparticles were functionalized with polystyrene (PS) brushes (CdSe-PS) by the grafting through method, nanocomposites were prepared by adding them to a poly(styrene-b-butadiene-b-styrene) (SBS) triblock copolymer. After characterizing CdSe-PS nanoparticles obtained at different polymerization times of 3, 5, and 8 h by means of thermogravimetric analysis and gel permeation chromatography, CdSe-PS nanoparticles obtained after 5 h of polymerization (CdSe-PS(5h)) were chosen as the most adequate for the generation of nanocomposites. Atomic force microscopy (AFM) was used for morphological characterization of SBS/CdSe-PS(5h) nanocomposites. AFM images showed a good dispersion of the nanoparticles in the block copolymer, with the placement of the nanoparticles in the PS domains due to the improved affinity obtained by their functionalization with PS brushes.
Access options
Buy single article
Instant access to the full article PDF.
USD 39.95
Price includes VAT (USA)
Tax calculation will be finalised during checkout.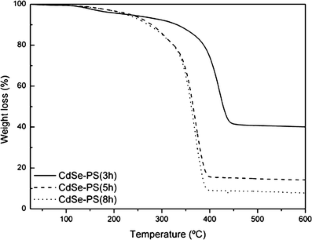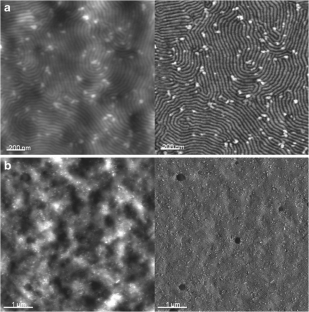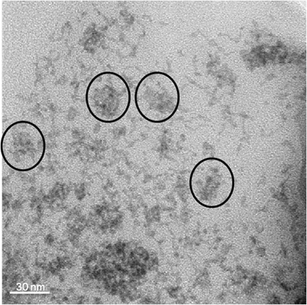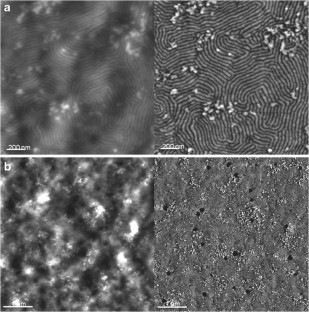 References
1.

Helfand E, Wasserman ZR (1976) Block copolymer theory. 4. Narrow interphase approximation. Macromolecules 9:879–888

2.

Leibler L (1980) Theory of microphase separation in block copolymers. Macromolecules 13:1602–1617

3.

Matsen MW, Bates FS (1996) Unifying weak- and strong-segregation block copolymer theories. Macromolecules 29:1091–1098

4.

Bates FS, Fredrickson GH (1999) Block copolymers—designer soft materials. Phys Today 52:32–38

5.

Lodge TP (2003) Block copolymers: past successes and future challenges. Macrom Chem Phys 204:265–273

6.

Zalakain I, Ramos JA, Fernandez R, Etxeberria H, Mondragon I (2011) Nanostructuration of self-assembled poly(styrene-b-isoprene-b-styrene) block copolymer thin films in a highly oriented pyrolytic graphite substrate. Thin Solid Films 519:1882–1885

7.

Zalakain I, Ramos JA, Fernandez R, Etxeberria H, Mondragon I (2012) Silicon and carbon substrates induced arrangement changes in poly(styrene-b-isoprene-b-styrene) block copolymer thin films. J Appl Polym Sci 125:1552–1558

8.

Gan Z, Jim TF, Li M, Yuer Z, Wang S, Wu C (1999) Enzymatic biodegradation of poly(ethylene oxide-b-ε-caprolactone) diblock copolymer and its potential biomedical applications. Macromolecules 32:590–594

9.

Mequanint K, Patel A, Bezuidenhout D (2006) Synthesis, swelling behavior, and biocompatibility of novel physically cross-linked polyurethane-block-poly(glycerol methacrylate) hydrogels. Biomacromolecules 7:883–891

10.

Peres LO, Gruber J (2007) The use of block copolymers containing PPV in gas sensors for electronic noses. Mater Sci Eng C 27:67–69

11.

Bockstaller MR, Lapetnikov Y, Margel S, Thomas EL (2003) Size-selective organization of enthalpic compatibilized nanocrystals in ternary block copolymer/particle mixtures. J Am Chem Soc 125:5276–5277

12.

Arora H, Li ZH, Sai H, Kamperman M, Warren SC, Wiesner U (2010) Block copolymer directed nanoporous metal thin films. Macromol Rapid Commun 31:1960–1964

13.

Bockstaller MR, Mickiewicz RA, Thomas EL (2005) Block copolymer nanocomposites: perspectives for tailored functional materials. Adv Mater 17:1331–1349

14.

Balazs AC, Emrick T, Russell TP (2006) Nanoparticle polymer composites: where two small worlds meet. Science 314:1107–1110

15.

Glogowski E, Tangirala R, Russell TP, Emrick T (2006) Functionalization of nanoparticles for dispersion in polymers and assembly in fluids. J Polym Sci Polym Chem 44:5076–5086

16.

Sun Z, Bai F, Wu H, Boye DM, Fan H (2012) Monodisperse fluorescent organic/inorganic composite nanoparticles: tuning full color spectrum. Chem Mater 24:3415–3419

17.

Lin Y, Daga VK, Anderson ER, Gido SP, Watkins JJ (2011) Nanoparticle-driven assembly of block copolymers: a simple route to ordered hybrid materials. J Am Chem Soc 133:6513–6516

18.

Lo CT, Lee B, Gao MW, Chou PW (2012) Ordering of block copolymer/nanoparticle composite thin films. Polym Int. doi:10.1002/pi.4303

19.

Jang G, Kramer EJ, Hawker CJ (2011) Controlled supramolecular assembly of micelle-like gold nanoparticles in PS-b-P2VP diblock copolymers via hydrogen bonding. J Am Chem Soc 133:16986–16996

20.

Jang G, Khan A, Hawker CJ, Kramer EJ (2012) Morphology evolution of PS-b-P2VP diblock copolymers via supramolecular assembly of hydroxylated gold nanoparticles. Macromolecules 45:1553–1561

21.

Synytska A, Ionov L, Minko S, Motornov M, Elchorn K, Stamm M, Grundke K (2004) Tuning wettability by controlled roughness and surface modification using core-shell particles. Polym Mater Sci Eng 90:624–625

22.

Wang TL, Yang CH, Shieh YT, Yeh AC (2009) Synthesis of CdSe–poly(N-vinylcarbazole) nanocomposite by atom transfer radical polymerization for potential optoelectronic applications. Macromol Rapid Commun 30:1679–1683

23.

Etxeberria H, Zalakain I, Tercjak A, Eceiza A, Kortaberria G, Mondragon I (2012) Functionalisation of CdSe semiconductor nanoparticles with polystyrene brushes by radical polymerization. J Nanosci Nanotech. doi:10.1166/jnn.2012.6858

24.

Etxeberria H, Kortaberria G, Zalakain I, Larrañaga A, Mondragon I (2012) Effect of different aqueous synthesis parameters on the size of CdSe nanocrystals. J Mater Sci 47:7167–7174

25.

Garcia I, Tercjak A, Zafeiropoulos NE, Stamm M, Mondragon I (2007) Self-assembling nanomaterials using magnetic nanoparticles modified with polystyrene brushes. Macromol Rapid Commun 28:2361–2365

26.

Yoon H, Lee J, Park DW, Hong CH, Shim SE (2010) Preparation and electrorheological characteristic of CdS/polystyrene composite particles. Colloid Polym Sci 288:613–619

27.

Etxeberria H, Zalakain I, Fernandez R, Kortaberria G, Mondragon I (2012) Controlled placement of polystyrene-grafted CdSe nanoparticles in self-assembled block copolymers. Colloid Polym Sci. doi:10.1007/s00396-012-2765-0

28.

Xu C, Ohno K, Ladmiral V, Composto RJ (2008) Dispersion of polymer-grafted magnetic nanoparticles in homopolymers and block copolymers. Polymer 49:3568–3577

29.

Rahimi-Razin S, Haddadi-Asl V, Salami-Kalajahi M, Gehgoodi-Sadabad F, Roghani-Mamaqani H (2012) Matrix-grafted multiwalled carbon nanotubes/ poly(methyl methacrylate) nanocomposites synthesized by in situ raft polymerization: a kinetic study. Int J Chem Kinet 44:555–569
Acknowledgments
Financial support from the Basque Country Government (NanoIker IE11-304, SAIOTEK2012-S-PE12UN106) and Grupos Consolidados (IT-776-13) and from the Ministry of Education and Innovation (MAT 2009–06331 and MAT2012-31675) is gratefully acknowledged. H. Etxeberria thanks University of Basque Country (UPV/EHU) for the grant "Ayudas para la Contratación de Doctores Recientes hasta su Integración en Programas de Formación Postdoctoral". Technical and human support provided by SGIker (UPV/EHU, MICINN, GV/EJ, ERDF, and ESF) is also acknowledged. In memoriam, this study is dedicated to Dr. Iñaki Mondragon Egaña.
About this article
Cite this article
Etxeberria, H., Zalakain, I., Mondragon, I. et al. Generation of nanocomposites based on polystyrene-grafted CdSe nanoparticles by grafting through and block copolymer. Colloid Polym Sci 291, 1881–1886 (2013). https://doi.org/10.1007/s00396-013-2927-8
Received:

Revised:

Accepted:

Published:

Issue Date:
Keywords
Grafting through

CdSe nanoparticles

Block copolymer

Nanocomposite