Abstract
A series of reactive polymeric nanoparticles (RPNPs) was prepared by free radical nonlinear copolymerization of mono (M 1) and trivinyl acrylic (M 2) monomers in miniemulsion. The crosslinking density was determined by the mole ratio of the trivinyl component. It was found that the unswelled latex nanoparticles showed a narrower dispersity than in the organic solution of macromolecules. In latex, the size increased with the ratio of M 2 monomer due to its higher polarity in the aqueous medium. However, the swollen nanoparticles, dissolved or dispersed in organic solvent, showed a higher dispersity as a function of composition and the crosslinking density. The residual vinyl groups adjacent to the nanoparticles were subjected to further crosslinking reactions. The reactive vinyl groups were detected by nuclear magnetic resonance spectroscopy (NMR). The size of particles in swollen state was determined by dynamic laser light scattering (DLS) method and the dried form by scanning electron microscopy (SEM). It was found that size of RPNPs is in the range of 50 to 500 nm. These particles possess properties that may allow their application in areas as disparate as dental filling material and as a component in industrial powder-based coatings.
Access options
Buy single article
Instant access to the full article PDF.
USD 39.95
Price excludes VAT (USA)
Tax calculation will be finalised during checkout.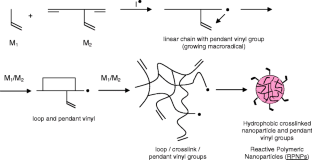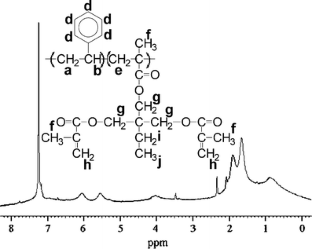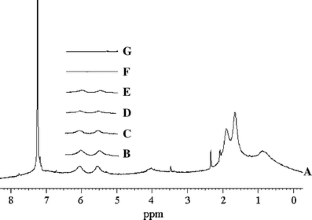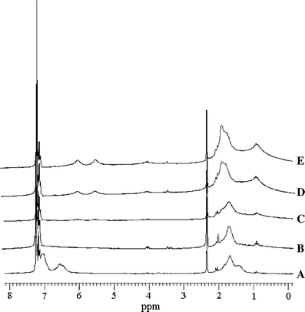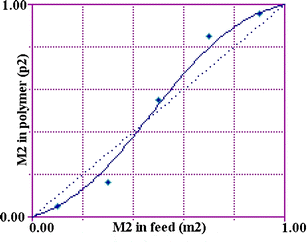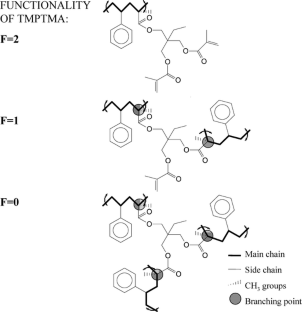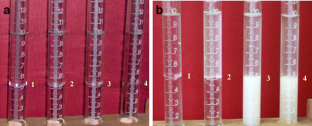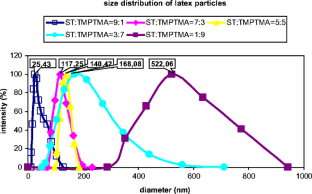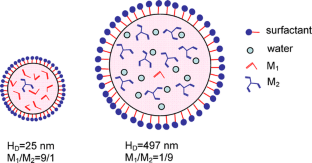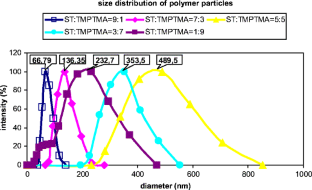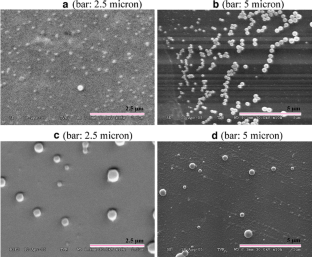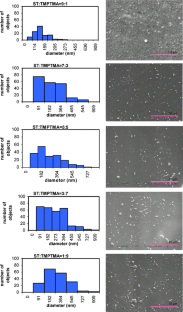 References
Turner JL, Wooley KL (2004) Nano Lett 4:683

Nguyen LH, Straub M, Gu M (2005) Adv Funct Mater 15:209

Zhang G, Niu A, Peng S, Jiang M, Tu Y, Li M, Wu C (2001) Acc Chem Res 34:249

Antonietti M, Bremser W, Schmidt M (1990) Macromolecules 23:3796

Saunders BR, Vincent B (1999) Adv Coll Interf Sci 80:1

Valette L, Pascault JP, Magny B (2003) Macromol Mat Eng 288:642

Funke W, Okay O, Joos-Muller B (1998) Adv Polym Sci 136:139

Szuromi E, Berka M, Borbely J (2000) Macromolecules 33:3993

Wang Y, Teng XW, Wang JS, Yang H (2003) Nano Lett 3:789

Dusek K (1982) Developments in Polymerization-3; Appl. Sci. London, Chapter 4.

Dotson NA, Diekmann T, Macosko CW, Tirrell M (1992) Macromolecules 25:4490

Matsumoto A (1995) Adv Polym Sci 123:41

Tobita H (2004) J Polym Sci Polym Phys 42:2791

Hutchinson JB, Lindquist AS, Anseth KS (2004) Macromolecules 37:3823

Slark AT, Sherrington DC, Titterton A, Martin IK (2003) J Mater Chem 13:2711

Kim JG, Chung CM (2003) Biomaterials 24:3845

Braga RR, Ferracane JL (2004) Crit Rev Oral Biol M 15:176

Sanchez C, Soler-Illia GJDA, Ribot F, Lalot T, Mayer CR, Cabuil V (2001) Chem Mater 13:3061

Raquois C, Tassin JF, Rezaiguia S, Gindre AV (1995) Prog Org Coat 26:239

Grundke K, Michel S, Osterhold M (2000) Prog Org Coat 39:101

Uveges A, Hartmann JF, Borbely J (2004) Polymer Preprints 45:164

Elliott JE, Lovell LG, Bowman CN (2001) Dent Mater 17:221

Elliot JE, Bowman CN (2002) Macromolecules 35:7125

Anseth KV, Wang CM, Bowman CN (1994) Macromolecules 27:650

Lovell LG, Newmann SM, Donaldson MM, Bowman CN (2003) Dent Mater 19:458

Chung CM, Kim JG, Kim MS, Kim KM, Kim KN (2002) Dent Mater 18:174

Soh MS, Yap AUJ (2004) J Dent 32:321

Viljanen EK, Lassila LVJ, Skrifvars M, Vallittu PK (2005) Dent Mater 21:172

Skrtic D, Antonucci JM (2003) Biomaterials 24:2881

Sideridou I, Tserki V, Papanastasiou G (2003) Biomaterials 24:655

Ikeda J, Hasei Y, Yasuda Y, Aota H, Matsumoto A (2004) J Appl Polym Sci 94:1086

Hentsen-Pettersen A (1998) Eur J Oral Sci 106:707

Sudol ED, El-Aasser MS (1997) Emuls Polym Polym Emuls

Lowell PA, El-Aasser MS Eds, (1997) Chichester, England, p 699

Landfester K, Willert M, Antonietti M (2000) Macromolecules 33:2370

Antonietti M, Landfester K (2002) Prog Polym Sci 27:689

Xu XJ, Chow PY, Quek CH, Hng HH, Gan LM (2003) J Nanosci Nanotechnol 3:235

Bouvier-Fontes L, Pirri R, Asua JM, Leiza JR (2005) Macromolecules 38:1164

Bouvier-Fontes L, Pirri R, Magnet S, Asua JM, Leiza JR (2005) Macromolecules 38:2722

Kloosterboer JG (1988) Adv Polym Sci 84:1

Pich A, Lu Y, Adler HJ (2003) Colloid Polym Sci 281:907

Matsumoto A, Murakami N, Aota H, Ikeda J, Capek I (1999) Polymer 40:5687

Tobita H, Kumagai M, Aoyagi N (2000) Polymer 41:481

Tobita H, Aoyagi N, Takamura S (2001) Polymer 42:7583

Tauer K (2005) Polymer 46:1385

Tauer K, Imroz AM, Yildif U, Sedlak M (2005) Polymer 46:1003

Dickens SH, Stansbury JW, Choi KM, Floyd CJE (2003) Macromolecules 36:6043

Kelen T, Tudos F (1975) J Macromol Science Chemistry A-9:1
Acknowledgment
The work was supported by the University Knowledge Center, contract number: RET-DNR 06/423/2004 and by ElizaNor Polymer LLC.
About this article
Cite this article
Szaloki, M., Skribanek, R., Dudas, Z. et al. Preparation of reactive polymeric nanoparticles (RPNPs). Colloid Polym Sci 286, 435–444 (2008). https://doi.org/10.1007/s00396-007-1790-x
Received:

Revised:

Accepted:

Published:

Issue Date:

DOI: https://doi.org/10.1007/s00396-007-1790-x
Keywords
Free radical nonlinear polymerization

Crosslinking polymerization

Reactive Polymeric Nanoparticles (RPNPs)

Miniemulsion

Number average vinyl functionality (NAVF)