Abstract
Proprotein convertase subtilisin/Kexin type 9 (PCSK9) and pyroptosis both play important roles in myocardial infarction. This study was designed to test the hypothesis that PCSK9 regulates pyroptosis in cardiomyocytes during chronic myocardial ischemia. Primary cardiomyocytes were isolated from WT and PCSK9−/− mice. HL-1 cardiomyocytes were used to set up PCSK9-deficient (PCSK9−/−) and PCSK9-upregulated (PCSK9CRISPRa) cardiomyocyte cell line with CRISPR/Cas9 knockout or activation plasmid. Additional studies were performed with chronic myocardial ischemia in WT and PCSK9−/− mice. We observed that PCSK9 initiates mitochondrial DNA (mtDNA) damage, activates NLRP3 inflammasome signaling (NLRP3, ASC, Caspase-1, IL-1β, and IL-18), and subsequently induces Caspase-1-dependent pyroptosis. There was an intense expression of PCSK9 and pyroptosis marker, GSDMD-NT, in the zone bordering the infarct area. PCSK9−/− significantly suppressed expression of NLRP3 inflammasome signaling, GSDMD-NT, and LDH release. Furthermore, serum levels of PCSK9, NLPR3 inflammasome signaling, and pyroptosis (GSDMD and LDH release) were significantly elevated in patients with chronic myocardial ischemia as compared to those in age-matched healthy subjects. Human hearts with recent infarcts also showed high expression of PCSK9 and GSDMD-NT in the border zone similar to that in the infarcted mouse heart. These observations provide compelling evidence for the role of PCSK9 in regulating Caspase-1-dependent pyroptosis via mtDNA damage and may qualify pro-inflammatory cytokines and pyroptosis as potential targets to treat PCSK9-related cardiovascular diseases.
This is a preview of subscription content, log in to check access.
Access options
Buy single article
Instant access to the full article PDF.
US$ 39.95
Tax calculation will be finalised during checkout.
Subscribe to journal
Immediate online access to all issues from 2019. Subscription will auto renew annually.
US$ 199
Tax calculation will be finalised during checkout.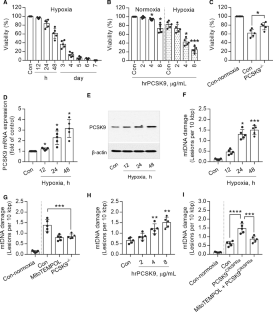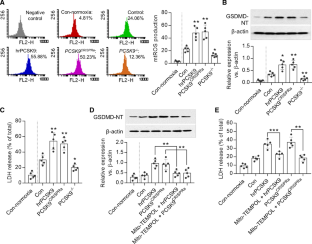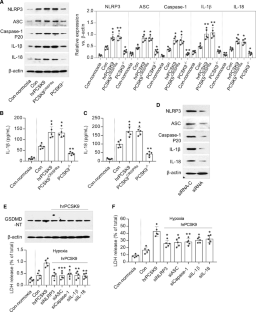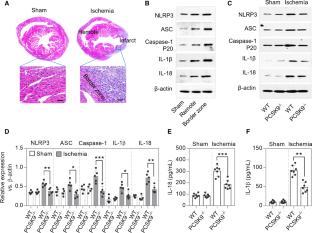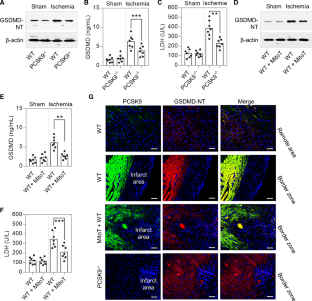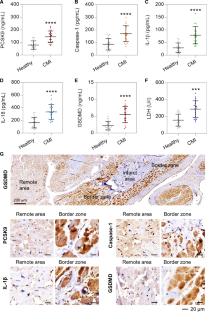 Acknowledgements
This study was supported by a seed grant from the Vice-Chancellor of Research & Innovation from the University of Arkansas for Medical Sciences (to Dr. Ding). Additionally, this research was in part supported by the Supporting Plan for Scientific and Technological Innovative Talents in Universities of Henan Province (19HASTIT004 to Dr. Wang) and the National Natural Science Foundation of China (U1804166, 81873459, 81370428 to Dr. Wang).
Ethics declarations
Conflict of interest
On behalf of all authors, the corresponding author states that there is no conflict of interest.
About this article
Cite this article
Wang, X., Li, X., Liu, S. et al. PCSK9 regulates pyroptosis via mtDNA damage in chronic myocardial ischemia. Basic Res Cardiol 115, 66 (2020). https://doi.org/10.1007/s00395-020-00832-w
Received:

Accepted:

Published:
Keywords
PCSK9

Pyroptosis

NLRP3 inflammasome

Mitochondrial DNA damage

Chronic myocardial ischemia