Abstract
Nitroglycerin (GTN) and other organic nitrates are widely used vasodilators. Their side effects are development of nitrate tolerance and endothelial dysfunction. Given the potential of GTN to induce nitro-oxidative stress, we investigated the interaction between nitro-oxidative DNA damage and vascular dysfunction in experimental nitrate tolerance. Cultured endothelial hybridoma cells (EA.hy 926) and Wistar rats were treated with GTN (ex vivo: 10–1000 µM; in vivo: 10, 20 and 50 mg/kg/day for 3 days, s.c.). The level of DNA strand breaks, 8-oxoguanine and O 6-methylguanine DNA adducts was determined by Comet assay, dot blot and immunohistochemistry. Vascular function was determined by isometric tension recording. DNA adducts and strand breaks were induced by GTN in cells in vitro in a concentration-dependent manner. GTN in vivo administration leads to endothelial dysfunction, nitrate tolerance, aortic and cardiac oxidative stress, formation of DNA adducts, stabilization of p53 and apoptotic death of vascular cells in a dose-dependent fashion. Mice lacking O 6-methylguanine-DNA methyltransferase displayed more vascular O 6-methylguanine adducts and oxidative stress under GTN therapy than wild-type mice. Although we were not able to prove a causal role of DNA damage in the etiology of nitrate tolerance, the finding of GTN-induced DNA damage such as the mutagenic and toxic adduct O 6-methylguanine, and cell death supports the notion that GTN based therapy may provoke adverse side effects, including endothelial function. Further studies are warranted to clarify whether GTN pro-apoptotic effects are related to an impaired recovery of patients upon myocardial infarction.
Access options
Buy single article
Instant access to the full article PDF.
USD 39.95
Price excludes VAT (USA)
Tax calculation will be finalised during checkout.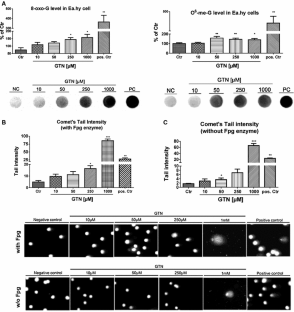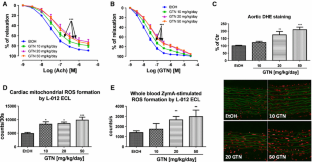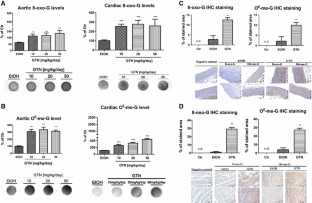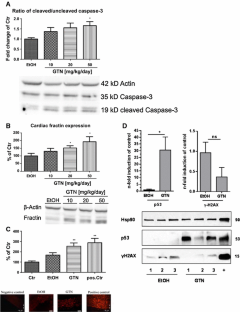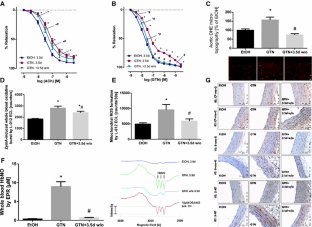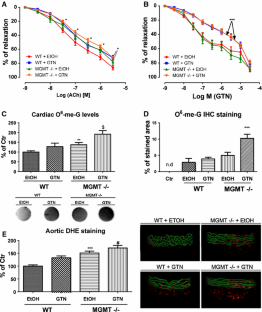 Abbreviations
ACh:

Acetylcholine

t-BOOH:

Tert-butyl hydroperoxide

DEA/NO:

Diethylamine NONOate

DHE:

Dihydroethidium

EPR:

Electron paramagnetic resonance spectroscopy

eNOS:

Endothelial ·NO synthase (type 3)

ECL:

Enhanced chemiluminescence

EtOH:

Ethanol

GTN:

Glyceryl trinitrate (nitroglycerin)

IHC:

Immuno-histochemistry

ISMN:

Isosorbide-5-mononitrate

L-012:

8-Amino-5-chloro-7-phenylpyrido[3,4-d]pyridazine-1,4-(2H,3H)dione sodium salt

MGMT:

O 6-methylguanine-DNA methyltransferase

·NO:

Nitric oxide

Hb-NO:

Nitrosyl-iron hemoglobin

3NT:

3-Nitrotyrosine

O 6-me-G:

O 6-methylguanine

8-oxo-G:

8-Oxoguanine

RONS:

Reactive oxygen and nitrogen species

SDS-Page:

Sodium dodecyl sulfate-polyacrylamide electrophoresis

O2 ·− :

Superoxide anion radical
References
Andreassi MG, Botto N, Simi S, Casella M, Manfredi S, Lucarelli M, Venneri L, Biagini A, Picano E (2005) Diabetes and chronic nitrate therapy as co-determinants of somatic DNA damage in patients with coronary artery disease. J Mol Med (Berl) 83:279–286. doi:10.1007/s00109-005-0634-8

Andreassi MG, Picano E, Del Ry S, Botto N, Colombo MG, Giannessi D, Lubrano V, Vassalle C, Biagini A (2001) Chronic long-term nitrate therapy: possible cytogenetic effect in humans? Mutagenesis 16:517–521. doi:10.1093/mutage/16.6.517

Bice JS, Jones BR, Chamberlain GR, Baxter GF (2016) Nitric oxide treatments as adjuncts to reperfusion in acute myocardial infarction: a systematic review of experimental and clinical studies. Basic Res Cardiol 111:23. doi:10.1007/s00395-016-0540-y

Bliksoen M, Mariero LH, Torp MK, Baysa A, Ytrehus K, Haugen F, Seljeflot I, Vaage J, Valen G, Stenslokken KO (2016) Extracellular mtDNA activates NF-kappaB via toll-like receptor 9 and induces cell death in cardiomyocytes. Basic Res Cardiol 111:42. doi:10.1007/s00395-016-0553-6

Britten MB, Abolmaali ND, Assmus B, Lehmann R, Honold J, Schmitt J, Vogl TJ, Martin H, Schachinger V, Dimmeler S, Zeiher AM (2003) Infarct remodeling after intracoronary progenitor cell treatment in patients with acute myocardial infarction (TOPCARE-AMI): mechanistic insights from serial contrast-enhanced magnetic resonance imaging. Circulation 108:2212–2218. doi:10.1161/01.CIR.0000095788.78169.AF

Daiber A, Oelze M, August M, Wendt M, Sydow K, Wieboldt H, Kleschyov AL, Munzel T (2004) Detection of superoxide and peroxynitrite in model systems and mitochondria by the luminol analogue L-012. Free Radic Res 38:259–269. doi:10.1080/10715760410001659773

Daiber A, Oelze M, Coldewey M, Bachschmid M, Wenzel P, Sydow K, Wendt M, Kleschyov AL, Stalleicken D, Ullrich V, Mulsch A, Munzel T (2004) Oxidative stress and mitochondrial aldehyde dehydrogenase activity: a comparison of pentaerythritol tetranitrate with other organic nitrates. Mol Pharmacol 66:1372–1382. doi:10.1124/mol.104.002600

Daiber A, Oelze M, Sulyok S, Coldewey M, Schulz E, Treiber N, Hink U, Mulsch A, Scharffetter-Kochanek K, Munzel T (2005) Heterozygous deficiency of manganese superoxide dismutase in mice (Mn-SOD+/−): a novel approach to assess the role of oxidative stress for the development of nitrate tolerance. Mol Pharmacol 68:579–588. doi:10.1124/mol.105.011585

Davidson A, Veillard AS, Tognela A, Chan MM, Hughes BG, Boyer M, Briscoe K, Begbie S, Abdi E, Crombie C, Long J, Boyce A, Lewis CR, Varma S, Broad A, Muljadi N, Chinchen S, Espinoza D, Coskinas X, Pavlakis N, Millward M, Stockler MR, Australasian Lung cancer Trials G, Australasian Lung cancer Trials Group A (2015) A phase III randomized trial of adding topical nitroglycerin to first-line chemotherapy for advanced nonsmall-cell lung cancer: the Australasian lung cancer trials group NITRO trial. Ann Oncol 26:2280–2286. doi:10.1093/annonc/mdv373

DiFabio JM, Thomas GR, Zucco L, Kuliszewski MA, Bennett BM, Kutryk MJ, Parker JD (2006) Nitroglycerin attenuates human endothelial progenitor cell differentiation, function, and survival. J Pharmacol Exp Ther 318:117–123. doi:10.1124/jpet.106.102129

Dörsam B, Wu CF, Efferth T, Kaina B, Fahrer J (2015) The eucalyptus oil ingredient 1,8-cineol induces oxidative DNA damage. Arch Toxicol 89:797–805. doi:10.1007/s00204-014-1281-z

Edgell CJ, McDonald CC, Graham JB (1983) Permanent cell line expressing human factor VIII-related antigen established by hybridization. Proc Natl Acad Sci USA 80:3734–3737

Esplugues JV, Rocha M, Nunez C, Bosca I, Ibiza S, Herance JR, Ortega A, Serrador JM, D'Ocon P, Victor VM (2006) Complex I dysfunction and tolerance to nitroglycerin: an approach based on mitochondrial-targeted antioxidants. Circ Res 99:1067–1075. doi:10.1161/01.RES.0000250430.62775.99

Fahrer J, Frisch J, Nagel G, Kraus A, Dorsam B, Thomas AD, Reissig S, Waisman A, Kaina B (2015) DNA repair by MGMT, but not AAG, causes a threshold in alkylation-induced colorectal carcinogenesis. Carcinogenesis 36:1235–1244. doi:10.1093/carcin/bgv114

Fahrer J, Huelsenbeck J, Jaurich H, Dorsam B, Frisan T, Eich M, Roos WP, Kaina B, Fritz G (2014) Cytolethal distending toxin (CDT) is a radiomimetic agent and induces persistent levels of DNA double-strand breaks in human fibroblasts. DNA Repair (Amst) 18:31–43. doi:10.1016/j.dnarep.2014.03.002

Fahrer J, Kaina B (2013) O 6-methylguanine-DNA methyltransferase in the defense against N-nitroso compounds and colorectal cancer. Carcinogenesis 34:2435–2442. doi:10.1093/carcin/bgt275

Fan Q, Gao F, Zhang L, Christopher TA, Lopez BL, Ma XL (2005) Nitrate tolerance aggravates postischemic myocardial apoptosis and impairs cardiac functional recovery after ischemia. Apoptosis 10:1235–1242. doi:10.1007/s10495-005-1455-5

Felley-Bosco E (1998) Role of nitric oxide in genotoxicity: implication for carcinogenesis. Cancer Metastasis Rev 17:25–37. doi:10.1023/A:1005948420548

Ferreira JC, Mochly-Rosen D (2012) Nitroglycerin use in myocardial infarction patients. Circ J 76:15–21. doi:10.1253/circj.CJ-11-1133

Freedman SB, Daxini BV, Noyce D, Kelly DT (1995) Intermittent transdermal nitrates do not improve ischemia in patients taking beta-blockers or calcium antagonists: potential role of rebound ischemia during the nitrate-free period. J Am Coll Cardiol 25:349–355. doi:10.1016/0735-1097(94)00416-N

Fu D, Calvo JA, Samson LD (2012) Balancing repair and tolerance of DNA damage caused by alkylating agents. Nat Rev Cancer 12:104–120. doi:10.1038/nrc3185

Glassner BJ, Weeda G, Allan JM, Broekhof JL, Carls NH, Donker I, Engelward BP, Hampson RJ, Hersmus R, Hickman MJ, Roth RB, Warren HB, Wu MM, Hoeijmakers JH, Samson LD (1999) DNA repair methyltransferase (Mgmt) knockout mice are sensitive to the lethal effects of chemotherapeutic alkylating agents. Mutagenesis 14:339–347. doi:10.1093/mutage/14.3.339

Green IC, Cunningham JM, Delaney CA, Elphick MR, Mabley JG, Green MH (1994) Effects of cytokines and nitric oxide donors on insulin secretion, cyclic GMP and DNA damage: relation to nitric oxide production. Biochem Soc Trans 22:30–37. doi:10.1042/bst0220030

Guarini G, Kiyooka T, Ohanyan V, Pung YF, Marzilli M, Chen YR, Chen CL, Kang PT, Hardwick JP, Kolz CL, Yin L, Wilson GL, Shokolenko I, Dobson JG Jr, Fenton R, Chilian WM (2016) Impaired coronary metabolic dilation in the metabolic syndrome is linked to mitochondrial dysfunction and mitochondrial DNA damage. Basic Res Cardiol 111:29. doi:10.1007/s00395-016-0547-4

Heusch G (2001) Nitroglycerin and delayed preconditioning in humans: yet another new mechanism for an old drug? Circulation 103:2876–2878. doi:10.1161/01.CIR.103.24.2876

Jabs A, Oelze M, Mikhed Y, Stamm P, Kroller-Schon S, Welschof P, Jansen T, Hausding M, Kopp M, Steven S, Schulz E, Stasch JP, Munzel T, Daiber A (2015) Effect of soluble guanylyl cyclase activator and stimulator therapy on nitroglycerin-induced nitrate tolerance in rats. Vascul Pharmacol 71:181–191. doi:10.1016/j.vph.2015.03.007

Janero DR, Bryan NS, Saijo F, Dhawan V, Schwalb DJ, Warren MC, Feelisch M (2004) Differential nitros(yl)ation of blood and tissue constituents during glyceryl trinitrate biotransformation in vivo. Proc Natl Acad Sci USA 101:16958–16963. doi:10.1073/pnas.0406075101

Kanamasa K, Hayashi T, Kimura A, Ikeda A, Ishikawa K (2002) Long-term, continuous treatment with both oral and transdermal nitrates increases cardiac events in healed myocardial infarction patients. Angiology 53:399–408. doi:10.1177/000331970205300405

Kiziltepe T, Hideshima T, Ishitsuka K, Ocio EM, Raje N, Catley L, Li CQ, Trudel LJ, Yasui H, Vallet S, Kutok JL, Chauhan D, Mitsiades CS, Saavedra JE, Wogan GN, Keefer LK, Shami PJ, Anderson KC (2007) JS-K, a GST-activated nitric oxide generator, induces DNA double-strand breaks, activates DNA damage response pathways, and induces apoptosis in vitro and in vivo in human multiple myeloma cells. Blood 110:709–718. doi:10.1182/blood-2006-10-052845

Kleinbongard P, Thielmann M, Jakob H, Peters J, Heusch G, Kottenberg E (2013) Nitroglycerin does not interfere with protection by remote ischemic preconditioning in patients with surgical coronary revascularization under isoflurane anesthesia. Cardiovasc Drugs Ther 27:359–361. doi:10.1007/s10557-013-6451-3

Knorr M, Hausding M, Kroller-Schuhmacher S, Steven S, Oelze M, Heeren T, Scholz A, Gori T, Wenzel P, Schulz E, Daiber A, Munzel T (2011) Nitroglycerin-induced endothelial dysfunction and tolerance involve adverse phosphorylation and S-Glutathionylation of endothelial nitric oxide synthase: beneficial effects of therapy with the AT1 receptor blocker telmisartan. Arterioscler Thromb Vasc Biol 31:2223–2231. doi:10.1161/ATVBAHA.111.232058

Kroller-Schon S, Steven S, Kossmann S, Scholz A, Daub S, Oelze M, Xia N, Hausding M, Mikhed Y, Zinssius E, Mader M, Stamm P, Treiber N, Scharffetter-Kochanek K, Li H, Schulz E, Wenzel P, Munzel T, Daiber A (2014) Molecular mechanisms of the crosstalk between mitochondria and NADPH oxidase through reactive oxygen species-studies in white blood cells and in animal models. Antioxid Redox Signal 20:247–266. doi:10.1089/ars.2012.4953

Laval F, Wink DA (1994) Inhibition by nitric oxide of the repair protein, O 6-methylguanine-DNA-methyltransferase. Carcinogenesis 15:443–447. doi:10.1093/carcin/15.3.443

Liu RH, Hotchkiss JH (1995) Potential genotoxicity of chronically elevated nitric oxide: a review. Mutat Res 339:73–89. doi:10.1016/0165-1110(95)90004-7

Meira LB, Calvo JA, Shah D, Klapacz J, Moroski-Erkul CA, Bronson RT, Samson LD (2014) Repair of endogenous DNA base lesions modulate lifespan in mice. DNA Repair (Amst) 21:78–86. doi:10.1016/j.dnarep.2014.05.012

Mikhed Y, Daiber A, Steven S (2015) Mitochondrial oxidative stress, mitochondrial DNA damage and their role in age-related vascular dysfunction. Int J Mol Sci 16:15918–15953. doi:10.3390/ijms160715918

Mikhed Y, Gorlach A, Knaus UG, Daiber A (2015) Redox regulation of genome stability by effects on gene expression, epigenetic pathways and DNA damage/repair. Redox Biol 5:275–289. doi:10.1016/j.redox.2015.05.008

Munzel T, Daiber A, Gori T (2013) More answers to the still unresolved question of nitrate tolerance. Eur Heart J 34:2666–2673. doi:10.1093/eurheartj/eht249

Munzel T, Daiber A, Gori T (2011) Nitrate therapy: new aspects concerning molecular action and tolerance. Circulation 123:2132–2144. doi:10.1161/CIRCULATIONAHA.110.981407

Munzel T, Li H, Mollnau H, Hink U, Matheis E, Hartmann M, Oelze M, Skatchkov M, Warnholtz A, Duncker L, Meinertz T, Forstermann U (2000) Effects of long-term nitroglycerin treatment on endothelial nitric oxide synthase (NOS III) gene expression, NOS III-mediated superoxide production, and vascular NO bioavailability. Circ Res 86:E7–E12. doi:10.1161/01.RES.86.1.e7

Munzel T, Mollnau H, Hartmann M, Geiger C, Oelze M, Warnholtz A, Yehia AH, Forstermann U, Meinertz T (2000) Effects of a nitrate-free interval on tolerance, vasoconstrictor sensitivity and vascular superoxide production. J Am Coll Cardiol 36:628–634. doi:10.1016/S0735-1097(00)00754-3

Munzel T, Sayegh H, Freeman BA, Tarpey MM, Harrison DG (1995) Evidence for enhanced vascular superoxide anion production in nitrate tolerance. A novel mechanism underlying tolerance and cross-tolerance. J Clin Invest 95:187–194. doi:10.1172/JCI117637

Munzel T, Wenzel P, Daiber A (2007) Do we still need organic nitrates? J Am Coll Cardiol 49:1296–1298. doi:10.1016/j.jacc.2007.01.007

Nakamura Y, Moss AJ, Brown MW, Kinoshita M, Kawai C (1999) Long-term nitrate use may be deleterious in ischemic heart disease: a study using the databases from two large-scale postinfarction studies. Multicenter Myocardial Ischemia Research Group. Am Heart J 138:577–585. doi:10.1016/S0002-8703(99)70163-8

Nehls P, Adamkiewicz J, Rajewsky MF (1984) Immuno-slot-blot: a highly sensitive immunoassay for the quantitation of carcinogen-modified nucleosides in DNA. J Cancer Res Clin Oncol 108:23–29. doi:10.1007/BF00390969

Oelze M, Daiber A, Brandes RP, Hortmann M, Wenzel P, Hink U, Schulz E, Mollnau H, von Sandersleben A, Kleschyov AL, Mulsch A, Li H, Forstermann U, Munzel T (2006) Nebivolol inhibits superoxide formation by NADPH oxidase and endothelial dysfunction in angiotensin II-treated rats. Hypertension 48:677–684. doi:10.1161/01.HYP.0000239207.82326.29

Oelze M, Knorr M, Kroller-Schon S, Kossmann S, Gottschlich A, Rummler R, Schuff A, Daub S, Doppler C, Kleinert H, Gori T, Daiber A, Munzel T (2013) Chronic therapy with isosorbide-5-mononitrate causes endothelial dysfunction, oxidative stress, and a marked increase in vascular endothelin-1 expression. Eur Heart J 34:3206–3216. doi:10.1093/eurheartj/ehs100

Parker JD, Parker AB, Farrell B, Parker JO (1995) Intermittent transdermal nitroglycerin therapy. Decreased anginal threshold during the nitrate-free interval. Circulation 91:973–978. doi:10.1161/01.CIR.91.4.973

Rassaf T, Weber C, Bernhagen J (2014) Macrophage migration inhibitory factor in myocardial ischaemia/reperfusion injury. Cardiovasc Res 102:321–328. doi:10.1093/cvr/cvu071

Redfield MM, Anstrom KJ, Levine JA, Koepp GA, Borlaug BA, Chen HH, LeWinter MM, Joseph SM, Shah SJ, Semigran MJ, Felker GM, Cole RT, Reeves GR, Tedford RJ, Tang WH, McNulty SE, Velazquez EJ, Shah MR, Braunwald E, Network NHFCR (2015) Isosorbide mononitrate in heart failure with preserved ejection fraction. N Engl J Med 373:2314–2324. doi:10.1056/NEJMoa1510774

Roos WP, Kaina B (2013) DNA damage-induced cell death: from specific DNA lesions to the DNA damage response and apoptosis. Cancer Lett 332:237–248. doi:10.1016/j.canlet.2012.01.007

Schuhmacher S, Foretz M, Knorr M, Jansen T, Hortmann M, Wenzel P, Oelze M, Kleschyov AL, Daiber A, Keaney JF Jr, Wegener G, Lackner K, Munzel T, Viollet B, Schulz E (2011) alpha1AMP-activated protein kinase preserves endothelial function during chronic angiotensin II treatment by limiting Nox2 upregulation. Arterioscler Thromb Vasc Biol 31:560–566. doi:10.1161/ATVBAHA.110.219543

Schuhmacher S, Schulz E, Oelze M, Konig A, Roegler C, Lange K, Sydow L, Kawamoto T, Wenzel P, Munzel T, Lehmann J, Daiber A (2009) A new class of organic nitrates: investigations on bioactivation, tolerance and cross-tolerance phenomena. Br J Pharmacol 158:510–520. doi:10.1111/j.1476-5381.2009.00303.x

Speit G, Schutz P, Bonzheim I, Trenz K, Hoffmann H (2004) Sensitivity of the FPG protein towards alkylation damage in the comet assay. Toxicol Lett 146:151–158. doi:10.1016/j.toxlet.2003.09.010

Spieker LE, Flammer AJ, Luscher TF (2006) The vascular endothelium in hypertension. Handb Exp Pharmacol. doi:10.1007/3-540-36028-X

Sunjog K, Kolarevic S, Heberger K, Gacic Z, Knezevic-Vukcevic J, Vukovic-Gacic B, Lenhardt M (2013) Comparison of comet assay parameters for estimation of genotoxicity by sum of ranking differences. Anal Bioanal Chem 405:4879–4885. doi:10.1007/s00216-013-6909-y

Suzuki T, Harashima H, Kamiya H (2010) Effects of base excision repair proteins on mutagenesis by 8-oxo-7,8-dihydroguanine (8-hydroxyguanine) paired with cytosine and adenine. DNA Repair (Amst) 9:542–550. doi:10.1016/j.dnarep.2010.02.004

Sydow K, Daiber A, Oelze M, Chen Z, August M, Wendt M, Ullrich V, Mulsch A, Schulz E, Keaney JF Jr, Stamler JS, Munzel T (2004) Central role of mitochondrial aldehyde dehydrogenase and reactive oxygen species in nitroglycerin tolerance and cross-tolerance. J Clin Invest 113:482–489. doi:10.1172/JCI19267

Wei W, Li B, Hanes MA, Kakar S, Chen X, Liu L (2010) S-nitrosylation from GSNOR deficiency impairs DNA repair and promotes hepatocarcinogenesis. Sci Transl Med 2:19. doi:10.1126/scitranslmed.3000328

Wenzel P, Mollnau H, Oelze M, Schulz E, Wickramanayake JM, Muller J, Schuhmacher S, Hortmann M, Baldus S, Gori T, Brandes RP, Munzel T, Daiber A (2008) First evidence for a crosstalk between mitochondrial and NADPH oxidase-derived reactive oxygen species in nitroglycerin-triggered vascular dysfunction. Antioxid Redox Signal 10:1435–1447. doi:10.1089/ars.2007.1969

Werner C, Bohm M, Friedrich EB (2008) Progenitor cell therapy and myocardial infarction: the importance of microvascular function. Nat Clin Pract Cardiovasc Med 5:78–79. doi:10.1038/ncpcardio1058

Yasuda H, Yamaya M, Nakayama K, Sasaki T, Ebihara S, Kanda A, Asada M, Inoue D, Suzuki T, Okazaki T, Takahashi H, Yoshida M, Kaneta T, Ishizawa K, Yamanda S, Tomita N, Yamasaki M, Kikuchi A, Kubo H, Sasaki H (2006) Randomized phase II trial comparing nitroglycerin plus vinorelbine and cisplatin with vinorelbine and cisplatin alone in previously untreated stage IIIB/IV non-small-cell lung cancer. J Clin Oncol 24:688–694. doi:10.1200/JCO.2005.04.0436

Zhang Z, Wang L, Wei S, Liu Z, Wang LE, Sturgis EM, Wei Q (2010) Polymorphisms of the DNA repair gene MGMT and risk and progression of head and neck cancer. DNA Repair (Amst) 9:558–566. doi:10.1016/j.dnarep.2010.02.006
Acknowledgments
We are indebted to Angelica Karpi, Jessica Rudolph, Bettina Mros, Jörg Schreiner, Nicole Glas, Svenja Stroh, Anna Frumkina and Georg Nagel for their expert technical assistance.
Ethics declarations
Sources of funding
Yuliya Mikhed holds a stipend from the International PhD Program on the ''Dynamics of Gene Regulation, Epigenetics and DNA Damage Response'' from the Institute of Molecular Biology gGmbH, (Mainz, Germany) funded by the Boehringer Ingelheim Foundation. The study was supported by long-lasting funding from the Mainzer Herz Stiftung and the Center for Translational Vascular Biology at the University Medical Center Mainz.
Conflict of interest
The authors declare no competing interests.
Ethical standards
All animal treatments were in accordance with the Guide for the Care and Use of Laboratory Animals as adopted and promulgated by the U.S. National Institutes of Health and approved by the Ethics Commission according to the German Law on the Protection of Animals (Landesunter- suchungsamt Rheinland-Pfalz, Koblenz, Germany: #23 177-07/G12-1-084).
Additional information
Y. Mikhed, J. Fahrer and M. Oelze contributed equally to this work and are joint first authors.
Electronic supplementary material
Below is the link to the electronic supplementary material.
About this article
Cite this article
Mikhed, Y., Fahrer, J., Oelze, M. et al. Nitroglycerin induces DNA damage and vascular cell death in the setting of nitrate tolerance. Basic Res Cardiol 111, 52 (2016). https://doi.org/10.1007/s00395-016-0571-4
Received:

Revised:

Accepted:

Published:

DOI: https://doi.org/10.1007/s00395-016-0571-4
Keywords
DNA damage

Oxidative stress

Vascular dysfunction

Nitrate tolerance