Abstract
Cardiomyopathy is one of the most common causes of chronic heart failure worldwide. Mutations in the gene encoding nexilin (NEXN) occur in patients with both hypertrophic and dilated cardiomyopathy (DCM); however, little is known about the pathophysiological mechanisms and relevance of NEXN to these disorders. Here, we evaluated the functional role of NEXN using a constitutive Nexn knock-out (KO) mouse model. Heterozygous (Het) mice were inter-crossed to produce wild-type (WT), Het, and homozygous KO mice. At birth, 32, 46, and 22 % of the mice were WT, Het, and KO, respectively, which is close to the expected Mendelian ratio. After postnatal day 6, the survival of the Nexn KO mice decreased dramatically and all of the animals died by day 8. Phenotypic characterizations of the WT and KO mice were performed at postnatal days 1, 2, 4, and 6. At birth, the relative heart weights of the WT and KO mice were similar; however, at day 4, the relative heart weight of the KO group was 2.3-fold higher than of the WT group. In addition, the KO mice developed rapidly progressive cardiomyopathy with left ventricular dilation and wall thinning and decreased cardiac function. At day 6, the KO mice developed a fulminant DCM phenotype characterized by dilated ventricular chambers and systolic dysfunction. At this stage, collagen deposits and some elastin deposits were observed within the left ventricle cavity, which resembles the features of endomyocardial fibroelastosis (EFE). Overall, these results further emphasize the role of NEXN in DCM and suggest a novel role in EFE.
This is a preview of subscription content, log in to check access.
Access options
Buy single article
Instant access to the full article PDF.
US$ 39.95
Tax calculation will be finalised during checkout.
Subscribe to journal
Immediate online access to all issues from 2019. Subscription will auto renew annually.
US$ 199
Tax calculation will be finalised during checkout.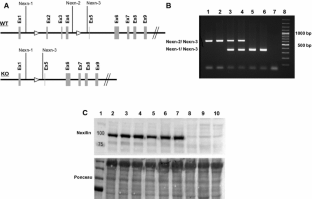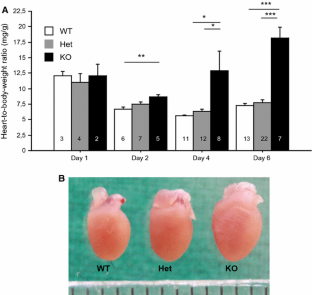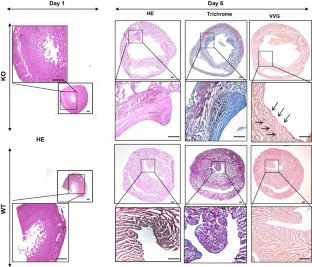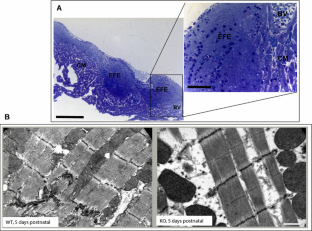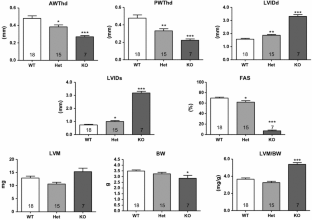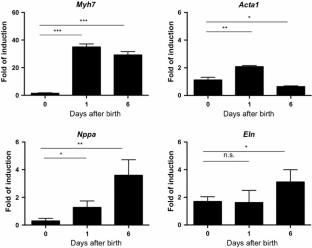 References
1.

Aherrahrou Z, Doehring LC, Kaczmarek PM, Liptau H, Ehlers EM, Pomarino A, Wrobel S, Gotz A, Mayer B, Erdmann J, Schunkert H (2007) Ultrafine mapping of Dyscalc1 to an 80-kb chromosomal segment on chromosome 7 in mice susceptible for dystrophic calcification. Physiol Genomics 28:203–212. doi:10.1152/physiolgenomics.00133.2006

2.

Callis TE, Jensen BC, Weck KE, Willis MS (2010) Evolving molecular diagnostics for familial cardiomyopathies: at the heart of it all. Expert Rev Mol Diagn 10:329–351. doi:10.1586/erm.10.13

3.

Clark KA, McElhinny AS, Beckerle MC, Gregorio CC (2002) Striated muscle cytoarchitecture: an intricate web of form and function. Annu Rev Cell Dev Bi 18:637–706. doi:10.1146/annurev.cellbio.18.012502.105840

4.

Colan SD, Lipshultz SE, Lowe AM, Sleeper LA, Messere J, Cox GF, Lurie PR, Orav EJ, Towbin JA (2007) Epidemiology and cause-specific outcome of hypertrophic cardiomyopathy in children: findings from the Pediatric Cardiomyopathy Registry. Circulation 115:773–781. doi:10.1161/CIRCULATIONAHA.106.621185

5.

Cotran RS, Kumar V, Fausto N, Nelso F, Robbins SL, Abbas AK (2005). In: Robbins and Cotran (ed) Pathologic basis of disease, 8th edn. Saunders Elsevier, St. Louis, p 607

6.

Doevendans PAWAA, Marcelis C, Doevendans PA, Bonne G (2001) Dilated cardiomyopathy in cardiovascular genetics for clinicians. Kluwer Academic Publishers, Dordrecht

7.

Durand JB, Abchee AB, Roberts R (1995) Molecular and clinical aspects of inherited cardiomyopathies. Ann Med 27:311–317

8.

Elliott P, Andersson B, Arbustini E, Bilinska Z, Cecchi F, Charron P, Dubourg O, Kuhl U, Maisch B, McKenna WJ, Monserrat L, Pankuweit S, Rapezzi C, Seferovic P, Tavazzi L, Keren A (2008) Classification of the cardiomyopathies: a position statement from the European Society Of Cardiology Working Group on Myocardial and Pericardial Diseases. Eur Heart J 29:270–276. doi:10.1093/eurheartj/ehm342

9.

Ervasti JM (2000) Structure and function of the dystrophin-glycoprotein complex. madame curie bioscience database (Internet). Landes Bioscience, Austin

10.

Fishbein MC, Ferrans VJ, Roberts WC (1977) Histologic and ultrastructural features of primary and secondary endocardial fibroelastosis. Arch Pathol Lab Med 101:49–54

11.

Frank D, Frey N (2011) Cardiac Z-disc signaling network. J Biol Chem 286:9897–9904. doi:10.1074/jbc.R110.174268

12.

Friedrich FW, Carrier L (2012) Genetics of hypertrophic and dilated cardiomyopathy. Curr Pharm Biotechno 13:2467–2476

13.

Garcia-Pavia P, Cobo-Marcos M, Guzzo-Merello G, Gomez-Bueno M, Bornstein B, Lara-Pezzi E, Segovia J, Alonso-Pulpon L (2013) Genetics in dilated cardiomyopathy. Biomark Med 7:517–533. doi:10.2217/bmm.13.77

14.

Haas J, Frese KS, Peil B, Kloos W, Keller A, Nietsch R, Feng Z, Muller S, Kayvanpour E, Vogel B, Sedaghat-Hamedani F, Lim WK, Zhao X, Fradkin D, Kohler D, Fischer S, Franke J, Marquart S, Barb I, Li DT, Amr A, Ehlermann P, Mereles D, Weis T, Hassel S, Kremer A, King V, Wirsz E, Isnard R, Komajda M, Serio A, Grasso M, Syrris P, Wicks E, Plagnol V, Lopes L, Gadgaard T, Eiskjaer H, Jorgensen M, Garcia-Giustiniani D, Ortiz-Genga M, Crespo-Leiro MG, Deprez RH, Christiaans I, van Rijsingen IA, Wilde AA, Waldenstrom A, Bolognesi M, Bellazzi R, Morner S, Bermejo JL, Monserrat L, Villard E, Mogensen J, Pinto YM, Charron P, Elliott P, Arbustini E, Katus HA, Meder B (2014) Atlas of the clinical genetics of human dilated cardiomyopathy. Eur Heart J. doi:10.1093/eurheartj/ehu301

15.

Hassel D, Dahme T, Erdmann J, Meder B, Huge A, Stoll M, Just S, Hess A, Ehlermann P, Weichenhan D, Grimmler M, Liptau H, Hetzer R, Regitz-Zagrosek V, Fischer C, Nurnberg P, Schunkert H, Katus HA, Rottbauer W (2009) Nexilin mutations destabilize cardiac Z-disks and lead to dilated cardiomyopathy. Nat Med 15:1281–1288. doi:10.1038/nm.2037

16.

Hershberger RE, Norton N, Morales A, Li D, Siegfried JD, Gonzalez-Quintana J (2010) Coding sequence rare variants identified in MYBPC3, MYH6, TPM1, TNNC1, and TNNI3 from 312 patients with familial or idiopathic dilated cardiomyopathy. Circ Genetics 3:155–161. doi:10.1161/CIRCGENETICS.109.912345

17.

Hershberger RE, Siegfried JD (2011) Update 2011: clinical and genetic issues in familial dilated cardiomyopathy. J Am Coll Cardiol 57:1641–1649. doi:10.1016/j.jacc.2011.01.015

18.

Jiao M, Han L, Wang HL, Jin M, Wang XF, Zheng K, Liang YM, Xiao YY (2010) [A long-term follow-up study on the clinical treatment of 75 cases with primary endocardial fibroelastosis]. Zhonghua er ke za zhi. Chin J Pediatr 48:603–609

19.

Junqueira LC, Bignolas G, Brentani RR (1979) Picrosirius staining plus polarization microscopy, a specific method for collagen detection in tissue sections. Histochem J 11:447–455

20.

Kamisago M, Schmitt JP, McNamara D, Seidman C, Seidman JG (2006) Sarcomere protein gene mutations and inherited heart disease: a beta-cardiac myosin heavy chain mutation causing endocardial fibroelastosis and heart failure. Novart Fdn Symp 274:176–189. doi:10.1002/0470029331.ch11 (discussion 189–195, 272–176)

21.

Kaufman MH, Bard JBL (1999) The anatomical basis of mouse development. Academic Press Kaufman, London

22.

Keller DI, Carrier L, Schwartz K (2002) Genetics of familial cardiomyopathies and arrhythmias. Swiss Med Wkly 132(29–30):401–407

23.

Maron BJ, Towbin JA, Thiene G, Antzelevitch C, Corrado D, Arnett D, Moss AJ, Seidman CE, Young JB, American Heart A, Council on Clinical Cardiology HF, Transplantation C, Quality of C, Outcomes R, Functional G, Translational Biology Interdisciplinary Working G, Council on E, Prevention (2006) Contemporary definitions and classification of the cardiomyopathies: an American Heart association scientific statement from the council on clinical cardiology, heart failure and transplantation committee; quality of care and outcomes research and functional genomics and translational biology interdisciplinary working groups; and council on epidemiology and prevention. Circulation 113:1807–1816. doi:10.1161/CIRCULATIONAHA.106.174287

24.

Martino TA, Liu P, Sole MJ (1994) Viral infection and the pathogenesis of dilated cardiomyopathy. Circ Res 74:182–188

25.

McNally EM, Golbus JR, Puckelwartz MJ (2013) Genetic mutations and mechanisms in dilated cardiomyopathy. J Clin Invest 123:19–26. doi:10.1172/JCI62862

26.

Niimura H, Patton KK, McKenna WJ, Soults J, Maron BJ, Seidman JG, Seidman CE (2002) Sarcomere protein gene mutations in hypertrophic cardiomyopathy of the elderly. Circulation 105:446–451

27.

Poppe TT, Ferguson HW (2006) Cardiovascular system. In systemic pathology of fish. Scotian Press, London

28.

Puchtler H, Waldrop FS, Valentine LS (1973) Polarization microscopic studies of connective tissue stained with picro-sirius red FBA. Beitr Pathol 150:174–187

29.

Richardson P, McKenna W, Bristow M, Maisch B, Mautner B, O'Connell J, Olsen E, Thiene G, Goodwin J, Gyarfas I, Martin I, Nordet P (1996) Report of the 1995 World Health Organization/International Society and Federation of Cardiology Task Force on the definition and classification of cardiomyopathies. Circulation 93:841–842

30.

Rozengurt N (1994) Endocardial fibroelastosis in common domestic cats in the UK. J Comp Pathol 110:295–301

31.

Seki A, Patel S, Ashraf S, Perens G, Fishbein MC (2013) Primary endocardial fibroelastosis: an underappreciated cause of cardiomyopathy in children. Cardiovasc Pathol 22:345–350. doi:10.1016/j.carpath.2013.02.003

32.

Wang H, Li Z, Wang J, Sun K, Cui Q, Song L, Zou Y, Wang X, Liu X, Hui R, Fan Y (2010) Mutations in NEXN, a Z-disc gene, are associated with hypertrophic cardiomyopathy. Am J Hum Genet 87:687–693. doi:10.1016/j.ajhg.2010.10.002
Acknowledgments
We would like to thank Sandra Wrobel, Annett Liebers and Maren Behrensen for their technical support.
Ethics declarations
Funding sources
The generation and characterization of the Nexn KO mice was supported by grants from the Bundesministerium für Bildung und Forschung, NGFN and NGFN-plus and Infrafrontier grant (01KX1012) as well as from the DZHK (German Centre for Cardiovascular Research) and the German Ministry of Research and Education (BMBF). Furthermore the project was also supported by the Leducq Foundation (Research grant Nr. 11, CVD 04) and the Association Institut de Myologie (Paris). Current funding is provided by the German Federal Ministry of Education and Research (BMBF) in the context of the e:Med program (e:AtheroSysMed and sysINFLAME), the FP7 European Union project CVgenes@target (261123) and a grant from the Fondation Leducq (CADgenomics: Understanding Coronary Artery Disease Genes, 12CVD02. Further grants were received by the local focus program "Medizinische Genetik" of the Universität zu Lübeck. This study was also supported through the Deutsche Forschungsgemeinschaft (DFG) cluster of excellence 'Inflammation at Interfaces'.
Conflict of interest
On behalf of all authors, the corresponding author states that there is no conflict of interest
Electronic supplementary material
Below is the link to the electronic supplementary material.
About this article
Cite this article
Aherrahrou, Z., Schlossarek, S., Stoelting, S. et al. Knock-out of nexilin in mice leads to dilated cardiomyopathy and endomyocardial fibroelastosis. Basic Res Cardiol 111, 6 (2016). https://doi.org/10.1007/s00395-015-0522-5
Received:

Accepted:

Published:
Keywords
Dilated cardiomyopathy

Heart failure

Endocardial fibroelastosis

Nexilin

Knock-out mice