Abstract
We determined the prognostic value of transient increases in high-sensitive serum troponin I (hsTnI) during a marathon and its association with traditional cardiovascular risk factors and imaging-based risk markers for incident coronary events and all-cause mortality in recreational marathon runners. Baseline data of 108 marathon runners, 864 age-matched controls and 216 age- and risk factor-matched controls from the general population were recorded and their coronary event rates and all-cause mortality after 6 ± 1 years determined. hsTnI was measured in 74 marathon finishers before and after the race. Other potential predictors for coronary events, i.e., Framingham Risk Score (FRS), coronary artery calcium (CAC) and presence of myocardial fibrosis as measured by magnetic resonance imaging-based late gadolinium enhancement (LGE), were also assessed. An increase beyond the 99 % hsTnI-threshold, i.e., 0.04 μg/L, was observed in 36.5 % of runners. FRS, CAC, or prevalent LGE did not predict hsTnI values above or increases in hsTnI beyond the median after the race, nor did they predict future events. However, runners with versus without LGE had higher hsTnI values after the race (median (Q1/Q3), 0.08 μg/L (0.04/0.09) versus 0.03 μg/L (0.02/0.06), p = 0.039), and higher increases in hsTnI values during the race (median (Q1/Q3), 0.05 μg/L (0.03/0.08) versus 0.02 μg/L (0.01/0.05), p = 0.0496). Runners had a similar cumulative event rate as age-matched or age- and risk factor-matched controls, i.e., 6.5 versus 5.0 % or 4.6 %, respectively. Event rates in runners with CAC scores <100, 100–399, and ≥400 were 1.5, 12.0, and 21.4 % (p = 0.002 for trend) and not different from either control group. Runners with coronary events had a higher prevalence of LGE than runners without events (57 versus 8 %, p = 0.003). All-cause mortality was similar in marathon runners (3/108, 2.8 %) and controls (26/864, 3.0 % or 5/216, 2.4 %, respectively). Recreational marathon runners with prevalent myocardial fibrosis develop higher hsTnI values during the race than those without. Increasing coronary artery calcium scores and prevalent myocardial fibrosis, but not increases in hsTnI are associated with higher coronary event rates. All-cause mortality in marathon runners is similar to that in risk factor-matched controls.
Access options
Buy single article
Instant access to the full article PDF.
USD 39.95
Price excludes VAT (USA)
Tax calculation will be finalised during checkout.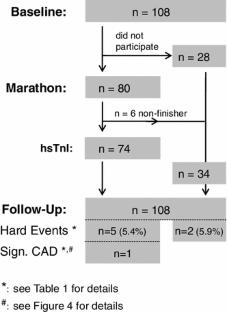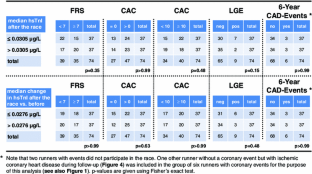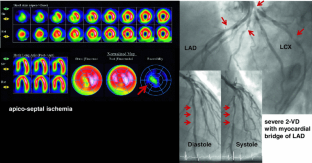 References
Agewall S, Giannitsis E, Jernberg T, Katus H (2011) Troponin elevation in coronary versus non-coronary disease. Eur Heart J 32:404–411. doi:10.1093/eurheartj/ehq456

Albano AJ, Thompson PD, Kapur NK (2012) Acute coronary thrombosis in Boston marathon runners. NEJM 366:184–185. doi:10.1056/NEJMc1111015

Albert CM, Mittleman MA, Chae CU, Lee IM, Hennekens CH, Manson JE (2000) Triggering of sudden death by vigorous exercise. N Engl J Med 343(19):1355–1361

Baker JO, Reinhold J, Redwood S, Marber MS (2011) Troponins: redefining their limits. Heart 97:447–452. doi:10.1136/hrt.2010.205617

Berrahmoune H, Lamont JV, Herberth B, Fitzgerald PS, Visvikis-Siest S (2006) Biological determinants of and reference values for plasma interleukin-8, monocyte chemoattractant protein-1, epidermal growth factor, and vascular endothelial growth factor: results from the STANISLAS cohort. Clin Chem 52:504–510

Breuckmann F, Möhlenkamp S, Nassenstein K, Lehmann N, Ladd S, Schmermund A, Sievers B, Schlosser T, Jöckel KH, Heusch G, Erbel R, Barkhausen J (2009) Prevalence, pattern, and prognostic relevance of myocardial late gadolinium enhancement in marathon runners. Radiology 251:50–57. doi:10.1148/radiol.2511081118

Erbel R, Möhlenkamp S, Moebus S, Schmermund A, Lehmann N, Stang A, Dragano N, Grönemeyer D, Seibel R, Kälsch H, Bröcker-Preuss M, Mann K, Siegrist J, Jöckel KH, For the Heinz Nixdorf Recall study investigative group (2010) Coronary risk stratification, discrimination, and reclassification improvement based on quantification of subclinical coronary atherosclerosis. J Am Coll Cardiol 56:1397–1406. doi:10.1016/j.jacc.2010.06.030

Greenland P, Bonow RO, Brundage BH, Budoff MJ, Eisenberg MJ, Grundy SM, Lauer MS, Post WS, Raggi P, Redberg RF, Rodgers GP, Shaw LJ, Taylor AJ, Weintraub WS (2007) ACCF/AHA 2007 clinical expert consensus document on CAC scoring by CT in global cardiovascular risk assessment and in evaluation of patients with chest pain: a report of the ACC foundation clinical expert consensus task force. Circulation 115:402–426

James S, Armstrong P, Califf R, Simoons ML, Venge P, Wallentin L, Lindahl B (2003) Troponin T levels and risk of 30-day outcomes in patients with the acute coronary syndrome: prospective verification in the GUSTO-IV trial. Am J Med 115:178–184

Jöckel KH, Lehmann N, Jaeger BR, Moebus S, Möhlenkamp S, Schmermund A, Dragano N, Stang A, Grönemeyer D, Seibel R, Mann K, Volbracht L, Siegrist J, Erbel R (2009) Smoking cessation and subclinical atherosclerosis––results from the Heinz Nixdorf recall study. Atherosclerosis 203:221–227. doi:10.1016/j.atherosclerosis.2008.05.041

Kim JH, Malhotra R, Chiampas G, d'Hemecourt P, Troyanos C, Cianca J, Smith RN, Wang TJ, Roberts WO, Thompson PD, Baggish AL (2012) Cardiac arrest during long-distance running races. NEJM 366:130–140. doi:10.1056/NEJMoa1106468

Maron BJ, Douglas PS, Graham TP, Nishimura RA, Thompson PD (2005) Task force 1: pre-participation screening and diagnosis of cardiovascular disease in athletes. J Am Coll Cardiol 45:1322–1326

Middleton N, George K, Whyte G, Gaze D, Collinson P, Shave R (2008) Cardiac troponin T release is stimulated by endurance exercise in healthy humans. J Am Coll Cardiol 52:1813–1814. doi:10.1016/j.jacc.2008.03.069

Mittleman MA, Maclure M, Tofler GH, Sherwood JB, Goldberg RJ, Muller JE (1993) Triggering of acute myocardial infarction by heavy physical exertion: protection against triggering by regular exertion. N Engl J Med 329:1677–1683

Mora S, Cook N, Buring JE, Ridker PM, Lee IM (2007) Physical activity and reduced risk of cardiovascular events. Potential mediating mechanisms. Circulation 116:2110–2118

Möhlenkamp S, Böse D, Mahabadi AA, Heusch G, Erbel R (2007) On the paradox of exercise: coronary atherosclerosis in an apparently healthy marathon runner. Nat Clin Prac Cardiovasc Med 4:396–401

Möhlenkamp S, Lehmann N, Breuckmann F, Bröcker-Preuss M, Nassenstein K, Halle M, Budde T, Mann K, Barkhausen J, Heusch G, Jöckel KH, Erbel R (2008) Running: the risk of coronary events––prevalence and prognostic relevance of coronary atherosclerosis in marathon runners. Eur Heart J 29:1903–1910. doi:10.1093/eurheartj/ehn163

Möhlenkamp S, Lehmann N, Moebus S, Schmermund A, Dragano N, Stang A, Siegrist J, Mann K, Jöckel K-H, Erbel R (2011) Quantification of coronary atherosclerosis and inflammation to predict coronary events and all-cause mortality. J Am Coll Cardiol 57:1455–1464. doi:10.1016/j.jacc.2010.10.043

Möhlenkamp S, Schmermund A, Kröger K, Kerkhoff G, Bröcker-Preuss M, Adams V, Hensel M, Kiefer D, Lehmann N, Moebus S, Leineweber K, Elsenbruch S, Barkhausen J, Halle M, Hambrecht R, Siegrist J, Mann K, Budde T, Jöckel KH, Erbel R (2006) Coronary atherosclerosis and cardiovascular risk in masters male marathon runners. Rationale and design of the "Marathon study". Herz 31:575–585

Neilan TG, Januzzi JL, Lee-Lewandrowski E, Ton-Nu TT, Yoerger DM, Jassal DS, Lewandrowski KB, Siegel AJ, Marshall JE, Douglas PS, Lawlor D, Picard MH, Wood MJ (2006) Myocardial injury and ventricular dysfunction related to training levels among nonelite participants in the Boston marathon. Circulation 114:2325–2333

Noakes TD, Opie LH, Rose AG, Kleynhans PH, Schepers NJ, Dowdeswell R (1979) Autopsy-proved coronary atherosclerosis in marathon runners. N Engl J Med 301:86–89

Oudkerk M, Stillman AE, Halliburton SS, Kalender WA, Möhlenkamp S, McCollough CH, Vliegenthart R, Shaw LJ, Stanford W, Taylor AJ, van Ooijen PM, Wexler L, Raggi P (2008) Coronary artery calcium screening: current status and recommendations from the European Society of Cardiac Radiology (ESCR) and North American Society for Cardiovascular Imaging (NASCI). Eur Radiol 18:2785–2807. doi:10.1007/s00330-008-1095-6

Prasad A, Herrmann J (2011) Myocardial infarction due to percutaneous coronary intervention. N Engl J Med 364:453–464. doi:10.1056/NEJMra0912134

Sahlén A, Gustafsson TP, Svensson JE, Marklund T, Winter R, Linde C, Braunschweig F (2009) Predisposing factors and consequences of elevated biomarker levels in long-distance runners aged ≥55 years. Am J Cardiol 104:1434–1440. doi:10.1016/j.amjcard.2009.06.067

Schröder M, Hüsing J, Jöckel KH (2004) An implementation of automated individual matching for observational studies. Meth Inf Med 43:516–520

Schwartz JG, Merkel-Kraus S, Duval S, Harris K, Peichel G, Lesser JR, Knickelbine T, Flygenring B, Longe TR, Pastorius C, Roberts WR, Oesterle SC, Schwartz RS (2010) Does long-term endurance running enhance or inhibit coronary artery plaque formation? A prospective multi-detector CTA study of men completing marathons for least 25 consecutive years. J Am Coll Cardiol 55(10A):A173.E1624 (Abstract)

Shave R, Baggish A, George K, Wood M, Scharhag J, Whyte G, Gaze D, Thompson PD (2010) Exercise-induced cardiac troponin elevation. Evidence, mechanisms, and implications. J Am Coll Cardiol 56:169–176. doi:10.1016/j.jacc.2010.03.037

Shave R, George KP, Atkinson G, Hart E, Middleton N, Whyte G, Gaze D, Collinson PO (2007) Exercise-induced cardiac troponin T release: a meta-analysis. Med Sci Sports Exerc 39:2099–2106

Stone GW, Maehara A, Lansky AJ, de Bruyne B, Cristea E, Mintz GS, Mehran R, McPherson J, Farhat N, Marso SP, Parise H, Templin B, White R, Zhang Z, Serruys PW, PROSPECT Investigators (2011) A prospective natural-history study of coronary atherosclerosis. NEJM 364:226–235. doi:10.1056/NEJMoa1002358

Thompson PD, Balady GJ, Chaitman BR, Clark LT, Levine BD, Myerburg RJ (2005) Task force 6: coronary artery disease. J Am Coll Cardiol 45:1348–1353

Thompson PD, Buchner D, Pina IL, Balady GJ, Williams MA, Marcus BH, Berra K, Blair SN, Costa F, Franklin B, Fletcher GF, Gordon NF, Pate RR, Rodriguez BL, Yancey AK, Wenger NK (2003) Exercise and physical activity in the prevention and treatment of atherosclerotic cardiovascular disease: a statement from the Council on Clinical Cardiology (Subcommittee on Exercise, Rehabilitation, and Prevention) and the Council on Nutrition, Physical Activity and Metabolism (Subcommittee on Physical Activity). Circulation 107:3109–3116

Thompson PD, Franklin BA, Balady GJ, Blair SN, Corrado D, Estes NA 3rd, Fulton JE, Gordon NF, Haskell WL, Link MS, Maron BJ, Mittleman MA, Pelliccia A, Wenger NK, Willich SN, Costa F (2007) Exercise and acute cardiovascular events. Placing the risks into perspective. A scientific statement from the AHA Council on Nutrition, Physical Activity, and Metabolism and the Council on Clinical Cardiology. In collaboration with the American College of Sports Medicine. Circulation 115:2358–2368

Thygesen K, Alpert JS, Jaffe AS, Simoons ML, Chaitman BR, White HD, The Writing Group on behalf of the Joint ESC/ACCF/AHA/WHF Task Force for the Universal Definition of Myocardial Infarction (2012) Third universal definition of myocardial infarction. Eur Heart J 33:2551–2567. doi:10.1093/eurheartj/ehs184

von Klot S, Mittleman MA, Dockery DW, Heier M, Meisinger C, Hörmann A, Wichmann HE, Peters A (2008) Intensity of physical exertion and triggering of myocardial infarction: a case-crossover study. Eur Heart J 29:1881–1888. doi:10.1093/eurheartj/ehn235

Wilson M, O'Hanlon R, Prasad S, Deighan A, MacMillan P, Oxborough D, Godfrey R, Smith G, Maceira A, Sharma S, George K, Whyte G (2011) Diverse patterns of myocardial fibrosis in lifelong, veteran endurance athletes. J Appl Physiol 110:1622–1626. doi:10.1152/japplphysiol.01280.2010

Yared K, Wood MJ (2009) Is marathon running hazardous to your cardiovascular health? The jury is still out. Radiology 251:3–5. doi:10.1148/radiol.2511090041
Acknowledgments
This study was supported by the Ruhrkohle-AG (RAG, now "EVONIK"), Essen, Germany, "Hans und Gertie Fischer Foundation", Essen, Germany, and Heinz Nixdorf Foundation, Essen, Germany.
Additional information
U. Laufs, Homburg/Saar, Germany, served as guest editor for the manuscript and was responsible for all editorial decisions, including the selection of reviewers. The policy applies to all manuscripts with authors from the editor's institution.
A comment to this article is available at doi:10.1007/s00395-013-0395-4.
About this article
Cite this article
Möhlenkamp, S., Leineweber, K., Lehmann, N. et al. Coronary atherosclerosis burden, but not transient troponin elevation, predicts long-term outcome in recreational marathon runners. Basic Res Cardiol 109, 391 (2014). https://doi.org/10.1007/s00395-013-0391-8
Received:

Revised:

Accepted:

Published:

DOI: https://doi.org/10.1007/s00395-013-0391-8
Keywords
Cardiovascular events

Coronary artery calcium

Marathon

Prognosis

Troponin