Abstract
Nitric oxide (NO) and B-type natriuretic peptide (BNP) are protective against ischemia–reperfusion injury as they increase intracellular cGMP level via activation of soluble (sGC) or particulate guanylate cyclases (pGC), respectively. The aim of the present study was to examine if the cGMP-elevating mediators, NO and BNP, share a common downstream signaling pathway via cGMP-dependent protein kinase (PKG) in cardiac cytoprotection. Neonatal rat cardiac myocytes in vitro were subjected to 2.5 h simulated ischemia (SI) followed by 2 h reoxygenation. Cell viability was tested by trypan blue exclusion assay. PKG activity of cardiac myocytes was assessed by phospholamban (PLB) phosphorylation determined by western blot. Cell death was 34 ± 2% after SI/reoxygenation injury in the control group. cGMP-inducing agents significantly decreased irreversible cell injury: the cGMP analog 8-bromo-cGMP (8-Br-cGMP, 10 nM) decreased it to 13 ± 1% (p < 0.001), the direct NO-donor S-nitroso-N-acetylpenicillamine (SNAP, 1 µM) to 18 ± 6% (p < 0.05) and BNP (10 nM) to 12 ± 2% (p < 0.001), respectively. This protective effect was abolished by the selective PKG inhibitor KT-5823 (600 nM) in each case. As PLB is not a unique reporter for PKG activity since it is also phosphorylated by protein kinase A (PKA), we examined PLB phosphorylation in the presence of the PKA inhibitor KT-5720 (1 μM). The ratio of pPLB/PLB significantly increased after administration of both BNP and 8-Br-cGMP under ischemic conditions, which was abolished by the PKG inhibitor. This is the first demonstration that elevated cGMP produced either by the sGC activator SNAP or the pGC activator BNP exerts cytoprotective effects via a common downstream signaling pathway involving PKG activation.
Access options
Buy single article
Instant access to the full article PDF.
USD 39.95
Price excludes VAT (USA)
Tax calculation will be finalised during checkout.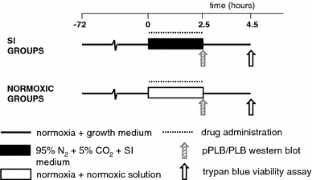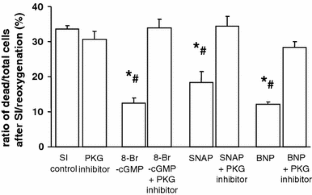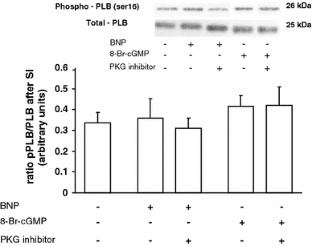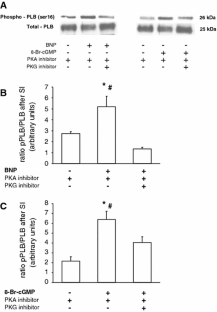 Abbreviations
8-Br-cGMP:

8-Bromo-cGMP

BNP:

B-type natriuretic peptide

CNG:

Cyclic nucleotide-gated ion channel

KATP :

ATP-sensitive potassium channel

KT-5720:

Selective PKA inhibitor

KT-5823:

Selective PKG inhibitor

NO:

Nitric oxide

NOS:

Nitric oxide synthase

PDE:

Phosphodiesterase

pGC:

Particulate guanylate cyclase

PKA:

cAMP-dependent protein kinase

PKG:

cGMP-dependent protein kinase

PLB:

Phospholamban

pPLB:

Phosphorylated phospholamban

SERCA:

Sarcoplasmic reticulum Ca2+-ATPase

sGC:

Soluble guanylate cyclase

SI:

Simulated ischemia

SNAP:

S-Nitroso-N-acetylpenicillamine
References
Baines CP (2009) The mitochondrial permeability transition pore and ischemia–reperfusion injury. Basic Res Cardiol 104:181–188

Bell RM, Yellon DM (2001) The contribution of endothelial nitric oxide synthase to early ischaemic preconditioning: the lowering of the preconditioning threshold. An investigation in eNOS knockout mice. Cardiovasc Res 52:274–280

Bolli R (2001) Cardioprotective function of inducible nitric oxide synthase and role of nitric oxide in myocardial ischemia and preconditioning: an overview of a decade of research. J Mol Cell Cardiol 33:1897–1918

Burley DS, Baxter GF (2007) B-type natriuretic peptide at early reperfusion limits infarct size in the rat isolated heart. Basic Res Cardiol 102:529–541

Burley DS, Ferdinandy P, Baxter GF (2007) Cyclic GMP and protein kinase-G in myocardial ischaemia–reperfusion: opportunities and obstacles for survival signaling. Br J Pharmacol 152:855–869

Chen HP, Liao ZP, Huang QR, He M (2009) Sodium ferulate attenuates anoxia/reoxygenation-induced calcium overload in neonatal rat cardiomyocytes by NO/cGMP/PKG pathway. Eur J Pharmacol 603:86–92

Cohen MV, Downey JM (2007) Cardioprotection: spotlight on PKG. Br J Pharmacol 152:833–834

Costa AD, Pierre SV, Cohen MV, Downey JM, Garlid KD (2008) cGMP signalling in pre- and post-conditioning: the role of mitochondria. Cardiovasc Res 77:344–352

Csonka C, Szilvassy Z, Fulop F, Pali T, Blasig IE, Tosaki A, Schulz R, Ferdinandy P (1999) Classic preconditioning decreases the harmful accumulation of nitric oxide during ischemia and reperfusion in rat hearts. Circulation 100:2260–2266

Csont T, Pali T, Szilvassy Z, Ferdinandy P (1998) Lack of correlation between myocardial nitric oxide and cyclic guanosine monophosphate content in both nitrate-tolerant and -nontolerant rats. Biochem Pharmacol 56:1139–1144

Cuong DV, Kim N, Youm JB, Joo H, Warda M, Lee JW, Park WS, Kim T, Kang S, Kim H, Han J (2006) Nitric oxide-cGMP-protein kinase G signaling pathway induces anoxic preconditioning through activation of ATP-sensitive K+ channels in rat hearts. Am J Physiol Heart Circ Physiol 290:H1808–H1817

D'Souza SP, Davis M, Baxter GF (2004) Autocrine and paracrine actions of natriuretic peptides in the heart. Pharmacol Ther 101:113–129

D'Souza SP, Yellon DM, Martin C, Schulz R, Heusch G, Onody A, Ferdinandy P, Baxter GF (2003) B-type natriuretic peptide limits infarct size in rat isolated hearts via KATP channel opening. Am J Physiol Heart Circ Physiol 284:H1592–H1600

Das A, Smolenski A, Lohmann SM, Kukreja RC (2006) Cyclic GMP-dependent protein kinase Ialpha attenuates necrosis and apoptosis following ischemia/reoxygenation in adult cardiomyocyte. J Biol Chem 281:38644–38652

Das A, Xi L, Kukreja RC (2008) Protein kinase G-dependent cardioprotective mechanism of phosphodiesterase-5 inhibition involves phosphorylation of ERK and GSK3beta. J Biol Chem 283:29572–29585

Depre C, Hue L (1994) Cyclic GMP in the perfused rat heart. Effect of ischaemia, anoxia and nitric oxide synthase inhibitor. FEBS Lett 345:241–245

El Helou V, Bel-Hadj S, Drapeau J, Clement R, Gosselin H, Calderone A (2006) Nitric oxide-mediated inhibition of DNA synthesis was attenuated in hypertrophied neonatal rat ventricular myocytes. Nitric Oxide 14:316–326

Ferdinandy P, Schulz R (2003) Nitric oxide, superoxide, and peroxynitrite in myocardial ischaemia–reperfusion injury and preconditioning. Br J Pharmacol 138:532–543

Fiedler B, Feil R, Hofmann F, Willenbockel C, Drexler H, Smolenski A, Lohmann SM, Wollert KC (2006) cGMP-dependent protein kinase type I inhibits TAB 1-p38 mitogen-activated protein kinase apoptosis signaling in cardiac myocytes. J Biol Chem 281:32831–32840

Fuglesteg BN, Suleman N, Tiron C, Kanhema T, Lacerda L, Andreasen TV, Sack MN, Jonassen AK, Mjos OD, Opie LH, Lecour S (2008) Signal transducer and activator of transcription 3 is involved in the cardioprotective signalling pathway activated by insulin therapy at reperfusion. Basic Res Cardiol 103:444–453

Hempel A, Friedrich M, Schluter KD, Forssmann WG, Kuhn M, Piper HM (1997) ANP protects against reoxygenation-induced hypercontracture in adult cardiomyocytes. Am J Physiol 273:H244–H249

Heusch G, Boengler K, Schulz R (2008) Cardioprotection: nitric oxide, protein kinases, and mitochondria. Circulation 118:1915–1919

Heusch G, Boengler K, Schulz R (2010) Inhibition of mitochondrial permeability transition pore opening: the holy grail of cardioprotection. Basic Res Cardiol 105:151–154

Hidaka H, Kobayashi R (1992) Pharmacology of protein kinase inhibitors. Annu Rev Pharmacol Toxicol 32:377–397

Jones SP, Bolli R (2006) The ubiquitous role of nitric oxide in cardioprotection. J Mol Cell Cardiol 40:16–23

Kohr MJ, Wang H, Wheeler DG, Velayutham M, Zweier JL, Ziolo MT (2008) Targeting of phospholamban by peroxynitrite decreases beta-adrenergic stimulation in cardiomyocytes. Cardiovasc Res 77:353–361

Komalavilas P, Lincoln TM (1996) Phosphorylation of the inositol 1,4,5-trisphosphate receptor. Cyclic GMP-dependent protein kinase mediates cAMP and cGMP dependent phosphorylation in the intact rat aorta. J Biol Chem 271:21933–21938

Li X, Heinzel FR, Boengler K, Schulz R, Heusch G (2004) Role of connexin 43 in ischemic preconditioning does not involve intercellular communication through gap junctions. J Mol Cell Cardiol 36:161–163

Lincoln TM, Dey N, Sellak H (2001) Invited review: cGMP-dependent protein kinase signaling mechanisms in smooth muscle: from the regulation of tone to gene expression. J Appl Physiol 91:1421–1430

Lucas KA, Pitari GM, Kazerounian S, Ruiz-Stewart I, Park J, Schulz S, Chepenik KP, Waldman SA (2000) Guanylyl cyclases and signaling by cyclic GMP. Pharmacol Rev 52:375–414

Massion PB, Balligand JL (2003) Modulation of cardiac contraction, relaxation and rate by the endothelial nitric oxide synthase (eNOS): lessons from genetically modified mice. J Physiol 546:63–75

Nakano A, Liu GS, Heusch G, Downey JM, Cohen MV (2000) Exogenous nitric oxide can trigger a preconditioned state through a free radical mechanism, but endogenous nitric oxide is not a trigger of classical ischemic preconditioning. J Mol Cell Cardiol 32:1159–1167

Piper HM, Abdallah Y, Schafer C (2004) The first minutes of reperfusion: a window of opportunity for cardioprotection. Cardiovasc Res 61:365–371

Rakhit RD, Edwards RJ, Mockridge JW, Baydoun AR, Wyatt AW, Mann GE, Marber MS (2000) Nitric oxide-induced cardioprotection in cultured rat ventricular myocytes. Am J Physiol Heart Circ Physiol 278:H1211–H1217

Rastaldo R, Pagliaro P, Cappello S, Penna C, Mancardi D, Westerhof N, Losano G (2007) Nitric oxide and cardiac function. Life Sci 81:779–793

Strijdom H, Genade S, Lochner A (2004) Nitric oxide synthase (NOS) does not contribute to simulated ischaemic preconditioning in an isolated rat cardiomyocyte model. Cardiovasc Drugs Ther 18:99–112

Szilvassy Z, Ferdinandy P, Bor P, Jakab I, Lonovics J, Koltai M (1994) Ventricular overdrive pacing-induced anti-ischemic effect: a conscious rabbit model of preconditioning. Am J Physiol 266:H2033–H2041

Vittone L, Mundina-Weilenmann C, Said M, Ferrero P, Mattiazzi A (2002) Time course and mechanisms of phosphorylation of phospholamban residues in ischemia-reperfused rat hearts. Dissociation of phospholamban phosphorylation pathways. J Mol Cell Cardiol 34:39–50

Wang TN, Ge YK, Li JY, Zeng XH, Zheng XX (2007) B-type natriuretic peptide enhances mild hypoxia-induced apoptotic cell death in cardiomyocytes. Biol Pharm Bull 30:1084–1090

Wang TN, Ge YK, Li JY, Zeng XH, Zheng XX (2007) B-type natriuretic peptide enhances mild hypoxia-induced apoptotic cell death in cardiomyocytes. Biol Pharm Bull 30:1084–1090

Xu Z, Ji X, Boysen PG (2004) Exogenous nitric oxide generates ROS and induces cardioprotection: involvement of PKG, mitochondrial KATP channels, and ERK. Am J Physiol Heart Circ Physiol 286:H1433–H1440

Zhang Q, Moalem J, Tse J, Scholz PM, Weiss HR (2005) Effects of natriuretic peptides on ventricular myocyte contraction and role of cyclic GMP signaling. Eur J Pharmacol 510:209–215

Zolle O, Lawrie AM, Simpson AW (2000) Activation of the particulate and not the soluble guanylate cyclase leads to the inhibition of Ca2+ extrusion through localized elevation of cGMP. J Biol Chem 275:25892–25899
Acknowledgments
This work was supported by Wellcome Trust Collaborative Initiative project grant (GR074567MA) awarded to PF and GFB and grants from the Hungarian Scientific Research Fund (OTKA F046810), Hungarian Ministry of Health Grants ETT 597/2006, National Office for Research and Technology Grants NKTH-Jedlik-MMP (OM-00066/2007), Jedlik-ES (OM-00206/2007) and Jedlik MEDFOOD (OM-00131/2008).
Conflict of interest statement
The authors state no conflict of interest.
About this article
Cite this article
Gorbe, A., Giricz, Z., Szunyog, A. et al. Role of cGMP-PKG signaling in the protection of neonatal rat cardiac myocytes subjected to simulated ischemia/reoxygenation. Basic Res Cardiol 105, 643–650 (2010). https://doi.org/10.1007/s00395-010-0097-0
Received:

Revised:

Accepted:

Published:

Issue Date:

DOI: https://doi.org/10.1007/s00395-010-0097-0
Keywords
Simulated ischemia

Cardiomyocyte

NO

BNP

cGMP

Protein kinase G